There was a time when the entire World Wide Web consisted of a few thousand websites, most of which were informational. Now, with over 1 Billion websites in total, everything has a space on the WWW. From a project management system to social networks and from product comparison sites to online shopping sites, almost everything is there. In the past decades, however, it has also become a centralized place for fun and entertainment. We have managed to gather few interesting websites and cool websites which can help you pass your time.
We are talking about not only YouTube and Netflix but also the uncountable number of interesting sites out there. So, when you think you are bored, you can head to such websites and have some fun. In most cases, they can make you feel good too. Still confused about where to start or do you think you are missing some extra fun? Behold, we are here to give you a list of the best 50 cool and interesting websites to have some fun, all day. Some are our personal favourites too. Let's begin?
Note: We have tried to include websites from all categories. For instance, if you're an art enthusiast or a film lover, there's a choice. On the other hand, if you are into some science and tech stuff, there's some for you.
Checkout Our 51 Cool and Interesting Websites to surf on the internet
Here is the list of the 50 cool and interesting websites.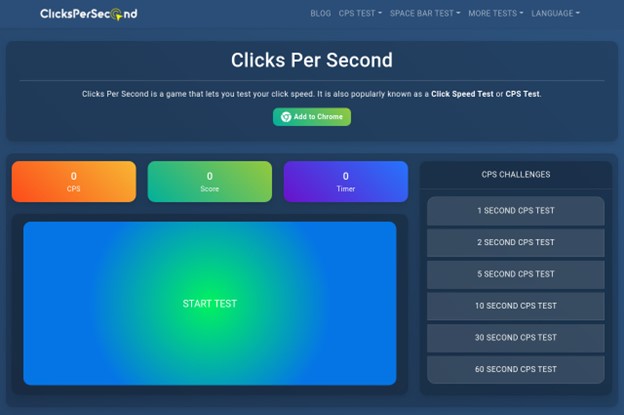 ClicksPerSecond is a website-based game that allows you to test your speed and accuracy in clicking the mouse button. CPS is a unit that measures the number of times you click the mouse button in a given time period.
The higher your CPS, the faster you are at clicking the mouse button. There are many ways to improve your CPS, and ClicksPerSecond can help you test and track your progress.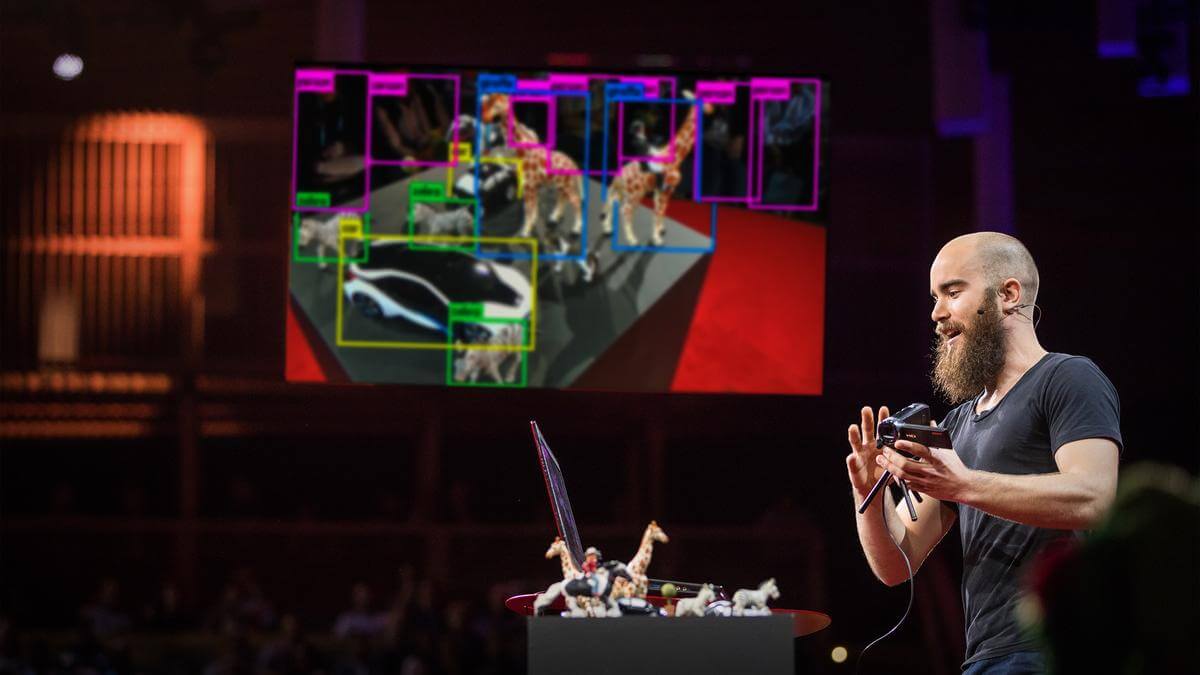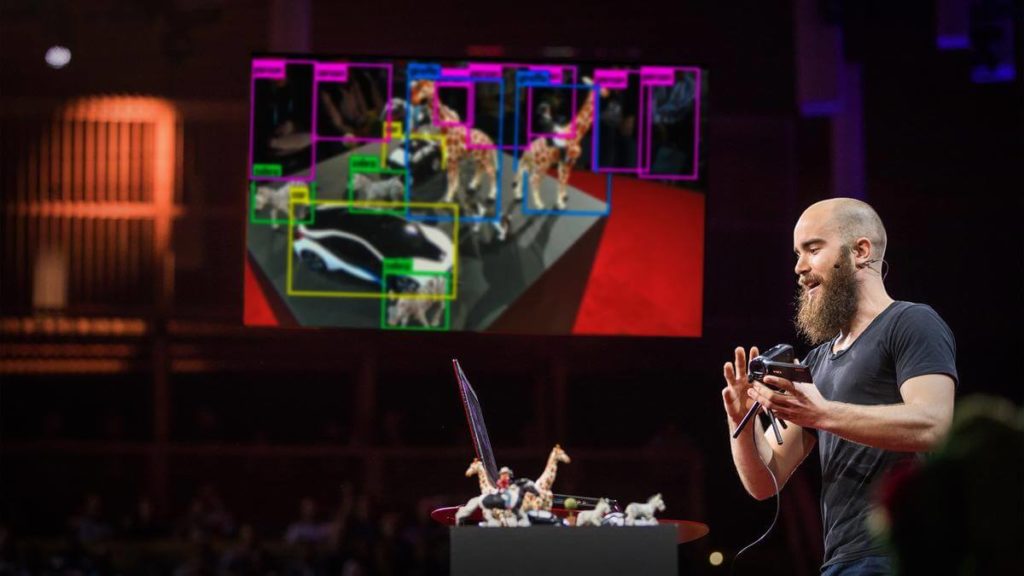 You have heard about TED Talks for sure. Even if you haven't heard the name, you'd have seen at least one of the many TED and TEDx Talks out there. TED Talks are conducted across the globe, bringing sessions from different disciplines and on topics. From science to politics and from art to engineering, there are TED talks on almost everything. So, TED is the first website you should visit to kill the boredom. You need not have an account. Log on to the website, choose a talk and start watching. At the end of the day, you will have some ideas worth sharing for sure. Interesting website, isn't it?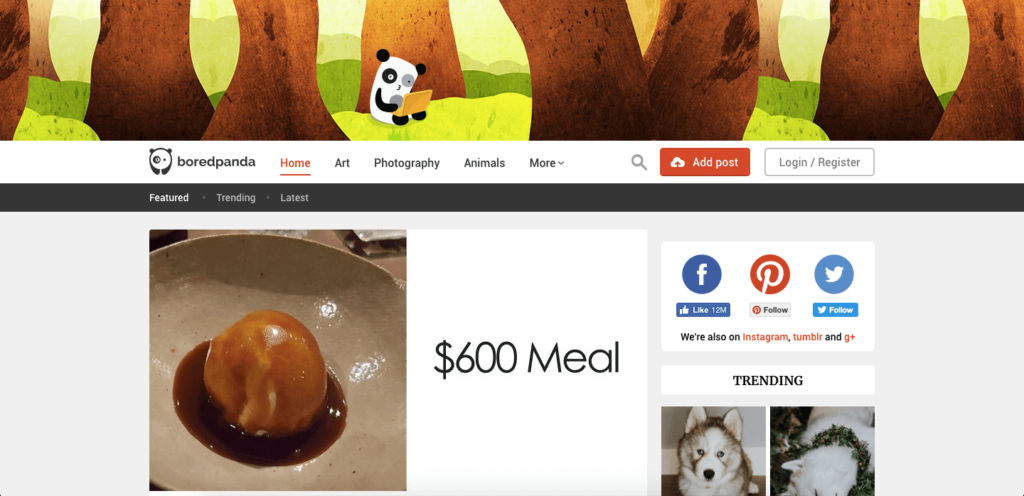 One of the most popular entertainment websites of our times, Bored Panda covers almost everything that's capable of entertainment for its readers. There is a wide collection of topics you can find, including Science, Art, Tech, Social Life, Animals, and Photography. Most of the content you find on Bored Panda is powered by the community and they talk about real-life instances. Bored Panda is one of the websites that show you nice, relatable, and awesome content — every single day. You can visit this website when bored if you know what I mean. They also have an application for smartphones if you'd like to keep in touch with great content. It is one of the cool websites for when you're bored.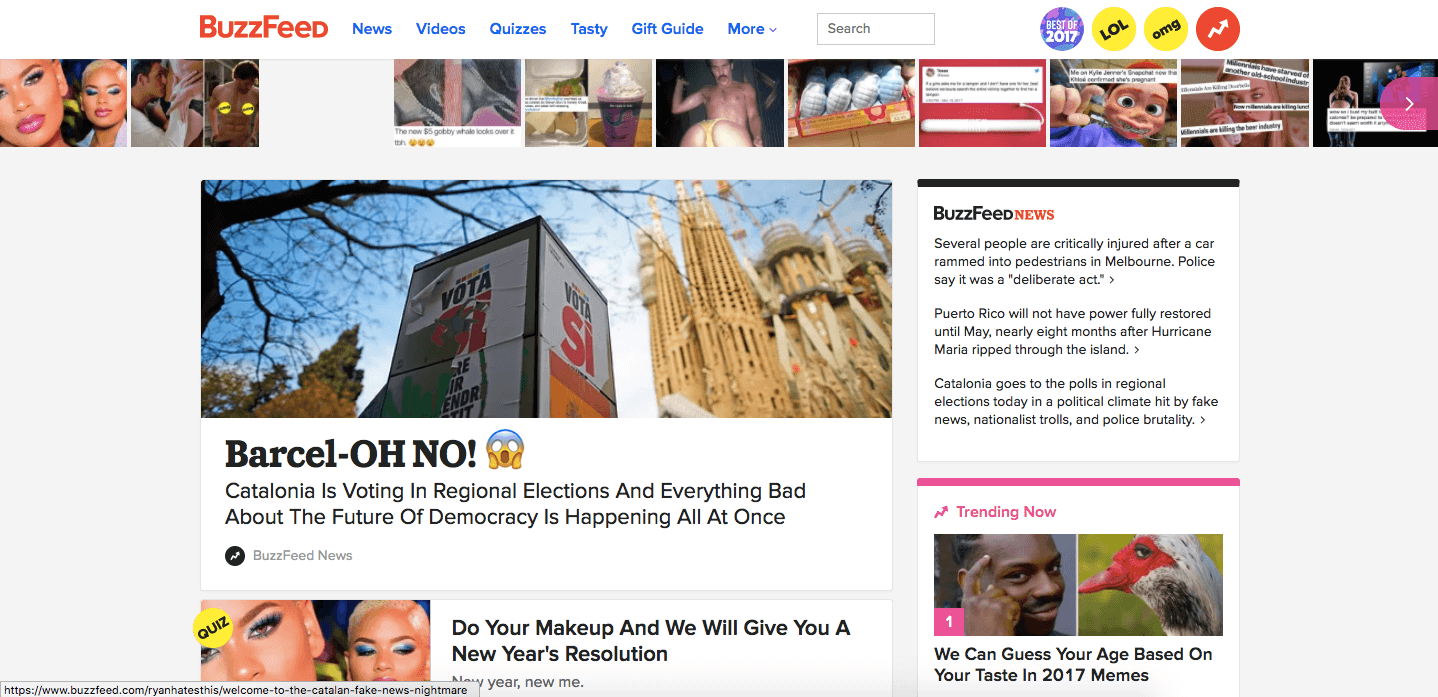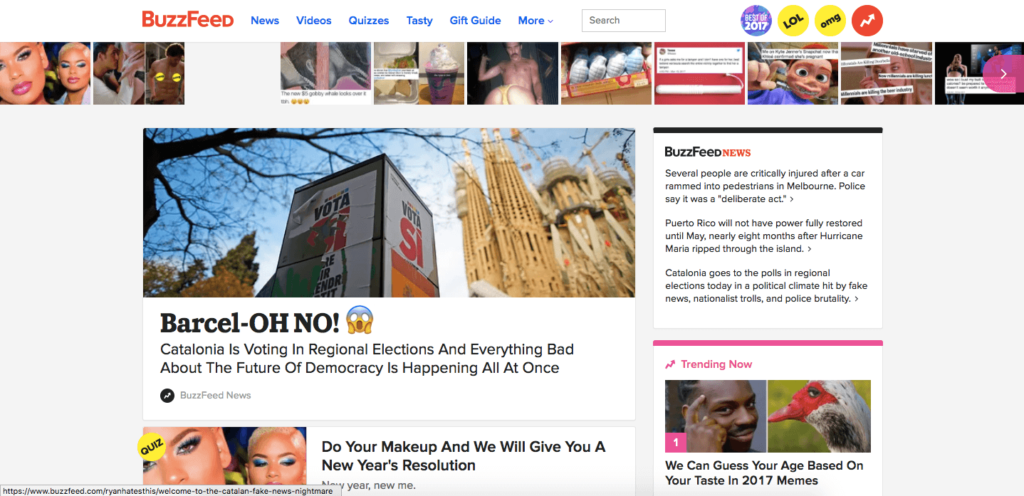 With its well-curated content and handling of sensational topics in a sensitive way, BuzzFeed has become the epitome of genuine parallel publishing on the weband it is one of the best interesting websites. It's a website that brings you awesome updates and features from across the globe. The best part is that BuzzFeed has regional versions too, where you can find content that is related to your surroundings. It doesn't matter whether you're an avid reader or a movie junkie or a social maniac, you will have to find something interesting on BuzzFeed. It's not only about articles and GIFs but also about some interesting videos too.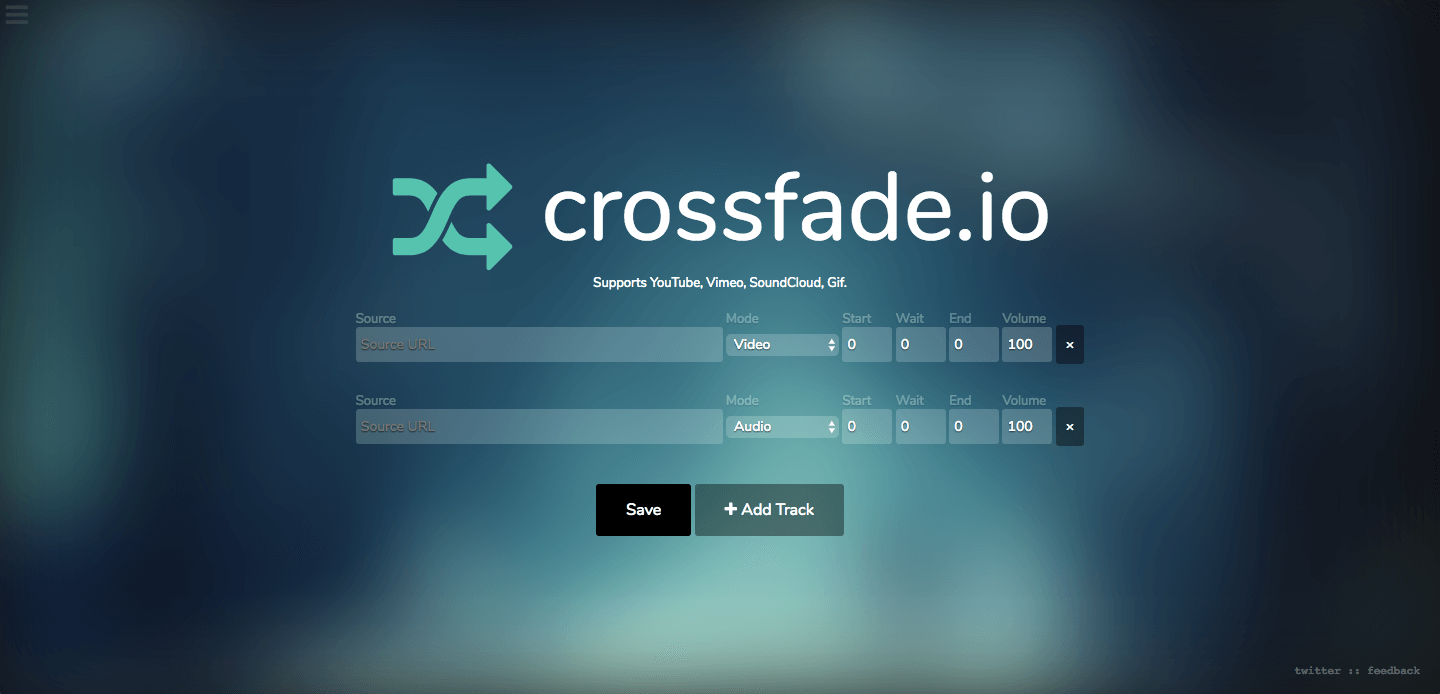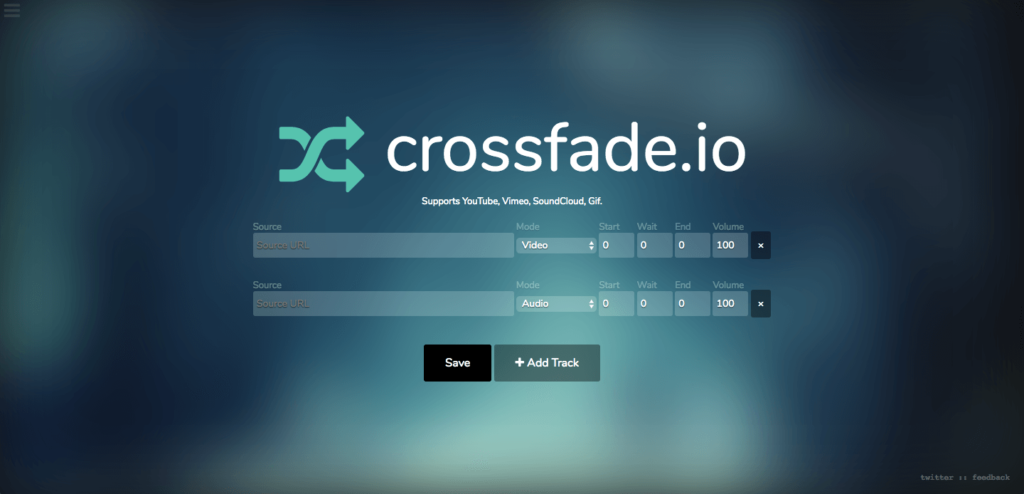 Do you want to create a unique audio track consisting of your favorite songs? It doesn't matter where you'd find those tracks from. Crossfade lets you create a multi-platform audio track and play it along. Suppose you have found two music videos on YouTube and Vimeo and one song from SoundCloud. Won't that be great if you can add them into a single playlist and listen to them? Well, just paste the URLs at Crossfade and it will download and create the playlist for you. This is one of the most interesting websites I used when i have nothing to do. Once added, you can save your playlist for later playback as well. If you are a music lover, this is a great feature.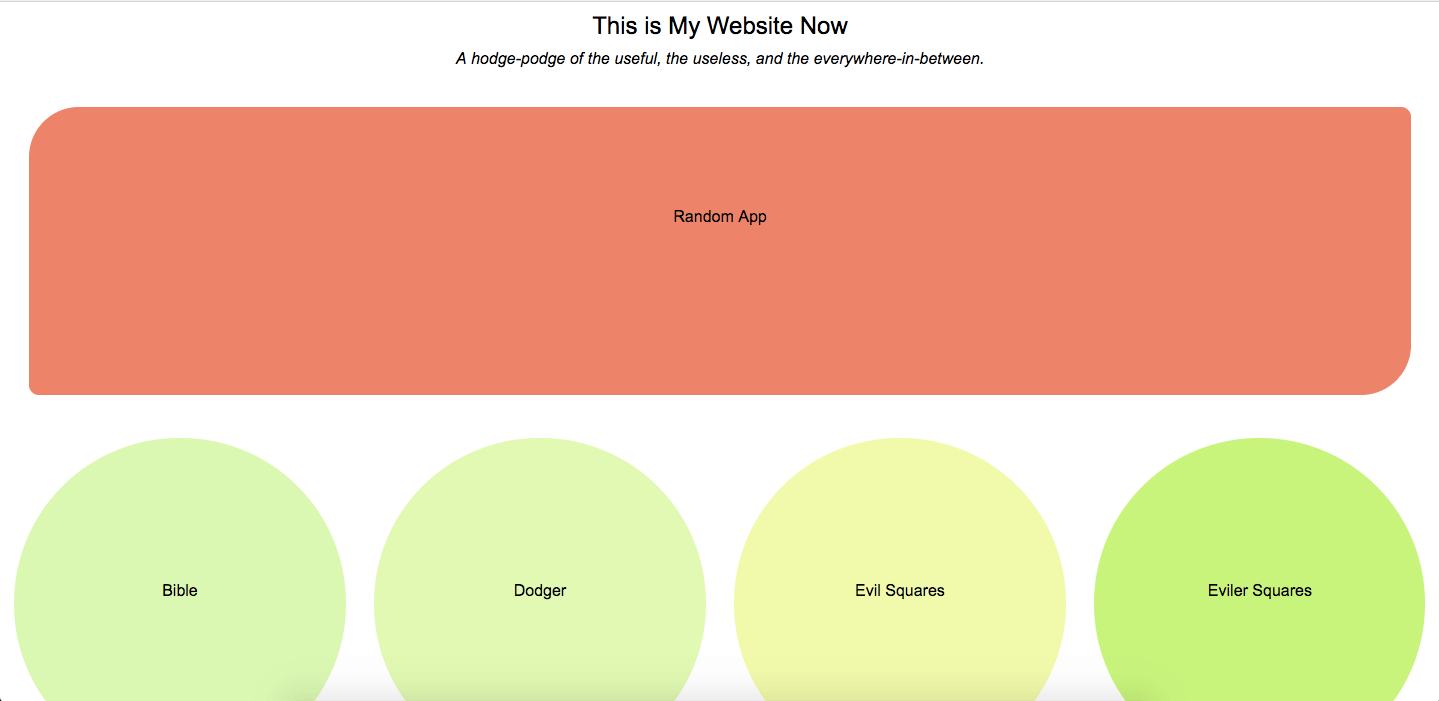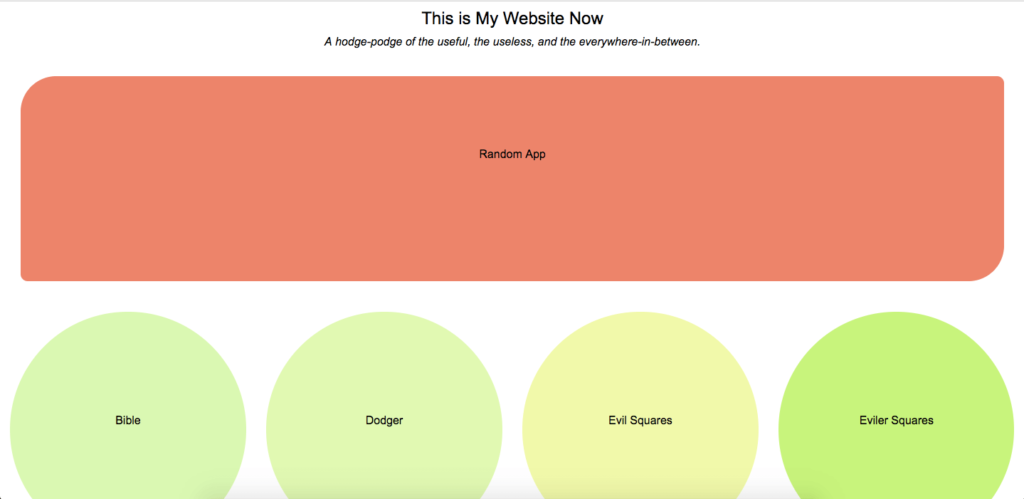 If you just want to kill some time, This Is My Website is a great thing to visit. It's not a single tool or feature, but rather a collection of both useful and useless things. For instance, there is a Decision Maker that lets you take a Yes/No decision in a single click. It also, in another version, brings you cute photographs from across the globe. In case you are religious, you can use This Is My Website to learn some Bible as well. The best part is that you can suggest more ideas as apps and they are likely to bring them soon. If you need a website that doesn't bore you much, go for this one as you know the interesting facts about websites. This was one of the coolest websites to send to my employees in the Techlogitic team to make the day healthy.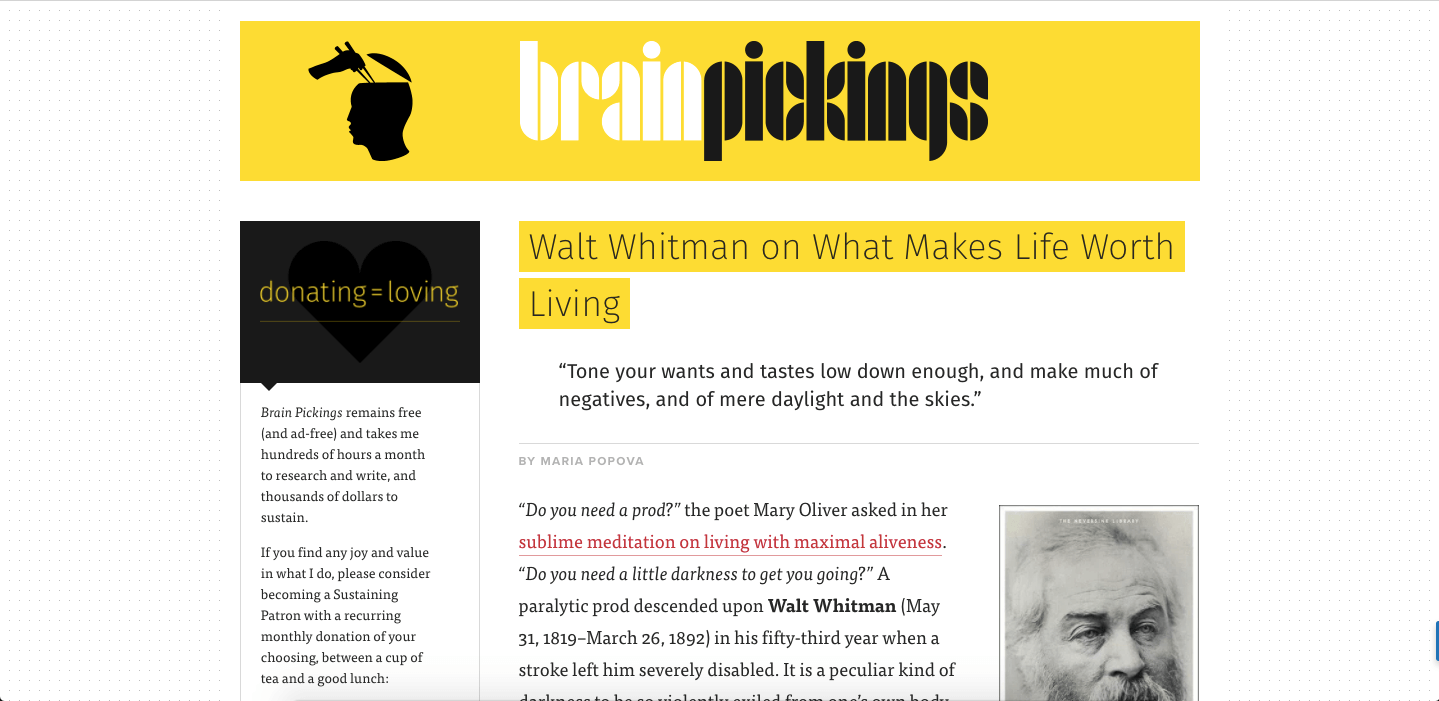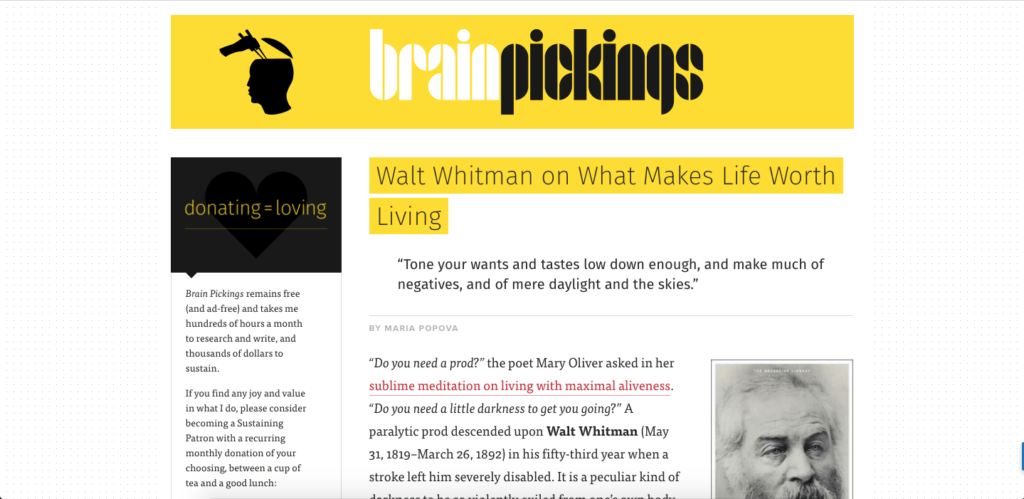 Have a taste for science and want to read more on that? Brain Pickings is one of the best websites you should visit then. There, you can find highly-researched articles on science. The content you find there are definitely the best choice for your brain improvement and social aspects. You know what's more amazing? The website is completely free and they don't show any advertisements. That having said, if you're impressed, you can always contribute something as donation. For science enthusiasts out there, Brain Pickings is a great choice. Got a great brain? Go with interesting websites to visit and challenge your brain.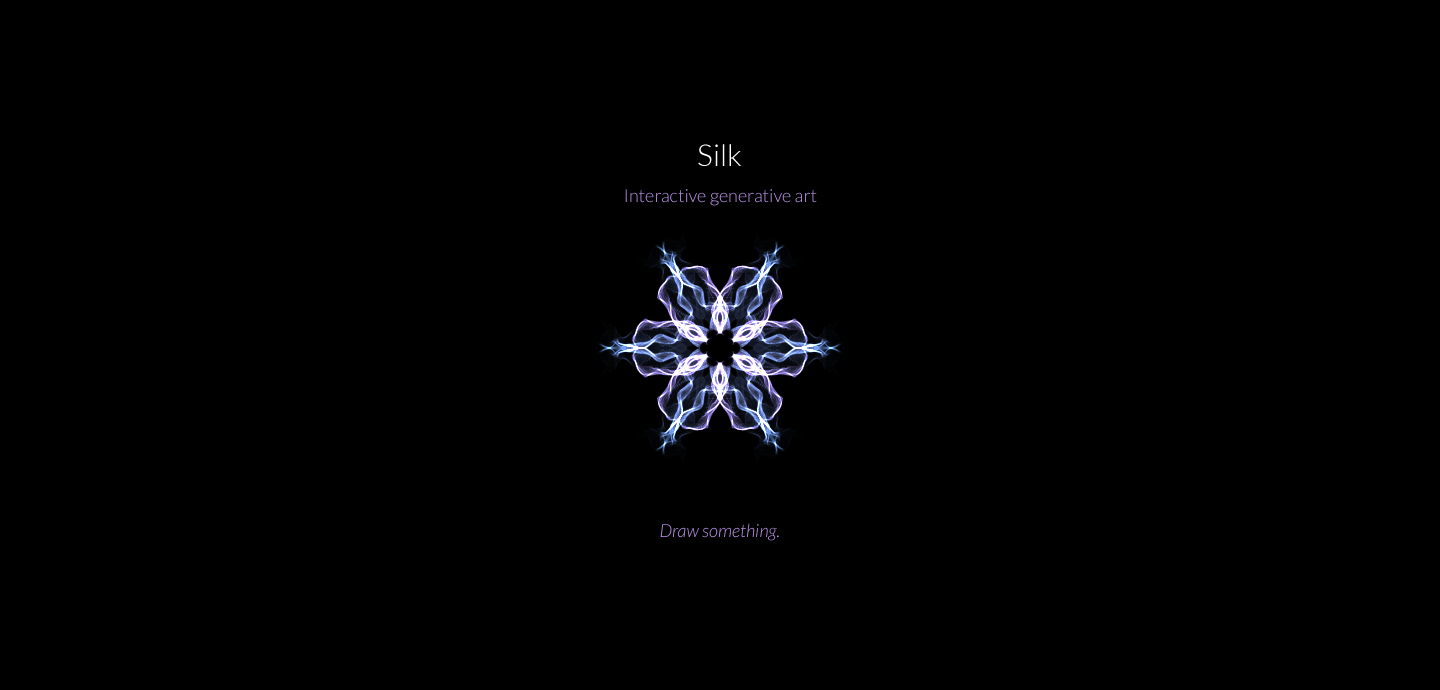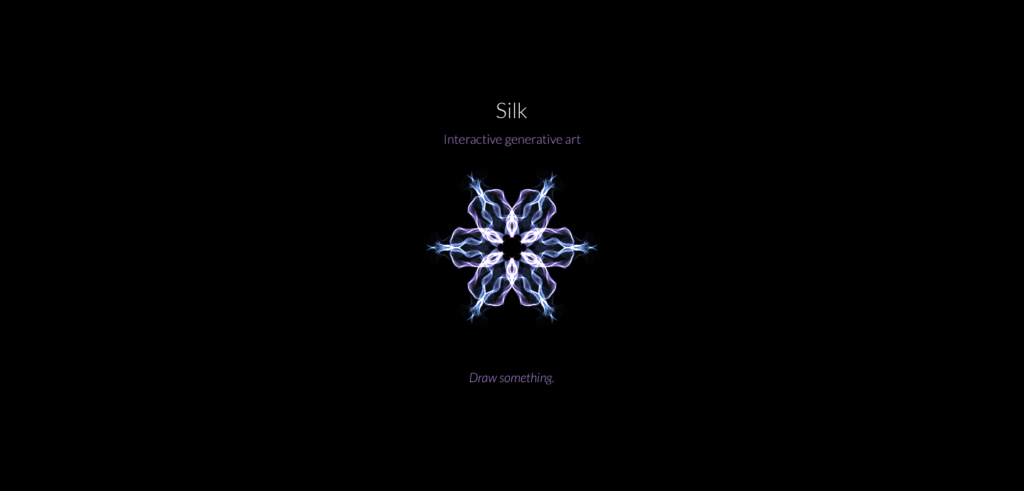 Like to draw? I mean, you don't have to be a great artist to create a great piece of interactive drawing. Fact is here: Weavesilk.com lets you create such an awesome piece of art in a few single clicks and movements in your mouse interface. Once you have done drawing the picture, you can go ahead and share them or just save the picture into your device. Trust me on this, Silk is a real time-killer. No matter how bad you are when it comes to drawing, the final picture looks so abstract and great. In case you are interested, there is an app of Silk available for iOS. Hope you are liking these fun websites to visit don't stop here let's go ahead.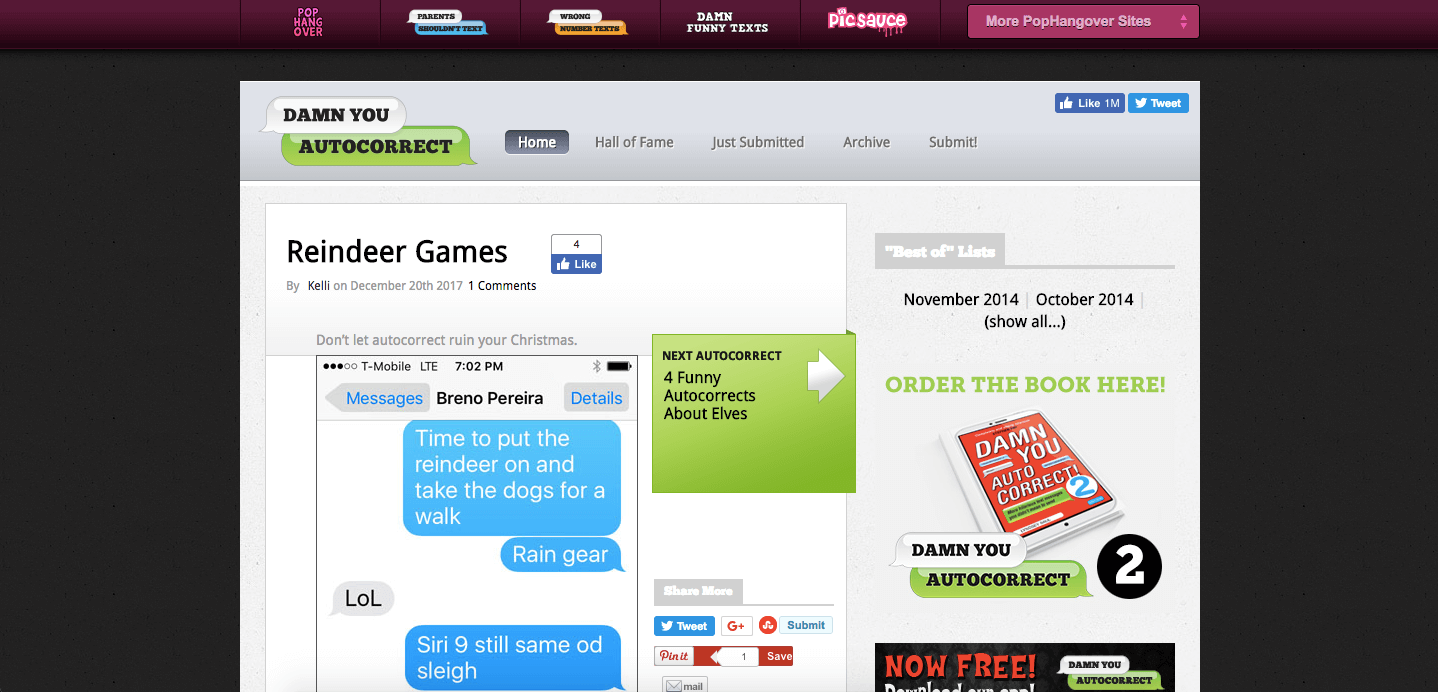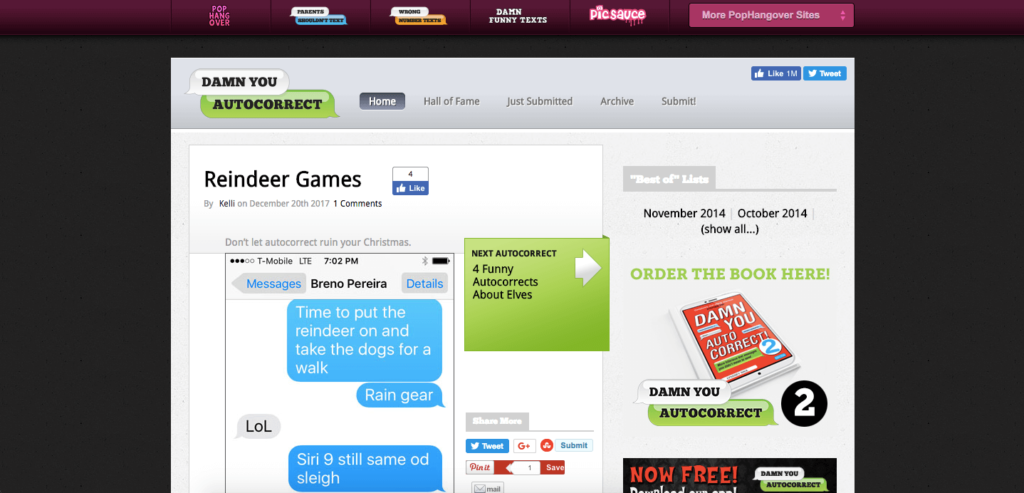 AutoCorrect feature in iOS has made more people laugh than any other comedian in the world did. While it tries to improve your language and vocabulary, it can put you into all sorts of trouble. Do you enjoy finding those autocorrect fails, especially the funny ones? Then, you should get into Damn You Auto Correct, which is a compilation website that lists down screenshots of iPhone autocorrect fails. You can keep hitting Next button until your boredom is killed from the world. Just so you know, you have been warned of laughing too much. This is one of the interesting websites for when you are bored.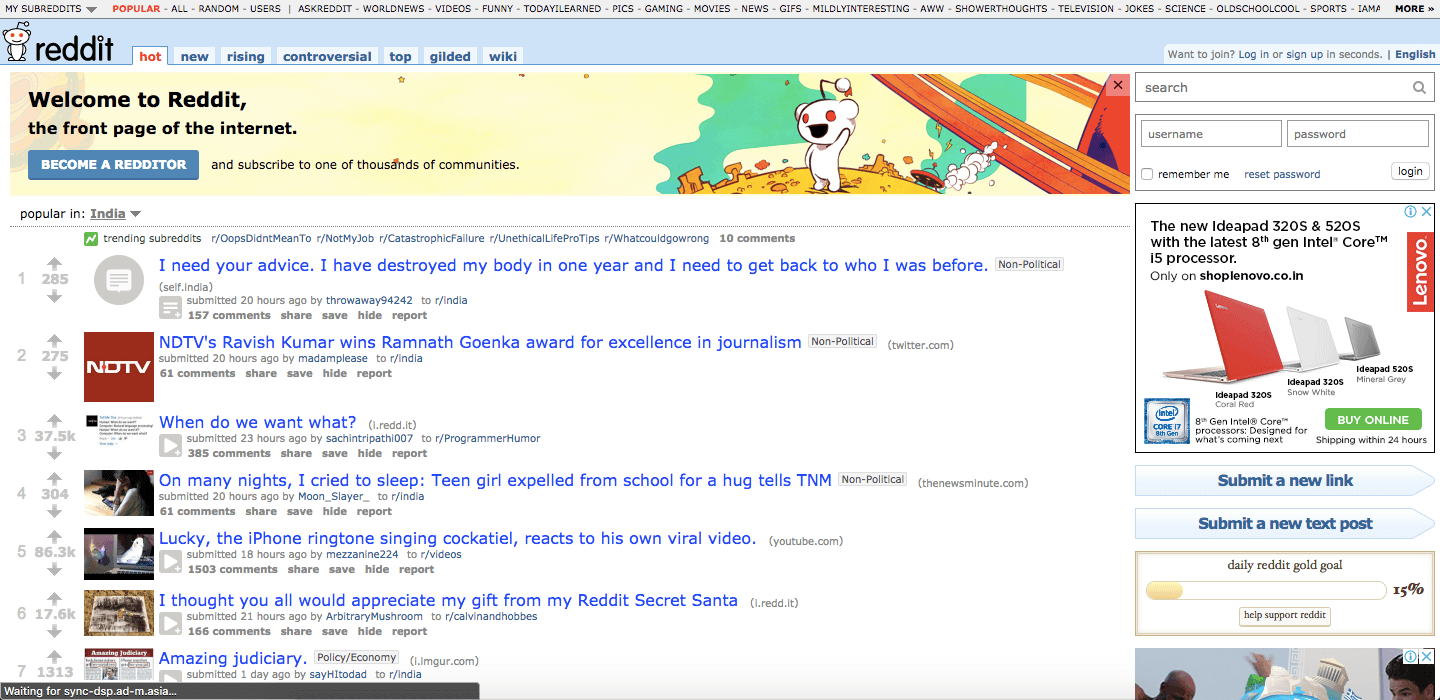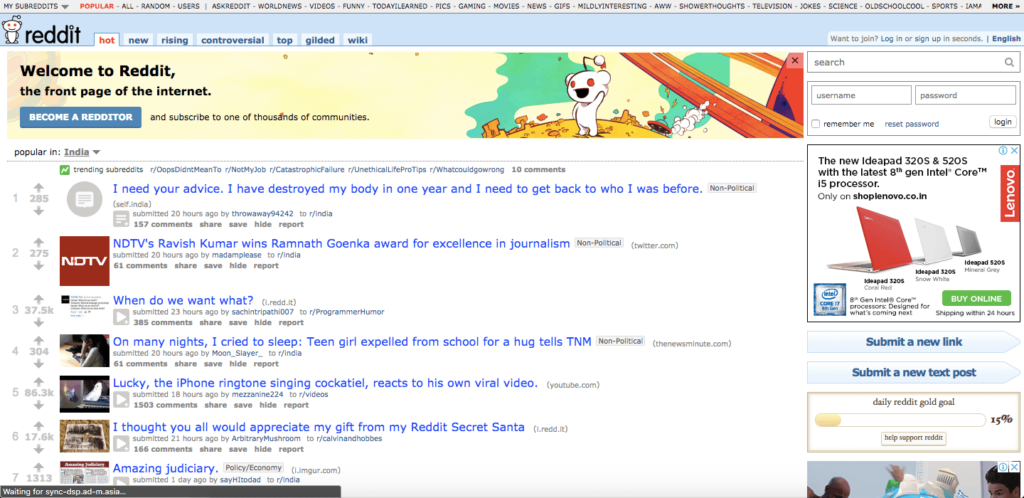 When compared to Facebook or Twitter, Reddit isn't that popular among the common public. But, for any person who has some interest, Reddit is for you. But, you have to make sure that you don't get too excited and addicted about the person. What makes Reddit 'Reddit' is not just the variety of content you find there but also the interaction and comments. There are some serious and funny discussions going on in Reddit and you are even awarded points when someone likes your content. It's a whole new world and a great place to spend time when you're bored. One of the interesting websites reddit to read and improve your knowledge. This is the best website I have encountered so far the knowledge and happiness are on the next level. People share some very interesting things on the subreddits here since it is one of the websites to cure boredom.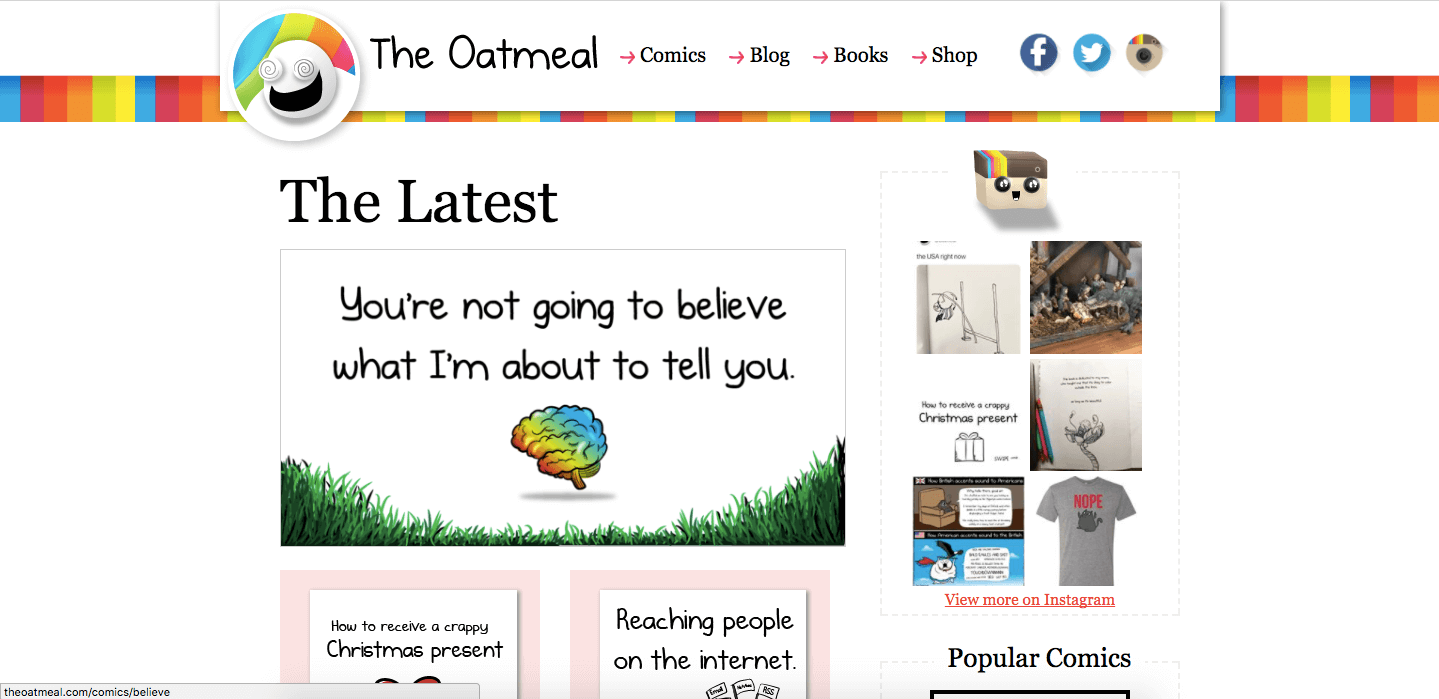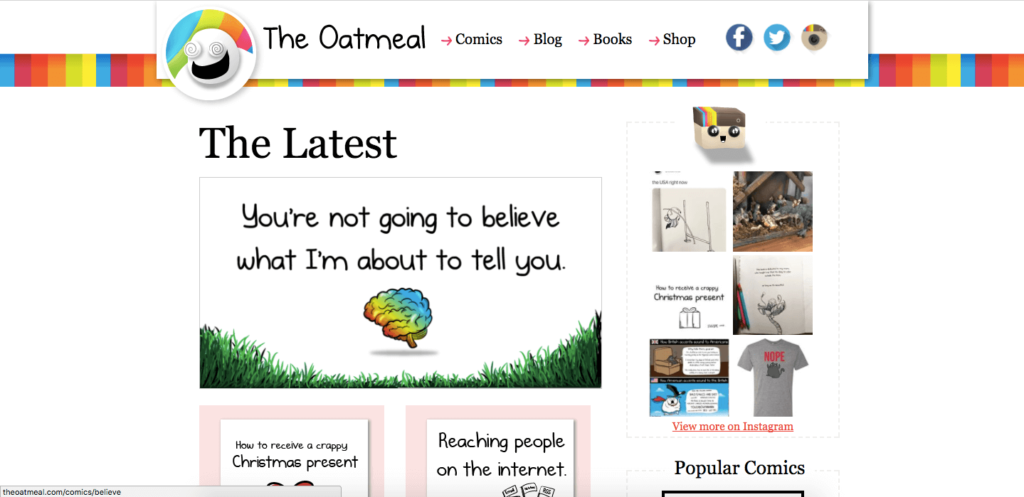 Are you someone who loves comics as well as quizzes? Do make sure you have a look at The Oatmeal, which brings you the best from both categories. The website is so simple and you can find as many comics as you'd like. Education and daily life are the common topics of the most comics you find at The Oatmeal homepage. Thanks to the simple UI and curation of best content, The Oatmeal can give you the best experience when you're about to be bored to death. One more thing: the comics you find in the website are damn relatable for almost everyone. Fun things to do on a laptop when your bored, isn't it? Trading and selling comic books is also a very popular activity people enjoy.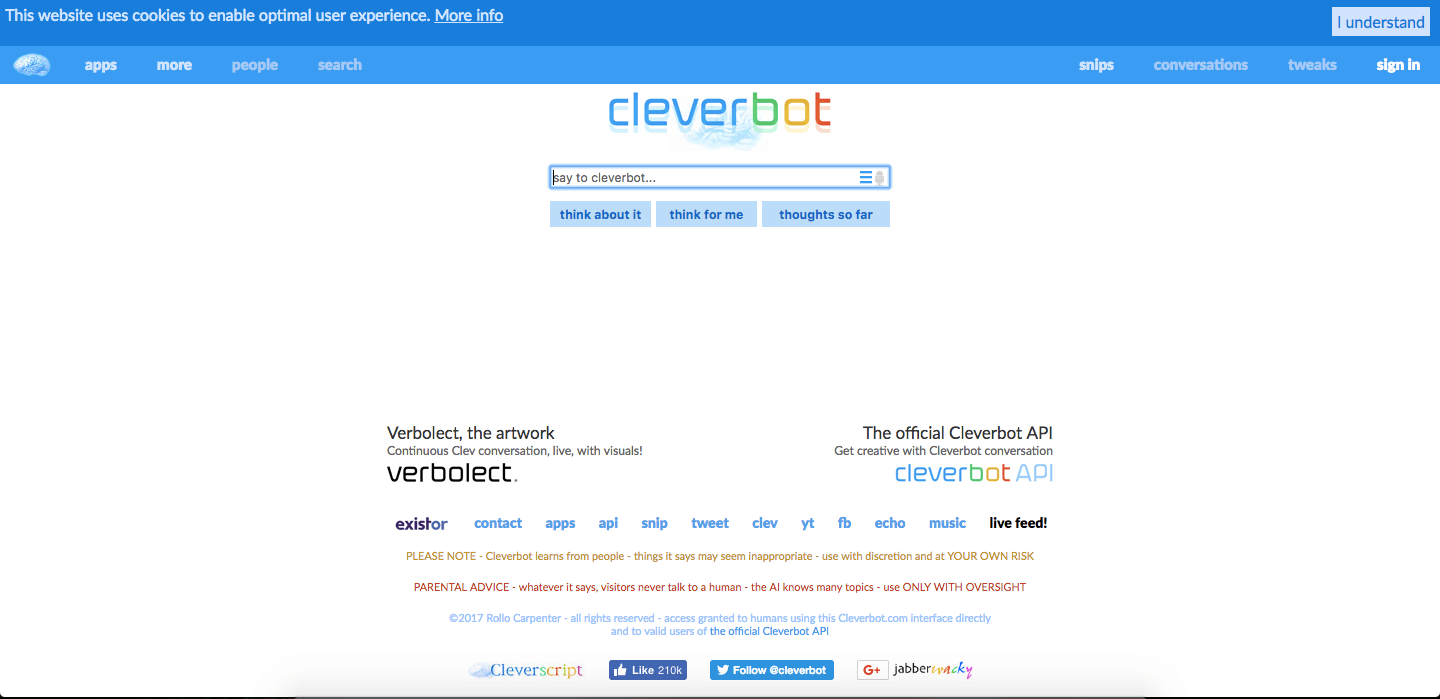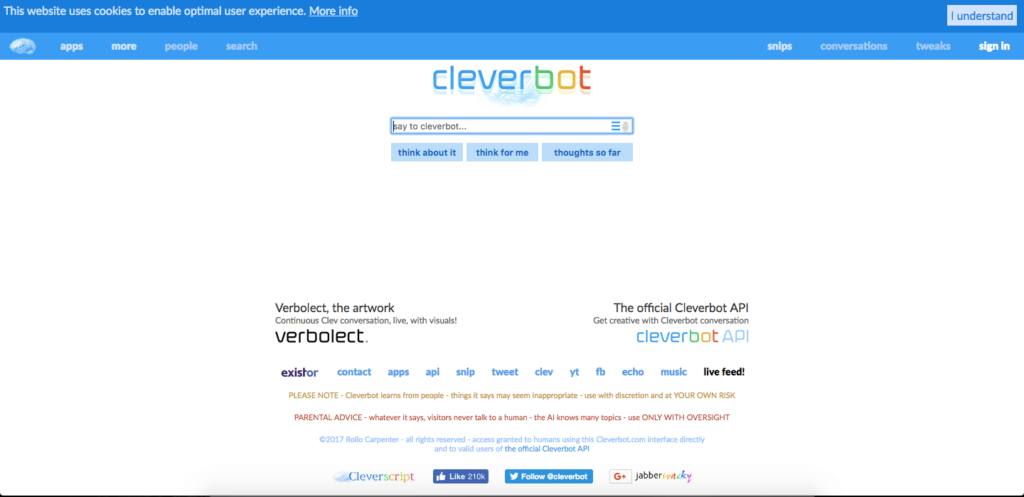 What do you think about talking to a robot instead of human beings when you are bored? This is what Clever Bot can do through a simple website. You can talk to the Clever Bot just like you are talking to a real person. Personally speaking, this one is my favorite and Clever Bot gets better and better, thanks to the power of UI. The bot is actually so interesting and give you crisp answers for your questions. Of course, it's a great way to kill boredom, because you can ask almost everything to it and there is always an answer. And, there are lots of conversations you can have with the bot. Most interesting thing on the internet I have seen after Reddit. You can even find sites like bored panda, clever bot in the upcoming list.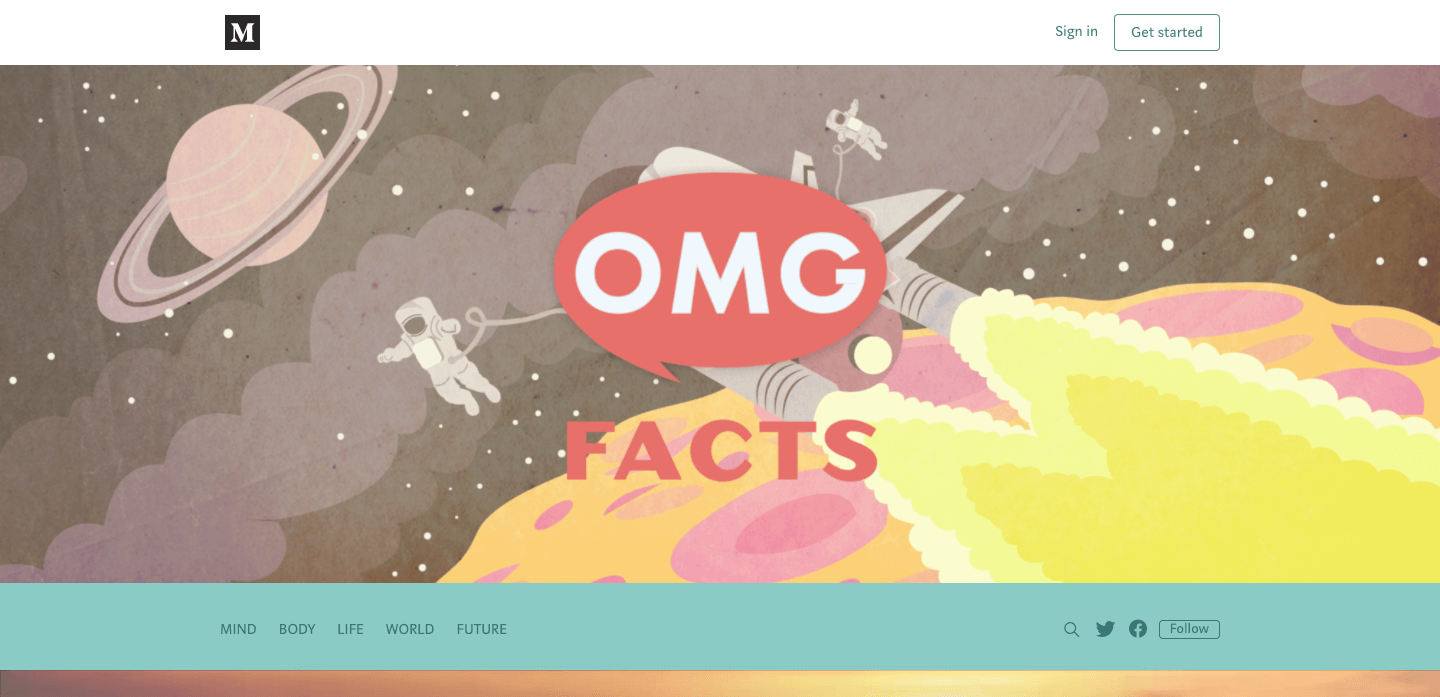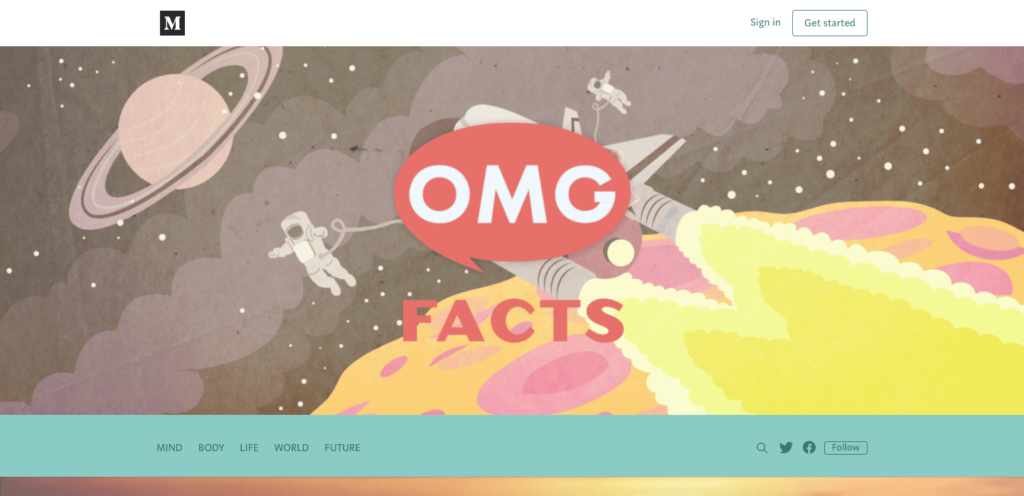 Do new facts excite you a lot? You should then have a look at OMGFacts, which is a great platform to find a lot of scientific facts and recent happenings. The website has a really simple design and offers different types of content, from common features to investigative-type writings. For someone who seeks science as well as knowledge, OMGFacts is going to be the perfect space to kill boredom. In case you are interested, there is an option to submit the facts you know, so that they can enrich the collection. The facts can help you boost your knowledge as well.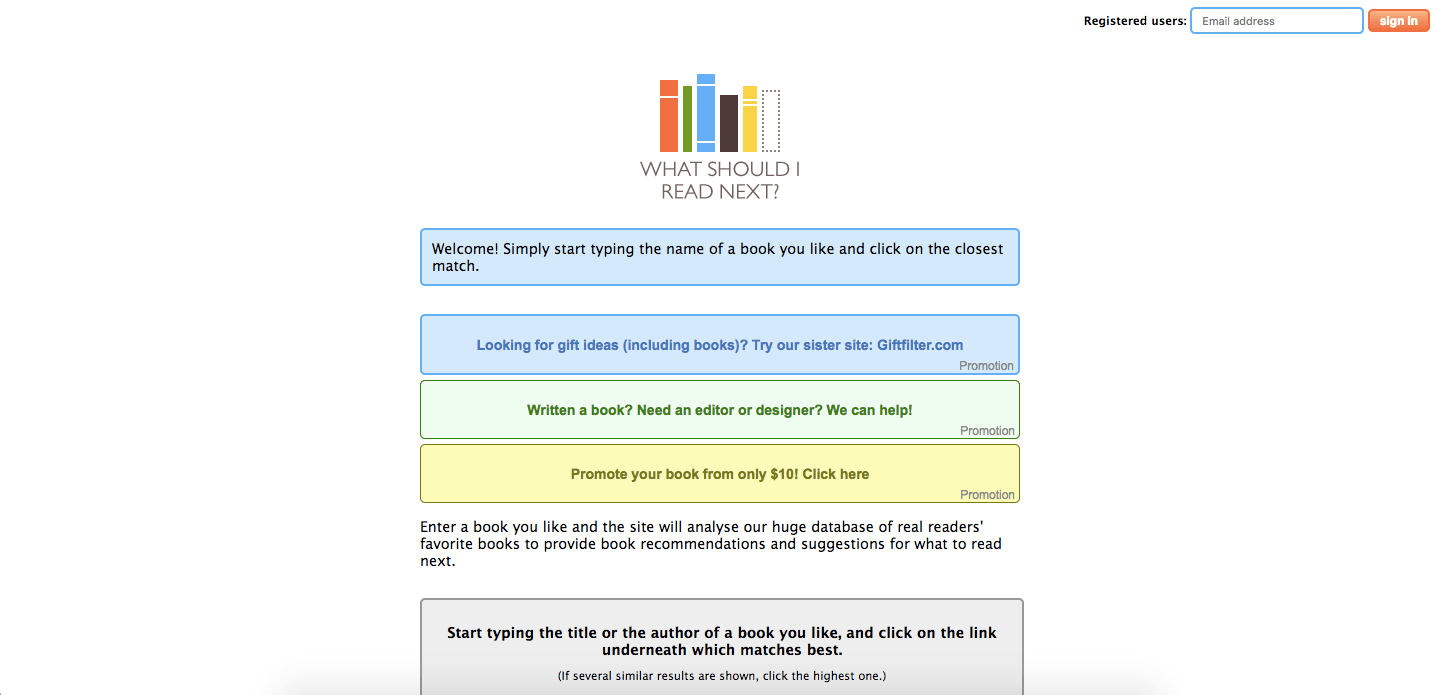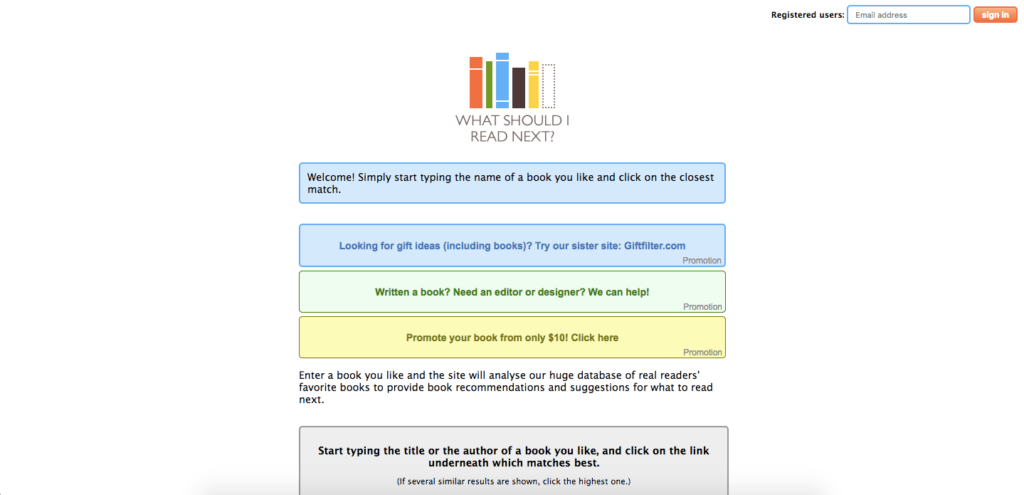 This website is not really a time-killer but is really interesting for someone who loves reading. Have you ever been in a state where you cannot find the next great book you should read? What Should I Read Next fixes that in a single click. Thanks to the huge-enough database and associated data of books and authors, the site can suggest you some of the finest books that will entice you next. So, suppose you liked the latest Booker Prize winning book. Just type in the name, select the book from list and What Should I Read Next would tell you what you should read next. I waste so much time on this website.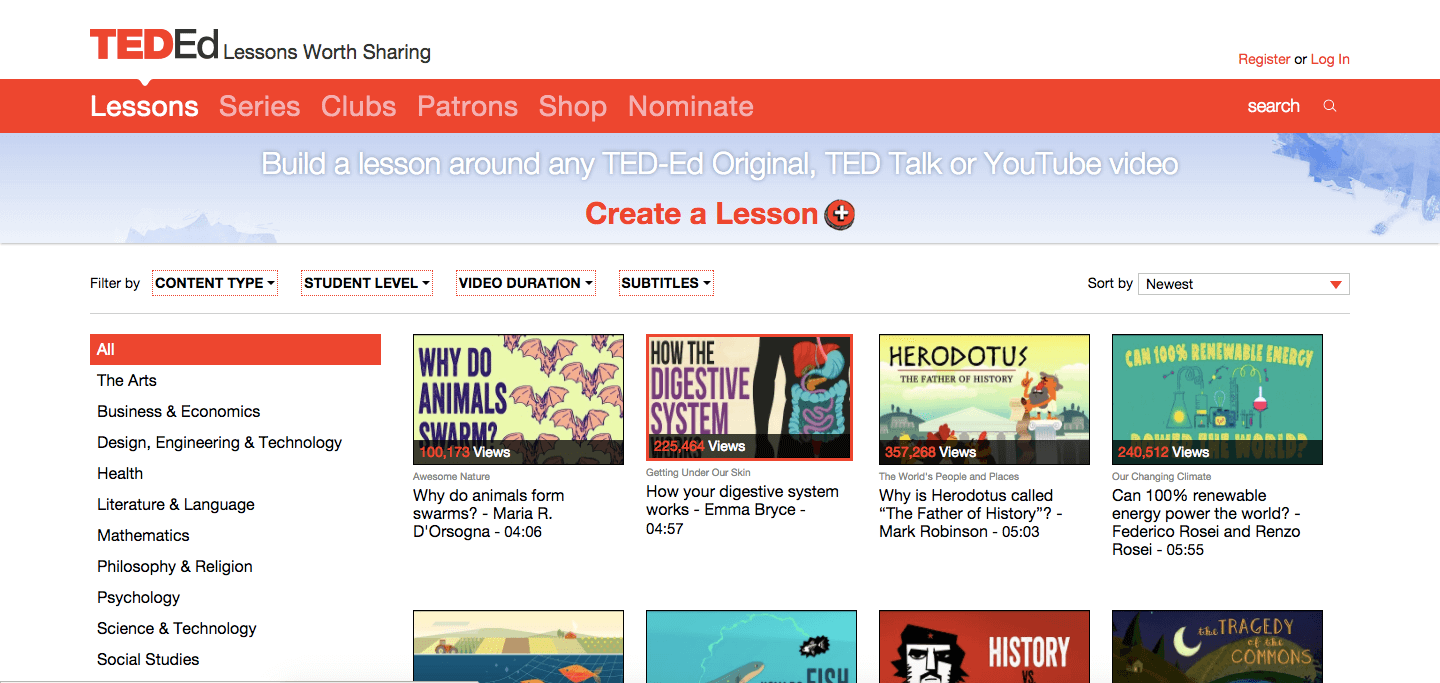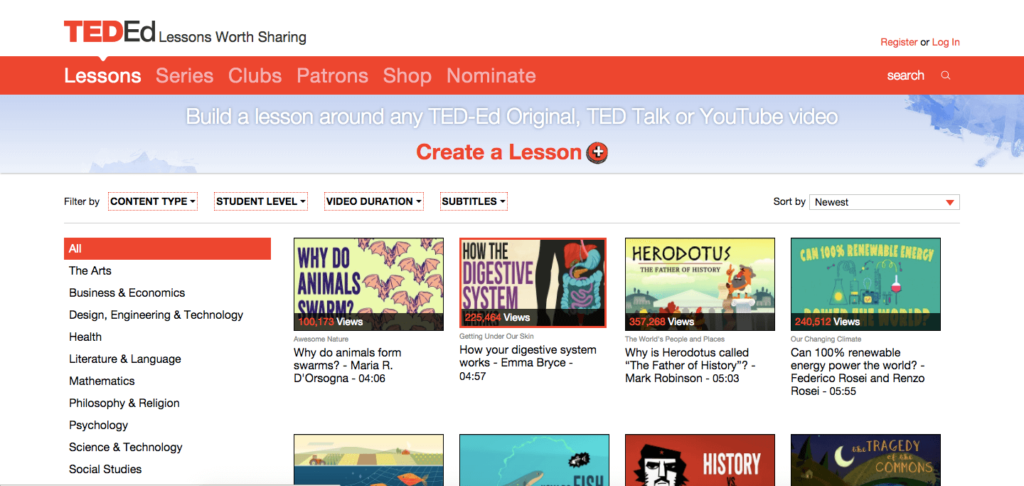 Would you like to earn some knowledge during the free time? Well, then you should definitely visit TED-Ed, which is the greatest platform to learn a lot of things. You can find many lessons at TED-Ed that break down the various concepts of science, literature, art, politics etc. Simply choose the lesson and start learning. Each lesson is a few minutes long and thanks to proper categorization, you will find the best one for your choice in no time. In case you didn't notice it yet, TED-Ed is an initiative by TED.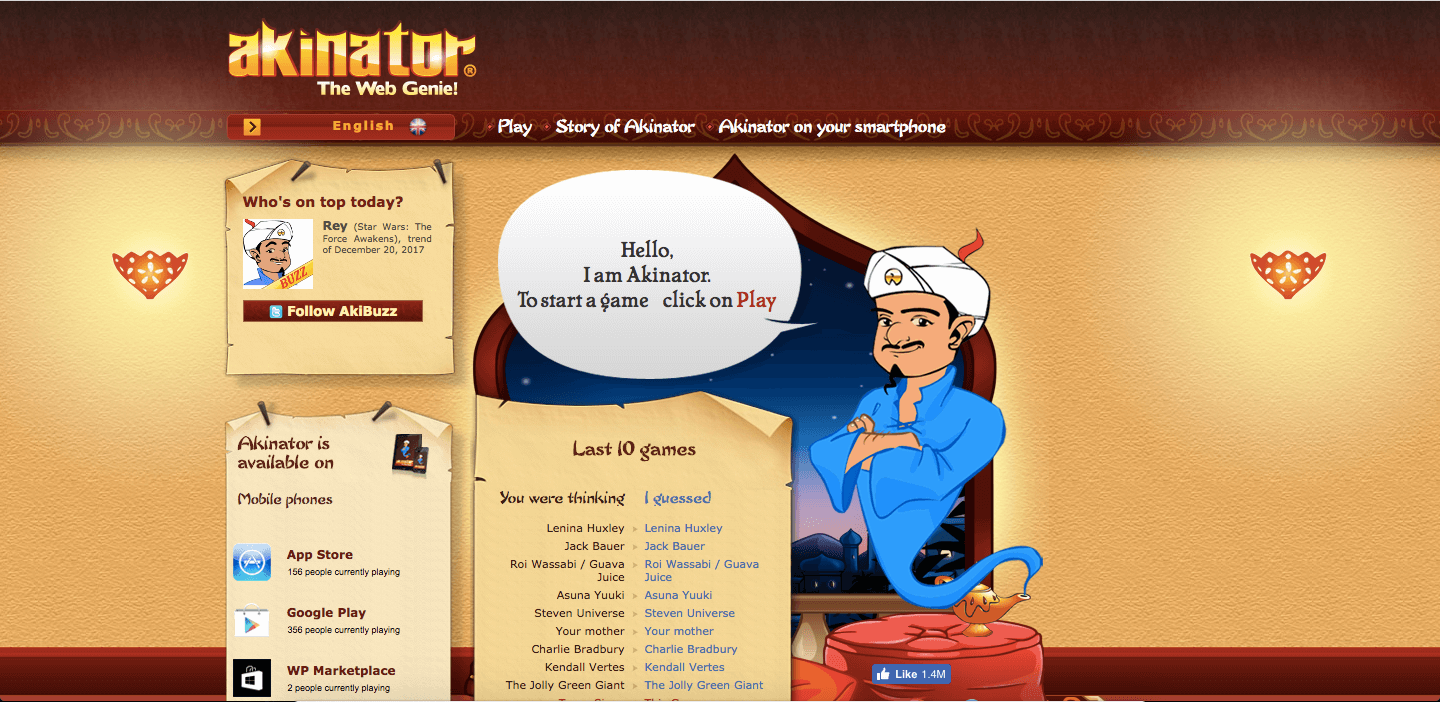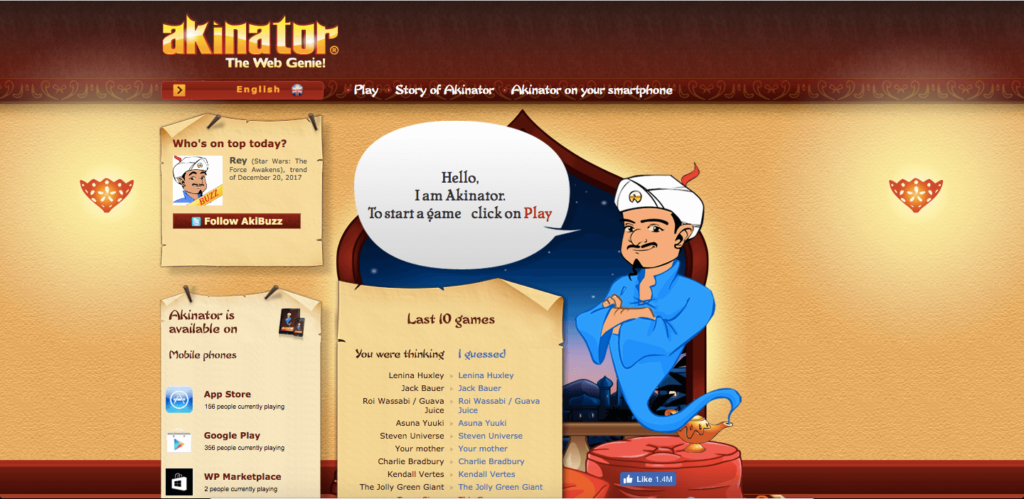 Akinator is a wonderful website that can not only kill your time but also show off some powers of AI. The job of Akinator is simple: you can think of a person — character, dead or alive, all your choice — in your mind and start answering the questions asked by Akinator. Before you begin, however, it will ask your name and age, though. In most cases, Akinator guesses what you are thinking and even if it doesn't, the website is truly a fun one. Most people don't believe this in first look, but simply checking out the website will tell you how powerful Akinator is. Weird websites you are encountering right?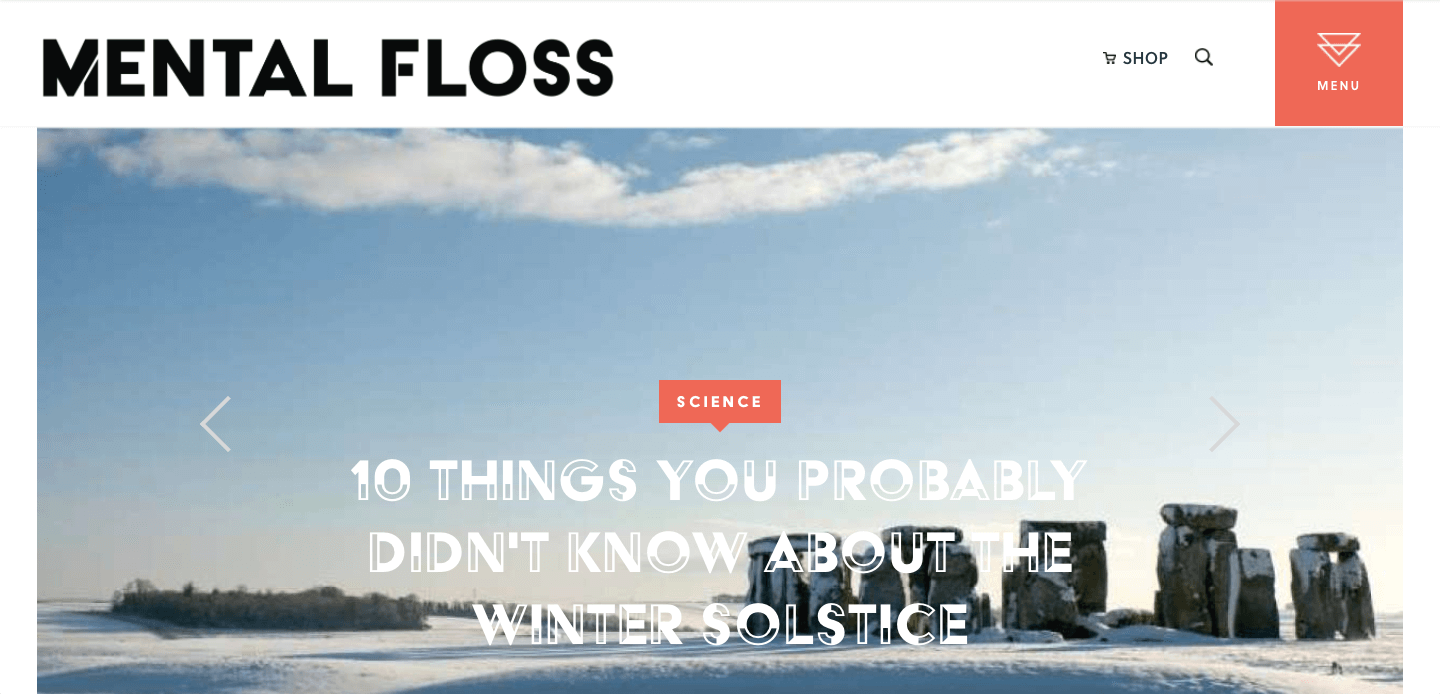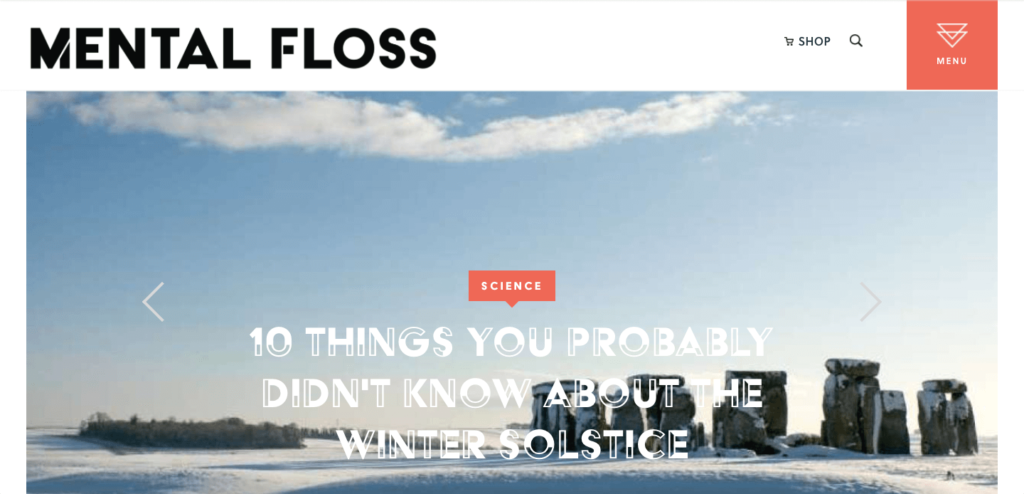 Ever wondered about how the people you admire came into the position? Or, want to know how the world has created so many progress with these many people? Mental Floss is your platform for knowledge as well as reading that enhances your thoughts. Just head to the website and find the topic you like and you will be able to start reading content that enhances the knowledge you have on it. In most cases, Mental Floss gives you a new version or new perspective of viewing history and the backstories of the people of your choice. It is a great time-killer, that's sure.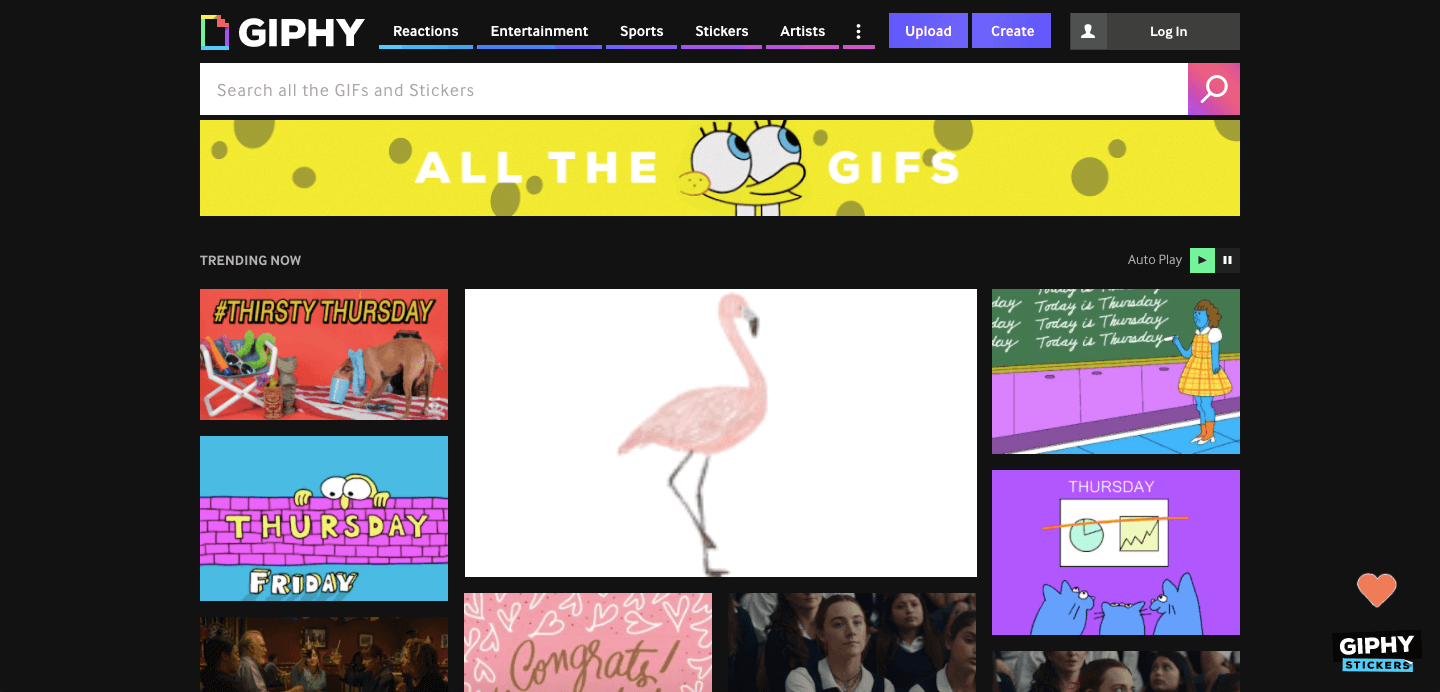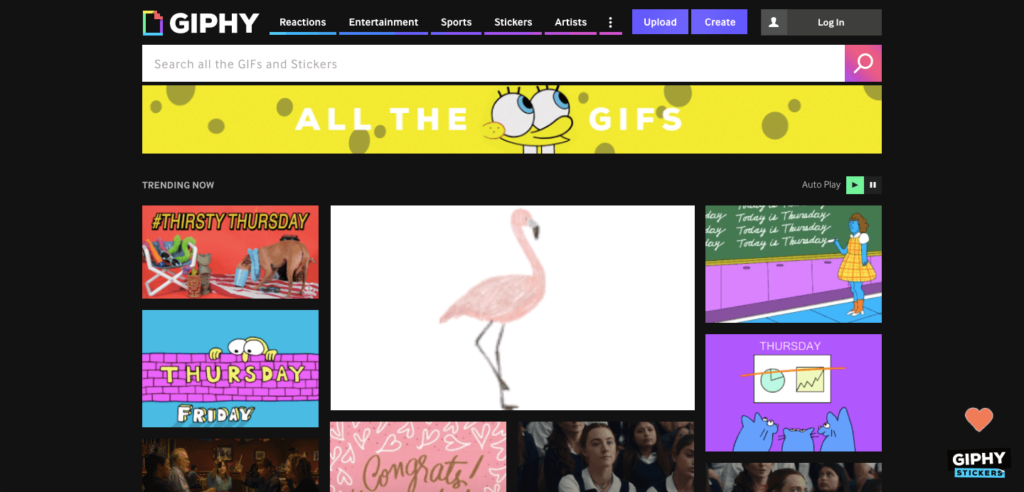 Love finding the best and popular GIFs from across the world? GIPHY is the single place that you should be visiting every day. You are going to love how frequently content is updated by users and you can easily get a GIF downloaded to your computer. If you want to share it somewhere else, you can copy the link too. For someone who loves GIFs with those crispy taglines and dynamic insides, GIPHY is one of the best places ever. It is completely free and the website is also hosting some stickers and GIFs from certain artists. It's the best place ever for GIF collections.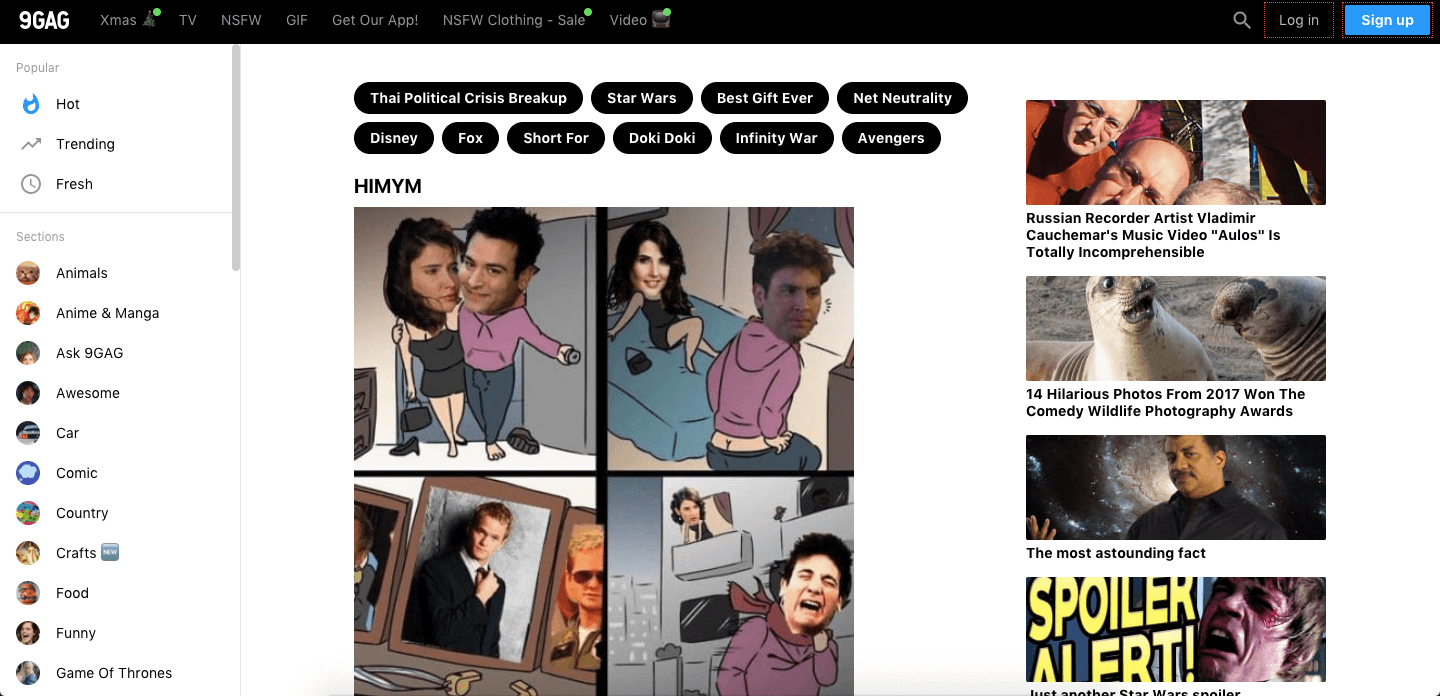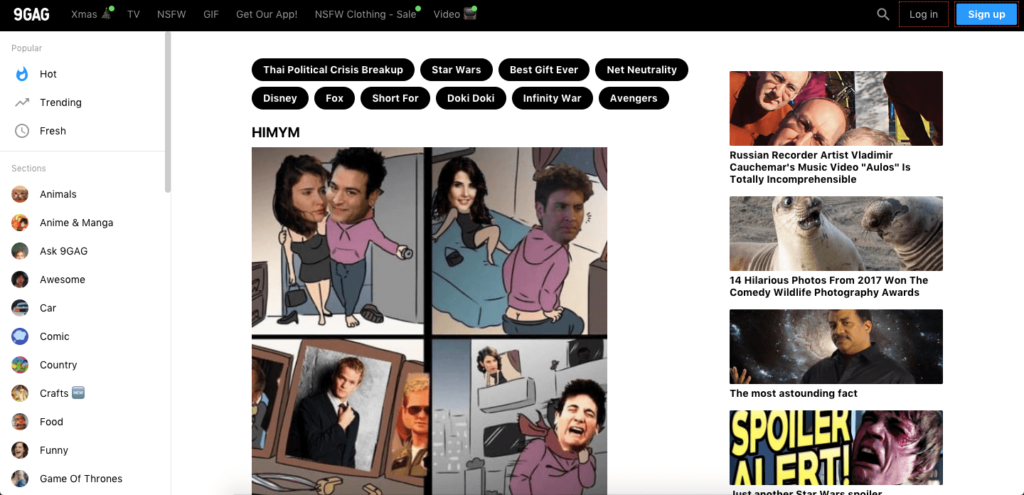 9GAG has been the favorite of Internet users for a really long time. Another community-driven platform to find interesting and funny content, you may also come across NSFW content on the platform, if you do not stay within the limits. For anyone who likes that pinch of fun and viral content, 9GAG is one of the best sites to keep on bookmarks bar. It's not about the website. There are official apps available for Android and iOS, if you want to watch GIFs and videos in a convenient form from your computer. At the end of the day, 9GAG offers everything you need for fun.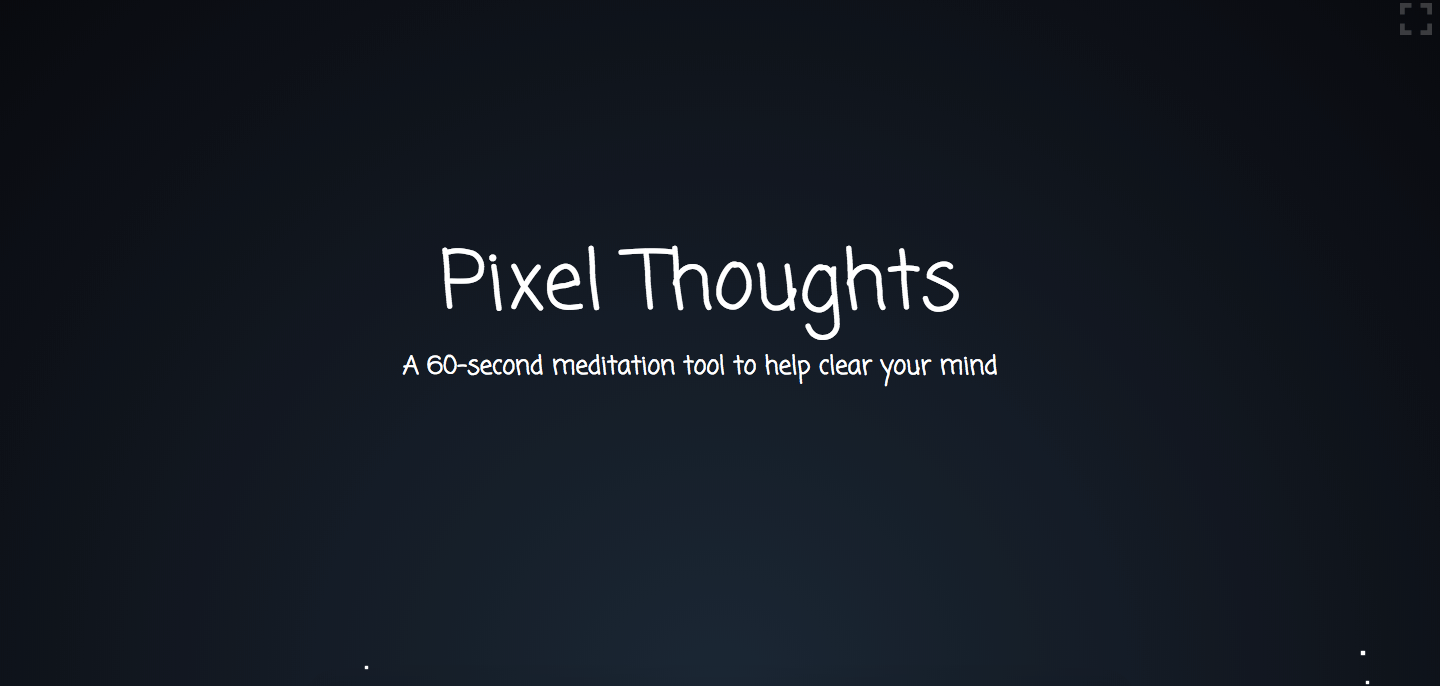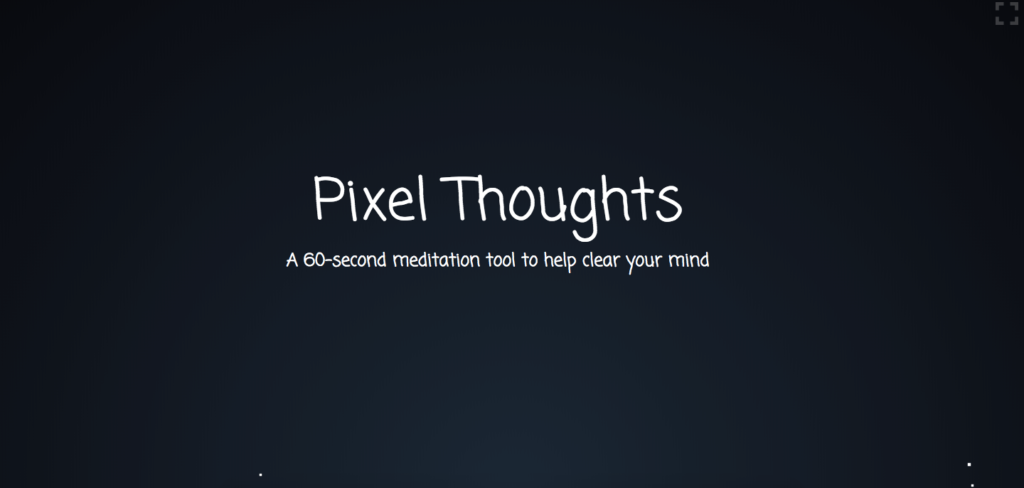 Totally stressed out by the bad day at work or something else is troubling you? The website, Pixel Thoughts, can offer you the best experience by taking you through a 60-second meditation session. The session seems to be quite simple yet effective, thanks to the use of great music scores and proper visualization. In just short span of time, Pixel Thoughts can show you how insignificance your problems are and how you can get rid of all those. A personal favourite of mine, this website is a gem that you should keep in the list of interesting and useful ones. Funny websites to stress-free!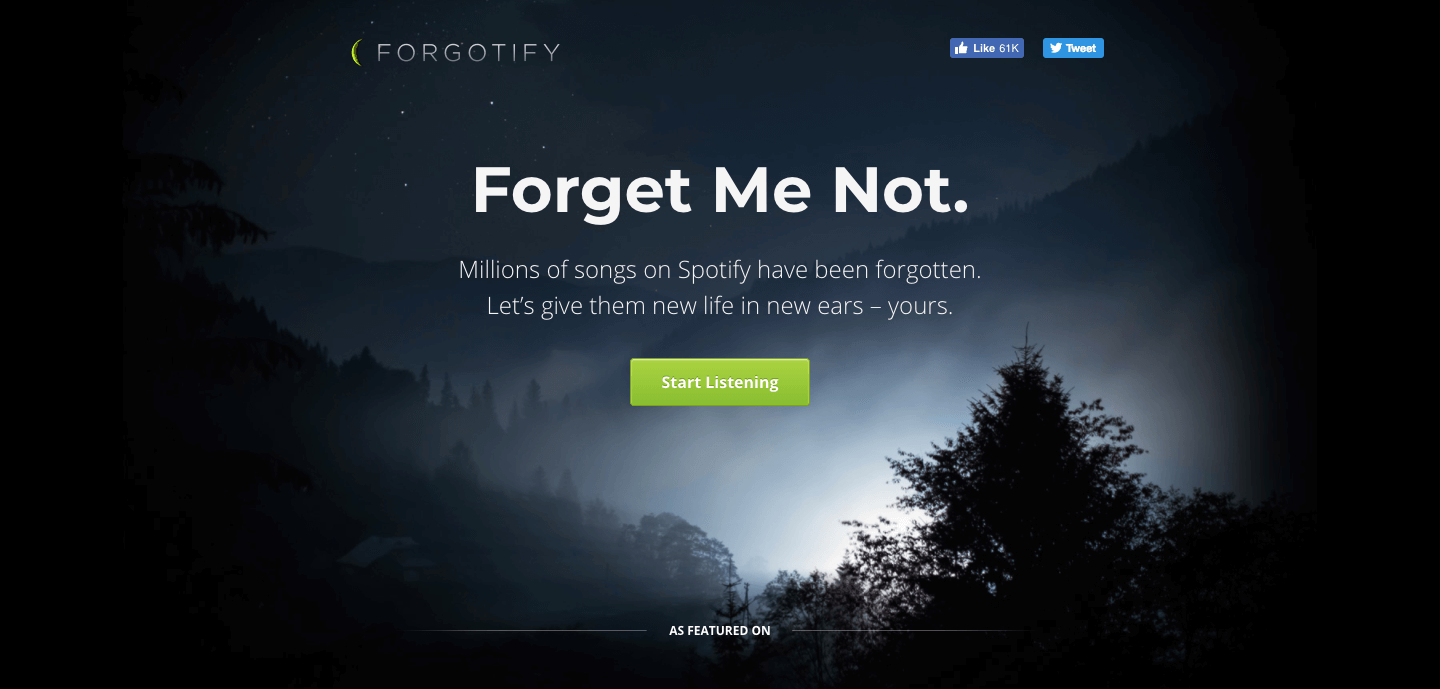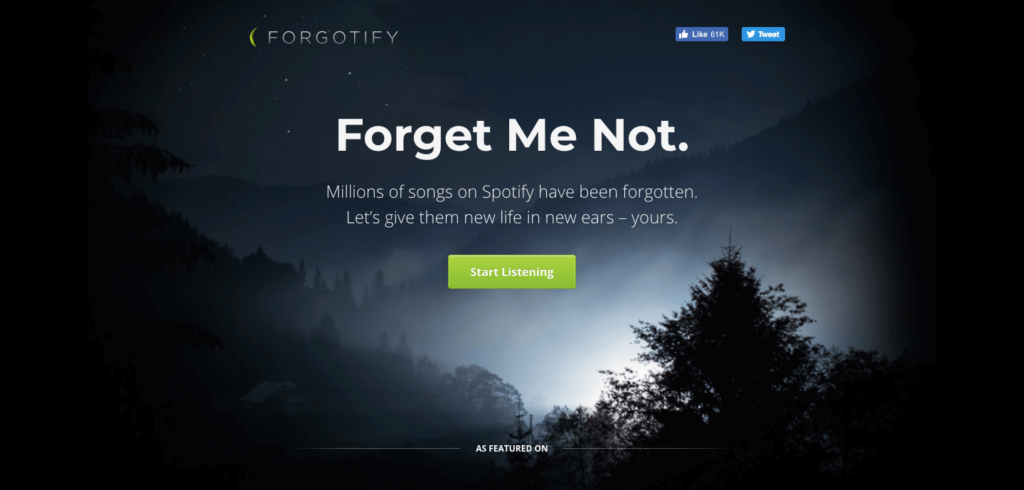 Do you love finding great music via Spotify? Okay, here is the problem. Not all great artists are popular when it comes to a large database like that of Spotify and you might be missing out some of them. Forgotify is an awesome attempt to bring such great but unnoticed artists into the limelight. The next time you want to find a song that will quench your thirst for music, Forgotify will help you. To get started, it offers you a list of the best songs that have been forgotten but re-discovered by the team. The website has been endorsed by many media giants like TIME and BBC.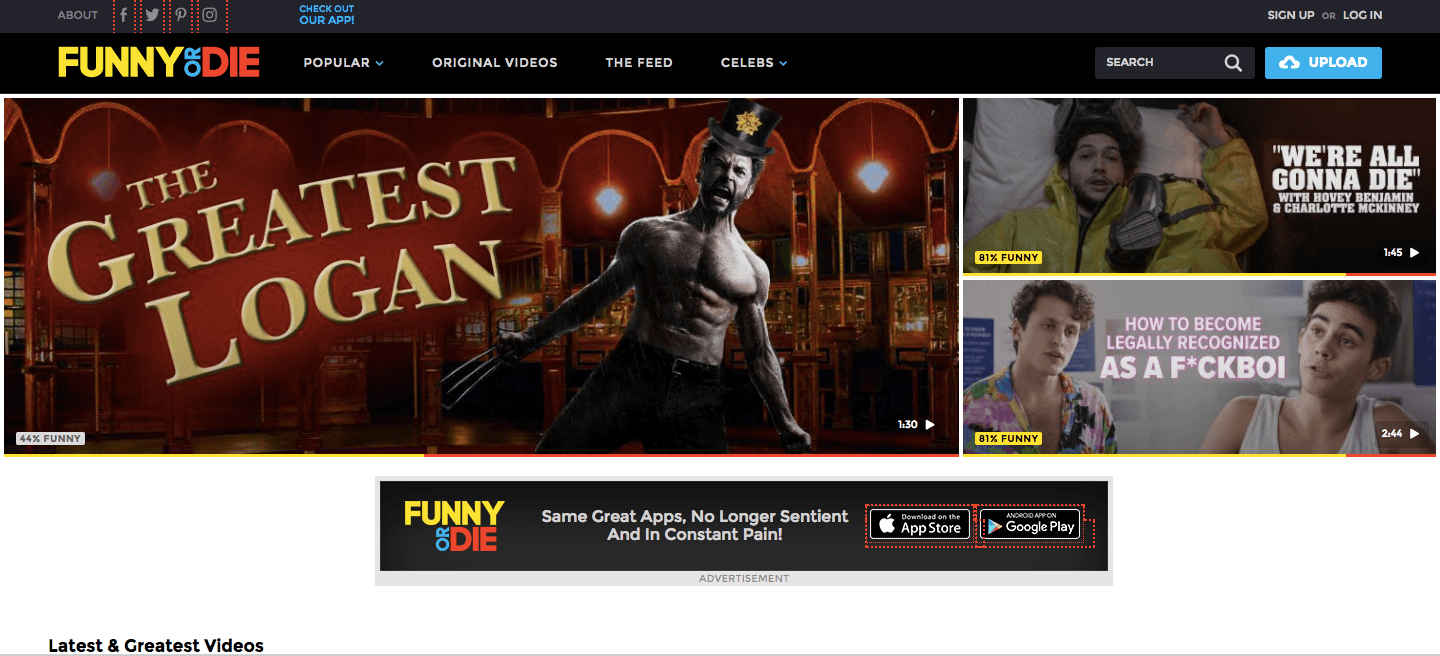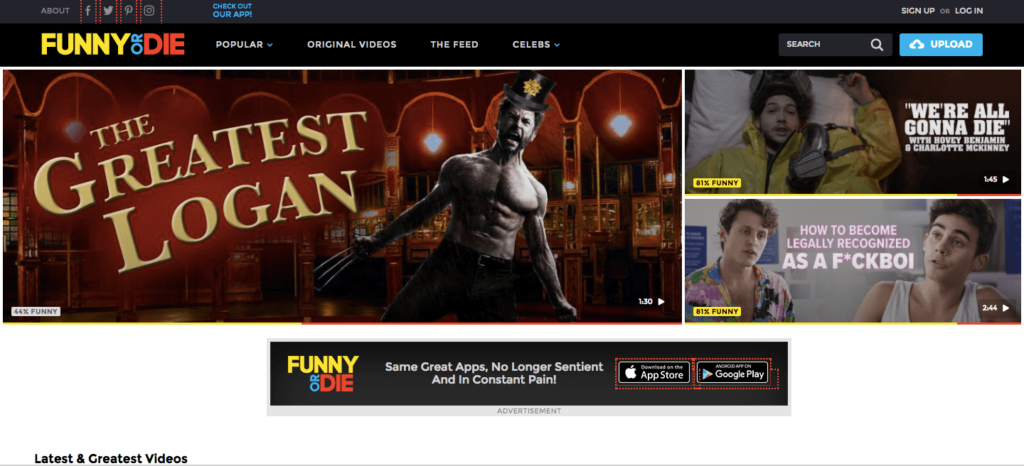 This is another great website if you like listening to comedy. Funny or Die is a great website when it comes to finding unique comedy content. You can find a wide variety of content there, including sketches, videos as well as podcasts. You are not likely to find Funny or Die videos on other platforms, and it's one reason to keep visiting the website. Make sure that you may find some content from Funny or Die as something rude. But, that's something you should know when it comes to comedy stuff, you know. There are also some apps you can check out.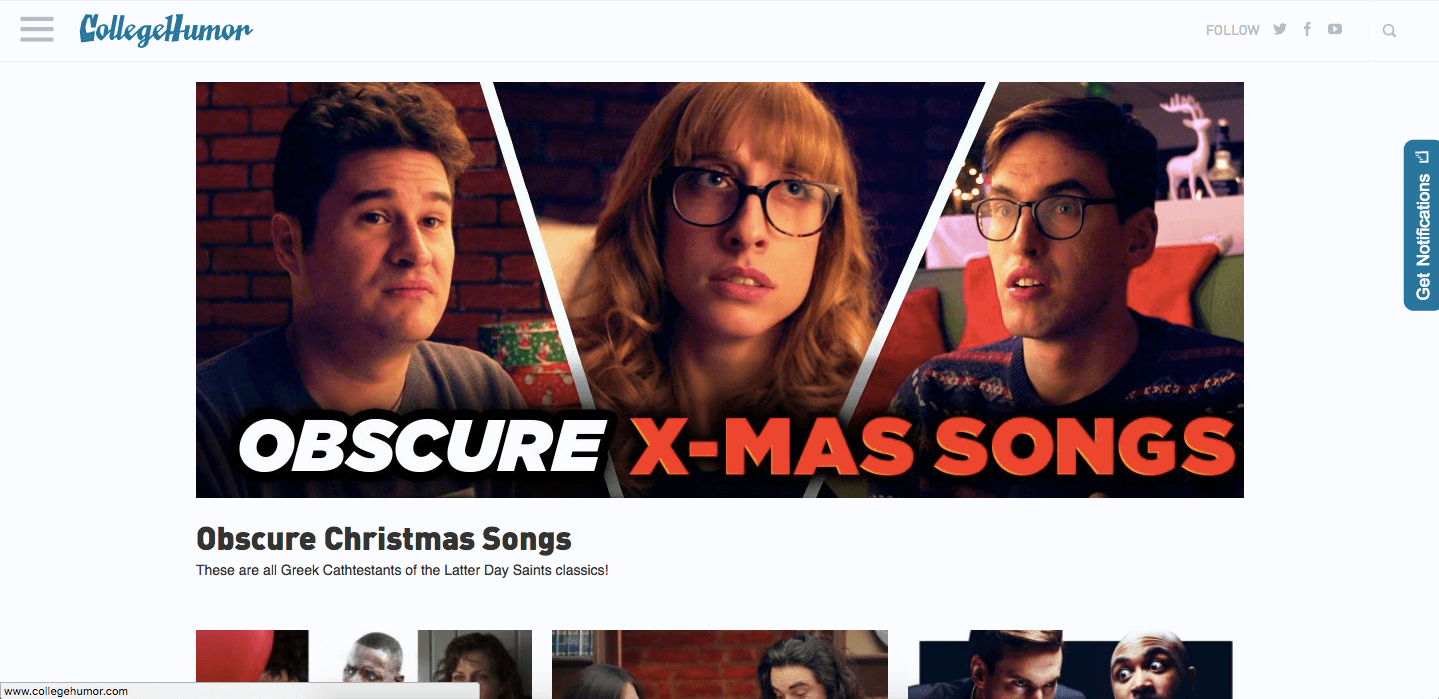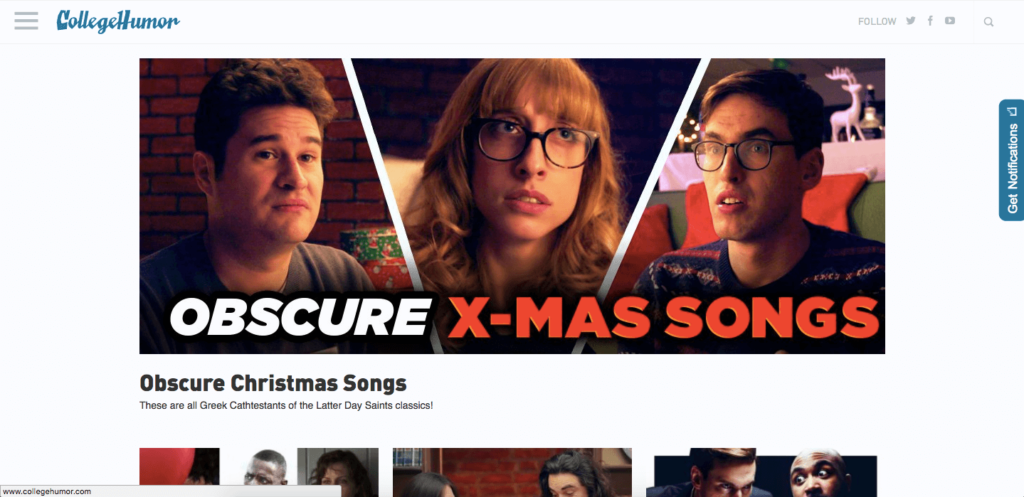 Another awesome place for finding funny articles and social stuff, CollegeHumor is a must-visit website for unique comedy content. Although it focuses on comedy, you can find socially-relevant articles as well. So, if you just need a quick overview of what has been happening in the digital world of social media and lives, it's the best place to have a look. Apart from articles, you can find some cool videos and features as well. In case you are interested, you can check out the YouTube channel of CollegeHumor.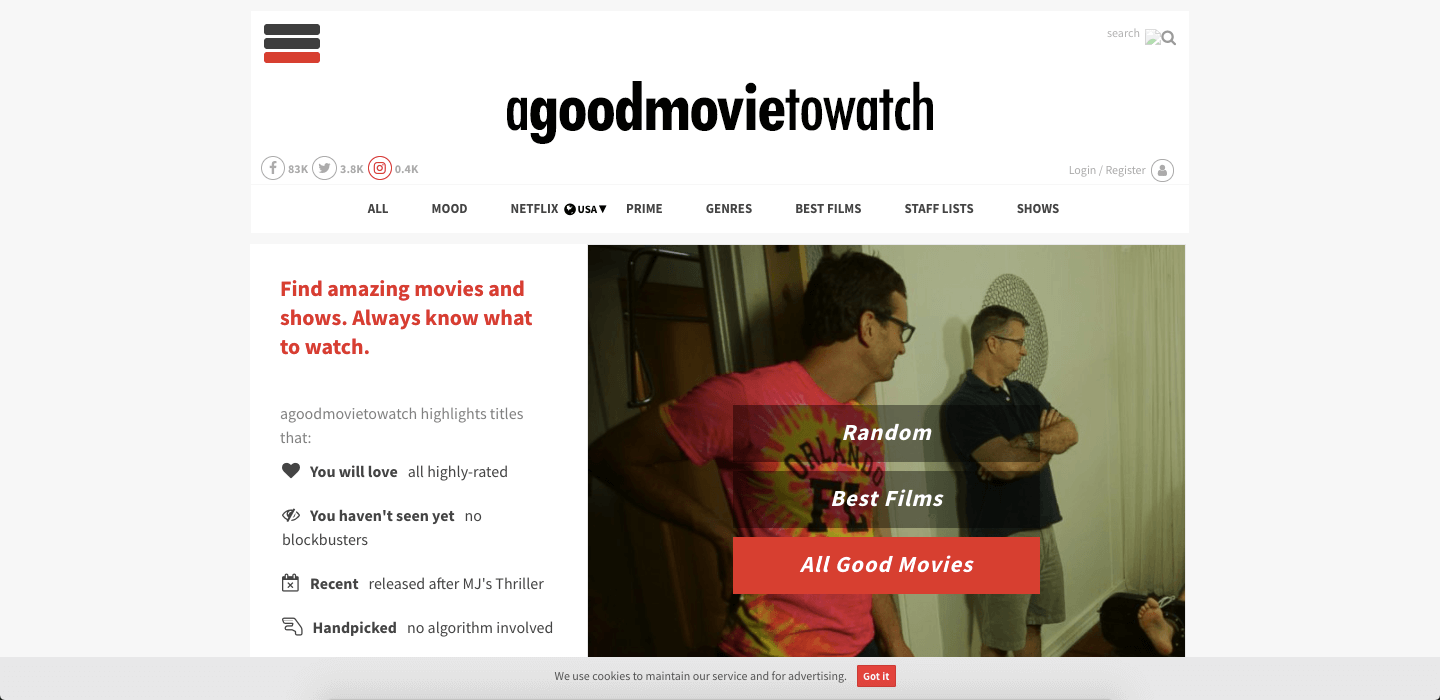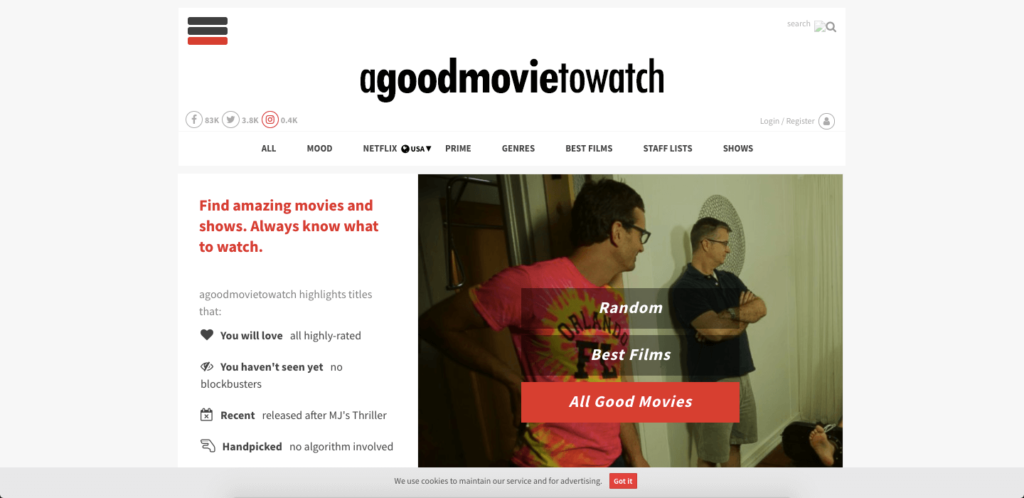 Do you have trouble in finding the next movie to watch? Then, you should visit agoodmovietowatch.com to find one of the best films ever made. The concept of the website is quite simple. You go to the website and select from where you want to find the movie from — from the web or Netflix. In just a second, the website will show you a random film that is also based on the film-selection algorithms. That having said, it can show you some suggestions as well. So, if you need a personalized choice that is based on real-life opinions other than tags and genres, check out Agoodmovietowatch.com.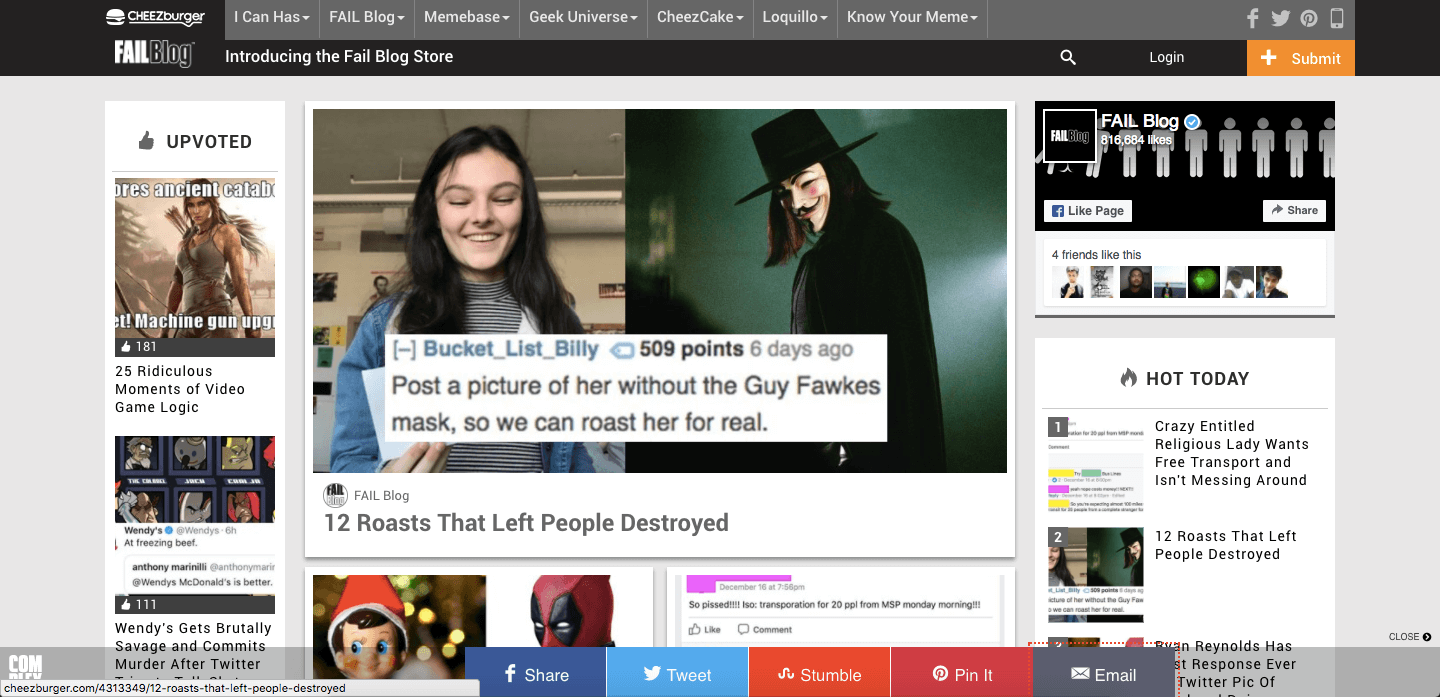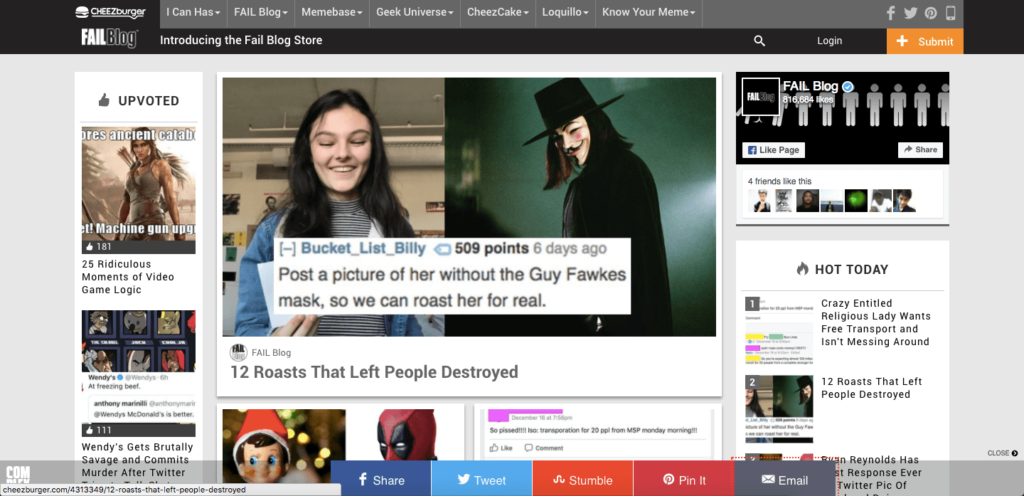 Interested in finding where and how people make mistakes and get failed? Fail Blog gives you updates about things that you want to know but hated by those who did them. The blog has some of the finest laughable materials on the Internet, thanks to the ultimate stupidity and lack of timing among people. In addition to a list of fails, however, Fail Blog also brings some other comedy content to cater to its users. So, got some free time and want to have some guilty pleasure? Go for Fail Blog and you won't be disappointed.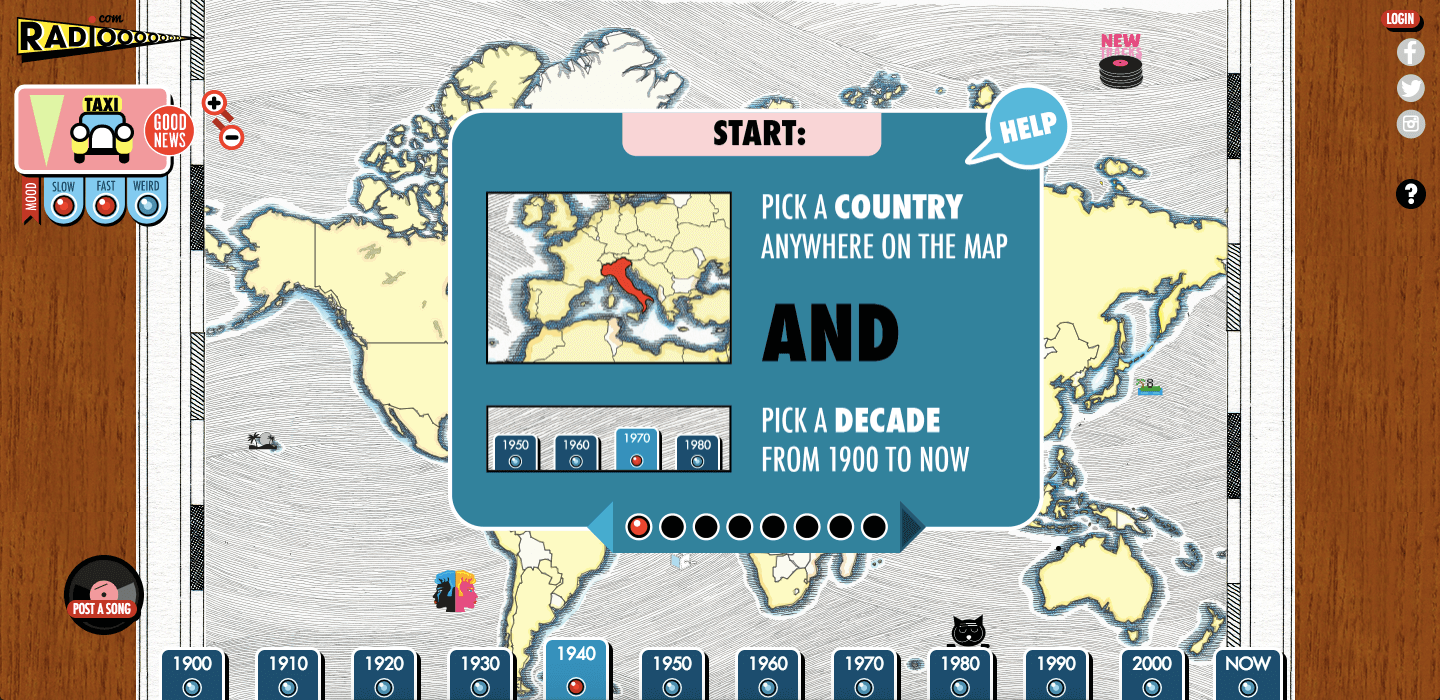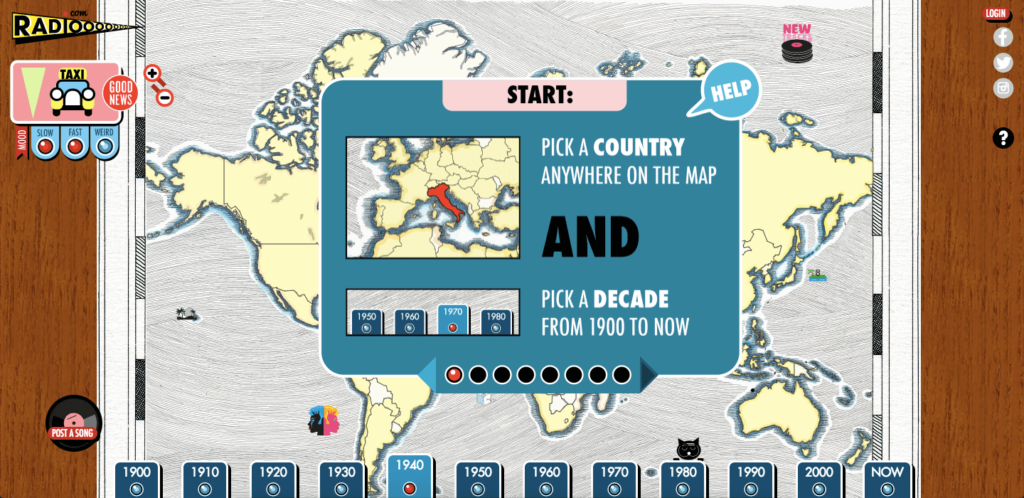 Do you know that radio stations and streams were cultural landmarks as well? If you would like to listen to those cultural collections from each age, Radiooooo is a website that you should check. There isn't much of a content there in the website, but you can simply choose the area from the map. There is also an option to select the desired age from which you want to stream content. Suppose you took Canada in 1980s and one representative track would be streamed. So, if you think that the best websites we've mentioned above do not keep you interested, try Radiooooo.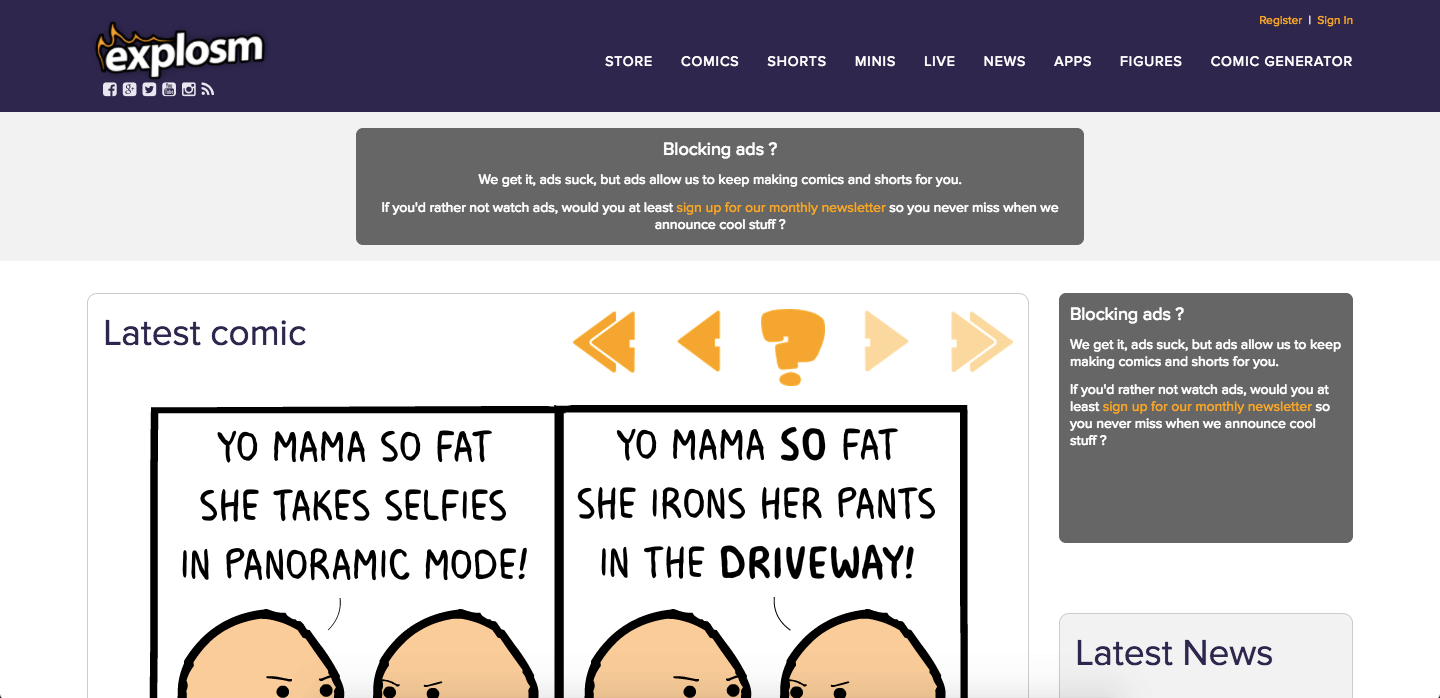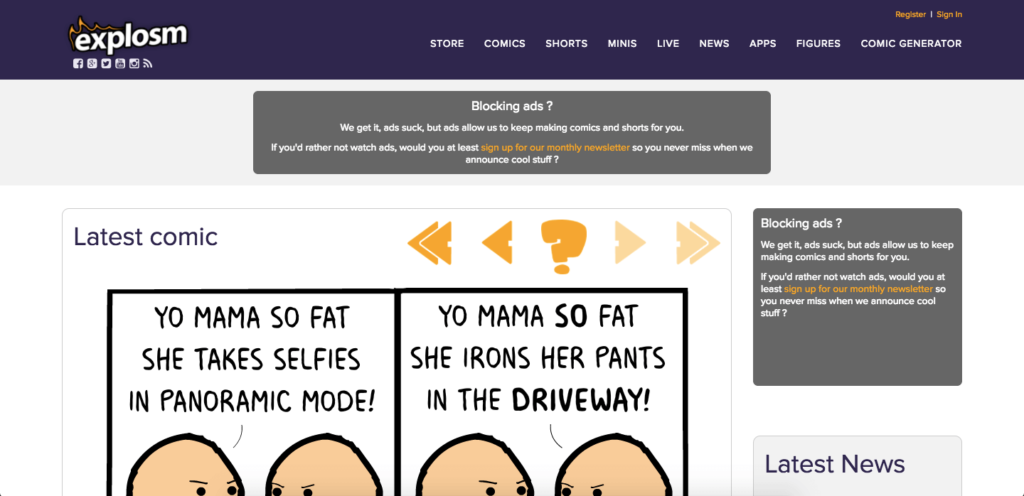 If you have a taste for web comics, you should definitely check out Explosm.net, which is commonly known as Cyanide and Happiness. On each day, you can expect some new comics, but there is already a huge set of comics that are yet to be checked out. Explosm is noted for its use of dark comedy and unseen presentation style. If you don't want the ready-to-laugh comics but love to put some thought in it, Explosm is interesting enough to kill your time for. The website is quite popular among social media too, in case you are interested in following them regularly.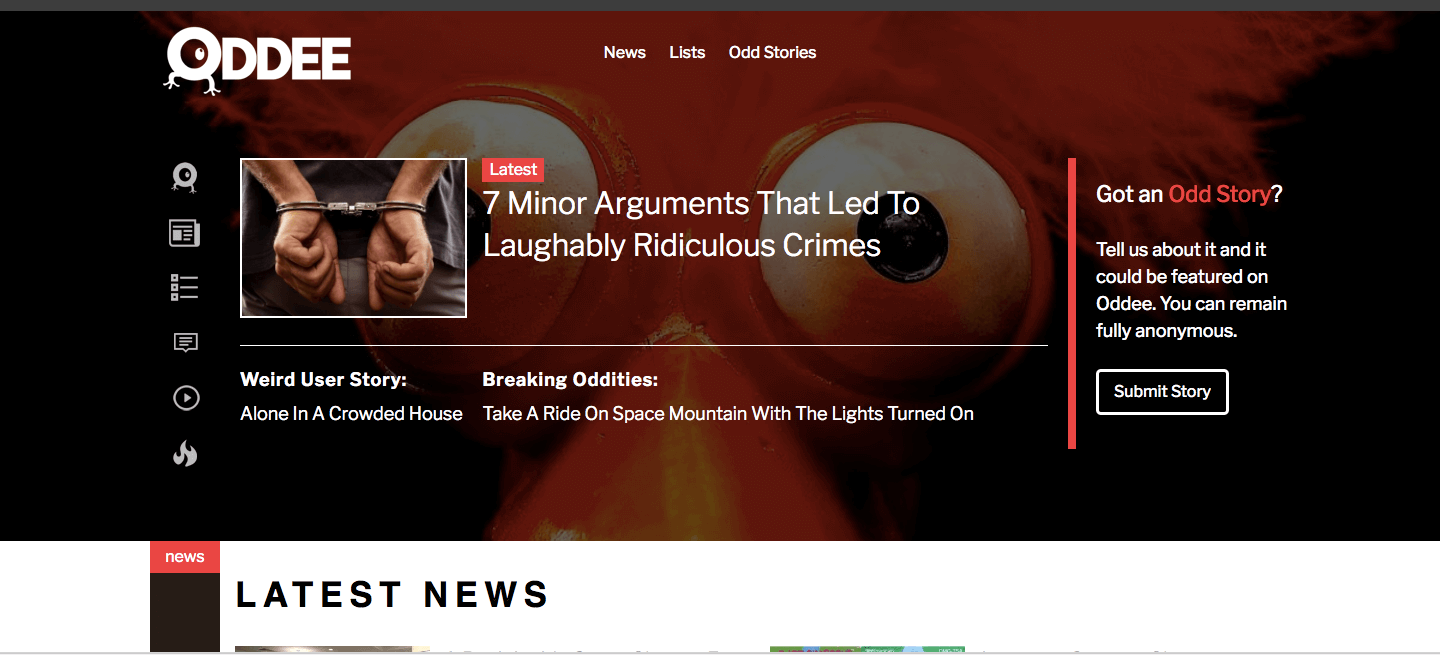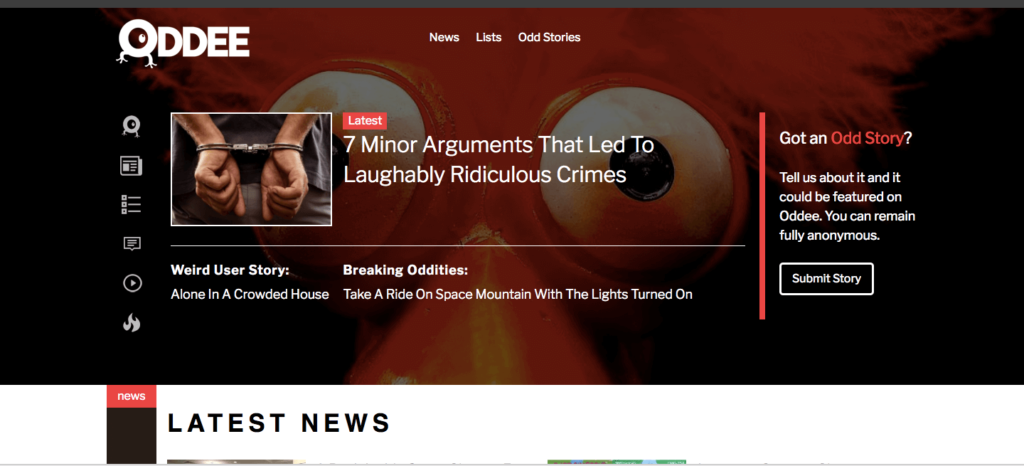 We have already seen many blogs that bring you interesting content from many subjects. Oddee should be your choice if you'd like to know more about the Stranger Things out there — no, not about the series. There are a lot of posts you can find about the strangest things that have happened in the world. The website also has a Crazy list, where the authors list out some crazy stuff. What needs to be noted is that Oddee brings all its content from a wide variety of topics, which is a great thing. At least, you won't be bored by click-baits or anything like things to do online when bored.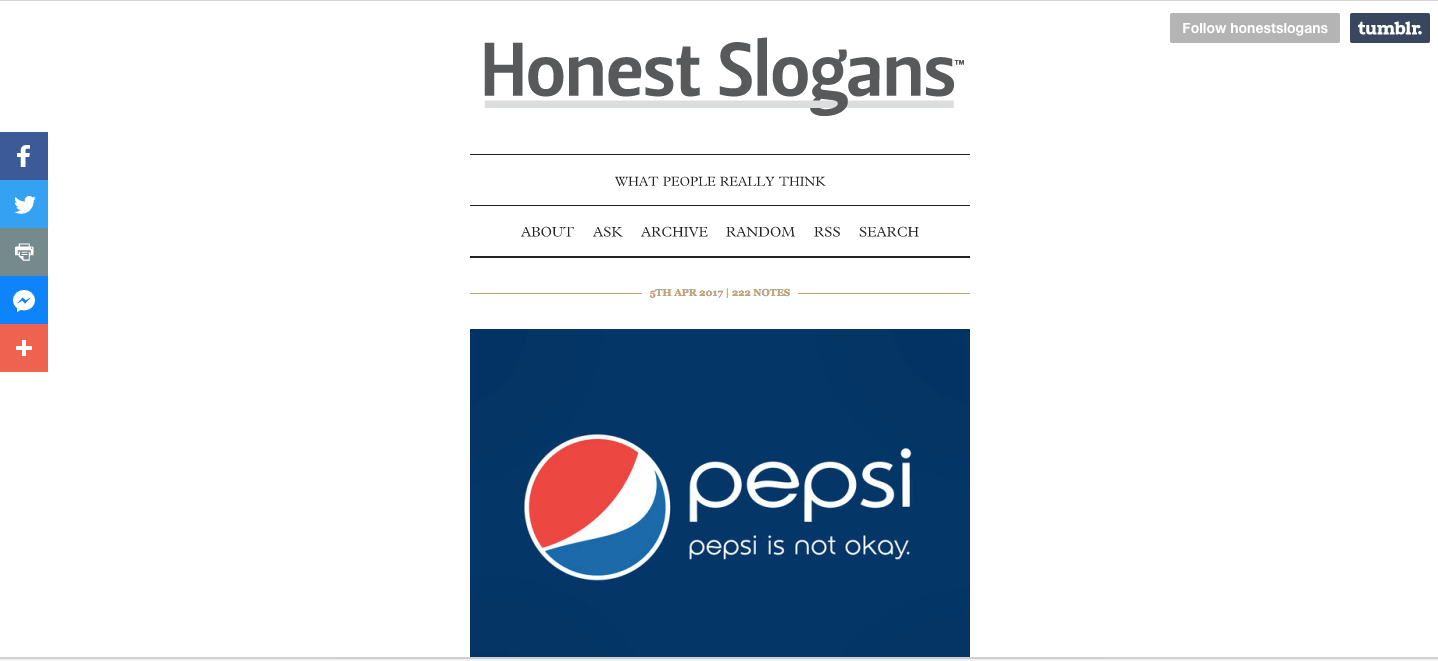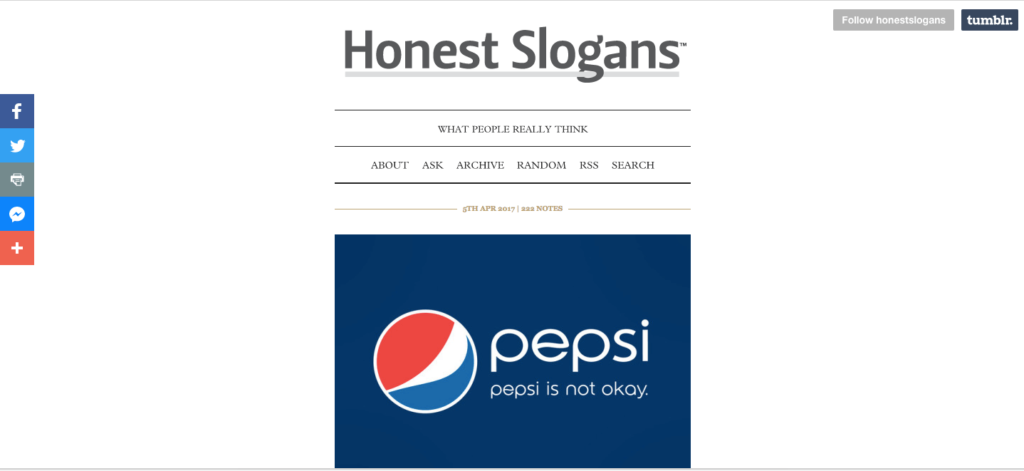 Want to see what should be the real slogans of the popular brands be? If you have some time, you must be visiting this website, where you can see some honest slogans. The site is simple but can offer you enough of fun and interesting stuff. In case you were searching for something that can be shared on Facebook, the site is just awesome. The website is so interesting in the sense that you get the clear idea about what's happening around yourself. Make sure you visit Honest Slogans before you say that Trump would make America great again. One of the cool websites to visit.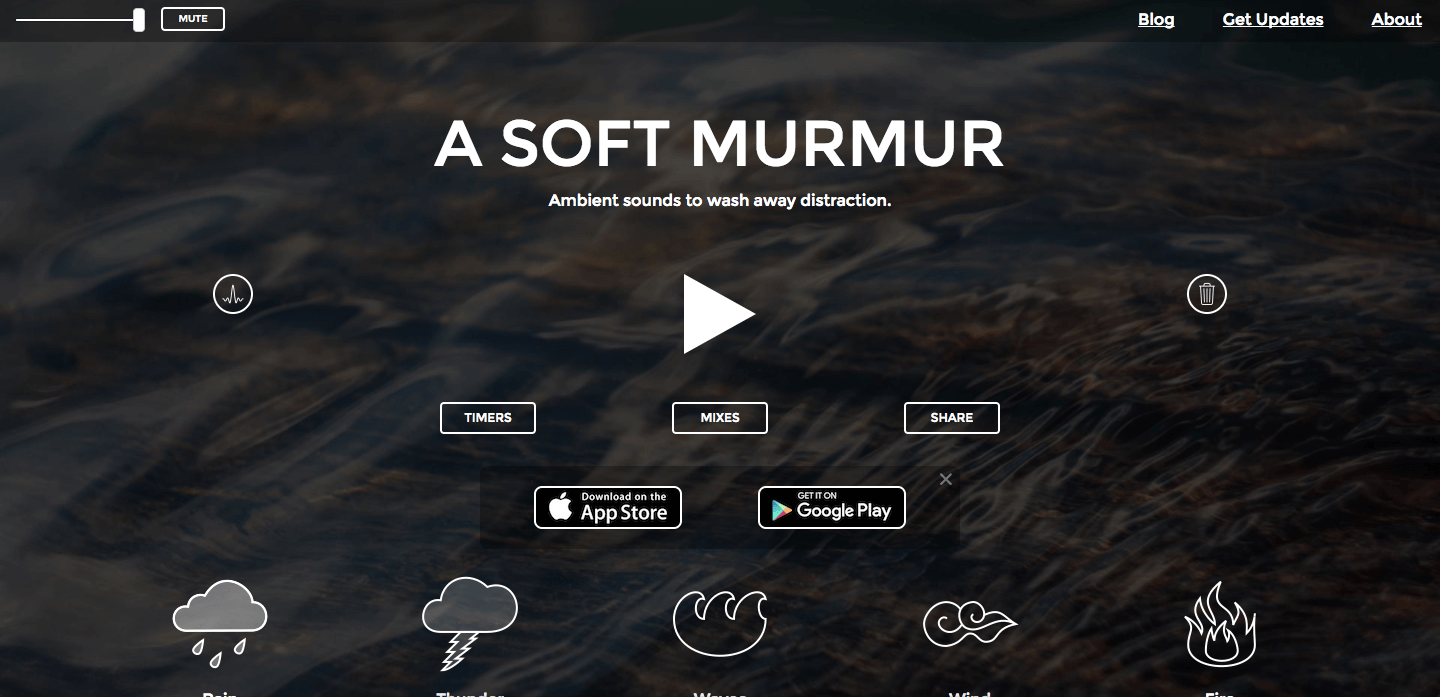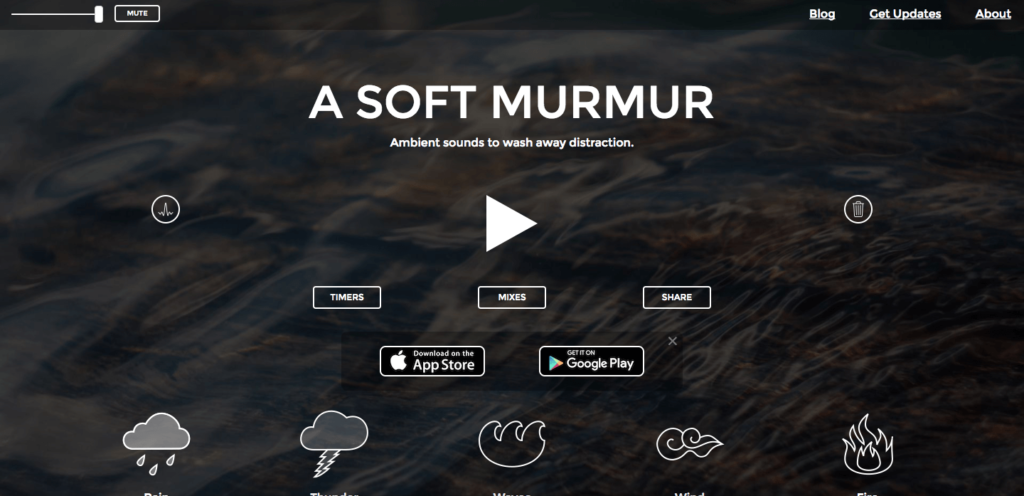 A Soft Murmur is not only an interesting website to visit but also a really productive one. If you have a pair of headphones, you can use the website to create awesome and productive ambient noise. Using the site is an easy thing, given that you know what works for you. You can create the perfect combination of ambient sounds, from available choices like Thunder, Fire, Singing Bowl, White Noise etc. The apps are available for both Android and iOS too, in case you wanted the portability aspect of some great ambient sound. Adding to the list this is also one of the cool websites to visit.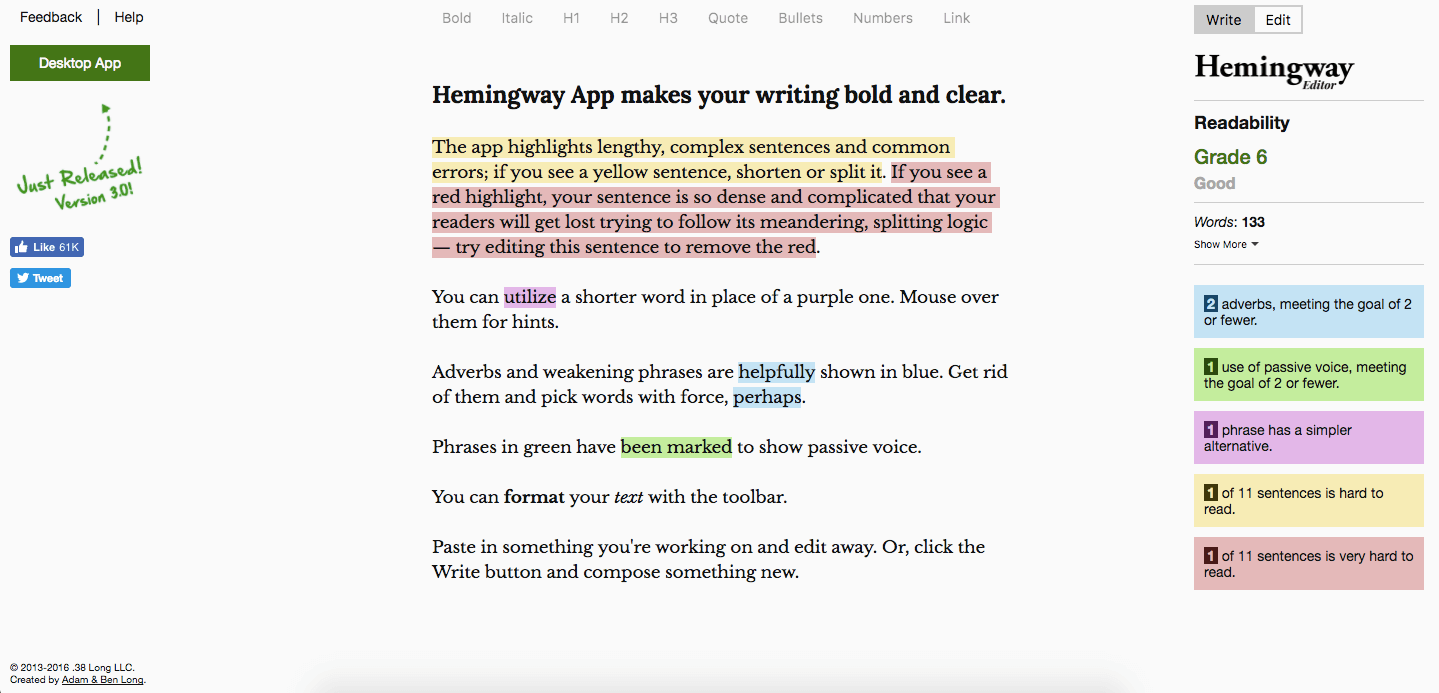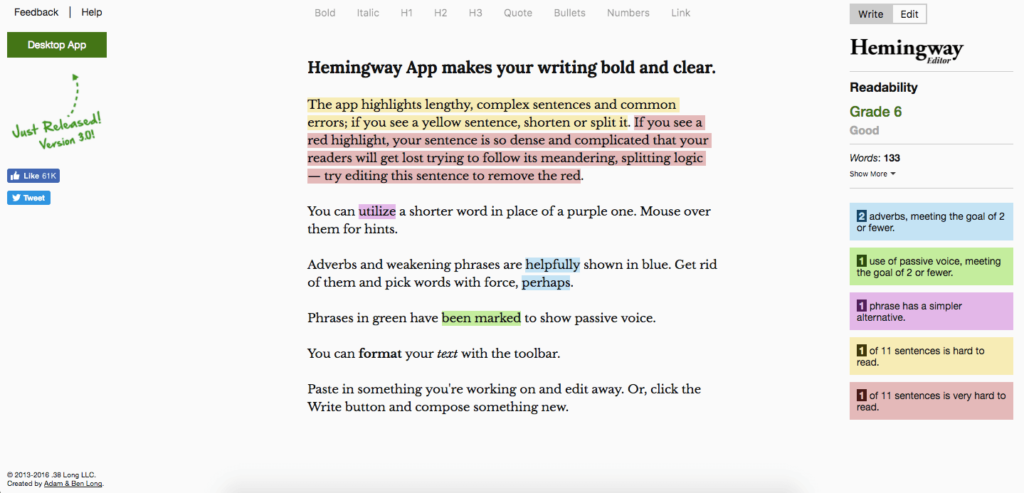 Do you spend time in writing creative stuff? Then, you might be in need of an impressive website that offers distraction-free writing environment. Hemingway Editor has everything you should be looking for. The app is available through the website and offer you features like Readability Scores and point out Grammar Errors. For someone who need a quick overview of what they are writing, the app is quite a blessing. On a normal day, however, Hemingway Editor is a great place to write anything and everything — open the website and get into the full-screen model.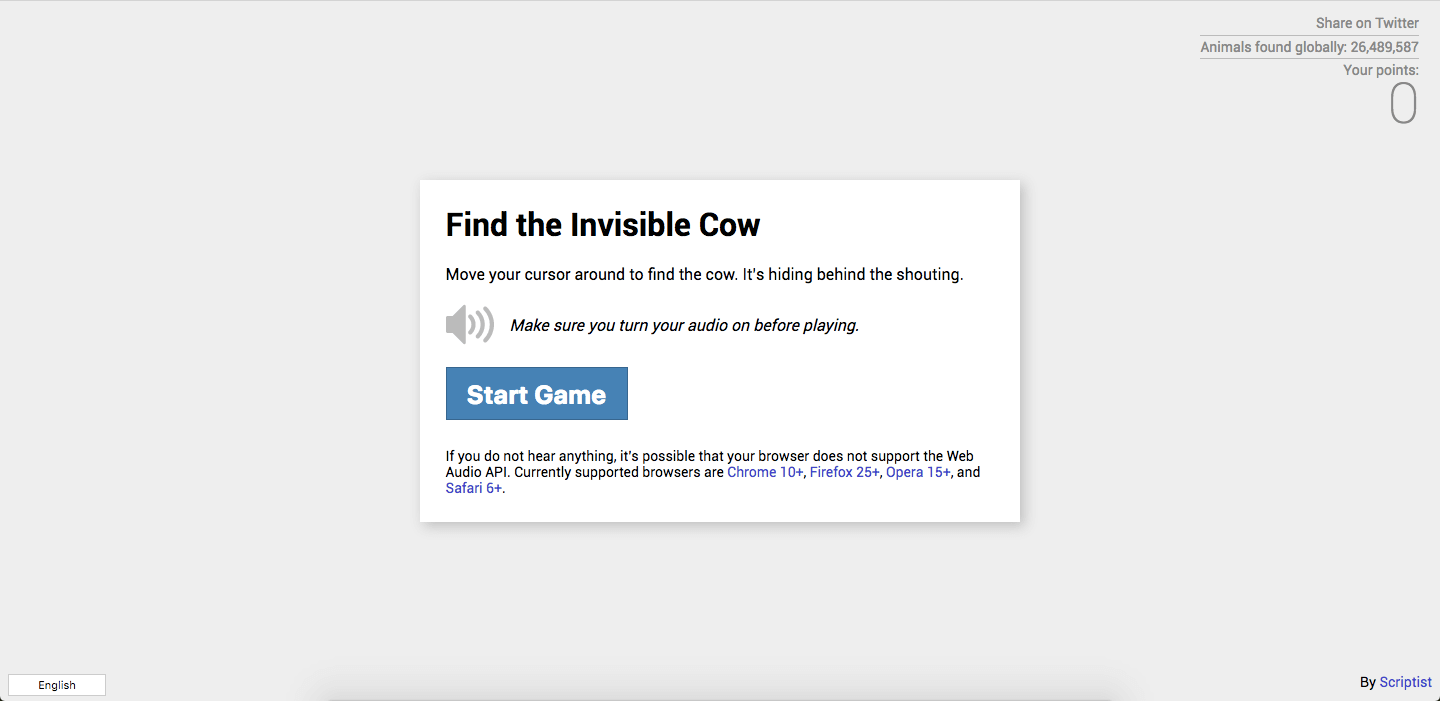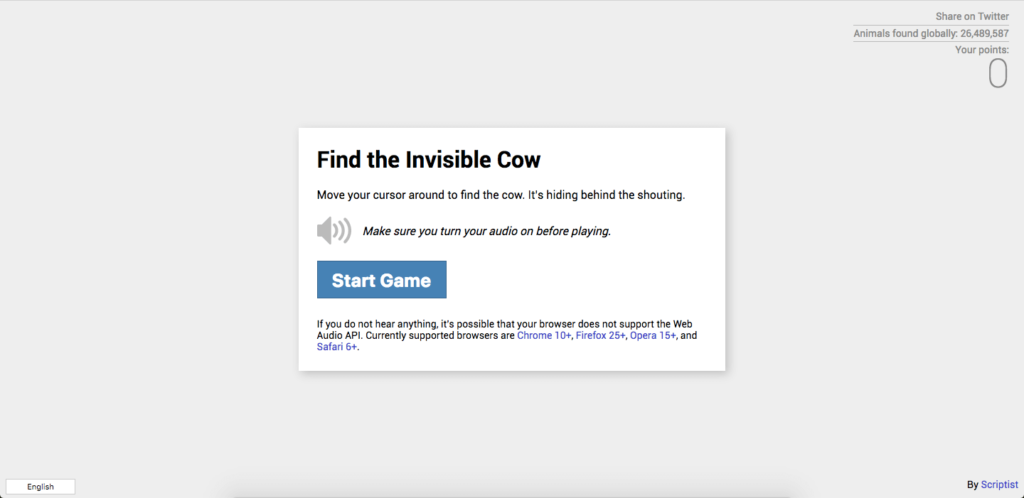 Looking for a funny game that can kill your time like anything? Find the Invisible Cow is something you should try all the time. Make sure that you have a good pair of earphones before you open the website, because you are going to find the cow based on the sound. You can keep moving the cursor across your page and just listen to the sound being produced. More sound means that you're near the cow. And, you win when you click on the exact place where the cow is hiding. It might sound a bit boring, but it's one of the best website-based games we've seen.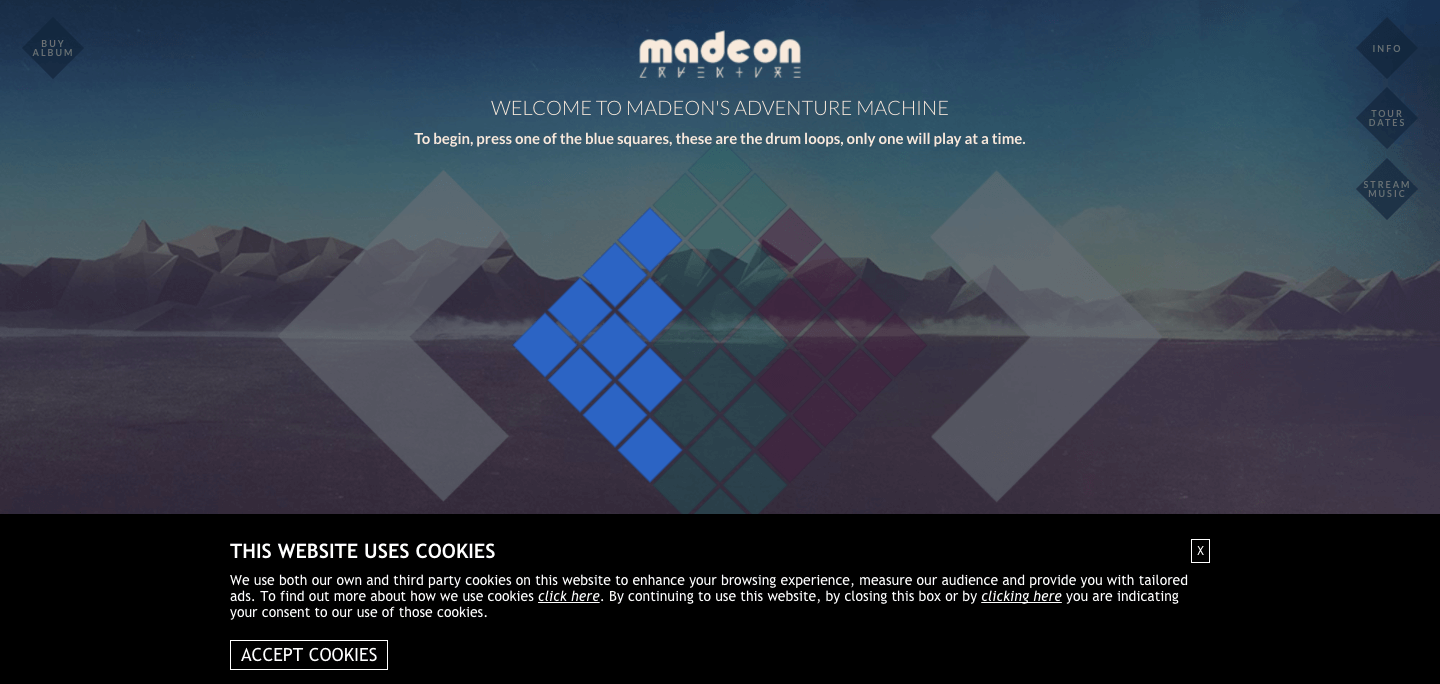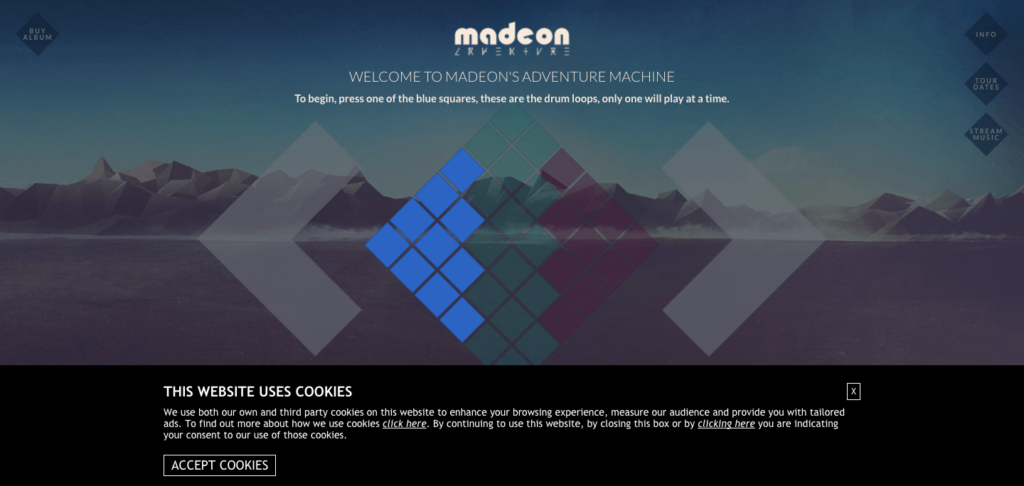 Do you love listening to some great Electronic Music during free time? Give Madeon's Adventure Machine a try. It's a wonderful website that lets you create awesome Electronic Beats Music in just a few clicks. It's very easy to use the website. Once you are in the website, you can see an interface with multiple boxes and all. By clicking on each button, each music track loop is brought into the playback idea. The best part is that you can adjust the music according to your taste, and it's one of the best and useful websites to stay productive.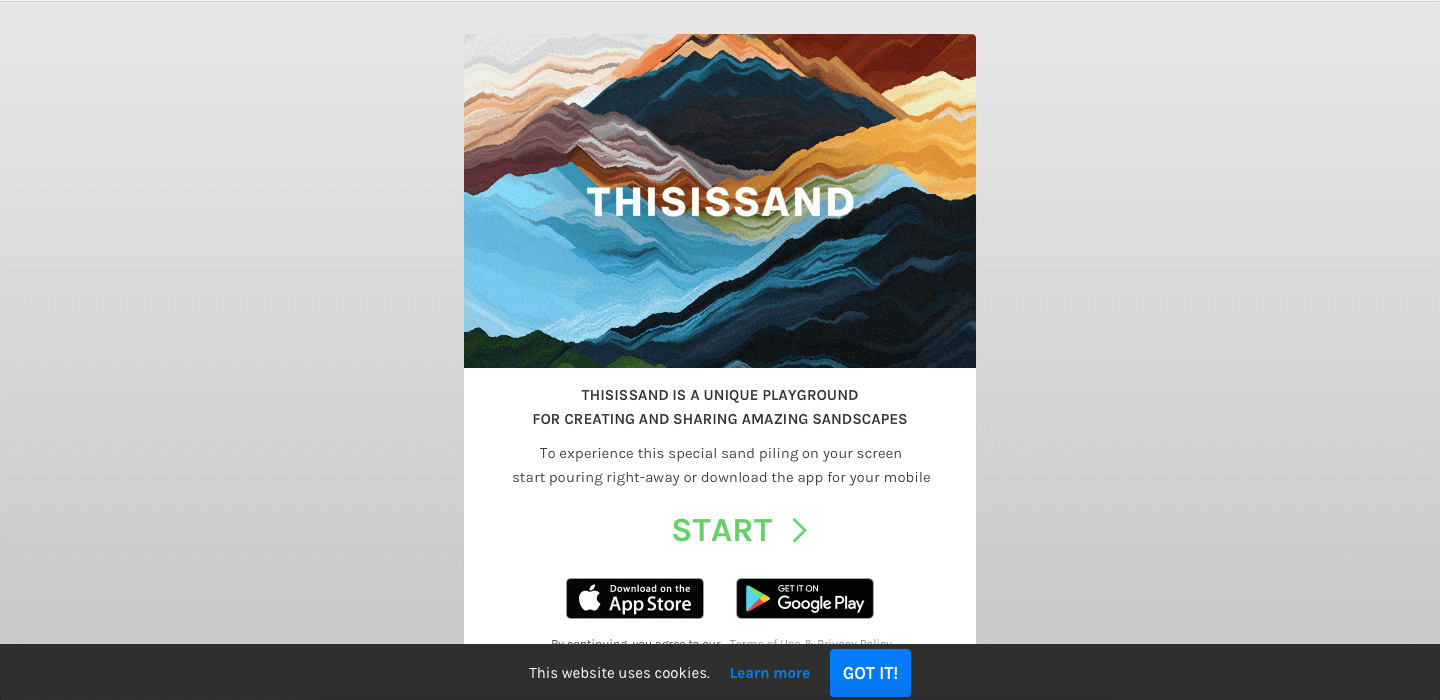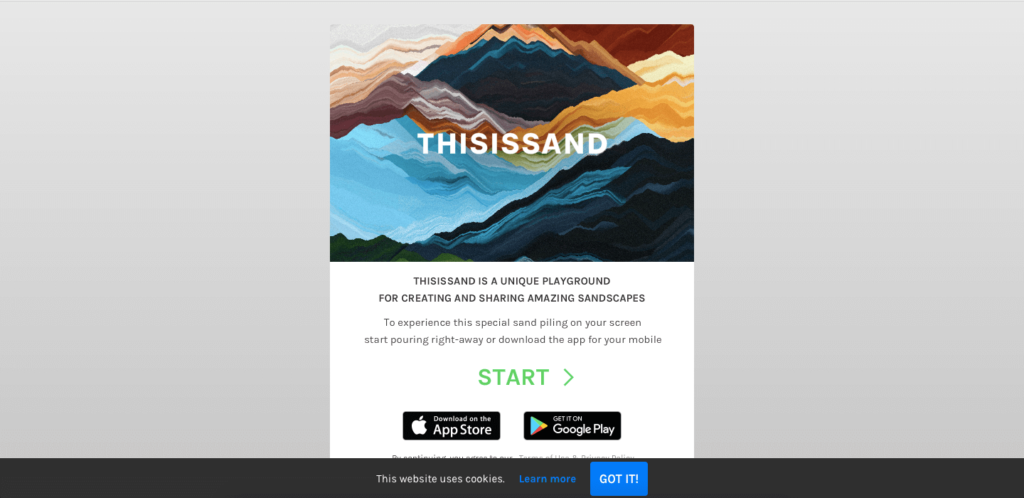 Thisissand is a wonderful website to check out if you want to create some sandscapes when you are free. It is quite easy to use and comes with super-fun design. You are not likely to leave the website for at least 10 minutes. So, you have been warned and it'd be great if you check this website when you have enough time. There are different color palettes and types of colors to choose from. Make your pick and draw the creation that you always wanted. This one is my personal favorite to spend my free time when I feel bored as hell. By the way, you can also check out designs other people have made.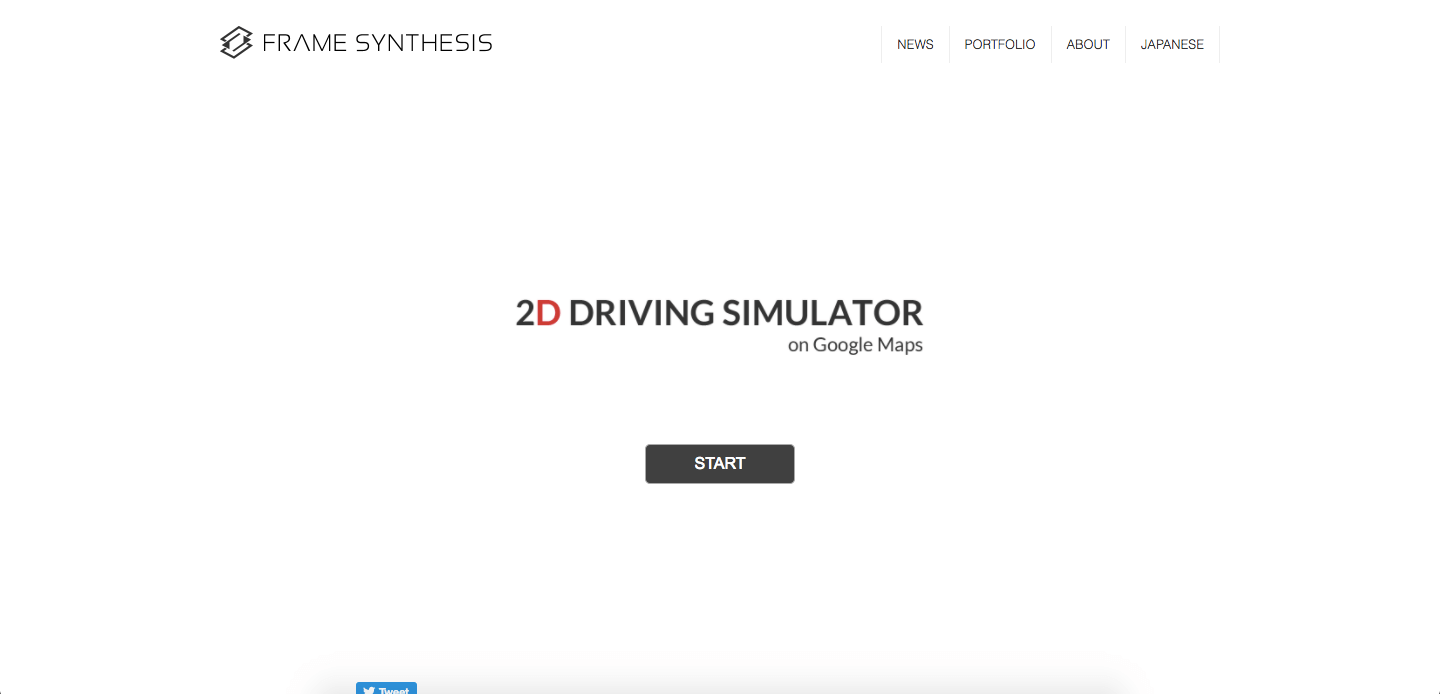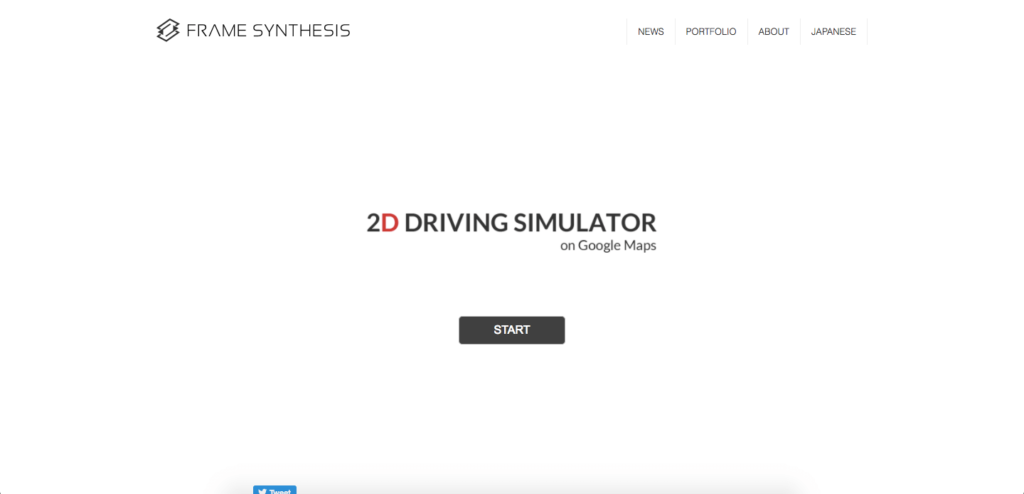 2D Driving Simulator On Google Maps is an interesting website to visit if you like driving simulator games. It needs to be noted that the design is Two-Dimensional and you are driving through actual places. That is, the game will portray a car image at a particular area on Google Maps and you can use the keyboard to move the vehicle. The best part about the website is that you can actually choose your Suburban area or your city to drive the vehicle through. The selection is quick, the rendering is perfect and 2D Driving Simulator On Google Maps can kill time in no time.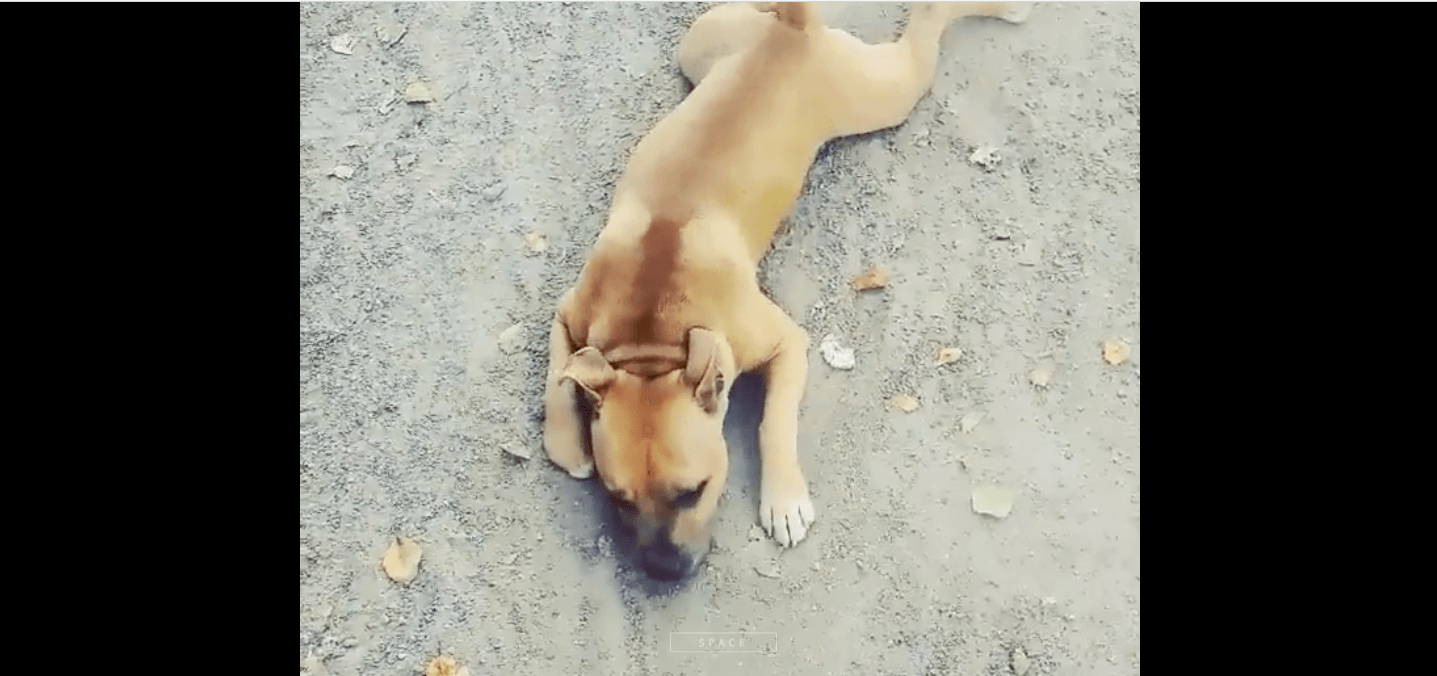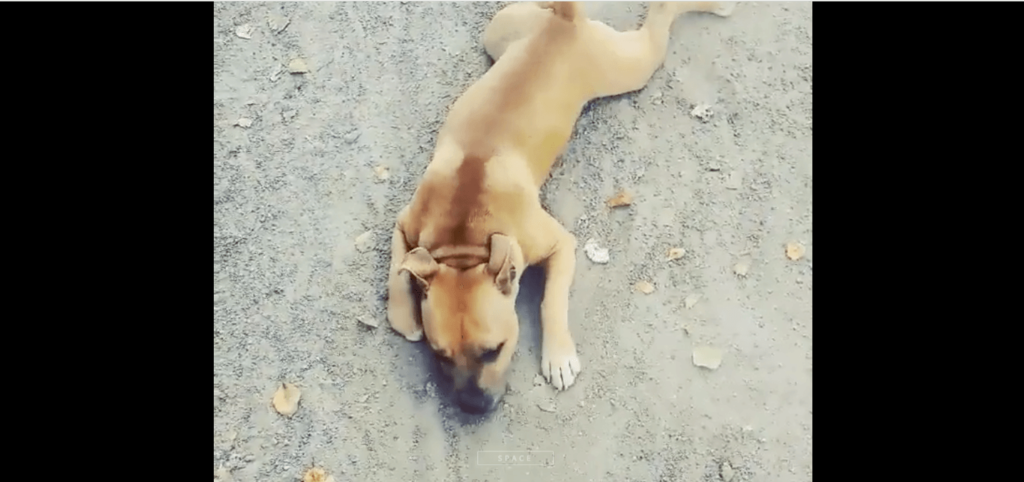 OpenPuppies is a simple yet interesting website that you can visit while you're bored to death. If you like at least a thing about dogs as pets, you are going to love this website. There isn't much to do. You can hit the Space button and photos and GIFs of dogs will be shown on the screen. You can keep pressing the button till you are happy. We must say, OpenPuppies has one of the best collection of pet GIFs we have seen. So, the next time you want to check out some dog GIFs, don't search on Google, but simply go to OpenPuppies. How does that sound, folks? This is cool websites for kids.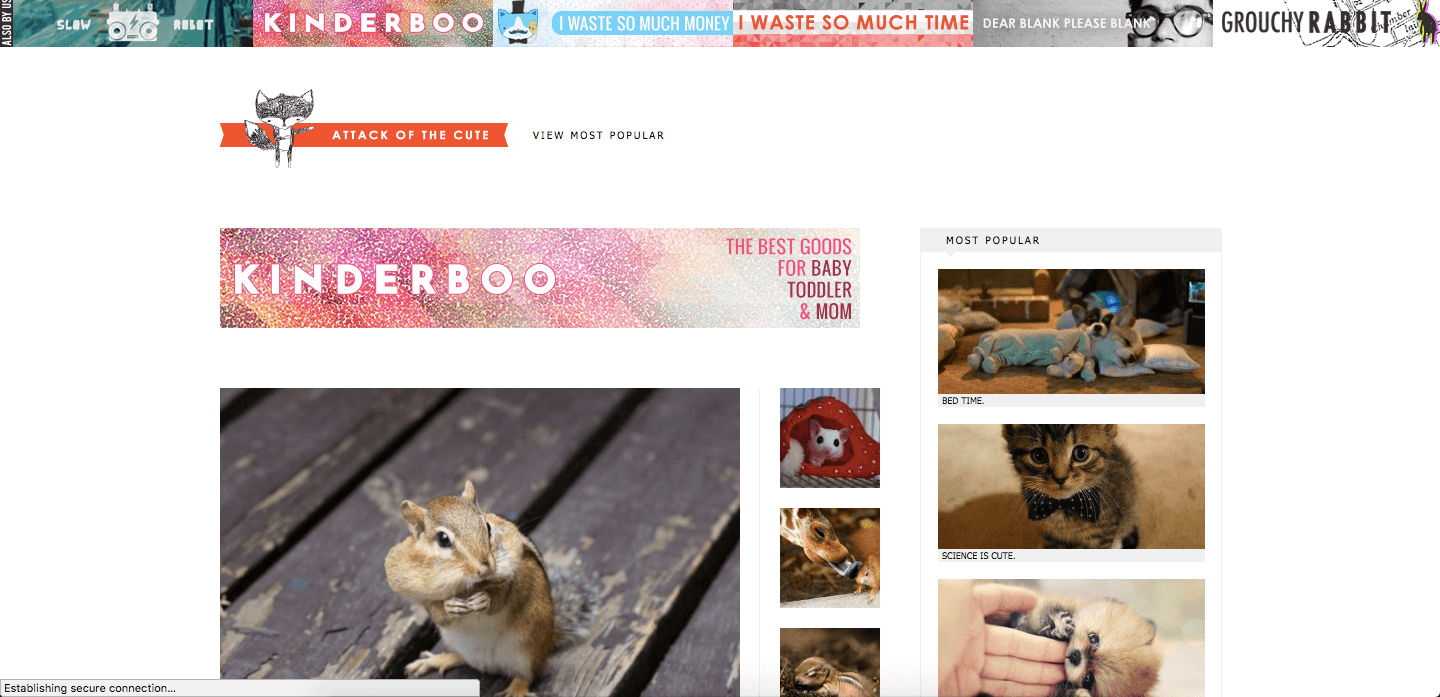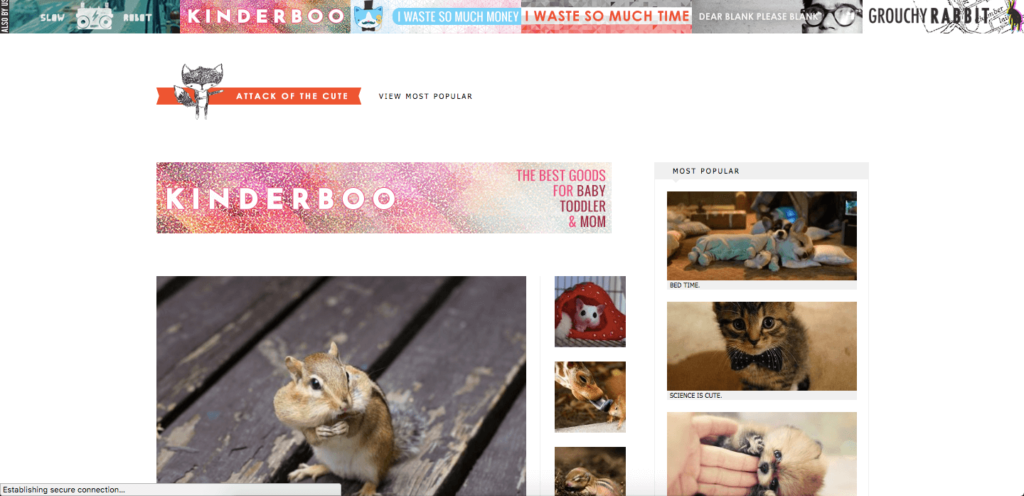 Does cute stuff counter your bored feeling? Make sure you check out Attack of the Cute, which is a collection of posts, photographs and videos that show the cute things in the world. From kittens to pups, from bunnies to turtles and almost every cute being out there, Attack of the Cute covers all you want. So, you are likely to find whatever that you are looking in the collection. It is also one of the most addictive websites we've found so far. And, if you are looking forward to spend some minutes with fun, make sure you visit Attack of the Cute and get dazzled by some swag puppies and kitten.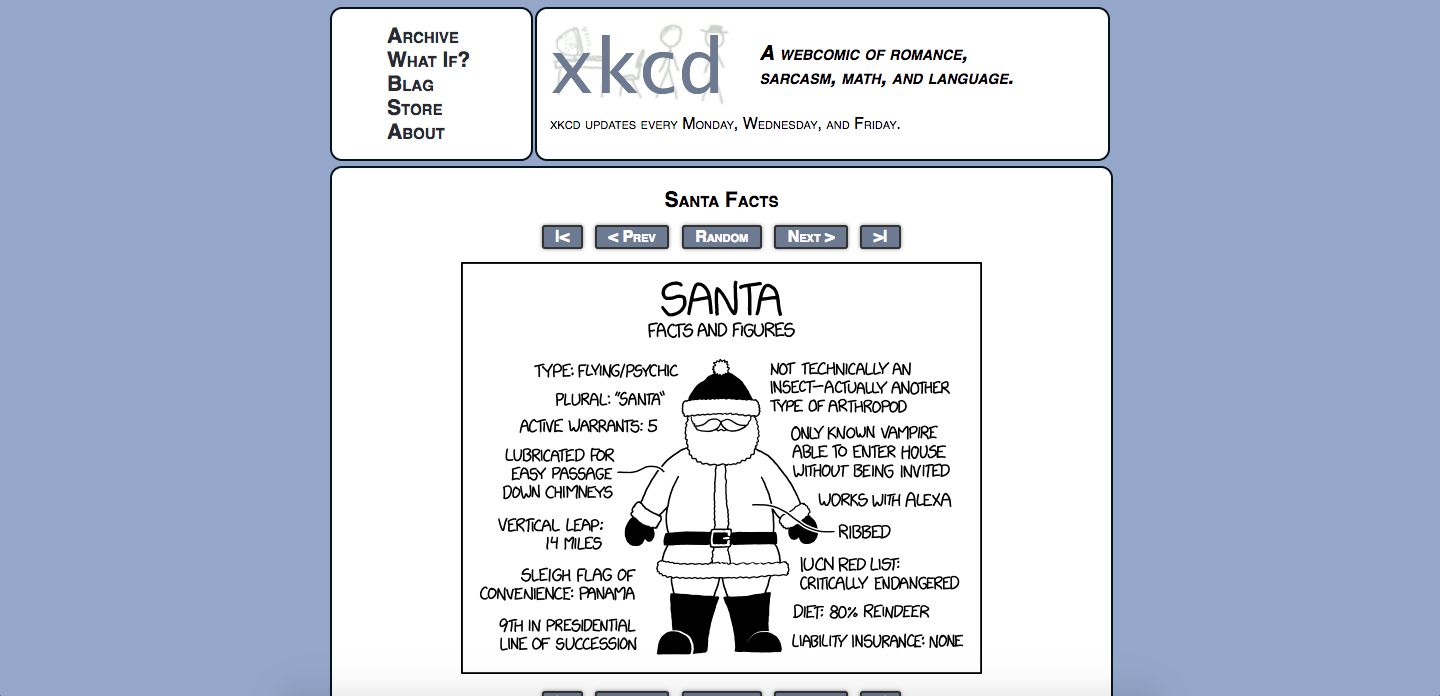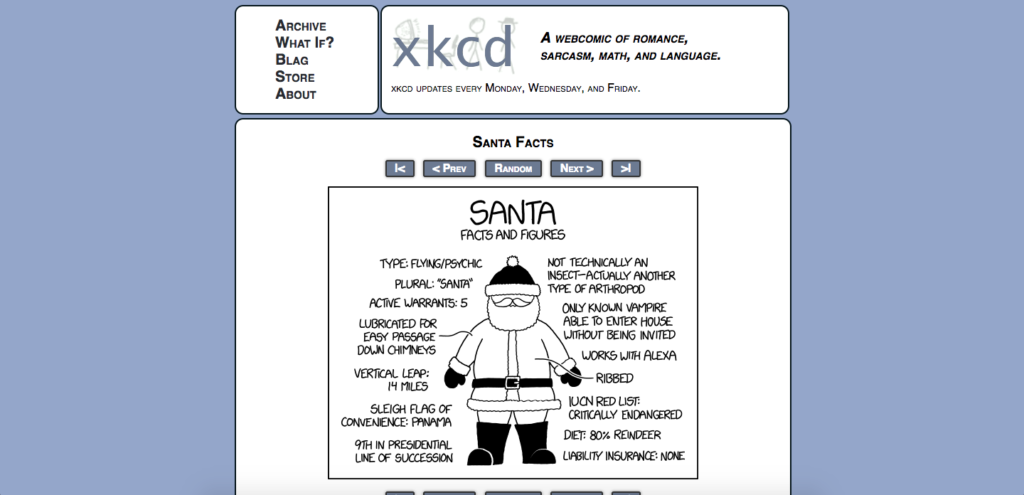 If you ever find yourself striving for a great piece of comic series, you can surely visit XKCD, which keep the originality throughout the content. There isn't anything fanciful in the website, but it's rather a simple take on portraying some of the coolest comics we've seen. As far as comics are concerned, XKCD does justice to them, because we really liked the quality and presentation. You can keep pressing the Next button until you end your boredom. From romance to math and from Science to Language, XKCD comics cover almost every interesting thing in the world.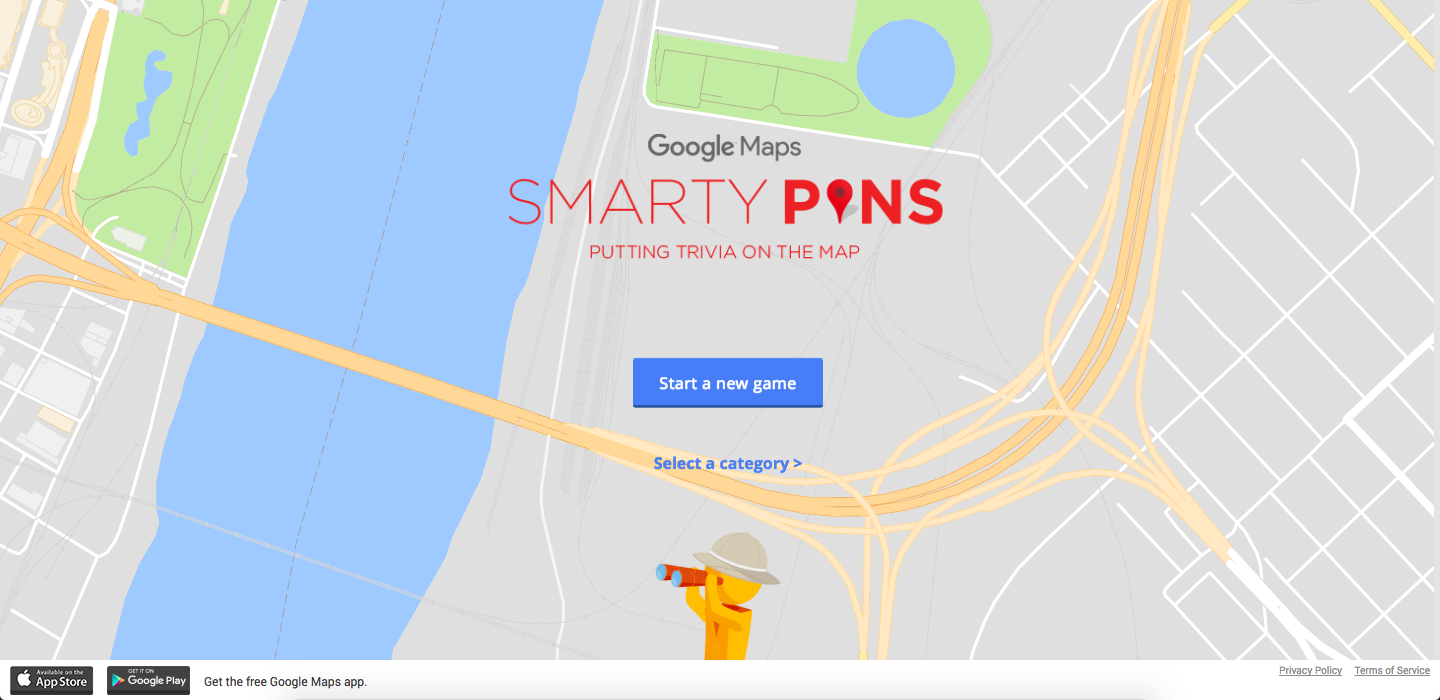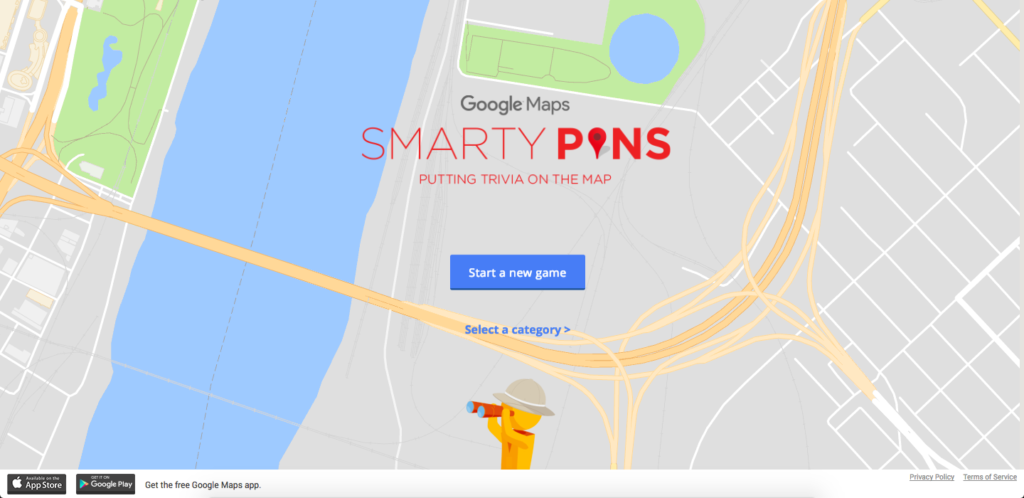 If you like to gather some 'world' knowledge while you are bored, make sure you check out Smarty Pins, one interesting website that is powered by Google Maps. This website brings the concept of Trivia into your map of the world. You will be asked questions regarding history and geography and you can mark your answers with the help of the mark. For instance, Smarty Pins might ask you about Boston Tea Party, upon which you will have to arrange the pin at the corresponding location. It's a fun game and help you learn some things as well.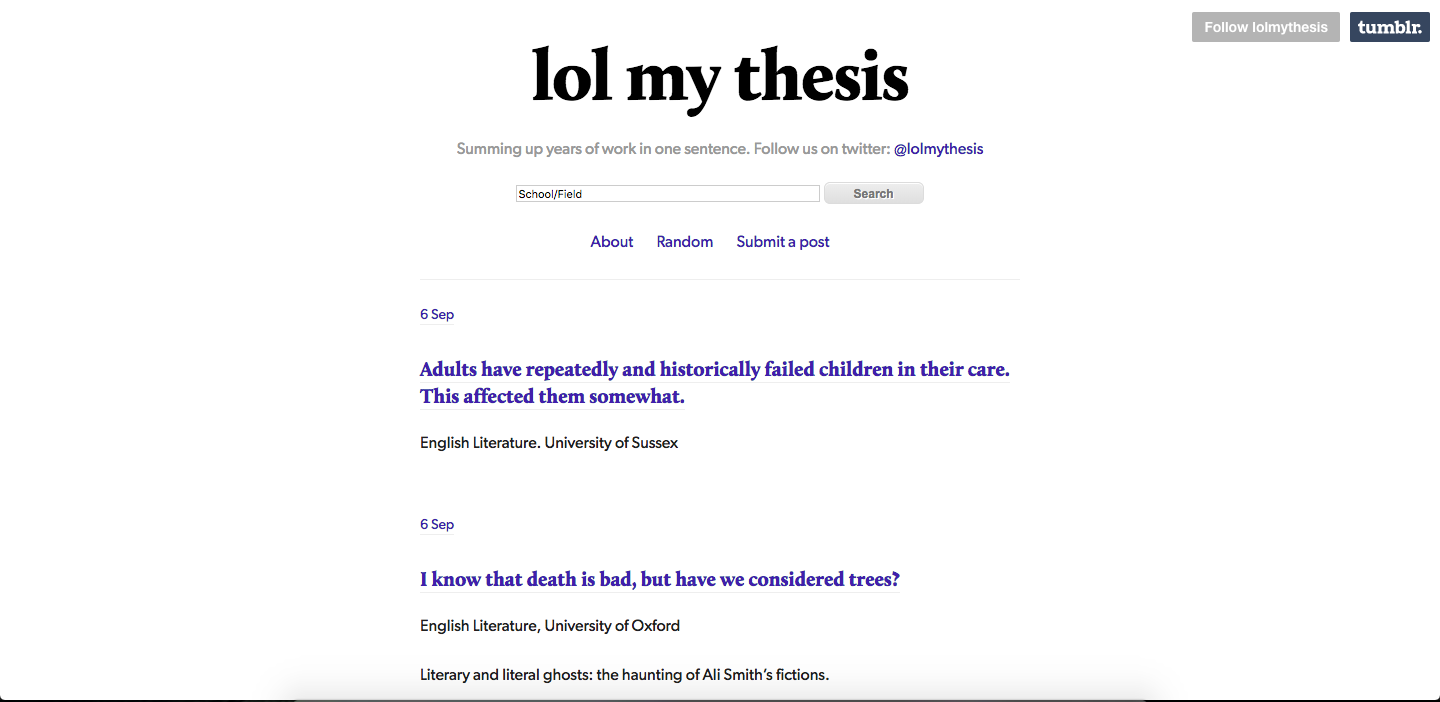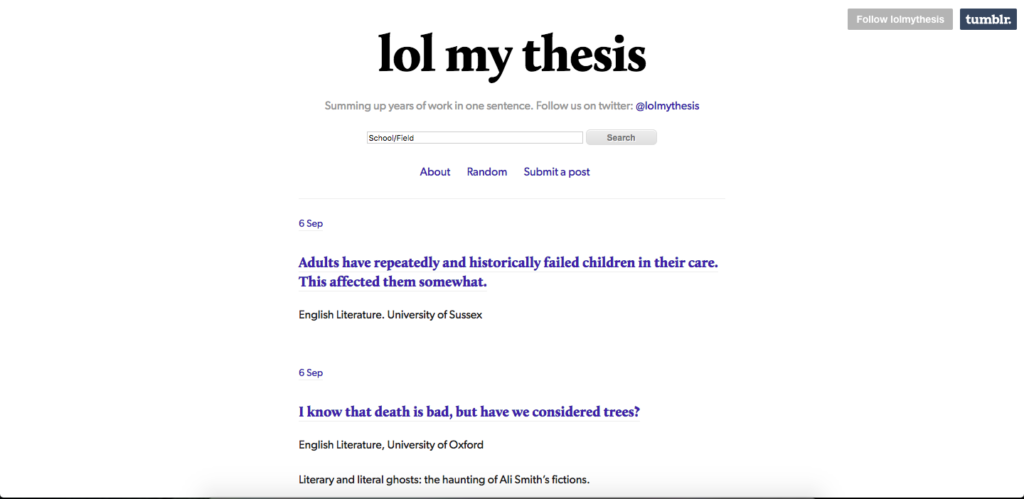 Ever wondered why academicians are spending years of their work on thesis papers and all? And, have you thought that everything can be summed up in a single sentence? Well, the website LOL My Thesis does that for you. It's a simple blog-based website where you can see entries from academicians across the globe, and they are sharing the crux of their researches and thesis. Won't that be great to understand the crux of a thesis in just a sentence? We think it's cool and most of the thesis updates you find on the websites seem funny enough.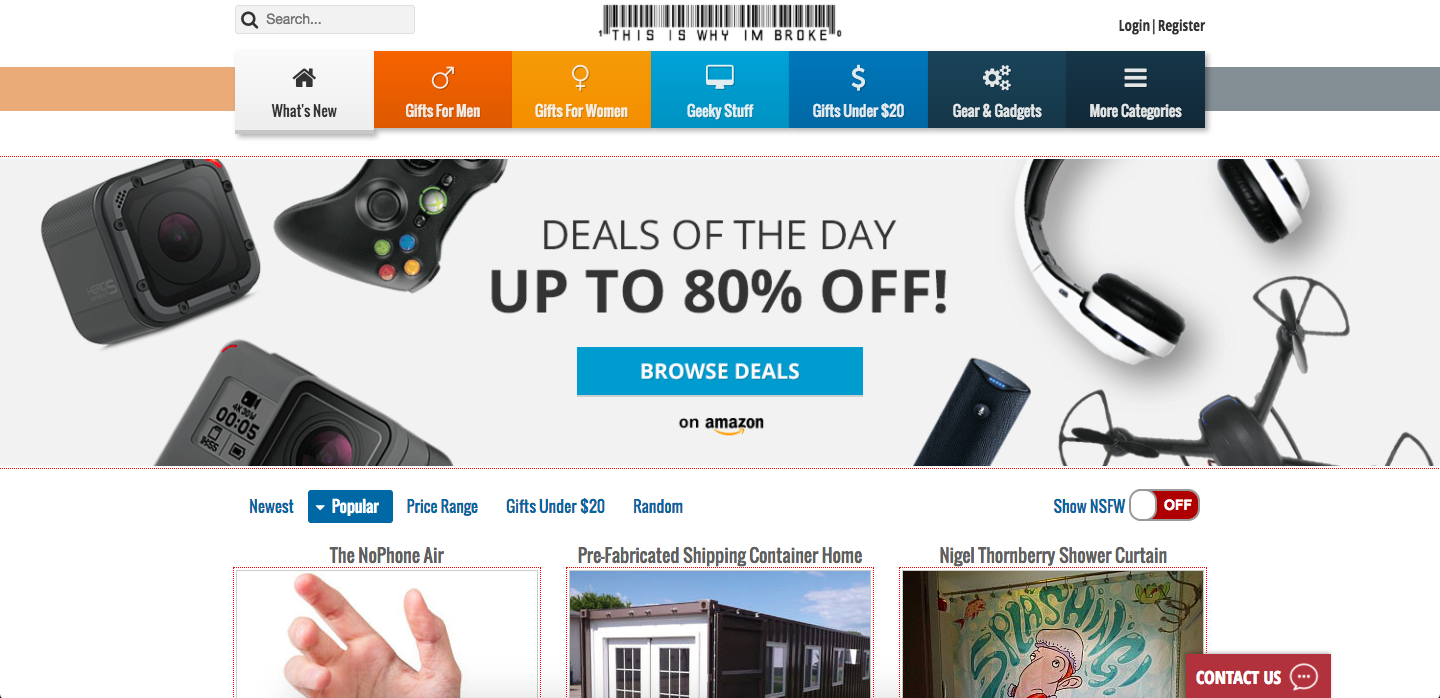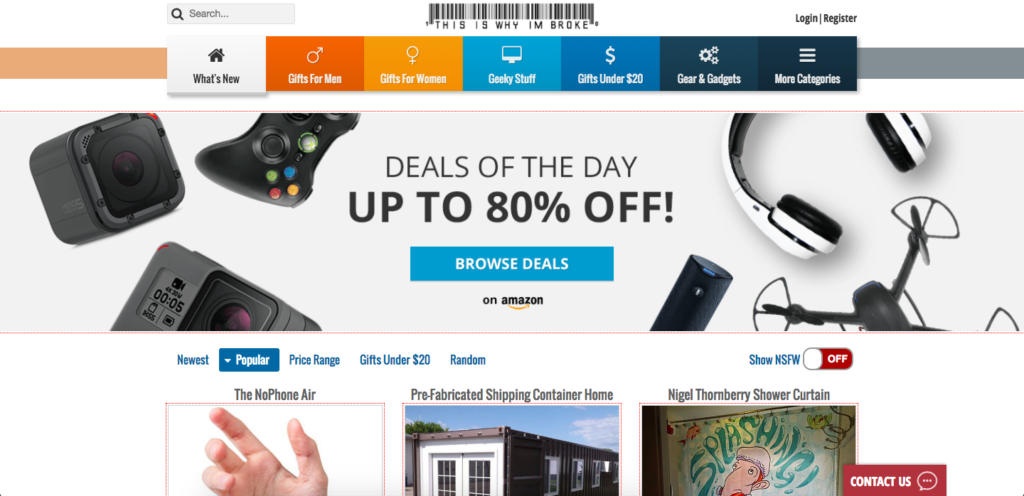 We don't know if you can relate to the headline of the website, but we surely can. It's essentially an online shopping website that lists out some of the finest gifts we have seen. Most of the gift entries and fun and do offer something unique. From an Infinity Cube to Hidden Door Unit and from an $25000 telephoto lens to fancy litter boxes, you can find a lot of things at This Is Why I'm Broke. The website is easy to use and leads you to the corresponding product pages on Amazon in a single click. So, the next time you want to give a gift like a 10lbs Toblerone bar, make sure you visit this website.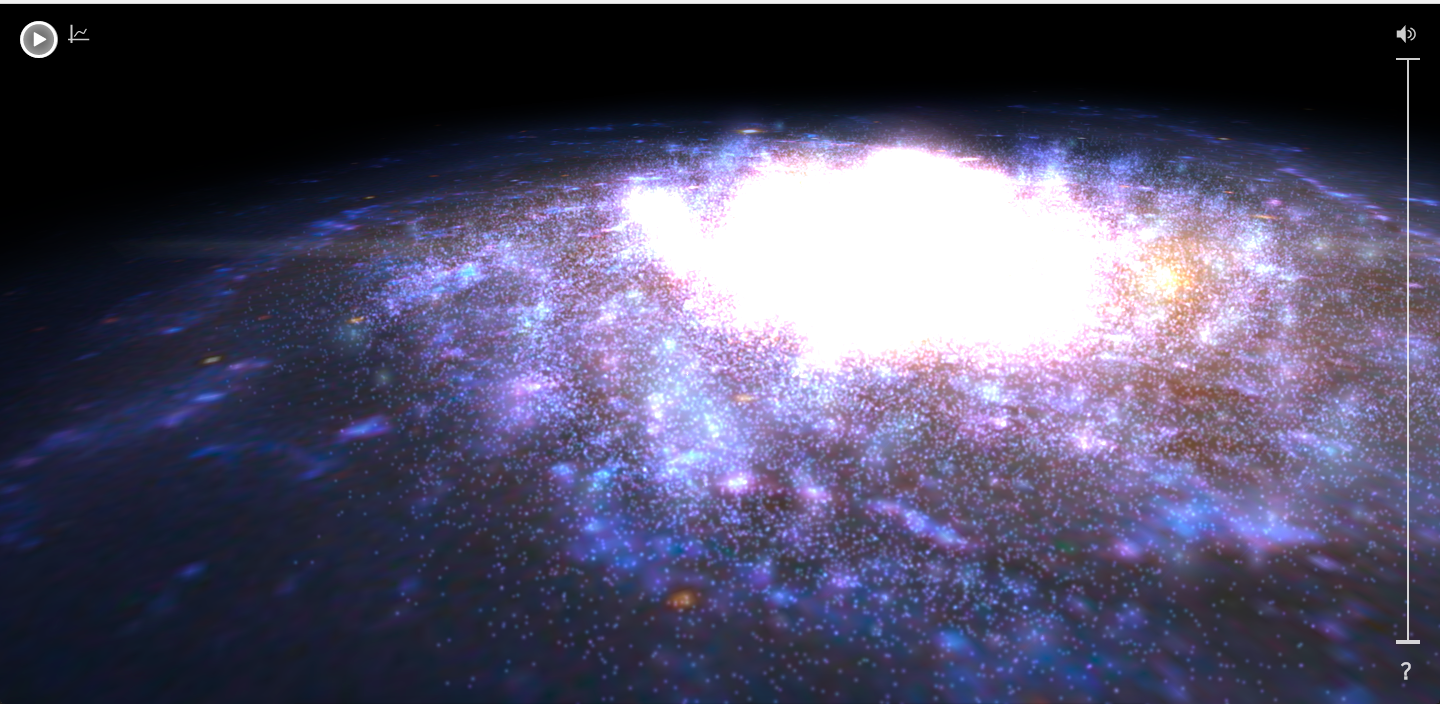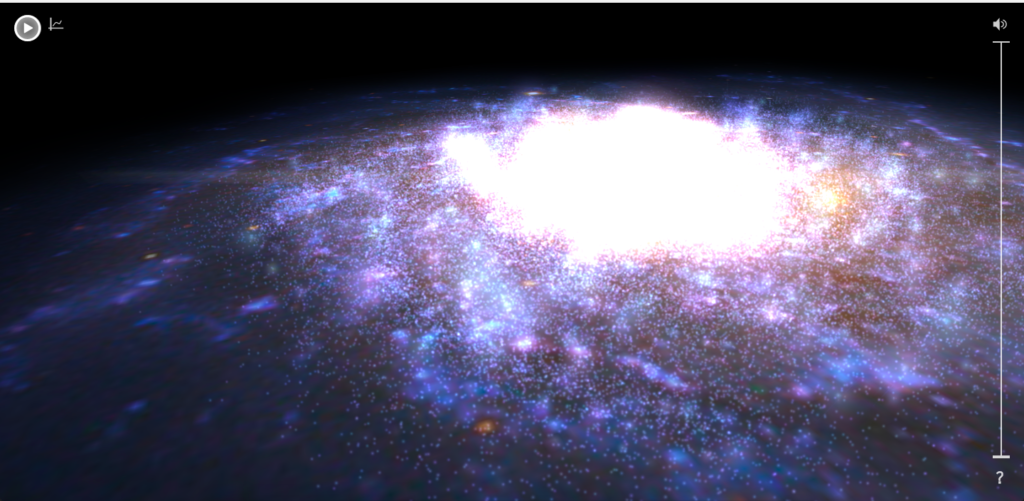 What about having an on-screen representation of the whole cosmos? 100,000 Stars does that through your Chrome browser, thanks to Chrome experiments. So, when you have some extra time, this website will be a superb choice, indeed. Compared to the textbooks and static images you have seen, 100,000 Stars gives 3D idea of the cosmos, also letting you know how small our BIG Earth is. You are likely to spend some minutes in the website and the use of headphones is really recommended. It doesn't matter whether you are a geek of astrophysics or not, 100,000 Stars will impress you.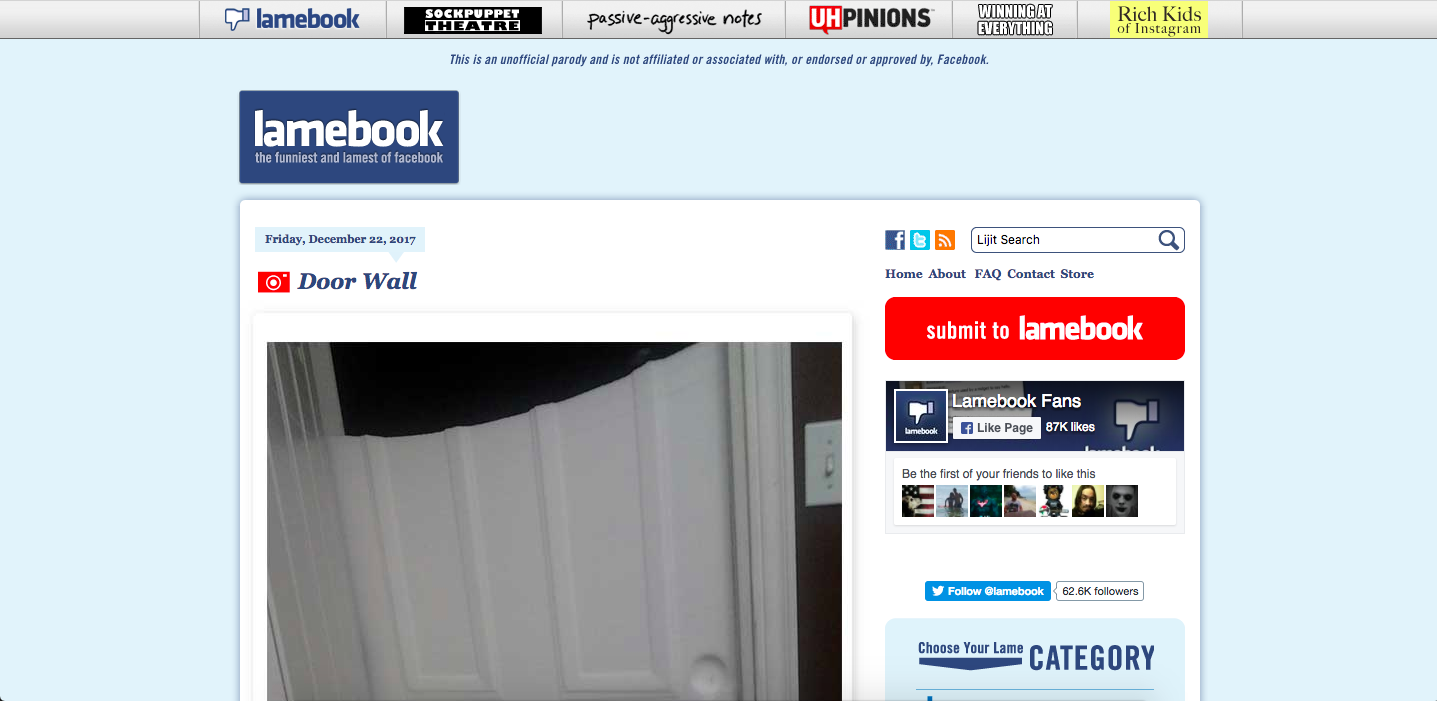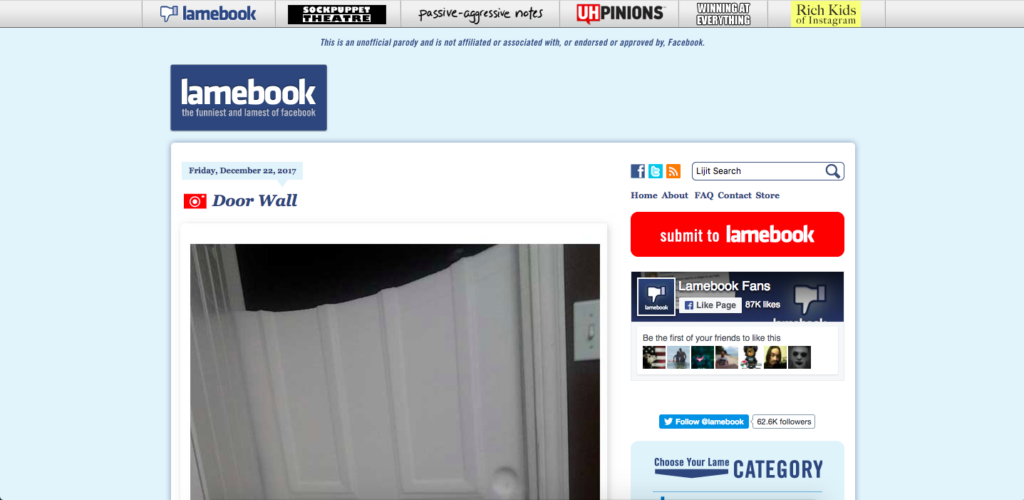 Enough of Facebook? It's time to try Lamebook, where you can find the lamest part of what people do with their Facebook account. The website lists out some of the funniest and embarrassing moments people have in their social media lives, from inappropriate comments to typos. If you are planning to spend some funny time, Lamebook is the perfect website to visit — no doubt on that. You can even check out certain categories if you want to read specific types of content, say Relationships and Family. You can keep scrolling through a bunch of posts and laughter is assured.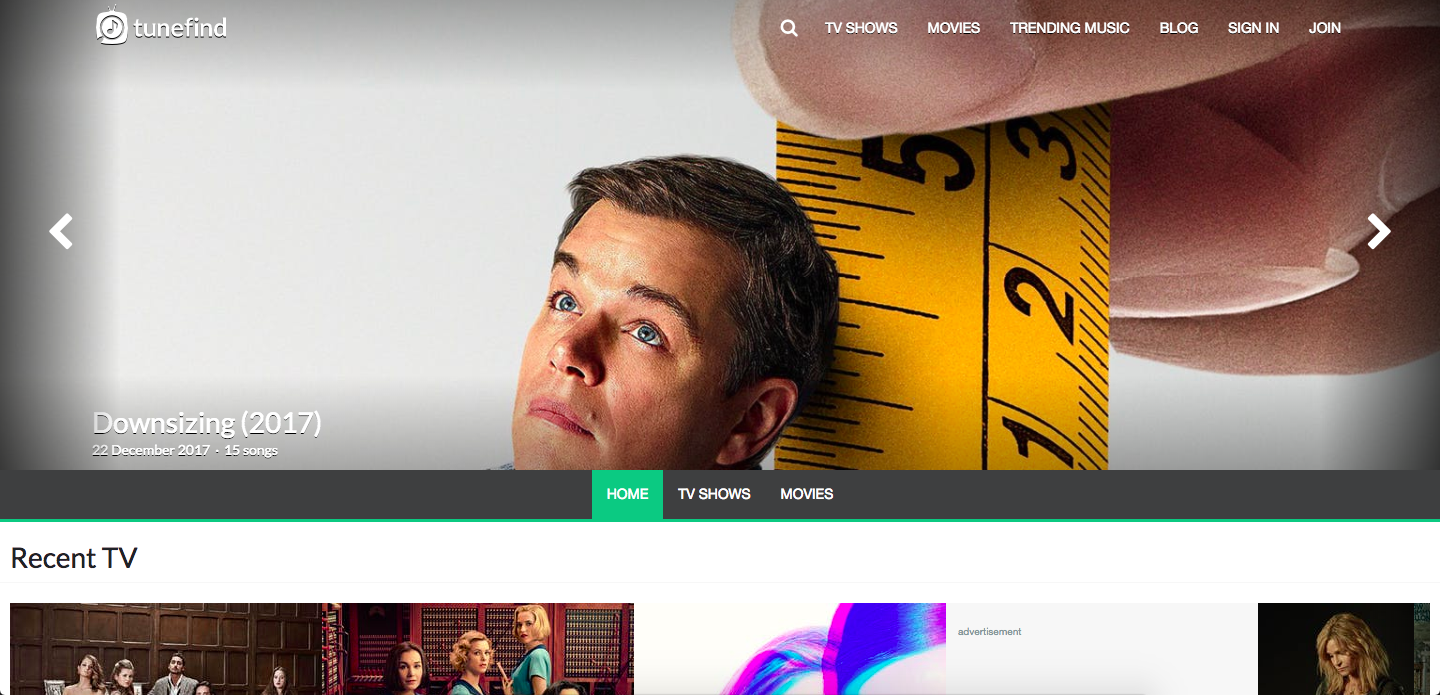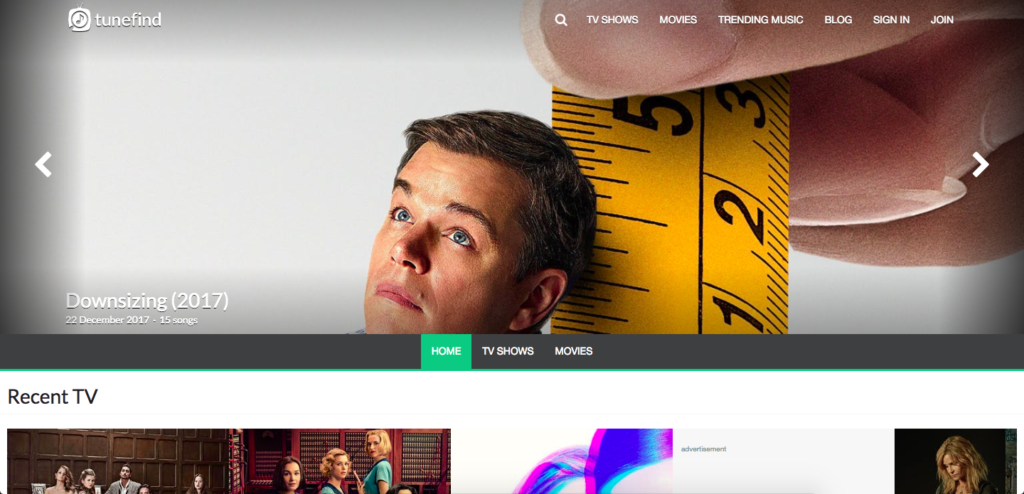 Do you want to know what kind of music and movies is the Internet interested in? Make sure you take a look at Tunefind, which offers you a comprehensive view. In the homepage itself, you can see the list of the most played music and popular movies in the current time. You can also use Tunefind to watch the most popular TV Series and movies in the world. All the data is being prepared with the help of internet sources and what people talk about the music they listen to. So, if you think you are missing out something from the world of internet, Tunefind is a must-visit website.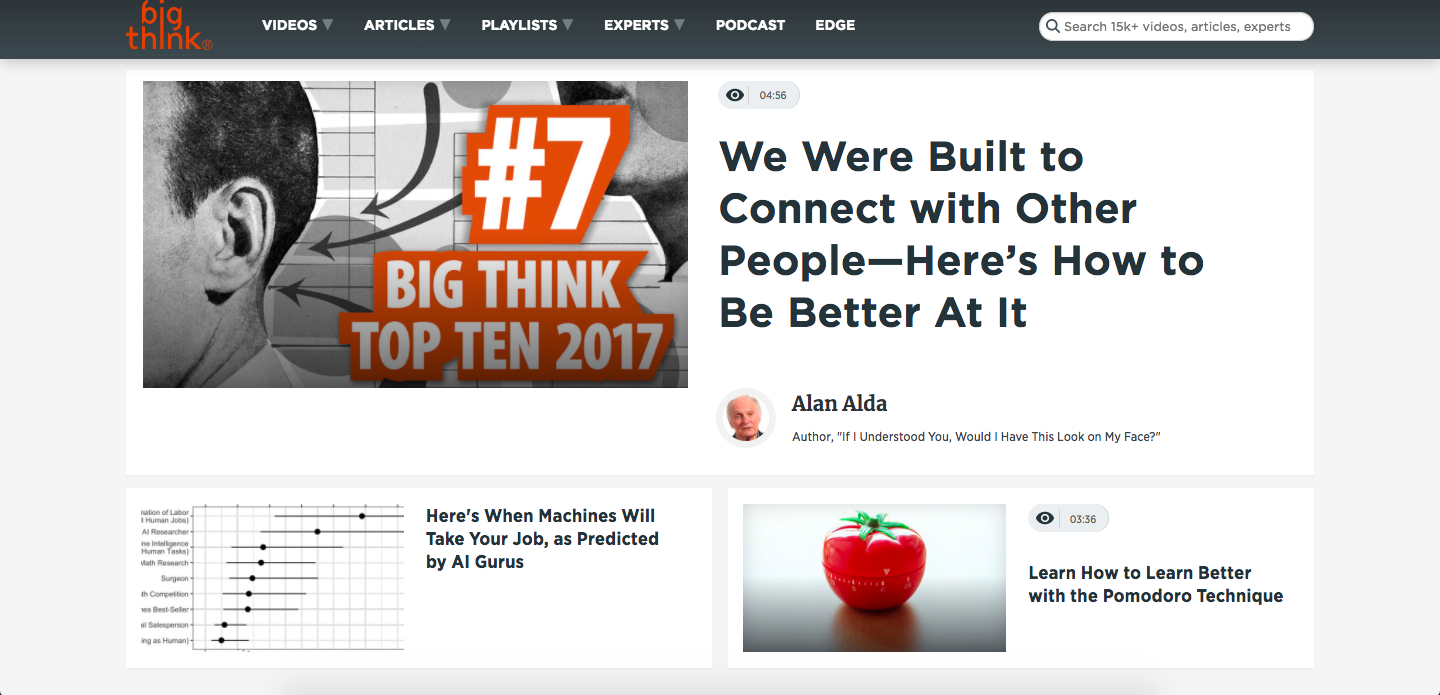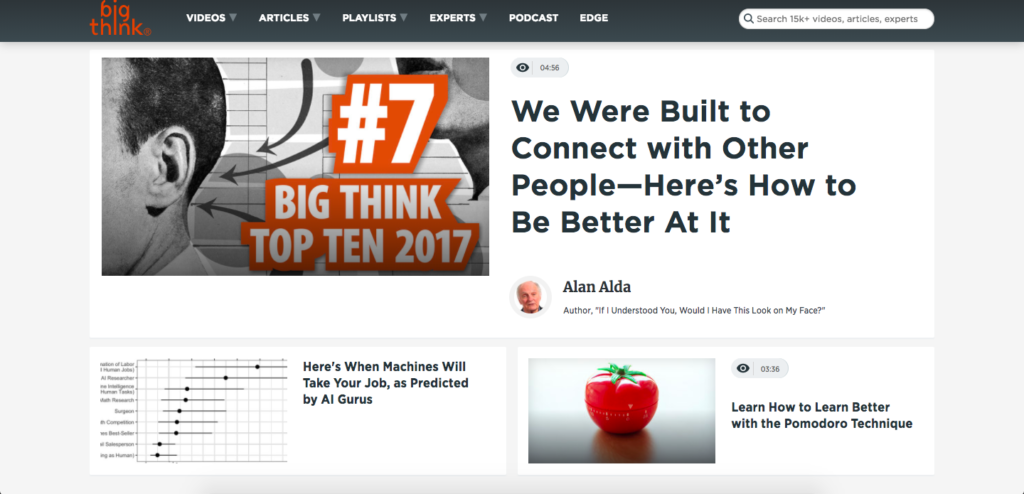 Big Think is a website that you must visit if you don't want to miss anything interesting from the world. The website covers a lot of subjects, from tech to science and from politics to Personal Growth. It's also an easy place to find the best content, expert's talks and a lot of other things. At the time of writing, there is a superb article on how Blockchain is going to revolutionize the way we handle money. You can find both podcasts & playlists on the website and you can pick the one according to your needs. Last but not least, Big Think has an impressive group of Experts as well.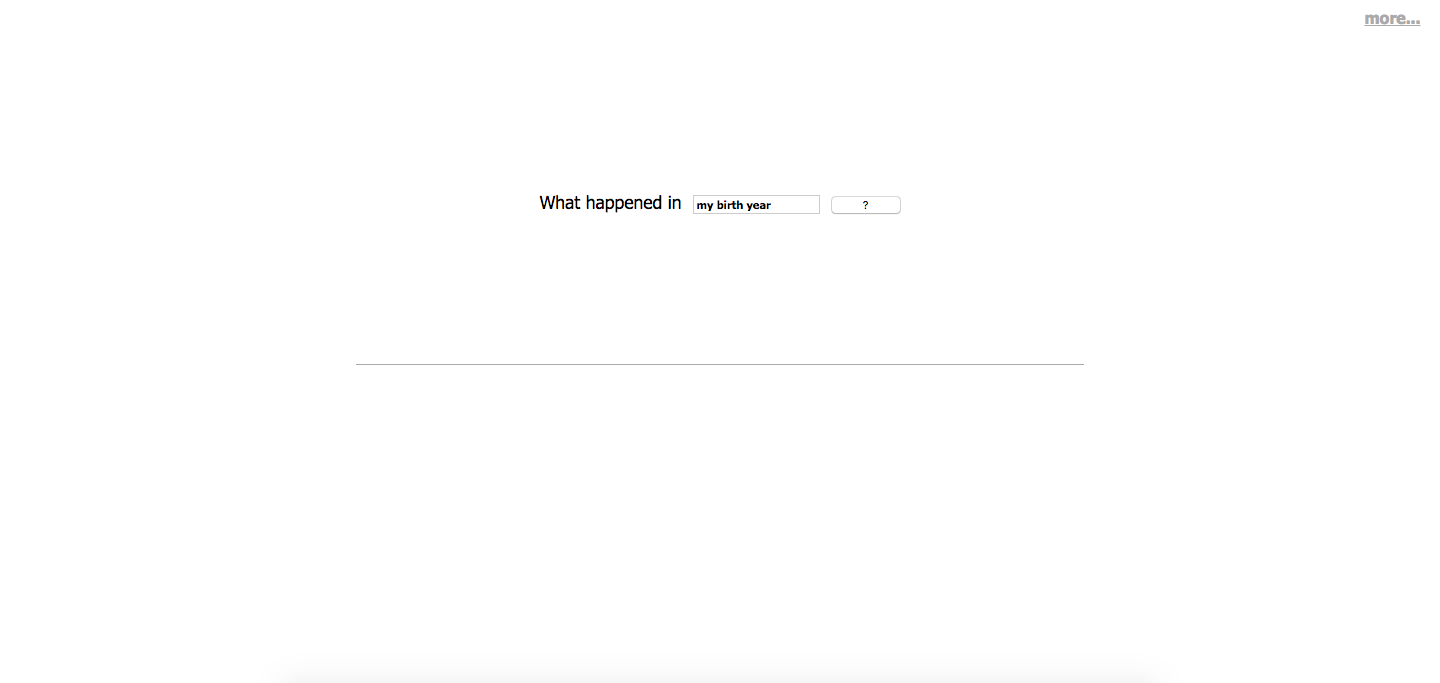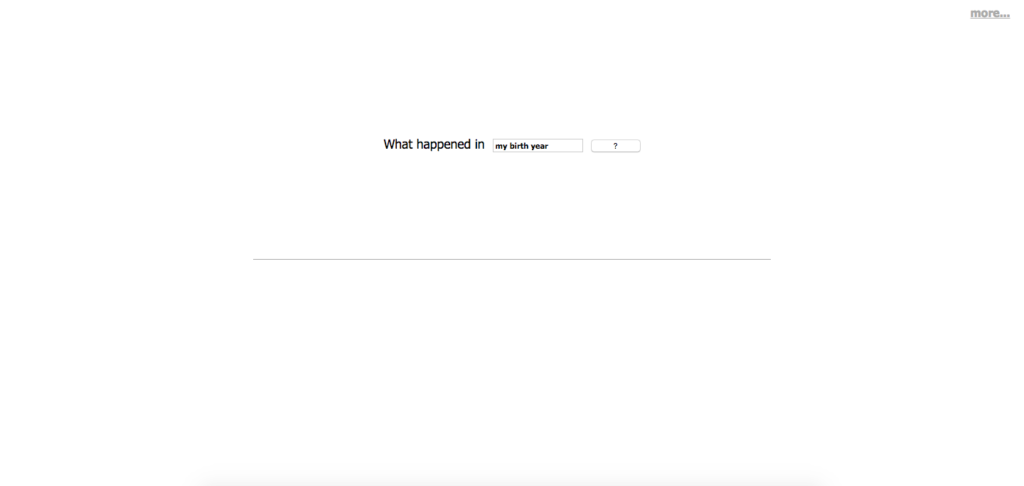 This is my personal favourite when it comes to interesting websites that are also cool. This website lets you know what all things happened in the year of your birth. You can know about the films that were released and how people were living in the world. The best part is that What Happened in My Birth Year presents all the information in an impressive manner. One after another, facts appear on the screen and you might be surprised by all of them. There are some hyperlinks to use, in case you are interested in knowing more about the movies, events or people. Quite interesting, isn't it?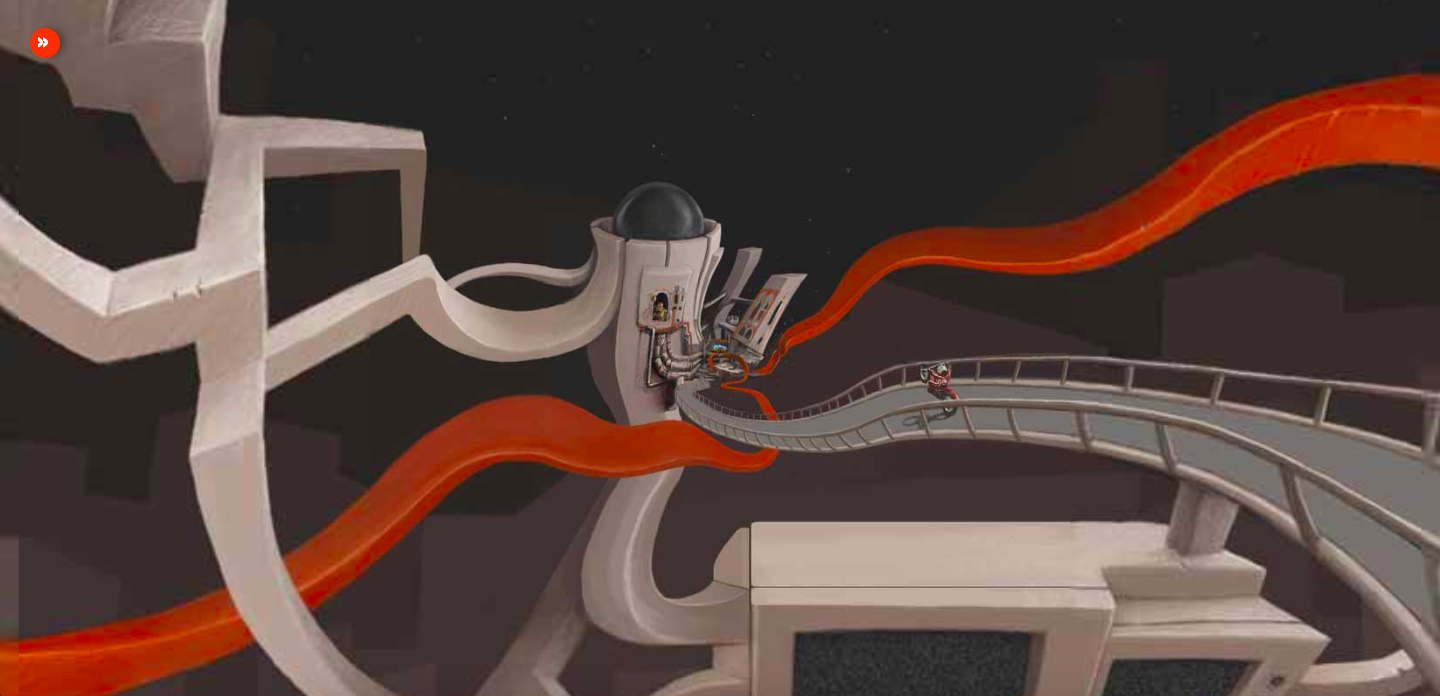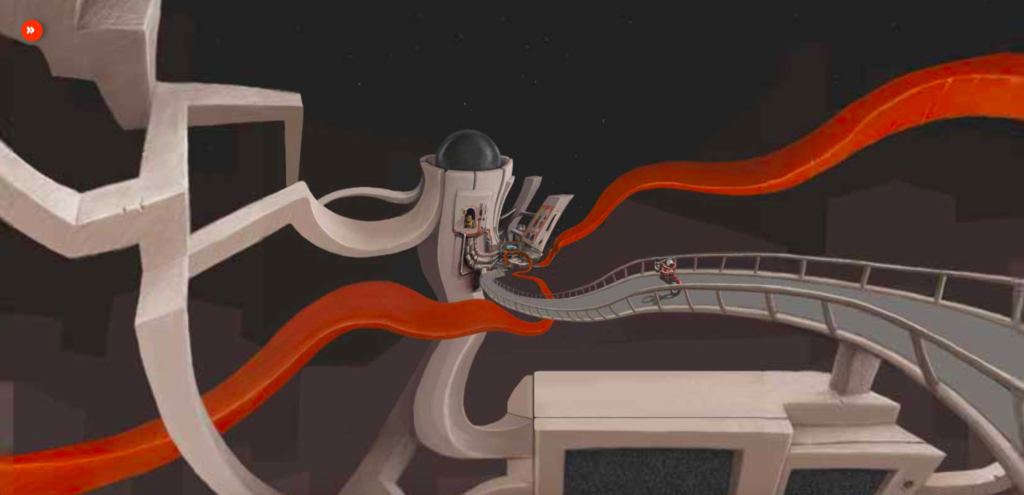 Have you heard of an infinitely zooming image? Zoomquilt is the perfect example for that. The website is an extremely simple one. There are no fancy features or sections, but a singular background. Once it is loaded, however, the screen starts zooming into the image, but the zooming doesn't end. You can use the Up & Down arrow keys to control the speed of zooming. Make sure you don't zoom into the image for a long time, because it might cause headache. However, when you have some free time, Zoomquilt is a site to watch.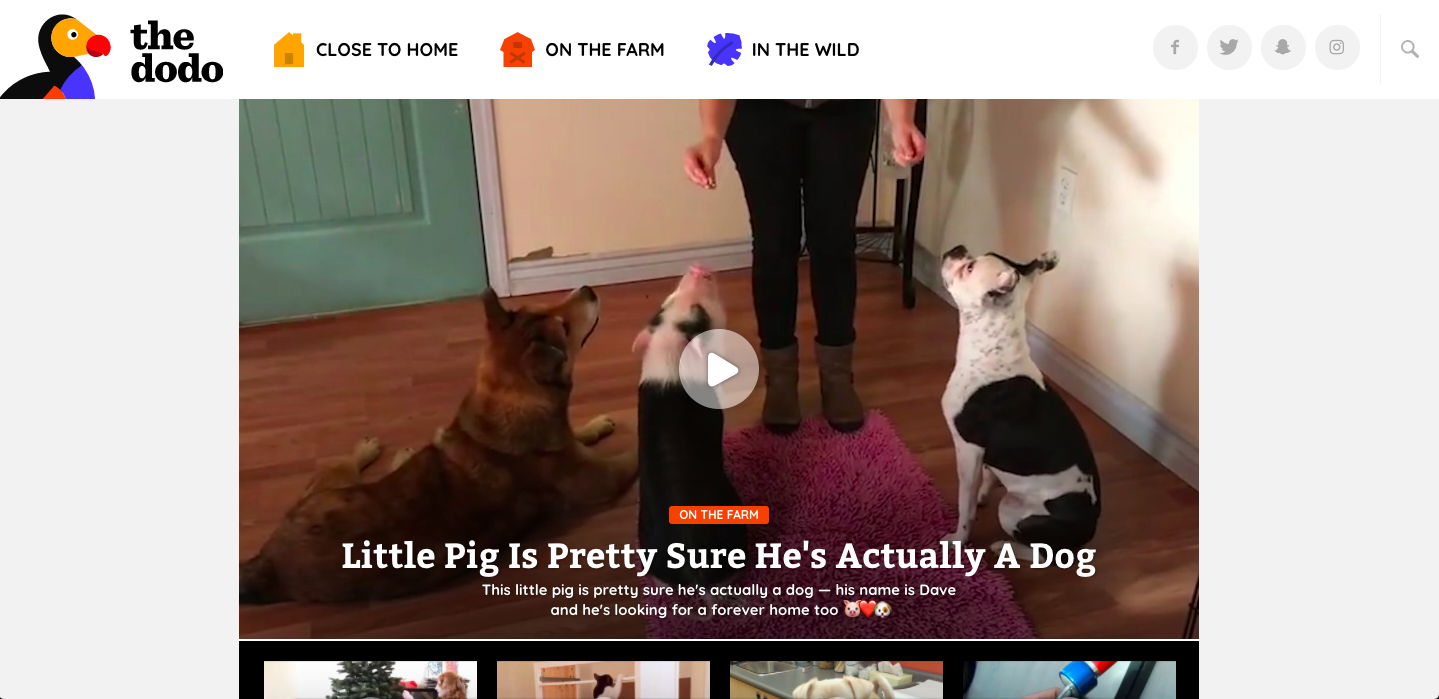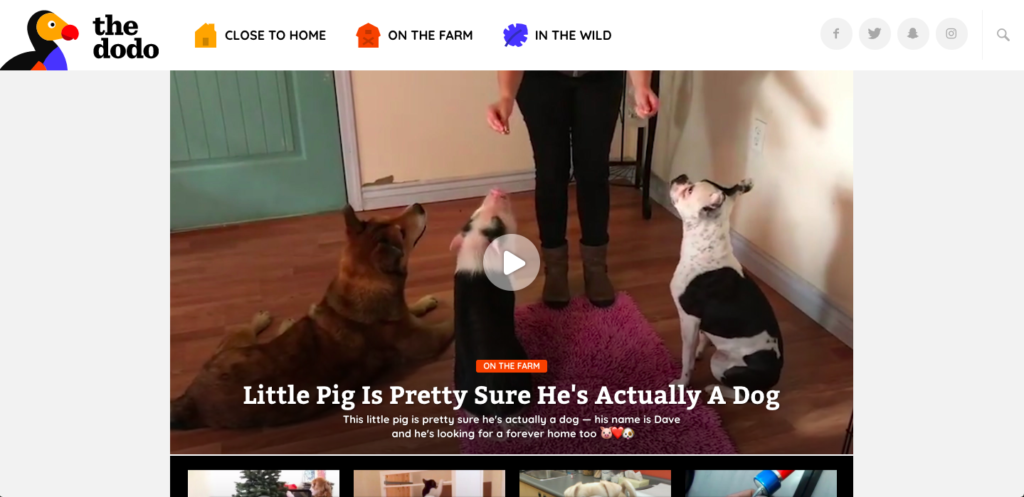 Are you an animal lover? Do you love the stories of animal rescues and pets? Then, you should definitely get a look at The Dodo, an impressive website that covers a lot of things about animals. It covers animals at your home, surroundings and from the wild. Videos and articles are not the only thing you would find at the site, but the list goes onto innumerable stuff. If you can watch that cute dog being rescued by the road traveler or how some deer followed a hiker to home, you are going to love The Dodo for sure. We must say that the videos you find in Dodo are pure as the wild.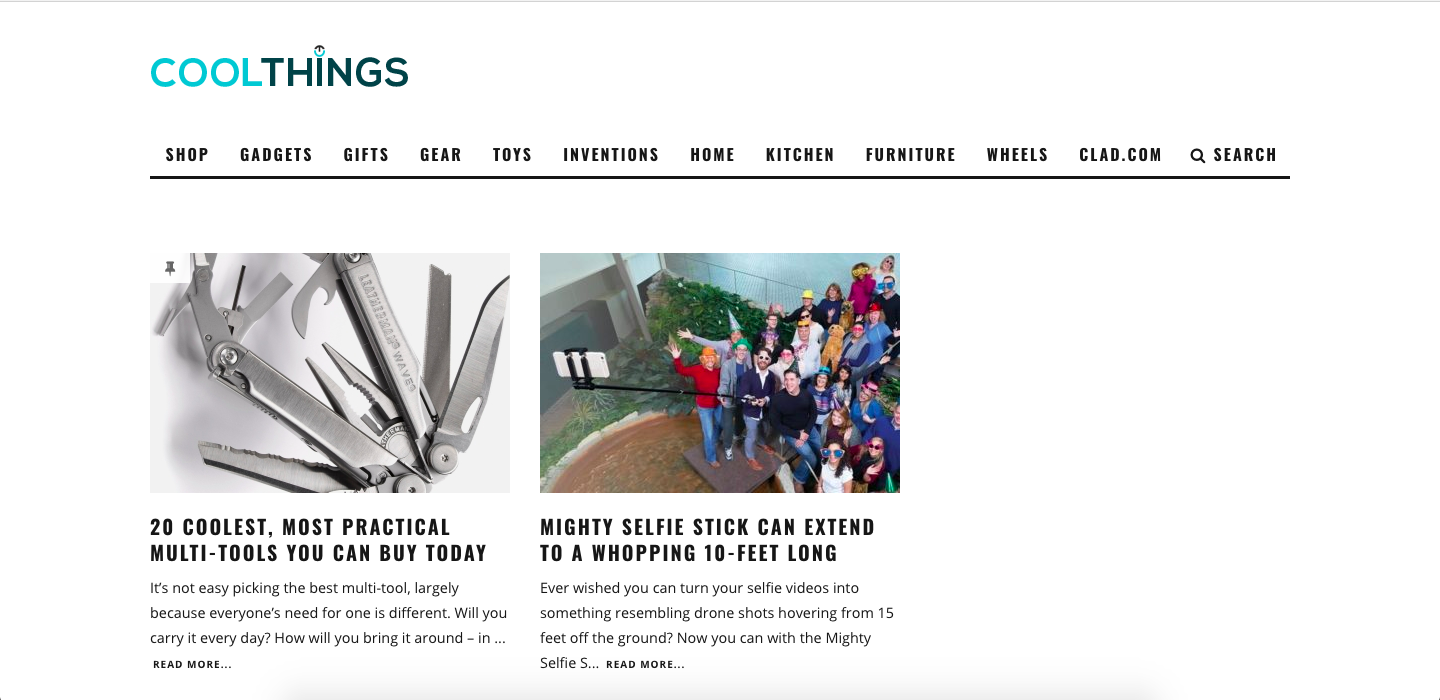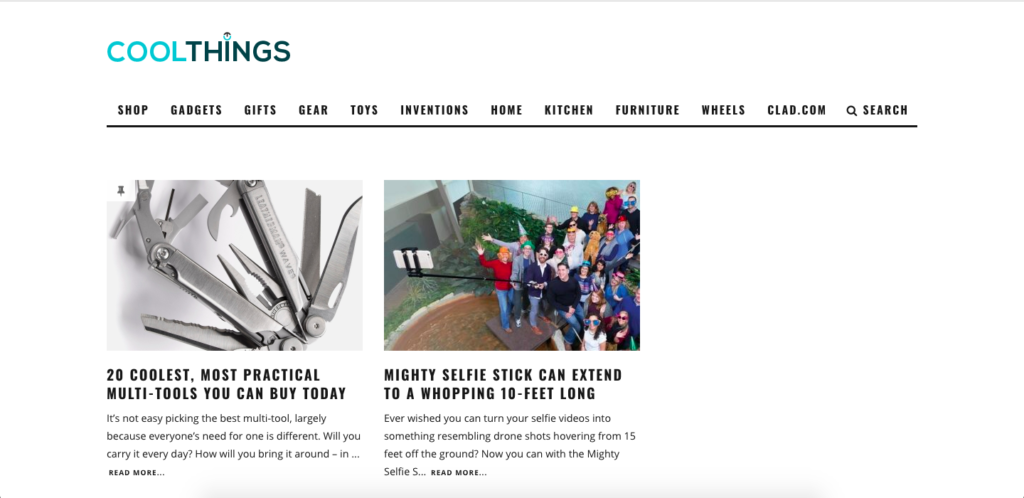 Do you want to know about the cool and interesting things being launched every now and then? Don't miss a look at CoolThings.com, which is basically a blog. However, original content is something you would find in the website. You can use the website as an inspiration for your fancy gadgets, some unique gifts and home appliances. From fancy kitchen tools to multi-tools and from computers to day-to-day gadgets, CoolThings will give you an overview of what is happening around. It also introduces out-of-the-box products that can make your life so easier.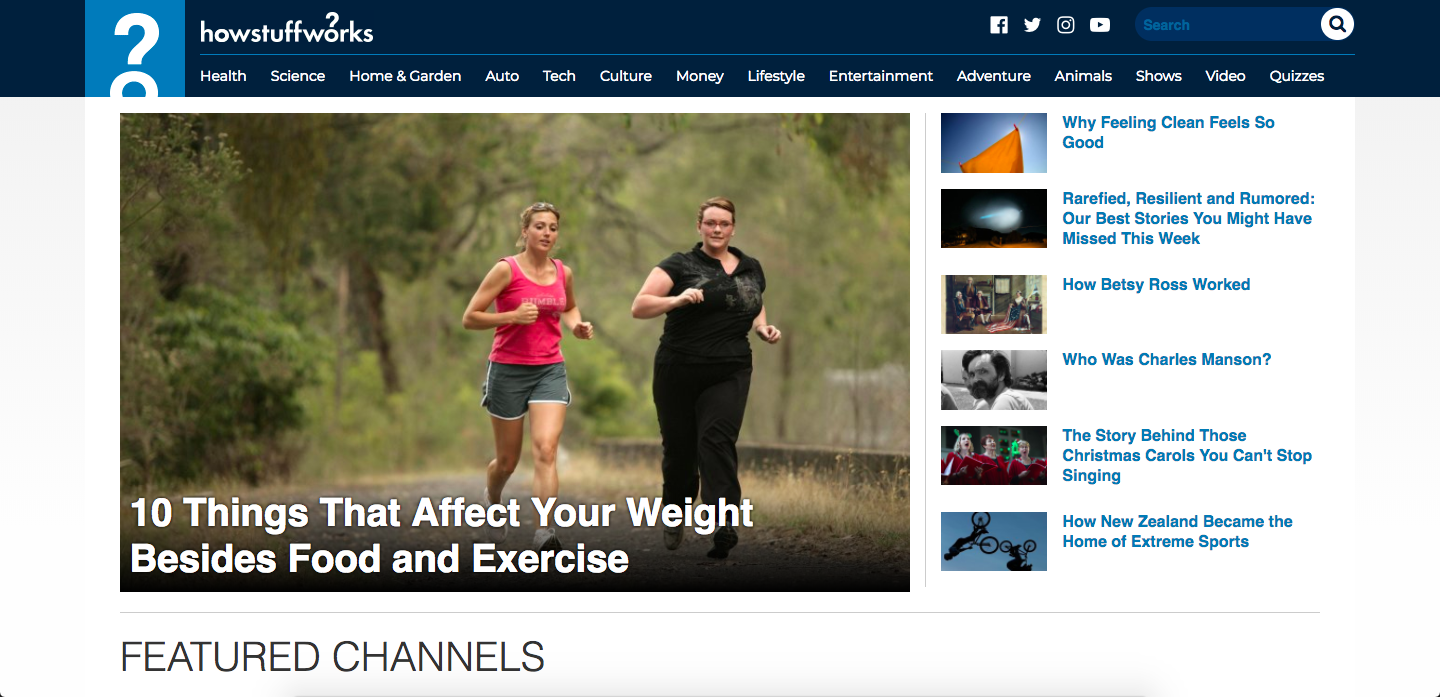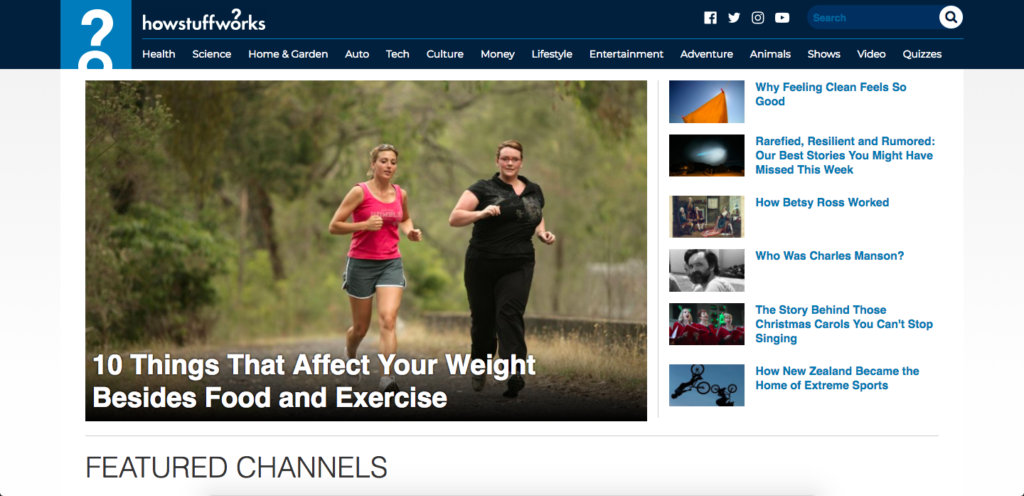 HowStuffWorks is an awesome website that is interesting and useful at the same time. Just as you can guess from the name, the website covers scientific topic, discussing how certain stuff works. Other than that, there are also some list-based articles and explanatory ones. If you are a science and tech enthusiast, you should surely check out HowStuffWorks and it won't be in vain. Every once in a while, the website answers some of the frequently asked doubts and misconceptions as well. In short, the time you spend with the website will not be useless.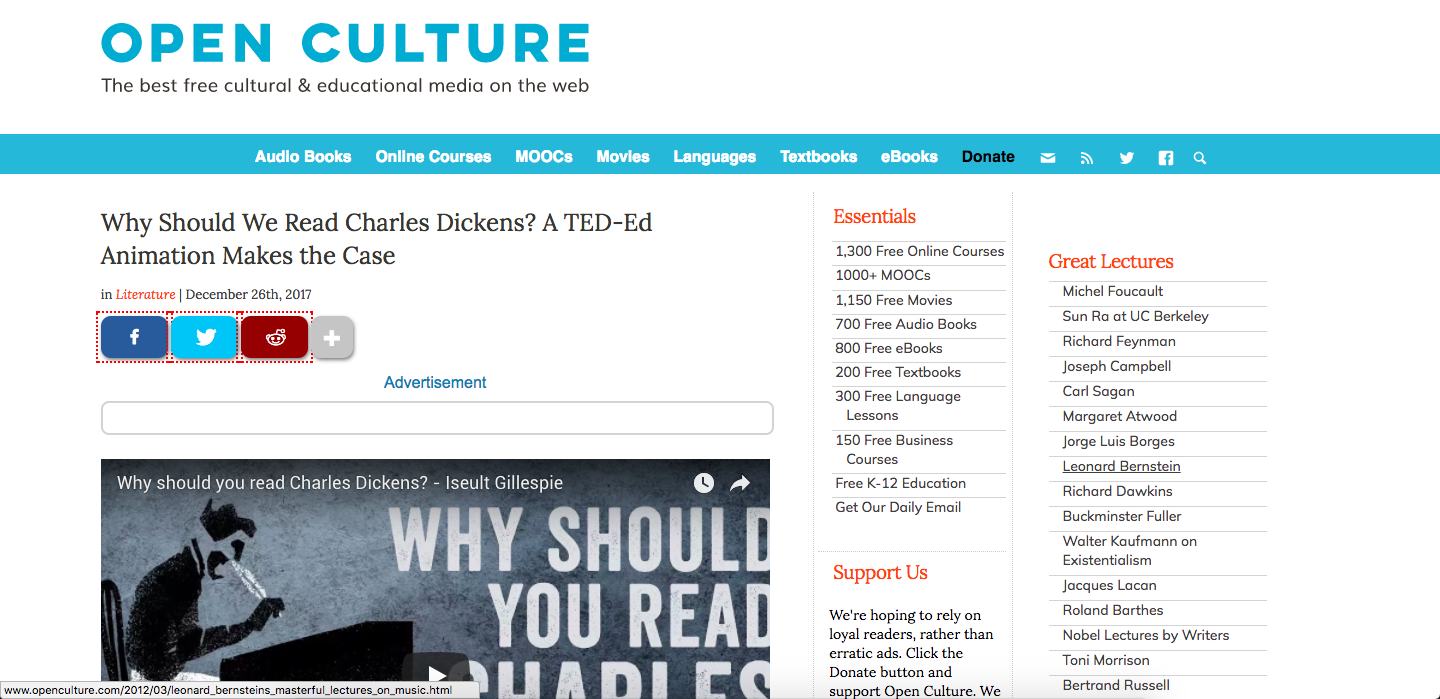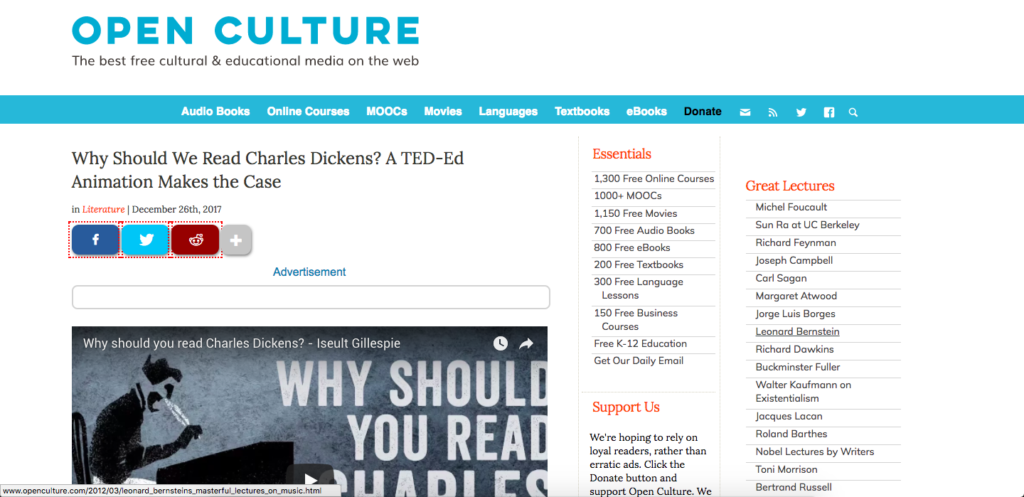 Last in the list but probably the most useful one, Open Culture is a website for those who would like to learn more about the world. It discusses certain parts of the society, especially dealing with Cultural Studies and you can find a lot of resource materials in this website. When it comes to finding educational media, Open Culture is something you can trust and keep reading on a regular basis. The website is free of cost but covers everything you should know as the basic. So, at the end of the day, we'd say that Open Culture is one of the best and interesting websites to have some fun studying 😉
So, these are the best 50 cool and interesting websites we've found to help you have some fun in the long run. Most of the websites are content-based, though there are some cool puzzle-based ones too. Make sure that you have the best fun with these websites. Also read this how to write website design RFP.