All viruses are malware, but not all malware are not viruses! This should explain why you must use malware removal tools apart from the antivirus program you have. These things are self-explanatory, right? Anti-virus programs are supposed to protect your device from viruses, which is a specific type of malware noted for its rapid replication and spreading. In order to remove the other type of malware, you need something specific. Depending on the infection that is in your device, you may need specific malware removal tools too. But, in general, it's always good to have a malware removal tool for your Windows PC so that nothing goes wrong.
During the old days, there was only one kind of malware removal programs — the ones that can remove an extremely specific type of malware, say rootkit. Now, most of the malware removal programs have turned into a type of security suites. It means that those programs can keep watching your PC for potential threats and fix them as soon as threats appear. While you definitely need a malware removal tool, you can't simply go for a random pick. That is why we have created a list of the 10 best malware removal tools out there, discussing their features and unique points.
Best Malware Removal Tools
We have crafted the list in light of our personal experience, user-reviews, and scores from professional stats that deal with security efficiency. Listings are not in any particular order, though we will mention our choices and preferences once in a while. Shall we start, then?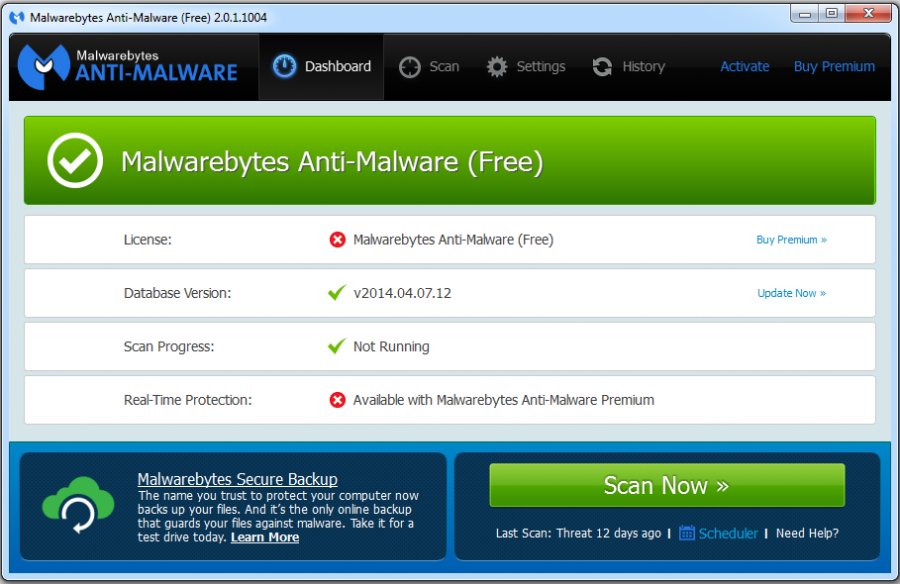 Malwarebytes Anti-Malware has topped every list that talks about the best malware removal tools in the market. It was one of the first anti-malware programs that educated the common people about non-virus malware and proposed a way to remove them. The company has been developing a bunch of software for detecting, diagnosing and removing digital threats — from common Trojans to ransomware threats. Apart from PC, it's available for Mac and Android as well. When it comes to removing malware, spyware, exploits attacks and ransomware attacks, Malwarebytes Anti-Malware should be your go-to choice. It offers both a limited free plan and a full-featured Premium plan.
This piece of software has one of the most effective malware-detection and malware-removal engines we've ever seen. All these features have been built on a simplistic User Interface design, making it easy for anyone to protect their devices. Once installed and activated, Malwarebytes Anti-Malware will keep protecting your PC from all sorts of malware, spyware, ransomware and exploit attacks. According to experts, the protection suite can effectively block exploit-based attacks, which is great when you have sensitive information. But, it needs to be noted that most of these features are available in Malwarebytes Anti-Malware Premium version only.
Just like your traditional antivirus, Malwarebytes Anti-Malware keeps scanning your computer 24*7, making sure that no malware impacts your computer. There are some additional features you'd love, such as adware removal and browser hijacking protection. Another great thing about Malwarebytes Anti-Malware is that it keeps upgrading the software and features, every once in a while. So, once you have purchased the Premium version, you can expect newer features. Thanks to the Protection Shield, Malwarebytes Anti-Malware would help you stay away from malicious websites as well. As said earlier, you can download the free version, but the Premium one costs you $39.99 per year per PC.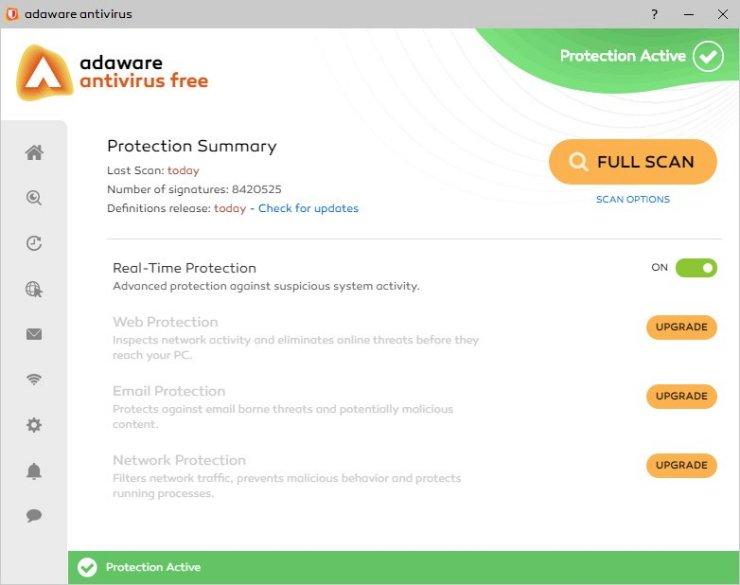 As you can guess from the name, Adaware Antivirus 12 is not dedicated malware-removal programs you'd find. It is rather a general antivirus program that protects your Windows PC from possible threats, in the first look. However, deep inside, Adaware Antivirus 12 has one of the best antivirus and anti-malware engines we have ever seen. So, the program can seamlessly protect you from not only viruses but also the variety of malware you may come across, including but not limited to spyware and ransomware. Another point worth noting here is that it doesn't consume many resources when compared to typical antivirus programs in the current market.
If you ask us, we'd say that Adaware Antivirus 12 is the best malware-detection tool for those who spend a lot of time on the web. Most of its features are supposed to give you elite web-based protection, from digital threats like identity theft, adware, browser hijacking, and phishing. For starters, you can simply enable Safe Browsing in Adaware Antivirus 12 and keep doing what you want to do. The program works in the background to offer you sound protection from not-so-common malware as well. There are also some seemingly-simple features that can enhance your web user experience. Depending on the number of features you want, you can choose the Free, Pro or Total versions.
We mean it when we say that Adaware Antivirus 12 consumes less amount of resources in your PC. According to our experience and other users', PC slowdown hasn't been an issue with the program. Even when Real-Time Protection and Web Protection are enabled, you can keep using energy-consuming apps in the device. Most importantly, Adaware Antivirus 12 increases the browsing speed by removing adware and other crappy stuff instead of slowing it down. By the way, if you are ready to purchase the Pro versions, you can have the extra features like Network Protection, File Shredder, Digital Lock, and Firewall. In short, Adaware Antivirus 12 is our recommendation if you need a fully-fledged anti-malware suite.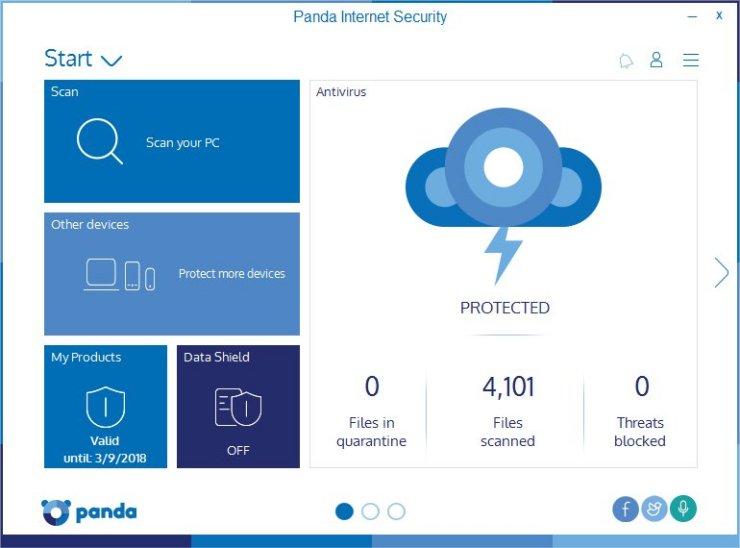 Panda Internet Security offers one of the finest malware-removal systems you can purchase today. Unlike 2 of the products we've mentioned earlier, this one is completely paid, though you can have the basic antivirus program for free. However, Panda Internet Security is the only version that takes care of possible malware like spyware and adware. As you can guess from the name, the program also offers you complete security from Internet-based threats — be it phishing, browser hijacking or something else. In case you did not know, Panda Security is a trusted name when it comes to malware-based protection and threat removal. So, you'd have the best results in the long run – antimalware service executable windows 10.
The unique point of Panda Internet Security is in the comprehensive nature of the features being offered. It doesn't restrict the features into a particular category; rather, in the single package, you have access to the collection of device security, web security, Data Shield, Data Backup and Family Protection. And, instead of focusing on some simple malware, Panda Internet Security has broadened the spectrum and keeps your PC away from malware, spyware, ransomware, adware, exploit attacks, web-based attacks etc. Because it is a fully-fledged suite for internet security, you can have a safe web-browsing experience as well. The program would tell you about possible issues on the way.
We understand that there are people who don't want to rely on a simple-looking malware-removal tool for ultimate security. Panda Internet Security is the best choice for you people because it's so comprehensive. Even when it has a huge number of features inside, you are not compromising performance or resources. As far as the pricing is concerned, Panda Internet Security costs you quite less than the competitors. Just keep in mind that you're getting one of the most reputed malware detection and removal tools in the world. Easy updates and worthy customer service are some other features you will find in the package. Altogether, Panda deserves a place in this list.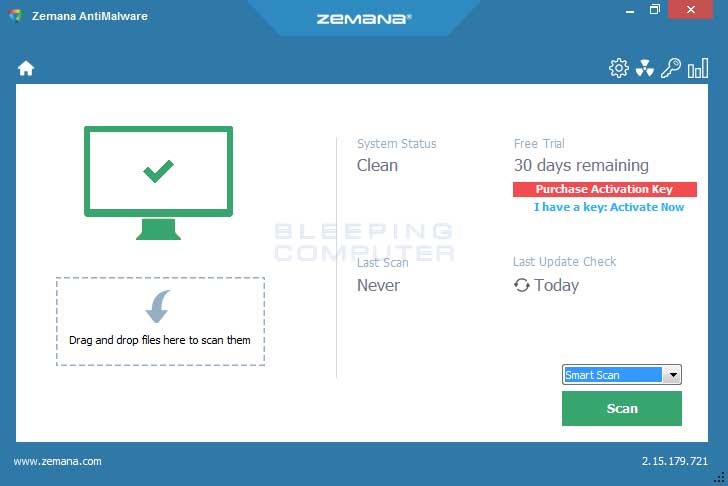 Zemana Anti-Malware is comparatively newer in the industry, though popular. But the difference is that the program has been exclusively designed for keeping malware out of your PC. So, when you need a dedicated, effective and worthy malware removal program for Windows, Zemana Anti-Malware is a great consideration indeed. It is available as a free program, but you can always upgrade for extra features. On the surface, it seems to clean your PC from all sorts of malware types and prevent possible attacks in future. If we go deep, though, there are a few features that make Zemana Anti-Malware one of the best choices from the market. It also has a focus on certain features like rootkit removal.
On top of all, Zemana Anti-Malware packs Real-Time Protection, which makes sure that no malware gets to your computer in the background. The program has been noted for quick response and actions. Apart from the general protection you have, Ransomware Protection is also offered by the program, and it has been proven to be quite effective. Several experts have made it clear that Zemana Anti-Malware is quite effective to keep your PC away from potential ransomware threats. You also have additional benefits like adware removal — which not only cleans your PC but also gets rid of a possible spyware. Browser hijacking removal is also being offered in the package.
Zemana Anti-Malware has some limitations of being a freemium program, the first one being the availability of features. Real-Time Protection and Anti-Ransomware Protection Modules won't be available in the free version; you have to upgrade the program for them. But, as it happens, the pricing of the premium version is quite reasonable, compared to the features you get. You also have 24*7 support from Zemana if you had chosen the Premium version. Premium or Free, Zemana Anti-Malware is pretty great for malware removal for sure. The installation and maintenance are simple-enough, but the impact you have on security can't be ignored.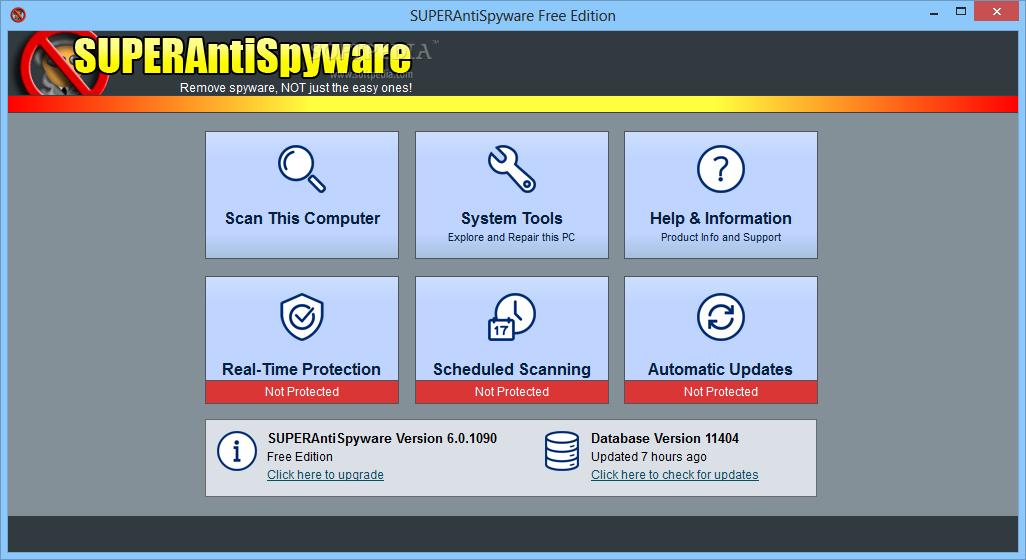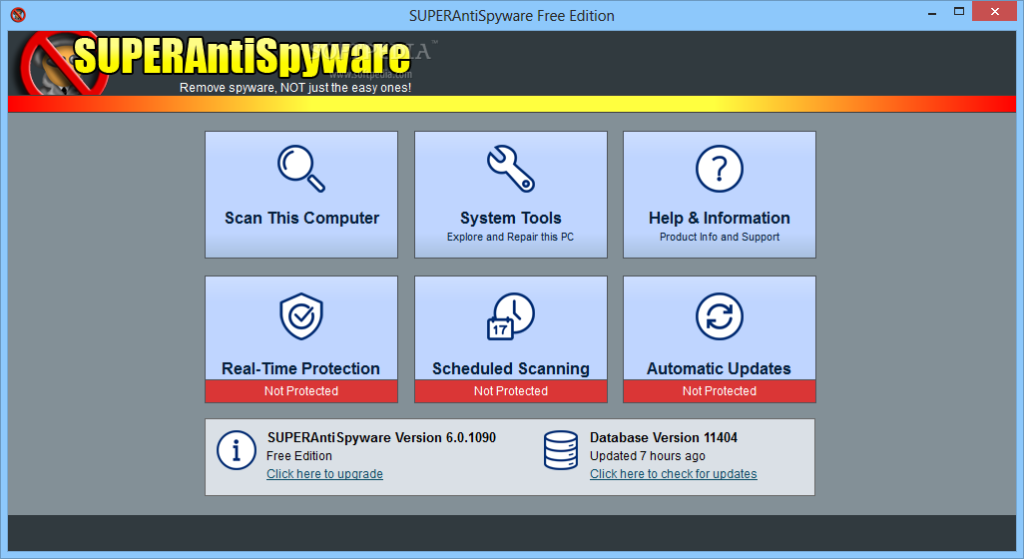 Did you know that spyware is perhaps the most dangerous type of malware out there? Of course, it may be coming after ransomware, but still! SUPERAntiSpyware is a specialized malware removal program for getting rid of spyware from your computer. However, it doesn't mean that SUPERAntiSpyware can remove spyware only from the system. It is, in fact, a complete anti-malware package with all the features. The point is that it may work extraordinarily well if you are planning to get rid of spyware. In case you didn't know, a spyware attack can dismantle your entire online life, and you wouldn't mind spending a bit more for protecting your anonymity. SUPERAntiSpyware has been in the industry for a while and has attracted a lot of professionals.
One thing you would love about SUPERAntiSpyware is that you can download a convenient version — Free, Portable, Professional, Education or Enterprise. You may have some extra features in the Business version, like network-level installation. However, let's now talk about the free version and Professional version, which offer detection, removal, and surveillance at the same time. If you look at the User Interface, you would find that SUPERAntiSpyware is simple enough. It also means that this malware remover doesn't put your system under a lot of stress. Depending on the definite purpose, you can download any program and not worry about system overload.
The lack of a modern UI may be an issue for some people, but the simplicity doesn't reflect on performance. According to industry-standard tests that have been done, SUPERAntiSpyware is powerful enough to remove almost every type of malware. The company also has an incredible research lab that can analyze samples of malware if you have any. Scheduling and Email Notifications are some of the best features we have seen in the package, especially looking from the convenience point of view. There are also some advanced options like Registry Editing and Quick Scanning options. All these make SUPERAntiSpyware one of the lightweight, simple yet powerful malware removal tools on the market.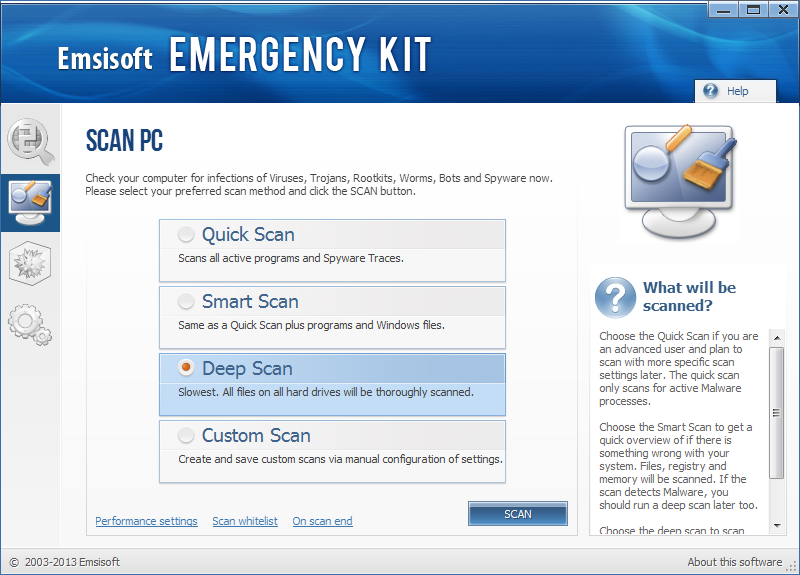 Do you really think that your computer is already infected? Get ready to get the best help from the Emsisoft Emergency Kit, which is a complete solution for treating infected computer. You can use the program to find, detect, diagnose and clean an infected PC, no matter what type of malware has infected it. The program has been the professional's choice when it comes to dealing with emergency situations of digital threats. As a matter of fact, you can actually rescue your device and data even if your typical antivirus program let in the threats. To make things convenient and practically useful, Emsisoft Emergency Kit has been designed as one portable cleaning software.
Talking about features, Emsisoft Emergency Kit has a lot to offer. First of all, it can detect and remove a variety of infections, and the list is not restricted to spyware or worms. The point is that, even if you don't know the specific name of the threat, you can keep using Emsisoft Emergency Kit to remove it. Thanks to the powerful algorithms and research data inside, the program will tell you what has infected your PC. In our experience, Emsisoft Emergency Kit has helped us to detect the specific kind of threat even when experts failed to do so. Despite all the Pro features and settings, Emsisoft Emergency Kit has kept the UI as simple enough. You will have no trouble in getting started.
By the way, while Emsisoft Emergency Kit is a standalone malware remover, there is an anti-malware tool to get from the same developer. You can download Emsisoft Anti-Malware for continuous protection. But, you know, several infections are prone to affect the antivirus tool itself. In that case, it always makes sense to keep a portable version of the rescue kit, ready in a USB drive. The toolkit works on almost every PC that can run Windows 7 and later versions. Well, let us make the selection easier: if you think the PC is clean-enough, get Emsisoft Anti-Malware for extended protection in the future. On the other hand, if you think something is wrong and troubling security, go for Emsisoft Emergency Kit.
#7 HitmanPro | Paid, Free Trial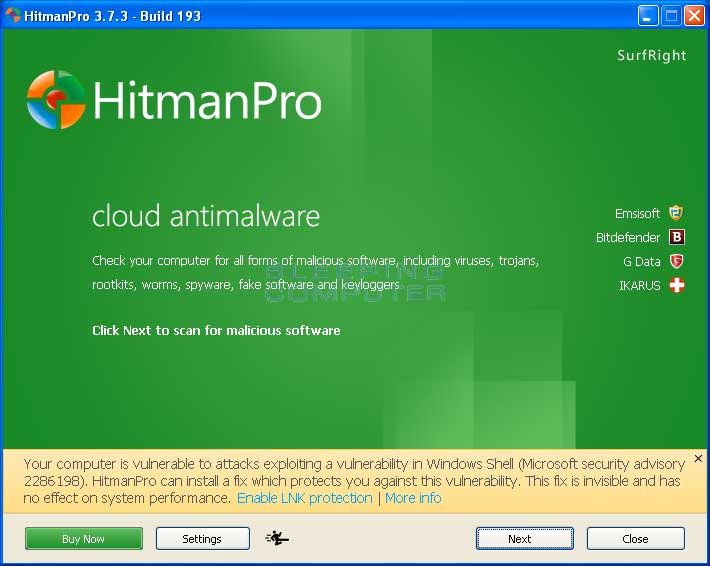 HitmanPro is another great, dedicated and effective choice to remove malware from an infected computer. You might have heard about this program and its counterpart, namely HitmanPro.Alert, which is a protection suite as well. Depending on the level of protection you need — instant removal or continuous prevention — you can make the selection. As far as HitmanPro is concerned, the program is powerful enough to detect as well as remove most types of malware threats from your Windows PC. It has one of the deepest-reaching & effective engines for threat detection that even the commonly-ignored threats are brought to the limelight. For someone who wants 100% cleanliness, HitmanPro seems to be the perfect option.
If you ask us, what we loved in HitmanPro is the boot-level protection. It means that HitmanPro will enhance the total protection from the moment your PC starts up. So, if there are some rootkits or ransomware attacks making changes in the booting process, HitmanPro can help you find that in a second. It does the job through collection and analysis of hard disk, and we've not seen the same feature in any other anti-malware tools in the market. It's a matter of amazement that HitmanPro does all of these things without going through the task of installation. You can simply download the tool, get your PC running and let HitmanPro analyze and remove possible threats.
We don't want you to show a list of the types of malware that HitmanPro can remove because that is going to be huge. Apart from typical viruses and Trojans, HitmanPro can also get rid of possible PUAs, which include adware and bloatware. In other words, the program not only makes your PC secure but keeps it clean. The engines, the last time we checked, had a real skill in telling apart the good and bad files. By the way, don't think that HitmanPro will be an alternative for your antivirus program. It is not. If you are looking for stable and continuous protection, you must go for HitmanPro.Alert, which is feature-rich as well. HitmanPro is paid but you can avail the free trial for 30 days.
Wait a Second
So, as it happens, these are some of the finest malware removal tools you can find on the market, at this point. I mean, these tools are effective and can offer you the best protection from all sorts of malware threats. Some of the tools are for instant removal of malware while others offer long-run protection. But, it is not the time to end the list. As we promised, we are covering the three other noteworthy tools too.
With 1400000 active customers across the globe, Plumbytes Anti-Malware is a great tool to remove malware infections from your Windows PC. When compared to the other tools we have discussed above, Plumbytes Anti-Malware doesn't have many features to offer. However, it does a good job in detecting and removing malware with ease. In addition to traditional malware removal, Plumbytes Anti-Malware can also help in restoring a hijacked browser. We would not say this is the best malware removal tool in the world, but they offer one of the best remote assistance services we've seen. The team is quite skilled in addressing the issue and getting it fixed in no time.
So, if you don't mind spending for a simple, effective and well-supported tool for removing malware, you're going to love Plumbytes Anti-Malware. Just so you know, the brand is popular for its anti-adware and VPN software.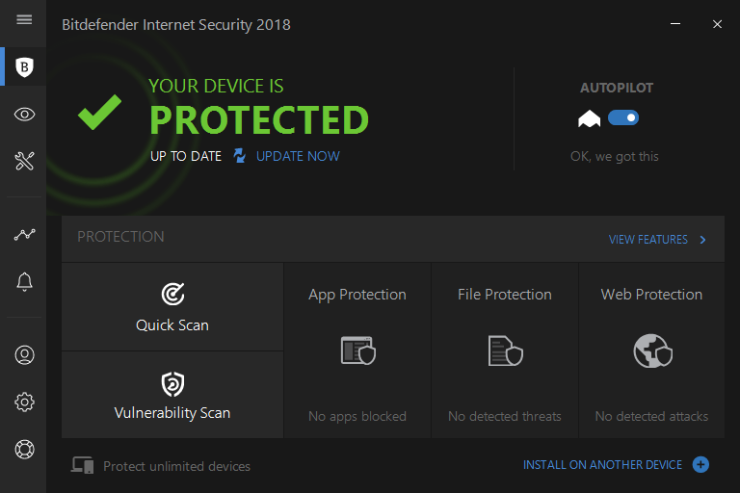 Bitdefender undoubtedly is the big name when it comes to antivirus and security industry. It also happens to be one of the very few antivirus developers that address the issue of never-ending malware. So, when it comes to choosing an antivirus program that also acts as an anti-malware solution, you can go for it. We do believe that Bitdefender Internet Security is the best choice from the bunch of options available. Of course, it is a paid security software and you get what you pay for. On the surface, Bitdefender Internet Security offers you state-of-the-art protection from digital threats, including not limited to phishing, ransomware, hijacking and all sorts of malware.
Bitdefender Internet Security would be our recommendation when you don't want to miss the extra features of a typical antivirus program. Thankfully, Bitdefender Internet Security does a great job in dealing with the common types of malware threats, without actually tampering with system resources.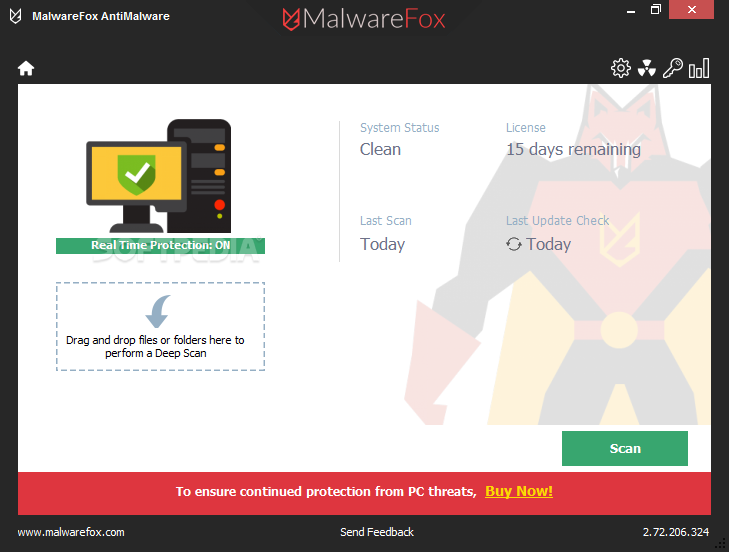 The last malware removal tool for Windows in the list, but not the least, MalwareFox Anti-Malware is a new but effective anti-malware program. It works on a freemium structure and you can choose the Free or Paid version according to the need. There aren't many fancy features either, but the remover does a good job in keeping your PC cleaner than you thought. When compared to the other free antimalware tools we saw, this one is pretty fast and detects even the non-common types of malware. There are also dedicated options for browser protection and ransomware attack prevention. In spite of all these features, MalwareFox Anti-Malware stays simple on your PC resources.
We would not recommend relying solely on MalwareFox Anti-Malware or considering it as an alternative for the antivirus program. On the other hand, if you need a minimal anti-malware program to stay confident, you'd have no trouble getting along with MalwareFox Anti-Malware.
The Bottom Line
Out of the 10 malware removal programs we have covered, 7 are detailed while 3 just overviews. We do really believe that the first 7 antimalware programs deserve proper coverage because they are the best you can get from the market. So, it does not matter whether you are picking one from the first or second part, make sure that the program suits your purpose. There is no point in having fancy features if you are simply planning to remove a particular malware threat. On the other hand, don't keep believing that a simple anti-malware tool would offer you extended protection. The protection is for yourself and your data; so, make sure you choose well.