Do you enjoy playing video games? In fact, I do and in this article I am going to tell you about something special. Personally, I would appreciate an opportunity to get a new video gaming console almost for free, let's say, a PlayStation 4 Pro, a Nintendo Switch or an Xbox One X. Sounds too good to be true? Not at all thanks to online mystery boxes services and DrakeMall in particular. On this website, the users can try out their fortune and get a brand new console for ridiculous sum of money. Without further delay, let's discover this great service.
Online surprise boxes or how real life loot boxes evolve from video games?
For those who do not know, in the gaming industry a loot box is a virtual item that can be used to get other virtual items. It might be some additional options for the player's avatar or the main character, special abilities or such things as weapons, explosives, maps, etc. The best examples are the video games like Overwatch with its unique and extremely successful loot-box system, CS:GO, FIFA, PES, Battlefield, and many other games.
The idea was quickly brought to the real world with the appearance of online gaming mystery box services. These websites enable its visitors to win items and artefacts required to be successful in the game. Later on, a new type of gaming surprise boxes was created: the one where you can win some great stuff related to the gaming industry (real prizes instead of virtual ones). DrakeMall is one of the leaders among the mystery gaming boxes services beside Loot Crate. Continue with this article to find out more about this extraordinary platform.
DrakeMall.com and its best mystery gaming boxes
DrakeMall.com is a free mystery box marketplace that operates mostly in Asia (Singapore, Malaysia, Korea and some other countries), but the service is also very popular in European countries. The platform enables the clients to open the surprise boxes and win expensive prizes (up to 10000 US dollars). Then, each player has a choice of selling the goods he/she won or ordering a delivery. Besides, the website delivers items to all countries in the world and the delivery fees are minimal. Other advantages of the DrakeMall gamer mystery box service are:
Enormous bonuses and promos like Make Unboxing and Get Free Delivery, Welcome Offer, etc;
VIP-subscription;
Theme-based surprise boxes;
Numerous payment methods: Visa/MasterCard, PayPal, G2A Pay, Skinpay;
Additional features as Mystery Battles (or case battles), King of the Box tournaments, Monthly Giveaway, etc.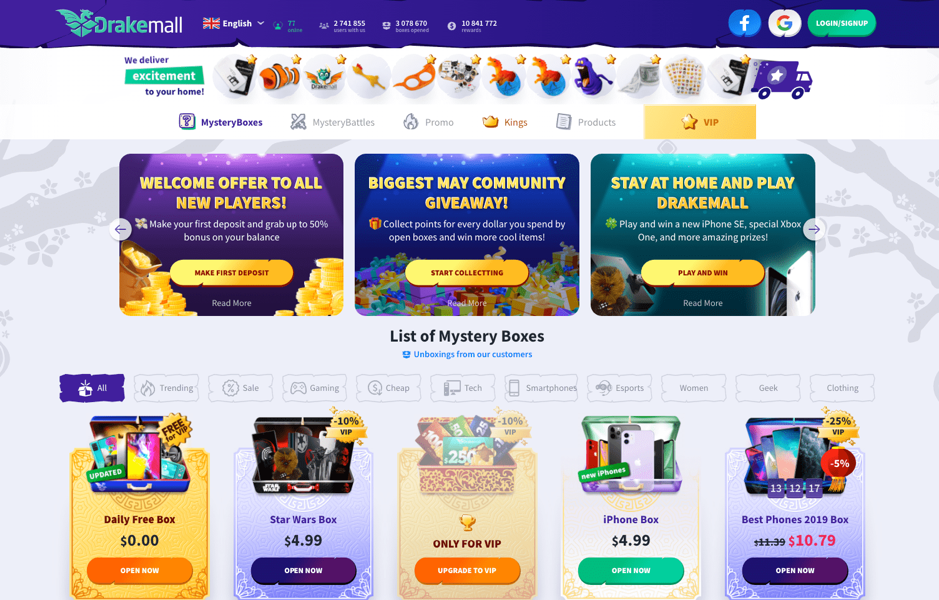 Basically, Drake Mall has borrowed the idea from gaming loot boxes, modified it and implemented in the real-world conditions. A great concept, right?
[TOP-6] Gaming surprise boxes: chances to get PS4 Pro, Xbox One X, Nintendo Switch, and gaming PCs for almost free!
So, let's find out about the TOP 6 surprise gaming boxes available on the website and the best prizes you can win.
Gamer Box
We will start from the Gamer Box that will cost you less than 12 bucks – incredibly cheap, isn't it? In exchange, this video game mystery box will give you an opportunity to win a Nintendo Switch, an Xbox One X, PlayStation 4 Pro, Fallout Board Game, Mortal Kombat 11 (PC) and other video games, Oculus Rift S, ASUS ROG Phone 2 and many other prizes. If we compare the price of the box opening and the actual price of some items offered, the only conclusion that you might make is you get them almost for free! With a bit of luck, of course.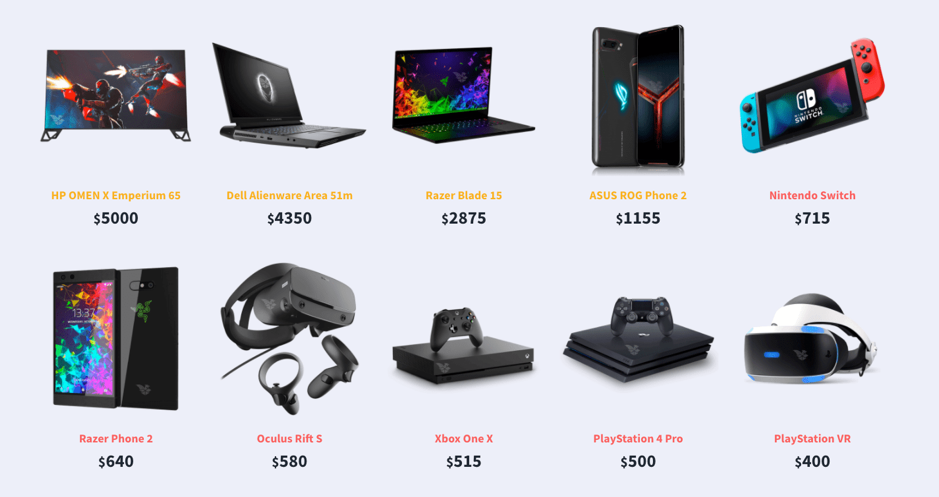 PC Master Race Box
PC Master Race gaming surprise box is an ideal option for those who would like to win a brand new computer, a gaming laptop or other games-related stuff. More precisely, you can get almost for free Asus ROG Zephyrus S, HP Omen 15, AMD Ryzen Threadripper and Intel Xeon W-3175X CPUs, headphones SteelSeries Arctis 7, video games like Divinity Original Sin II, World of Warcraft: Battle for Azeroth, etc. If these prizes interest you – then you should definitely try this surprise box out and bare in mind that Drake Mall offers free test spins of any loot box!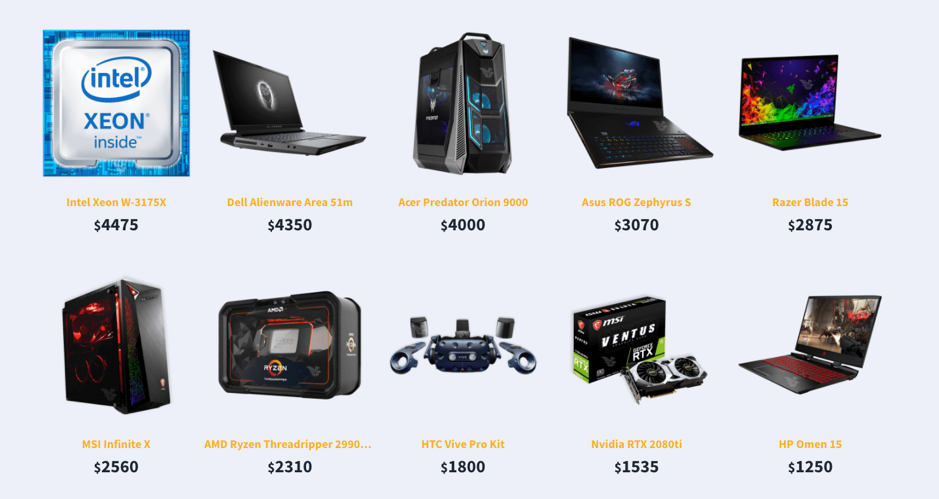 PlayStation Box
Are you a fan of PlayStation gaming console? In this case, PlayStation mystery box is all you need to make cheap purchases online. For only 8.99$ you can win PlayStation 4 Slim, Logitech G29, Sony PlayStation Move, wireless controllers PlayStation Classic / Sony DualShock 4 and many-many video games including God of War, Grand Theft Auto 5, Resident Evil 2, etc. Nobody gives this stuff for free – except DrakeMall, where you have the chance to get it so!

Nintendo Box
A Nintendo mystery box is a gift to all Nintendo admirers. For as cheap as 8.99$ you can win a Nintendo Switch, Nintendo Switch Pro Controller, 8bitdo N30 Arcade Stick, Nintendo Switch Lite and many other prizes. Try your free spin, start buying real boxes and let the fortune follow you.

Xbox Box
Players who prefer Xbox, you are not at all forgotten! Thanks to Xbox One mystery box, available on https://drakemall.com/boxes/xbox-box, you have a wonderful chance to win or get almost for free such prizes as Xbox One X, Xbox Elite Wireless Controller, Microsoft Xbox Media Remote Controller, etc. You are tired of numerous scams and frauds? Try DrakeMall, the cheapest way to buy online, and you will change your mind!

Esports Box
Finally, thanks to Esports Box, you can win Corsair One i140, headphones Sennheiser Game Zero, ASUS ROG Strix Z390-E and many other expensive or cheap prizes. Use special promo codes and get some free spins!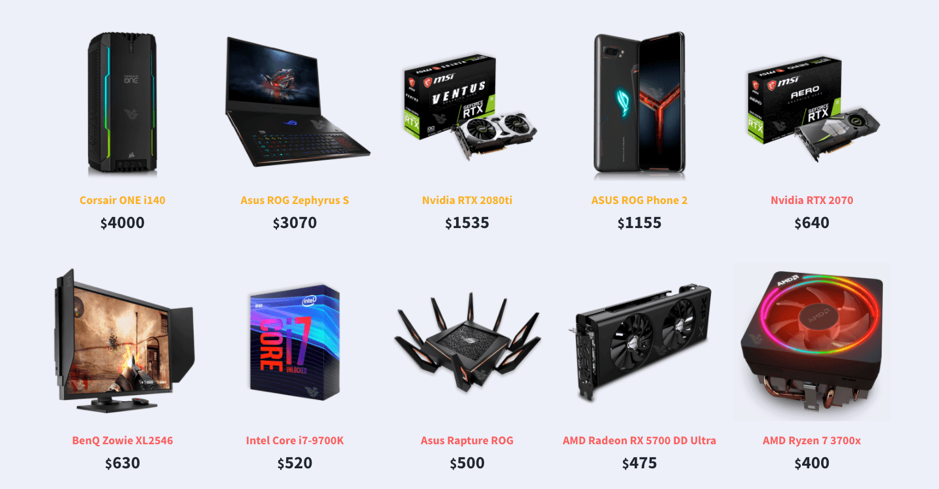 Delivering prizes to you: is it true on DrakeMall?
DrakeMall is an absolutely legit site that operates officially and according to the current legislation. It is a perfect alternative to popular subscription boxes for geeks that send to clients mystery boxes on a regular basis, let's say, monthly. Still, you need proofs? Great, you can look through unboxing photos published by the happy winners.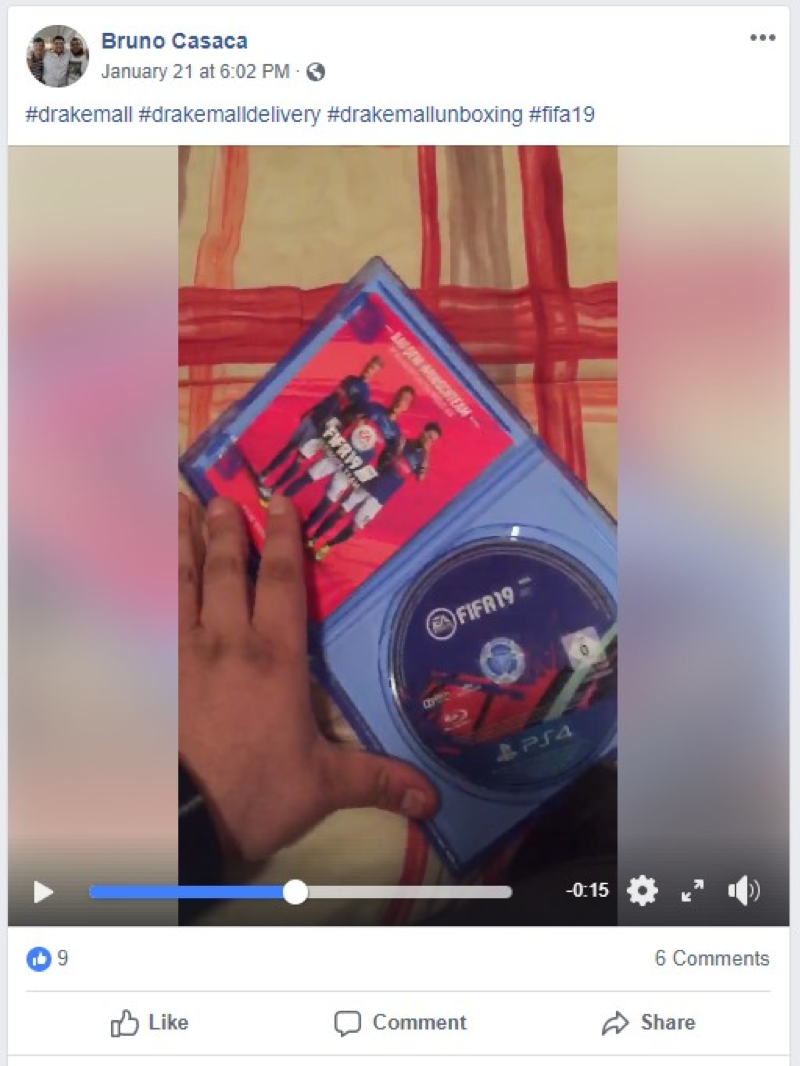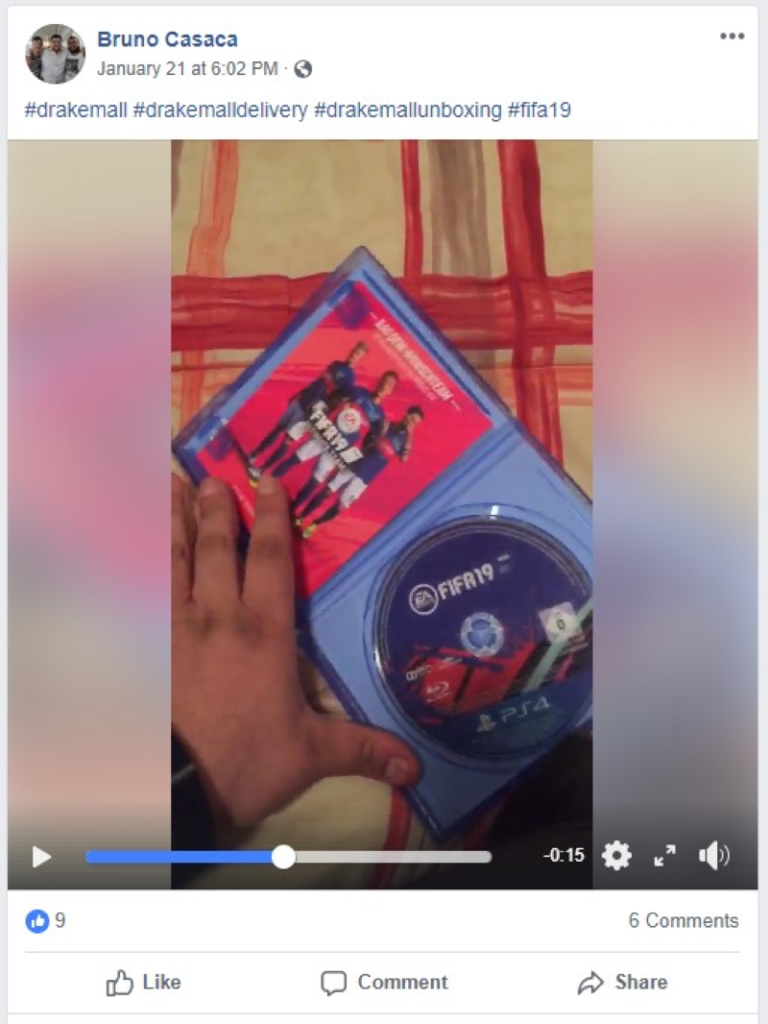 Here we have a Facebook post showing FIFA 19 delivered by Drake Mall. An ideal gift for a football fun!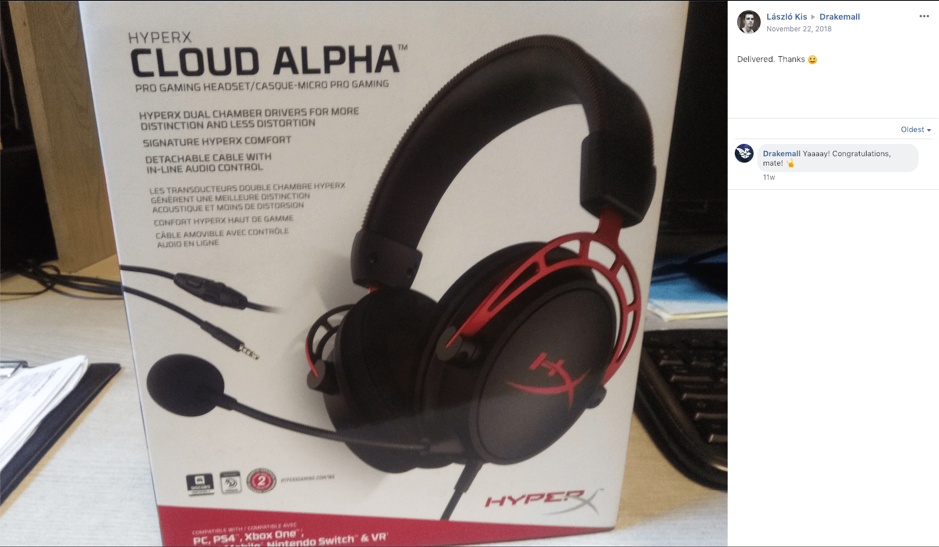 State-of-the-art headphones have already found a new owner thanks to Drake Mall surprise boxes. Try it out and you might be next!
Thanks a lot for your attention and hope that this article will be useful for you. Stay with us if you want to discover other fun websites.