In a large market like India, where digital initiatives are growing by the day, it is vital to have an established presence. In this market, BlueHost, a popular western hosting provider has to compete with BigRock, an Indian hosting and domain name provider. For the sake of simplification, we will compare the Indian wing of BlueHost in this review.
General Overview | Review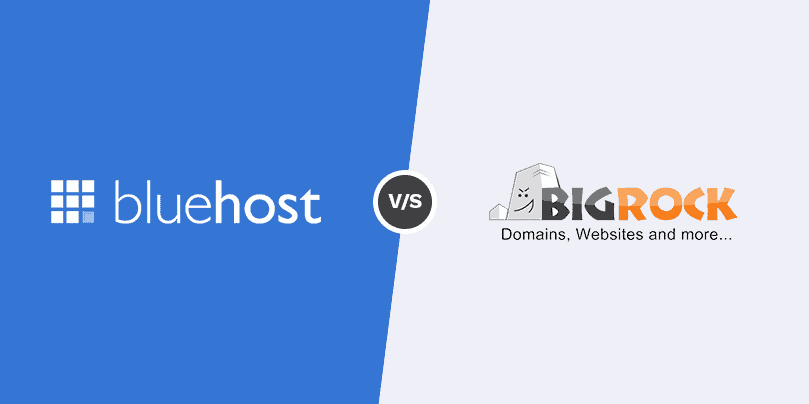 Before proceeding any further, first, let us provide you with a brief description of both companies in general.
BigRock is a homegrown web hosting company targeted towards Indian people. They are an ICANN-accredited domain registrar that provides features like web hosting, domain purchasing, electronic registration, digital certificates, E-mail hosting and website design. Additionally, it promotes all generally used programming languages like PERL, PHP, Python and many others.
EIG owns a part of BlueHost Global in the form of BlueHost India. BlueHost.com, the international version of the website, has standard international payment mode of Credit card and PayPal. This often creates a problem for a large number of Indian bloggers, as they may not always have access to such payment methods.
Now, with the India version, interested customers have the choice of paying through Indian Rupees and Net banking services. Indian users have an option to flip to the global version if they want to.
Hosting Review
The hosting services that it offers to its customers have a domain name, Linux hosting, windows hosting, reseller hosting, WordPress hosting, Joomla hosting, e-commerce hosting, VPS hosting, dedicated servers, website builder, email, SSL, and SiteLock.
BlueHost India also provides a broad range of web hosting services which makes it a favored hosting destination for masses. They have been in the business for more than a decade because of which they have become an expert in the art of giving first class services to their clients. Some of these services are Windows Hosting, Cloud Hosting, Windows and Linux Reseller Hosting, WordPress Hosting, Linux Hosting, VPS Hosting and Dedicated Servers.
Therefore, in terms of hosting, BlueHost is the better one.
In Depth Hosting Plans comparisons
BigRock provides four shared hosting plans – Starter, Advanced, Pro and Business plans. All of the plans can hold pages starting from one page to as much as 50 website pages. The starter plan has a DIY website builder, which is quite easy to use when you're a beginner in this field and have little to no knowledge of it. It includes 2 GB data transfer, 500 MB disk space and five email accounts. If you plan on hosting only a domain, the Advanced plan is for you. The Advanced, Business and Pro plan all provide unlimited data transfer, email accounts, and disk space. But, with the Advanced and Business plans, you can host only a certain number of websites, i.e., one and three respectively.
Although the Pro plan can host an unlimited number of domains, it could be costlier for users. BigRock services also give specialized hosting for CMS like Joomla, WordPress, Zencart, Drupal, etc. They also provide Reseller hosting with four plans to fit according to your needs. But its plan rates are a little higher than other web hosting services. You can also upgrade your service to the dedicated server and VPS hosting if you need to. This way, you can have access to unlimited space; it may come in handy if you own a large website.
Bluehost gives three different high-performance hosting plans for Linux, Windows and WordPress plans. They are standard, business and pro hosting plans.
In the Linux web hosting plan, the Standard plan provides a single domain, with unlimited disk space, data transfer, and email accounts. This plan is considered best for new bloggers. The Business plan has all the merits of the Standard plan but with two additional domains to make it three domains in total that you can register. This plan is also more expensive than the Standard plan. In the Pro plan, you can host an unlimited number of domains, a feature missing from other hosting plans.
Windows web hosting plan also attributes three plans like the Linux web hosting: Standard, Pro, and Business. Similar to the Linux web hosting plans, these plans all have unlimited disk space, data transfer, and email accounts. The only variation in all three is in the number of domains hosted by each plan. The Standard plan can host a single domain; the Business plan is confined to three and the Pro plan can host a total of 10 domains.
Each plan on this web hosting price is more than its Linux web hosting counterpart. For WordPress, the platform has Standard, Business, and Pro plans. This provides the same features as the Linux web hosting plans. Bluehost India also provides Reseller hosting and VPS hosting.
BigRock provides its users with a broader range of hosting plans across different platforms, making it a better option.
Price Comparison
The cost at BigRock depends on plan and number of years you choose. The four shared hosting plans – Starter, Advanced, Business, and Pro offers its pricing range at Rs. 149. Rs. 239, Rs. 349 and Rs. 499 per month, when bought for three years.
BlueHost Windows web hosting plan starts at Rs. 289 per month in the Standard plan. The Business plan goes for Rs. 329 per month and the Pro plan is available for Rs. 469 for unlimited domain registration. For Linux, its hosting plans range between Rs. 259 per month, Rs. 309 per month and Rs. 419 a month for the provided Standard, Pro, and Business plan respectively. WordPress hosting plans reflect the exact price per month as the Linux web hosting cost for all plans.
Since it's quite visible that BlueHost prices are higher in price for all plans, BigRock emerges as a clear winner here.
Features of Bigock as well as Bluehost
BigRock is being supported by all common programming languages like CGI, PHP, Python, ASP.net, Perl and many others that are in popular use. Installing web scripts is quick & simple and allows you to install WordPress manually within 5 minutes. BigRock has a user-friendly interface also.
Bluehost gives some genuinely great deals to its web-hosting clients. Some of them are; secure FTP access, a globally leading hosting control panel and even a one-click installation.
It runs on 24 GB Ram, a free DNS management plan, and dual quad-core Xeon-powered servers. It offers programming compatibility for mcrypt, cURL, PHP 5.3x and 5.4x, MySQL 5, RoR, Perl, Apache 2.2x, GD, CGI, and Python.
Easily, BlueHost's features outrun that of BigRock in this category.
Server Speed and Back up
It offers the greatly advanced secured server with daily server monitoring and health check. They give regular check-ups of their servers to avoid them from hacking.
This web hosting provider aids you to uplift SEO on your website, thus gaining a finer ranking in search engines. Although BigRock doesn't give free data backup, you can always add backup of your data manually through cPanel.
Not following patterns of most web providers, BlueHost India does not depend on other companies' servers. They have expanded their own in-house servers. These servers are furnished with the best hardware to shield your site's data.
They too take regular backups on their backup hard disk, so there's no possibility of losing data. You have an added option of choosing server location from US or India but sticking to a localized server is preferred.
Both companies have good servers to ensure steady back up. However, BlueHost India provides this facility for free, so naturally, it gets the point in this one.
After sales Tech Support
It has a good customer support service with a broad knowledge base wherein users can easily look out for answers to common problems. The customer support is ideal via phone line, email, ticket based and live chat options 24×7. Fully authorized, committed tech professionals assist users with all their problems.
BlueHost India also has equally excellent customer support as BigRock. They give 24×7-customer support via live chat, phone, and ticket-based options. Their utterly skilled tech staff will fix your problem quickly.
In relation to tech and help support, both companies deserve a point each.
Website Constructer
BigRock generates a DIY website builder, but you have to buy a website builder plan for it to execute. Their DIY website builder is user-friendly and can be a real aid to someone who is naïve in programming.
BlueHost however, does not give a free website builder.
The DIY initiative gives BigRock an edge over BlueHost, therefore winning this round.
Domain Name support
The Indian native does not provide a free .com domain name along with hosting, but sometimes, does give away discounts. You can purchase domains for reasonable prices here. Occasionally, BigRock enters a promotion of .com domain at Rs. 99 too.
It does not offer a free domain name when the hosting account is bought.
BigRock easily gets it, with the discounts and offers.
Final Words
So, up to this point, it must be easy for you to figure out which company is better- BigRock or BlueHost India. Choose one which is more reasonable and provides more quality work that fits your requirements. These two web-hosting companies offer more or less the same kind of properties. However, their hosting plans are non – identical and vary. So, the price can be a big determinant of choice.
With BigRock, the costs are sustainable, and the accessibility of special offers and discount makes it appealing to interested users. Hence, your decision between both providers should be a function of your preference and budget. And for us, BlueHost has emerged out a clear winner among the two racing ahead on parameters like performance, speed test, response time and various others. BlueHost also had a distant range of hosting coupons as well as domain coupons for its users to utilize.