From owning a Walkman to an iPod, the way we listen to music has changed drastically. Online music streaming has become the norm now, and apps like Spotify are leading the industry. Spotify offers a variety of music and gives access to millions of songs at your fingertips. The only problem with Spotify is that you cannot take your music to MP3 format.
The problem with Spotify
Spotify offers its services on a freemium model. If you are using Spotify for free, you can get access to all songs, but they will only be available for streaming. You will not be able to download the songs for offline listening. This creates troubles for many users as they may not always have internet access or maybe using metered internet because of which they cannot keep streaming high-quality songs one after the other. The only solution to this problem is buying a Spotify Premium subscription. For a monthly fee, you will be able to get access to the entire Spotify directory and will also be able to download songs.
What most people fail to understand is that downloading Spotify songs doesn't mean that you get an MP3 version. All the songs are downloaded within the Spotify app and are unplayable on other music players.
Is there a solution?
Yes. If you like the music selection and quality available on Spotify but would rather keep your music as MP3, you should use AudFree Software. With this simple tool, you can download Spotify songs and entire playlists into MP3 or other music formats with ease. AudFree is designed to work on the Mac OSX and Windows and helps you manage your Spotify music with ease.
You could be a Free or Premium user on Spotify; this tool will work for everyone. You can download and listen to all your music, artists, playlists etc. in one player. Take every album and offline you like offline. You can extract and convert all music streams to a format of your choice, without compromising on the quality of the original music.
How to download AudFree Spotify Music Converter?
To download the AudFree Spotify Music Converter, simply visit the AudFree website and select the version of the software you want. You can choose between the Windows and Mac versions. As soon as the software is downloaded, you have to follow the regular installation process, and your tool will be ready to use within a few minutes.
Launch the app. You will find a clean AudFree interface with a '+' button on the top right corner. Click there and start adding your favorite songs from Spotify. You can click on Convert and choose the 'Output Preferences'. This will help you in deciding the quality of the song you want to download as well as the speed at which you want to download. If you have a less stable internet connection, then choose slower download speeds for better download quality. If you have a good internet connection speed and stability, then you will be able to batch download all songs you like 5x speed.
Now simply click Convert and all your songs will be downloaded without loss on your device.
Review of AudFree Software
AudFree is one of the few Spotify solutions that give you access several music options that you don't get with the native Spotify application.
Features:
Download and convert Spotify music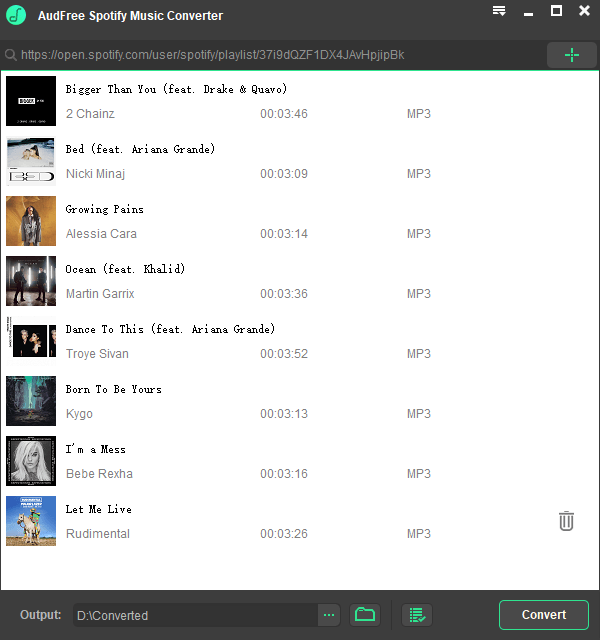 You can convert any song your Spotify music library to the format of your choice. The most popular format is MP3, but you can also choose AAC, WAV, FLAC, M4A and M4B. The converter is very simple and easy to use and provides you with both speed and high-quality downloads.
More control over your music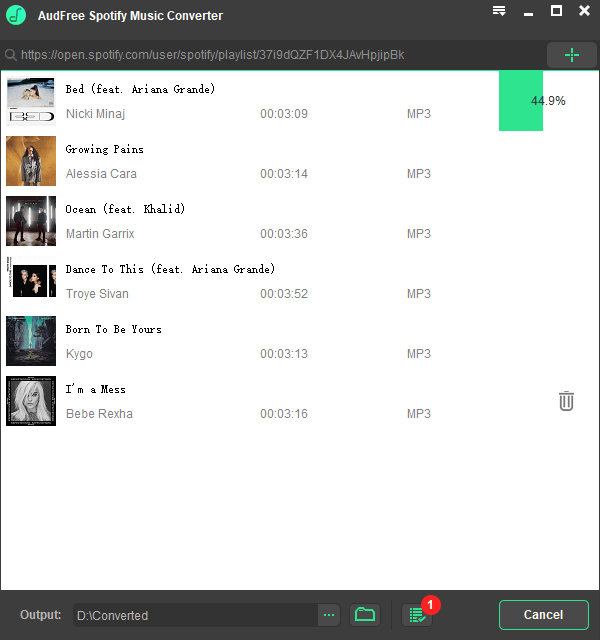 One of the downsides of using online streaming services like Spotify is that you will not be able to control your music the way you like. This can only be done when you have your music with you, which can be transferred to any device you like without paying a monthly fee for it.
AudFree makes it possible to do this and convert music into any format that can be played on multiple devices. You can choose to keep a few songs or all of them on your device, assign them to different playlists and folders and also keep them with you forever. There is no need to depend on a monthly subscription or an internet connection to listen to the songs you like.
Safe and clean downloads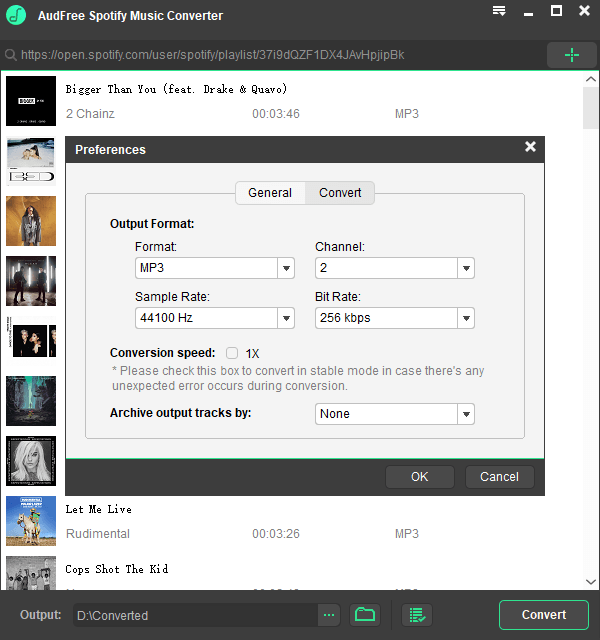 The users can choose the quality of their downloads. However, we found AudFree providing crisp and clear sounds even at the lowest quality settings. All downloads were clean and free from viruses or any malicious links. We tracked the entire AudFree library using three different antivirus software on multiple devices and found the downloads completely clean and safe to use.
Is AudFree the best solution for Spotify?
AudFree doesn't just allow you to download and convert your Spotify music library to the format of your choice but also helps you manage your output better. The software can manage the titles based on albums and artists automatically, which helps you in keeping all your music well organized. The software is easy to download, install and use, and we didn't face any troubles while using it. The downloads are fast, and the conversion quality is also great.
We would like to recommend this software for anyone who wants to convert Spotify to MP3 hassle-free.