The price of Ethereum has climbed by 6.39% over the previous day to reach $1,677 as the cryptocurrency market attempts to recover some of its recent losses. The cryptocurrency's current price represents increases of 4.5% over the previous week and a 30% increase over the previous 30 days, almost matching Bitcoin's price growth over the preceding month. Let's look at ETH's price prediction and find out its potential value with us via this article.
What is ETH or Ethereum?
Ethereum has gained popularity as a decentralized, open-source proof-of-stake blockchain that allows smart contracts since its initial release in 2015. Unlike Bitcoin, Ethereum has an unlimited supply. One of the biggest challenges Ethereum will soon have is the steadily growing transaction charges, or gas fees as they are known on this particular network. The downside of Ethereum's rising popularity is that as more people use it, gas prices rise.
Price Prediction For Ethereum As ETH About To Reach $1,700
ETH's chart is now in a precarious position. Its 30-day moving average began to move above its 200-day moving average at the beginning of the month and may continue to move higher for a few more days or weeks, signaling further rises.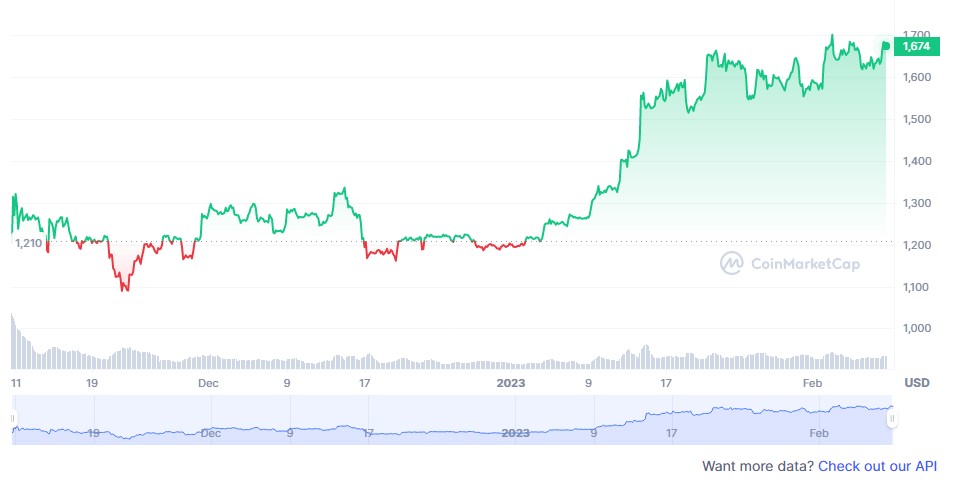 On the other hand, given that the global economy and markets haven't fully recovered since the downturn in 2022, the position of ETH's 30-day average may reflect the apex of its current ascent. This worry is supported by the coin's relative strength index (purple), which has dropped to around 60 after reaching a high of above 85 in the middle of January.
The critical resistance level to watch for is $1,700. Early in February, ETH made an attempt to achieve this ceiling, but in the days that followed, it fell back to around $1,620. If it can hold at this ceiling, it will very certainly keep going up.
There are a lot of fundamental reasons to be excited about Ethereum. Visa, a major player in payments, has revealed yesterday that it is experimenting with USDC stablecoin payments on the Ethereum network.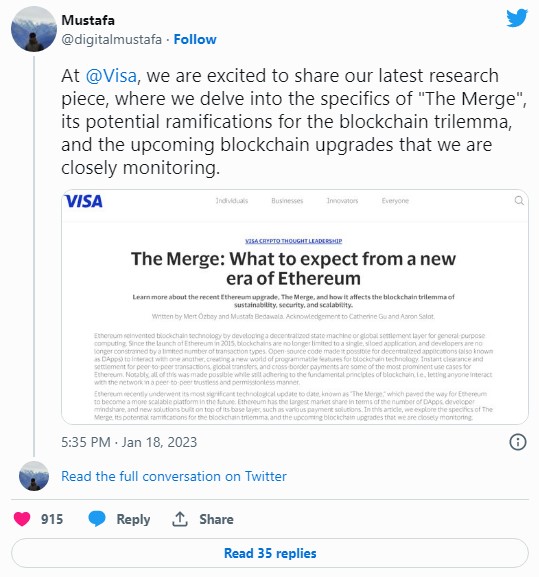 This is very encouraging for Ethereum and indicates that its network will see widespread use in the next months and years. The layer-one network has already been enhanced by Visa; in fact, the corporation published research in mid-January claiming that the Merge "paved the way for Ethereum to become a more scalable platform in the future."
Saying that Ethereum will only strengthen its dominating position in the next years with the help of organizations like Visa sounds plausible. Indeed, many predict that ETH alone will surpass BTC this year and emerge as one of the big winners.
Ethereum already has the largest layer-one blockchain in terms of total value locked in, holding 59.4% of the whole DeFi market. This will only grow worse in the future given that the Merge lays the foundation for sharding and further scalability benefits in addition to Ethereum's enormous network effects.
In light of this, there is a considerable chance that ETH will break through a number of important milestones this year, beginning with the previously mentioned $1,700 resistive barrier and continuing on to $2,000 and beyond. While there is no guarantee that 2023 will witness a full-blown bull market, ETH may soar to $3,000 and beyond in the event that the market returns to more optimistic conditions (rather than a moderate recovery).
Further Price Prediction
Based on an analysis of the pricing data from the previous year, it is anticipated that the minimum price of Ethereum will be around $3,187.45 in 2024 and after. ETH's highest projected price is likely to be about $3,796.09. In 2024, 2025, 2026, and 2027, an average trade price may be $3,278.60, $4,671.43, $6,853, and $9,956.71.