Introduction
A vast majority of IT infrastructures in companies today are outdated, internal audit studies have shown that approximately two-fifths of the world's outdated software and hardware we can call legacy ones. Statistics also show that companies settling with legacy are unable to accommodate the modern requirements in today's world of technology. In spite of all the data research completed over the past ten years, businesses are still clinging on to obsolete Legacy IT. The truth is failing to adopt and update old technologies explicitly means the death of a company as an end result. Here are some statistics:
Over 50% of businesses are still running Windows XP
At least 10% of businesses audited are still using Windows Vista
And that's when support has run out for both operating systems! The yearly cost of a computer using Windows XP can be $780, while modern Windows 10 will cost only $168. Tech professionals are all concerned about the high-risks of obsolete technology. Running this antiquated software will continue to raise costs for company maintenance and security budgets if the business leader has no future strategy of course.
The Benefits of Updating Your Legacy Systems
Speaking of the value it could bring, this is fairly obvious. Modern technology will cut costs on support and enable you to leverage all innovative solutions like Artificial Intelligence, Machine Learning, and Big Data. But before replacing old, let's find out what the definition is.
A short Example of an Outdated Legacy System
The easiest analogy of a legacy is to understand a basic function used daily in hospitals worldwide – pagers. To most people they are like dinosaurs but, in a hospital setting pagers are critical devices that are still in use. Most archaic systems such as COBOL language are defenseless in security reinforcements.
The Real Cost of A Legacy Infrastructure
The old technology is simply too costly to maintain; the longer you wait the more detrimental and expensive it will become. The base framework spending on maintenance becomes higher as new advanced technologies become streamlined and essential. The advanced cloud technologies available today reduce those costs drastically, and old software and hardware are simply isolated from this advantage. The legacy framework is spread out in multiple databases and storage; this complicates restructure to allow more storage space critically needed. Aggregation and standardizing legacy data manually supplementary to a new database are ineffective, costly as well as time-consuming. All potential market leaders need distinct specialized high-tech hardware to surpass competitors and get all those advantages.
How Will My Company Benefit From Getting Rid of  Legacy Architecture?
Breaking the Topic Down in Lay Terms
What are the Benefits of Legacy System Modernization?
Updating or replacing a Legacy technology reduces the risk of complete system failures. Obsolete technologies put companies at risk at the breakdown happening. Downtime at critical moments can potentially be devastating to some businesses. One glitch could shut all processes down wreaking havoc and completely disabling a company's day-to-day activity.
Using Legacy is complicated and requires constant maintenance.
Integration with new technology and designs sometimes is impractical or even worse not possible at all.
Nearly 50% of these outdated systems require critical and costly management time spent on keeping them operating.
Legacy technology is a compelling impediment to digital conversion.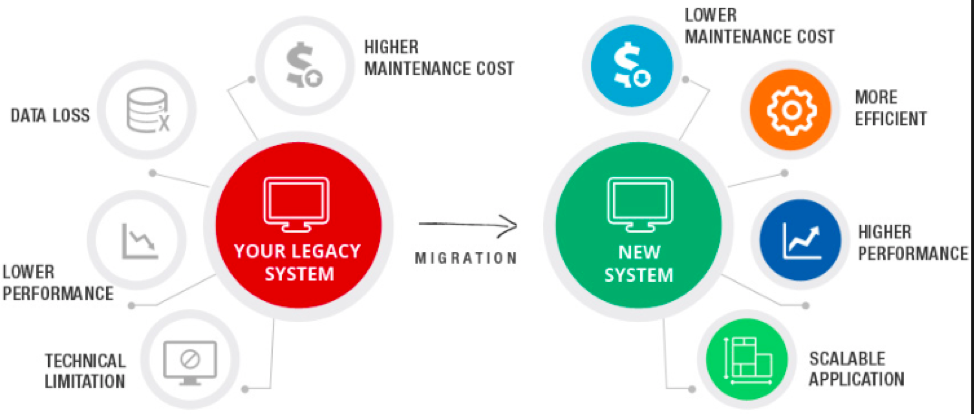 The Benefits Far Outweigh the Costs
Low maintenance in new IT systems reduces expenses that are paid on a routine basis for outdated legacy systems upkeep.
Adaptations to new software will become seamless and simple.
Added revenue from stopping the maintenance of older systems, instead of keeping them up and running.
Companies' IT budget will markedly be reduced.
Efficiency will reduce risks and issues thus resulting in smoother operations.
Cybersecurity becomes seamless and modern.
The best testaments as to why cybersecurity is extremely important in today's business world are confirmed by this article by the American Bar Association. Outdated Legacy technology costs prevent many businesses from effectively updating their database security. Your business could be caught up in a legal battle that is impossible to overcome.
"What's Lurking Back There: Cybersecurity Risks in Legacy Systems"
By: Jordan L Fischer March 13, 2018
What's Lurking Back There: Cybersecurity Risks in Legacy Systems 
How Those Upgrades Will Benefit My Business in the Digital Future?
Top Reasons Your Business Must Get A Technology Upgrade
Modern tools and apps pose the greatest argument to using legacy, decreasing your company's chances of scaling. With the new CRM systems available you will most certainly find it extremely difficult or impossible to integrate these new technologies. Legacy infrastructures are notorious in the world of compatibility making adding new apps and software literally impossible.
Cyber threats are real in today's world of business. The simple fact that obsolete technologies no longer have support services leaves your company at a high risk of being attacked.
Most companies that sold and supported legacy are no longer in business or have moved on with the modern digital world. This leaves your business in a critical state once a software crashes or needs upgrading. At some point in the very near future, old legacy hardware will be as useful as an 8 track tape player.
Businesses using legacy can't be accessed from modern mobile devices. Having a handicap of this scale in the modern world is business suicide. Being flexible in today's fast-paced environment is essential.
Hosting most of business software and data on your brick and mortar business becomes no longer necessary. The new mainstream way of securing your data with reputable cloud system companies such as Amazon Web Services, Microsoft Azure, and Google Cloud will save you thousands annually and do so efficiently.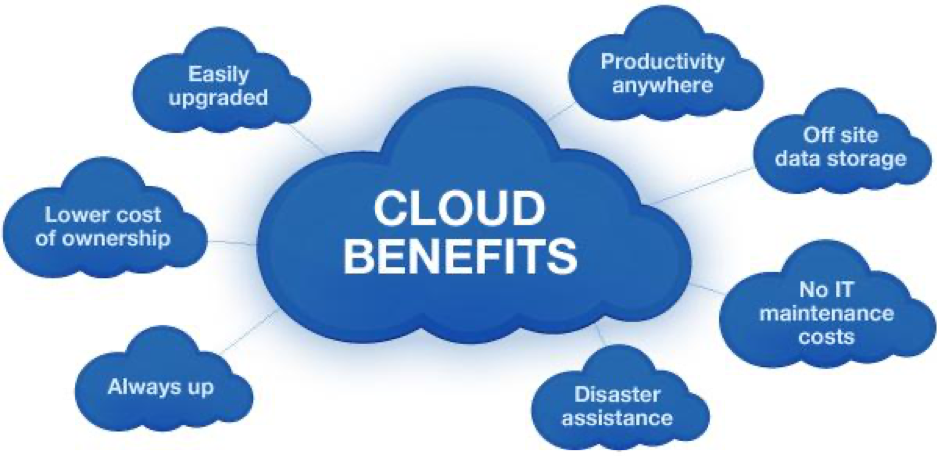 Legacy technologies require you to train new staff and are not practical. The architecture in modern informational systems has easy to understand user interfaces and navigation features, in turn, reducing costs in employee training.
Legacy technology in most cases is unable to integrate therefore prohibiting the installation of new software and technology available today. The modern Point Of Sale software available now improves business operations drastically, and legacy systems are unable to communicate with them using old legacy computer languages.
GDPR compliance has become a streamlined major deal in the new digital age. The European Union's GDPR standards can exact extremely high costs leading some companies to be penalized thus losing millions of customers. Data protection is the new norm and will only get stricter over time.
Outdated hardware can become efficient after upgrading, reducing your annual budget by cutting staff meetings and training – crashes will become a thing of the past.
Legacy System Modernization
So, as you can see the modernization is inevitable. Let's look at the ways it could be achieved.
Legacy System Modernization Approaches
First determining the current situation of your legacy system is a critical step before upgrades can begin. Legacy systems do not fall into one simple category. Assessing and analyzing the legacy system, determining the state of it and how the system can be upgraded is imperative. Once the evaluation has been completed thought must be put into what is needed to bring the system into a state of integration and capabilities for software and apps related to your business needs. The architecture of the system must be thought out carefully for your new system to be used by employees without learning curves and simple to understand navigational tools. Modern technology stack is critical and depends on the specific needs of your company and product. To avoid your company having problems in the future the code used must be adaptable for future growth and technological advancement. Your old Legacy System needs to be documented and archived, so they can be accessed in case future problems arise. Your new systems will need training so planning ahead of the upgrade will be essential for a smooth transition.
Why Architecture Audits are Important?
Architecture audits are important because some tech stacks may still be applicable therefore and relevant to the new build. Enormous code bases conducted improperly could lead to future problems and must be assessed in advance. Code review must be done in a professional and modern systemic approach. The User Interface and User Experience designs, as well as execution, must be thoroughly thought out before modernization can begin. Execution and performance testing will also be a critical stage once the systems have been built.
The End Results of Legacy System Modernization
Data integration services are risky and doing them without the proper techniques and professional skills could mean life or death to your database and business. The benefits of legacy systems modernization outweigh the consequences of not upgrading your outdated systems; this sets your company up to be more competitive in the new digital age of advanced technology, making use in the full force of technologies like Artificial Intelligence, Machine Learning and especially Big Data. If you are planning on upgrading your business systems architects consolidating different aspects of your systems will be critical. Businesses that are combined and need integration in order to make smooth transitions possible must adhere to these critical steps outlined above.
Conclusion
Choosing your strategies and modernizing your outdated systems is not something that should be taken lightly. Choosing a company with proven architectural results is imperative. The integrity of the company you choose to bring your old legacy system up to par should be considered one of the most important investment decisions made. In order for a business to survive beyond 2020 old legacy systems must be upgraded and doing so now rather than later will save your company from imminent failure.