We live in a digital world and credit cards/debit cards are very important of your life. If you're a shopaholic or go on shopping frequently and use a credit card in your shopping you know how fast and convenient those cards a       re! They make our life so much that we don't have to carry a lot of cash in our pocket just select an item and sweep you're all done. Very easy? Isn't it? But it's not! Let's discuss What is BIN and what are the best BIN Checker Tool for Free which you can without paying anything.
What is BIN?
BIN stands for Bank Identification Number. BIN is the first four to six digits of a bank card number or payment cards number. The bank identification number BIN is also popularly known as an Issuer identification number ("IIN"). The BIN or IIN It is commonly used in credit cards, debit cards, prepaid cards, stored-value cards, gift cards and other similar cards. Every card issuer has a format that they use to identify a holder.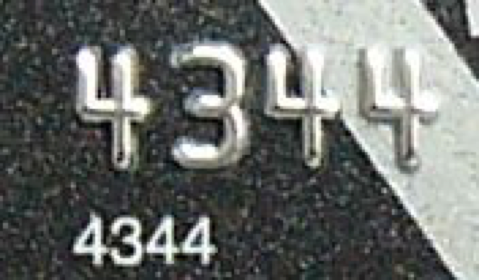 Through Numbers printed on the credit card/debit card, the administrators can get details about the customer data and validate any transaction. For more information on how and where to check BIN number details we have embedded video which can be very helpful in case if you want to know more details about BINs.
If you're having difficulty to watch above video please you can watch here: https://www.youtube.com/watch?v=DJ6UmevA4Fc
Online BIN Checker Services:
Online BIN Checker tools are designed to check the existence of a Bank Identification Number Or IIN base on the updated database. You can find plenty of BIN checker services on the internet but a few are very helpful and easy to use. We have tried to compile the list of online BIN checker apps which are totally free to use and very first to know about BINs. Below is the list.
1. FreeBINChecker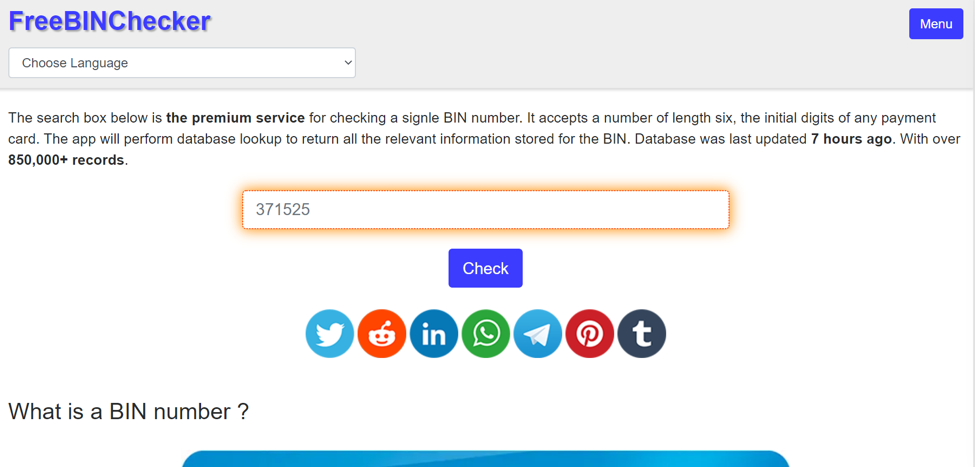 FreeBINChecker is number one on our list because of the many reasons. The tool is very fast and always update other than that FreeBINChecker is quite easy to use, as the only thing needed is to fill in the 6 to 4 digits of a credit card or debit card which are already printed on your front side of your card in the search option. It works well almost with every kind of cards, and it provides all relevant information which is required to prove its validity.
Now, this web-app has an API that can be integrated into the system to prevent online credit scam further.
2. BankBINList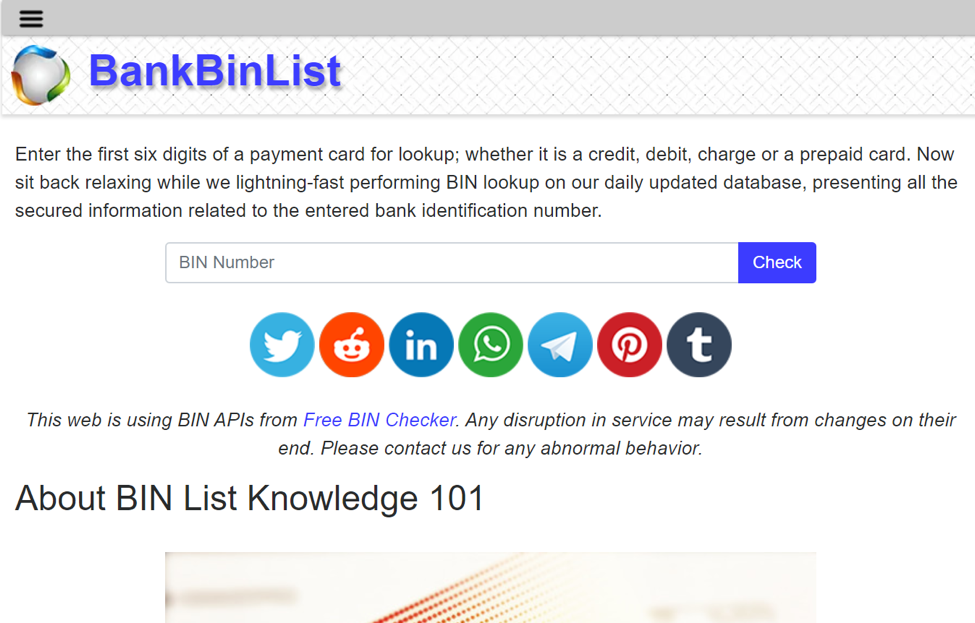 The second number in our list of BIN checker in BankBINList.  BankBINList very larget database that boasts of over 320,000 BIN numbers. It was solely designed to make sure online credit fraud stays impossible. The database is used to check the validity of a card's BIN when entered. In the same vein, it provides all the necessary information needed for confirmation that is truly active for the user.
3. IIN BIN List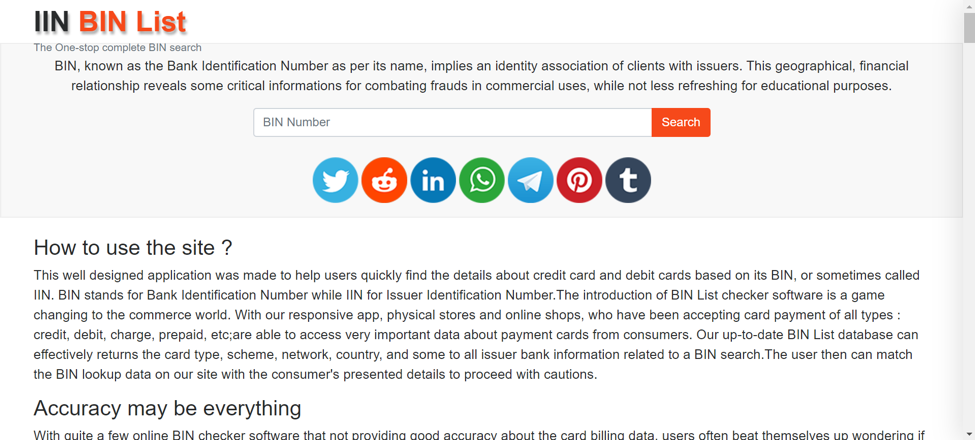 If you're looking for user-friendly BIN checker service, IIN BIN List is a perfect choice. It has more than 300,000 BIN numbers in its database which is very huge to validate a credit, debit card or any prepaid card. The most important feature of this BIN check tool is its reliability to provide accurate results that can help you to save from internet scam. This BIN tool is continuously updated to keep you save from any scam.