When it comes to starting your own website, it's crucial that you keep your work organized. Of course, that implies for your content, but there's also another aspect you should keep in mind. And that is organizing your plugins and themes. Having your themes, add-ons, and plugins in a disorganized mess of folders can be a potential death sentence for your website, as one lousy plugin can break it, and you won't know where the folder with the malicious program is. There's another issue with having each and every singular addition to your website in a separate installation folder, and that's just the simple issue of being a complete bother to install and manage.
But there is quite a simple solution, if you have the WordPress Reset plugin in your repository. One of its functions is a perfect solution for this problem.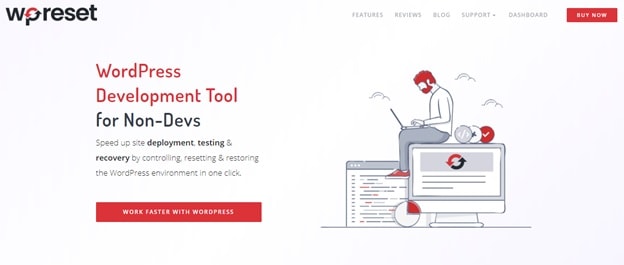 With WP Reset's Collections feature, you can manage your plugins, themes, and add-ons with ease over an easy-to-use dashboard where you can group and bulk install all of your desired additions. And here's how you go about doing that.
Firstly, you need to create a new collection which you can do by going into the collections tab and simply pressing the Add New Collection Button, naming your new collection, and confirming the process. After a few seconds, you'll have your new collection to work with.
Next, you'll have to add new plugins and themes into your Collection. You do so by choosing the desired collection you want to insert your program into, which opens a specialized window, where you can press the "Add new plugin or theme" button from which you can pick out your preferred options. You can install via ZIP files that you can upload separately or even via WordPress Slug links.
After you add plugins & themes to your Collections, you would naturally want to install them. And you can do that by simply choosing your desired Collection, pressing Install and Activate and let WP Reset do the rest of the work.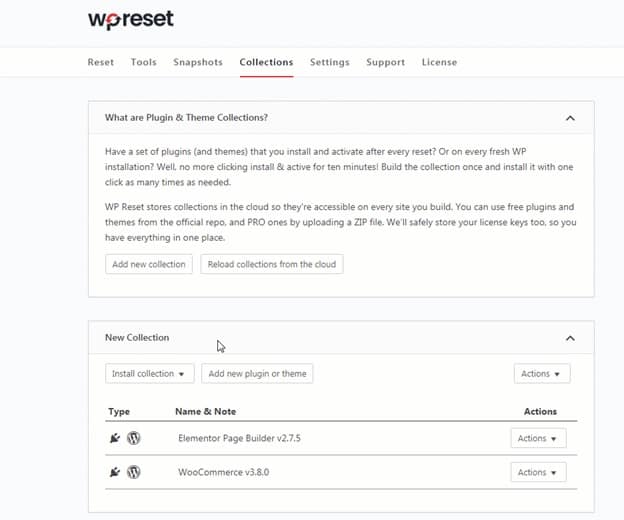 And if you think that your Collections are growing cumbersome, WP Reset allows for quick deletion and reorganization of your Collections. Everything can be done in less than six steps. But, sometimes, just deleting a Collection might not be enough for you, and you'd prefer a clean slate. So, WP Reset has a special Nuclear Option that deletes everything too. Sometimes, no matter how well you organize and optimize your add-on installation, some malicious program might sneak in and ruin your day. That's why WP Reset is a perfect tool that can help you out. It can clean wipe your website with the press of a button, manages regular backup saves, and has the Collection bulk installation systems. Not only is WP Reset compatible with most programs and themes WordPress has to offer, but it's one of the best examples of how in-app workflow can better your work efficiency. With all your plugin management sitting in one place, long gone are the days of spending hours upon hours installing and cleaning every singular plugin by itself.
With WP Reset, you can keep track of all the demos you install, and when you stop using them, there are designated cleaning tools to help you get rid of all that bulk. As its entire function revolves around plugin management, it would be quite frankly silly not to have special cleaning tools that help you speed up your work process.
But the cascade of features WP Reset offers isn't over just yet; as previously mentioned, there is the Nuclear Reset option. It's the big red button that you press if everything goes wrong and beyond repair and you need a fresh start. A perfect solution for corrupted websites, especially if you're not sure if backups are corrupted as well. Speaking of backups, WP Reset also offers the Snapshot option that covers all your automatic backup needs.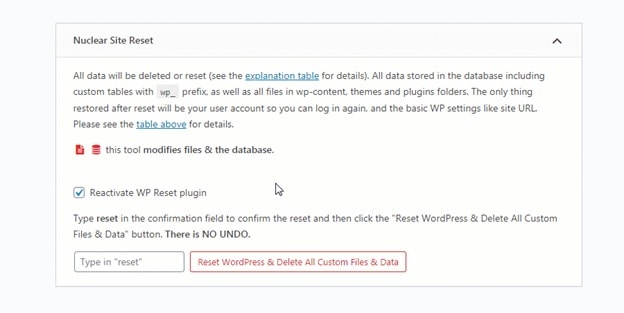 With Snapshots, you won't need to worry anymore about having to back up your data while you're working manually. Instead, WP Reset handles it for you as you set up regular intervals at which you want your website saved. And if you encounter the dreaded "White Screen of Death" and thus lose your login credentials, WP Reset has an Emergency Recovery tool that can get your website back up and running in no time. All you have to do is save the emergency recovery script's password and web link, and you are saved from hours upon hours of tedious recovery. And essentially, that's what every feature that WP Reset offers is aimed at, saving your time. While it's true that there are tons of other plugins that do more exciting things, WP Reset is the tool that gives you consistency and ease of use. Instead of having a thousand different plugins scattered all over your computer, you can have WP Reset's centralized management that helps you keep track of it all on a sleek dashboard. That way, you can easily manage your business, and just like adding a sticky header is an effortless task with WP Sticky for creating exceptional design features, WP Reset takes over as the plugin with the most profound cleaning and organizing tools.
And your memory won't be cluttered up with all of your automatic backups, as WP Reset offers integration with all the central online memory storage units, more popularly known as "clouds", such as OneDrive or Google Drive. And to top it all off, you even have extensive Whitelabling options; after all, isn't it annoying when you have little ads for the products you rightfully paid to use.
Best of all, it's super user-friendly. Most WP Resets functions can be done with a few simple clicks and without the need to consult an extensive user manual or a long checklist. And when it comes to website building, time is literally money. Especially if you happen to have an online store, having downtime to install a new mixture of addons can be detrimental and knock you out of the game for quite some time. So save yourself a ton of cash by investing in WP Reset and its myriad of features.
All in all, WP Reset is the premier plugin management program that's, dare we say, almost necessary in the modern hypercompetitive market for website development and management. With its Collections feature, you will no longer spend unnecessary hours sifting through various plugins and manage their installation processes separately.