Often when you listen to songs you may open several audio files in succession – but what if instead of that you compiled all your favorite tracks into a single file? By combining audio files you can not only essentially create your own playlists in that fashion, but it is also often used to compile audio tracks that you can add to videos too.
Seeing as that's the case it should come as no surprise that Movavi Video Editor has the tools that you need to combine audio files. However what may surprise you is how easy it makes it. Regardless of whether you want to use the tracks that you compile in conjunction with videos or not, the fact that it is so easy should be more than enough reason to use this video editor.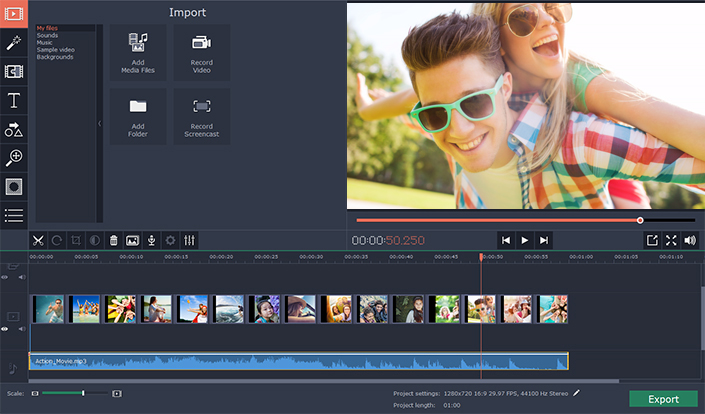 Assuming you already have all the audio files that you'd like to combine, you can open up Movavi Video Editor and add them to it by clicking on the 'Add Media Files' button and selecting them. When you do add the audio files they'll appear in the 'Timeline' area in the lower section of the interface, and if you prefer you could actually drag and drop your audio files there to open them instead.
In the 'Timeline' you can go over the audio files that you added and arrange the sequence that they're in by dragging them into the right order. Additionally you could use some of Movavi Video Editor's other features to split the tracks into segments, trim out unwanted parts, and so on.
When you're satisfied with how the audio files appear in the 'Timeline', all you need to do is click 'Export' and then select the 'Save Only Audio' tab. After that you can pick the format, adjust the audio settings, and set the destination folder then click 'Start' when you're ready to have Movavi Video Editor save it.
As you can see it really is quite easy to combine videos in this way, and the other features in Movavi Video Editor are just as straightforward. If you would like to use them to edit videos you'll find that you're able to enhance the quality of videos, apply special effects and filters, add captions, insert audio tracks, adjust audio levels, and much more – all without any difficulty at all.
To be honest it won't be very difficult for you to compile your own music video or create video content and add the track that you combined to it as background music. With Movavi Video Editor any of that will be easy, and you can ensure that your videos turn out looking impressive and professional as well.