Most people in today's digital life prefer to keep their valuable data on a computer or any electronic storage devices. However, there is no guarantee that your data won't get lost. For instance, you might accidentally delete a file and then realize it's so important later. Perhaps, you lose access to valuable data that you have, due to device failure, system crash, reformatting, and so on. In such a situation, your lives may change, of course in frustration.
The good news is that there are many good free data recovery software options that can help you get your work and life back on track. But how to choose an appropriate one? You need to consider the capabilities, features, and security. Given the above factors, one of the widely used and recommended software, iBoysoft Data Recovery stands out among other data recovery tools, which comes along with the simplest UI, high efficiency and 100% safe download, making it a popular choice to get back your lost data. This software did the best job in our testing at recovering lost and deleted data. Let's see how it performs in detail.
Brief Introduction of iBoysoft Data Recovery
Available for both Windows and Mac, iBoysoft Data Recovery is one of best the free data recovery software that helps you to restore accidentally deleted files as well as data from corrupted or formatted hard drives. It will access your data in read-only mode, eliminating the chance of overwriting files during recovery. In addition to the high success rate of data recovery, the software has many great features that make the data recovery process so simple, quick and efficient.
Simple User Experience
When you launch iBoysoft Data Recovery the very first time, you'll notice about is that it has a very clear and uncluttered interface, with all essential information on the dashboard. You don't need to receive any special training on the software to get started with. You can quickly locate the hard drive and recover data from it.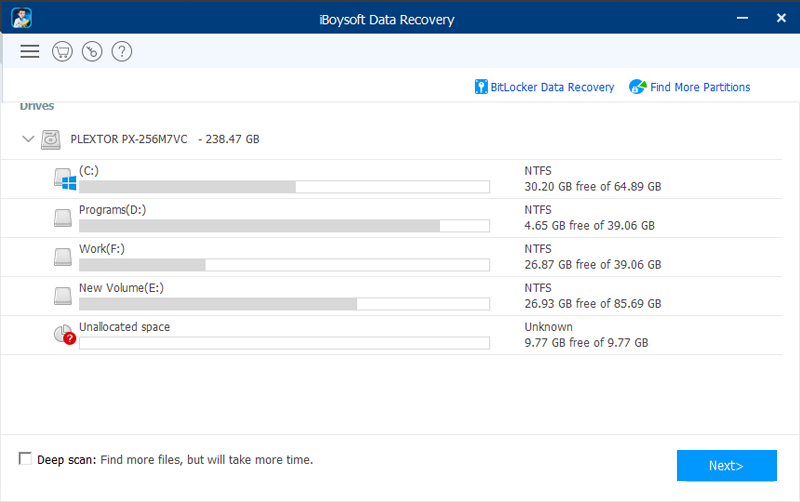 Work in Different Data Loss Scenarios
No matter how you lost your files, iBoysoft Data Recovery can get them back without any hassle. This software is able to recover deleted files that are emptied from Recycle Bin or Mac Trash, recover data after format, recover data from deleted/lost partition, recover data from corrupted or inaccessible drives. Besides, its pro edition for Windows supports recovering data from BitLocker encrypted drives, while its pro edition for Mac includes strong support on APFS encrypted data recovery and unbootable computer data recovery.
Multiple Scan Modes
A feature we really enjoyed was having the ability to switch between the two different available scan methods. Quick Scan and Deep scan. The Quick scan is fast and efficient that can be used to find out all accidentally deleted files. The Deep scan will take a much longer time but it thoroughly scans your entire drive sector by sector to carry out a precise recovery result. It is good at recovering reformatted and RAW files.
Recover Any File Formats
The software provides an all-around data recovery solution for mainstream data like photos, videos, documents, audio files, and more file formats.
Support Any Storage Devices
It can recover deleted/lost data from any storage devices connected to your computer, including internal hard drives, external hard drives, memory cards, SD cards, USB flash drives and more.
Powerful Session Management Feature
The program features powerful session management. This means that you don't need to sit around and wait for a full scan to finish. When you need to leave and turn off your computer, you can pause and save the scan process at any time, then you can load the previous scan and continue with your recovery. This feature really saves much of your time.
Preview Before Data Recovery
After scanning a hard drive, this data recovery tool identifies thousands of files and allows you to peek at file contents to check their details and quality before they are actually recovered.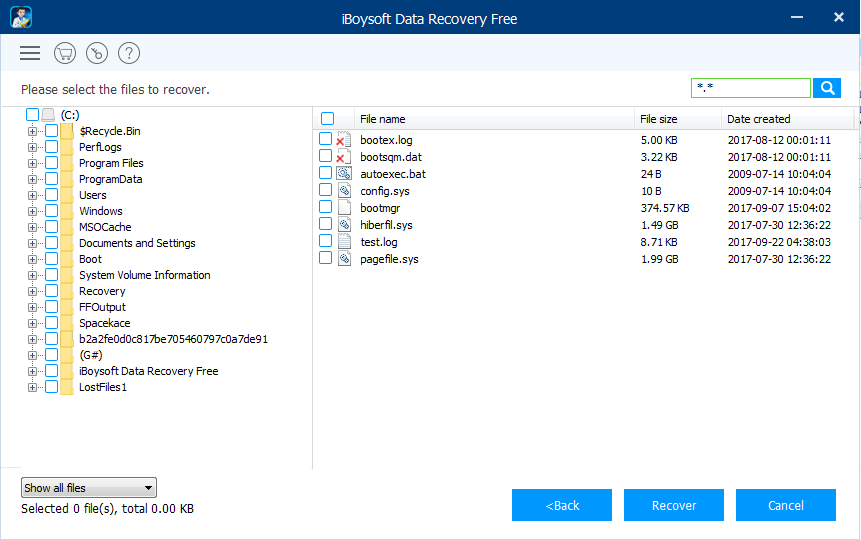 Easy to Use
iBoysoft Data Recovery understands your data recovery needs. It delivers filtering options that enable you to sort your scanning results on the basis of file names, time and file types.
Fast and Efficient
This tool includes a faster and more efficient scan engine. Our techs have tested and compared iBoysoft Data Recovery with its competitors, it gets better scanning results in a fast speed. In our testing, it costs 5 seconds to scan deleted files from 1TB Toshiba external hard drive and around 3 mins to scan a formatted WD Elements 4TB.
Conclusion
As you can see, plenty of reasons are available for people to choose iBoysoft Data Recovery. It can be very helpful when you need to recover deleted or inaccessible files from Windows and Mac partitions due to virus attacks, disk failures, or system errors. Whether you are a business or individual, the software will be of great value to you.