Apple's iPhones are known for their incredible photography capabilities. These cameras are great for capturing beautiful landscapes & portraits. However, on disadvantage is that these images are saved as HEIC on your iOS 11 or later and not in JPG format.
This new format is not compatible with other apps or devices. So, there might be a chance that you might not be able to open the HEIC image on your Android phone or Windows computer.
If you're looking for a way to open HEIC images on an Android device, continue reading this post for a detailed step-by-step guide.
What are HEIC Files?
Apple's owned proprietary format HEIC is inspired by High-Efficiency Image File (HEIF) format. HEIC format offers better file conversion features than JPG format, which means the immensely compressed image will be of high quality.
By default, iPhone 7 and above versions shoot photos in HEIC format after iOS 11 upgrade.
Can You Open HEIC Photos on Android?
Yes, you can open HEIC photos on your Android phone. However, only devices running Android version 9 and later supports HEIC format natively. So if you have an Android phone with older versions, then it can be a little tricky to open or view HEIC files. Read this blog to know how to open HEIC photos on an older version of Android.
Methods to Open and Convert HEIC Photos on Android
Open HEIC Image on Android via Google Photos.
Open HEIC Image on Android via Dropbox.
View HEIC Images on Android via Email.
Convert HEIC to JPG on Android with a Converter.
Convert HEIC to JPG on iPhone by Changing Settings.
Method 1- Open HEIC Image on Android via Google Photos
Google Photos is an ideal tool to open and manage HEIC photos on Android. This cloud service comes pre-installed on most Android phones and can view HEIC images natively. Follow the below steps to open HEIC files on an Android phone via Google Photos:
Go to the Google Photos app on your Android and tap on the Library.
Locate the folder where you saved the HEIC file.
Tap on the image and you'll be able to see it in the app itself.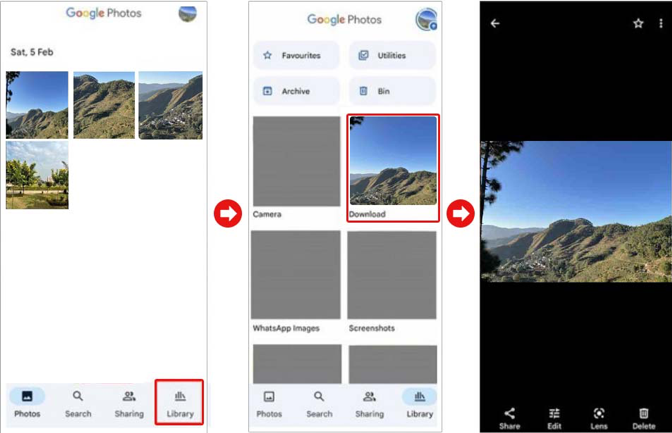 Method 2 – Open HEIC Image on Android via Dropbox
Dropbox is more of a cloud storage service and less of a file viewer, but it can be used as a HEIC viewer on Android devices. With Dropbox, you can freely check your uploaded photos online or offline. To open HEIC on Android via Dropbox, follow these steps:
Open the Dropbox app on your iPhone, tap the Plus icon, and hit Upload Photos.
Select the HEIC image, tap Next, and then Upload.
Once the photos are uploaded, log in to Dropbox on Android with the same account as on iPhone.
Tap on the Picture icon to see all the images in your account. Tap on the HEIC image to open it on Android.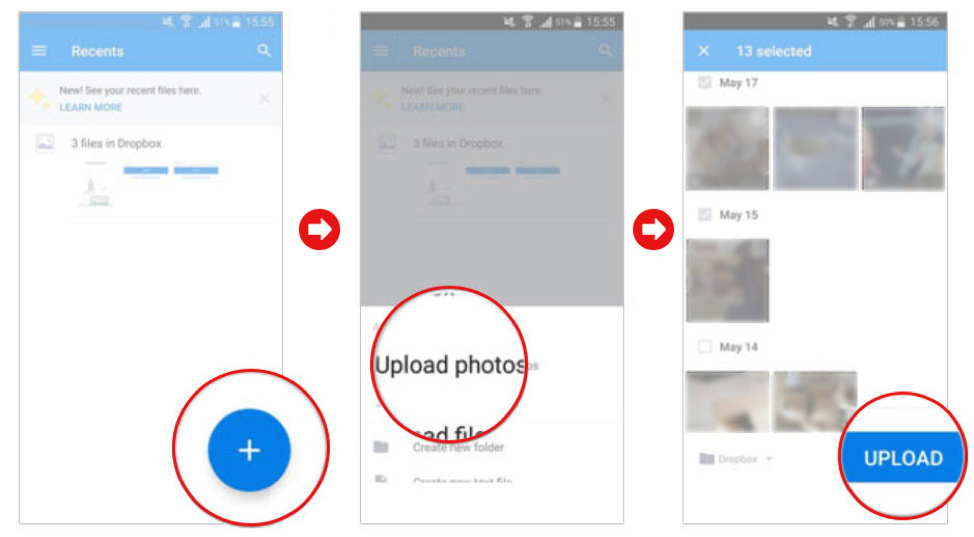 Method 3 – View HEIC Image on Android via Email
Being one of the popular email messaging services, Gmail can be used to view HEIC photos. This app lets you send HEIC images from iOS devices and open them on Android easily. Here's how to do it:
Open the Photos app on your iPhone and tap on Library.
Tap Select, choose the photos, and hit the Share

Select Gmail, enter the email address, and click Send.

Next, find the latest mail on the Gmail app of an Android device, then open or view the HEIC image on Android.
Method 4 – Convert HEIC to JPG on Android with a Converter
There are many free and paid HEIC converters available online that can convert HEIC to JPG for Samsung phones. You can use them to access iPhone's image in HEIC in Samsung phones by changing their format.
Make sure to use a secure online converter tool, such as Image2go, Convertio or Zamzar, HEICtoJPEG, CloudConvert, FreeConvert, etc.
Here is how to convert HEIC into JPG using HEICtoJPEG:
Go to the website HEICtoJPEG.

Click on the + sign and choose the file you want to add.

Conversion will start and once completed, you will get your converted image. Click on Download.
Method 5 – Convert HEIC to JPG on iPhone by Changing Settings
The task of converting HEIC to JPG can be tedious. Reduce this hassle by changing the setting of the iPhone to click pictures in the most compatible format.
Go to iPhone Settings.
Click on Camera > Formats > Most Compatible under the Camera Capture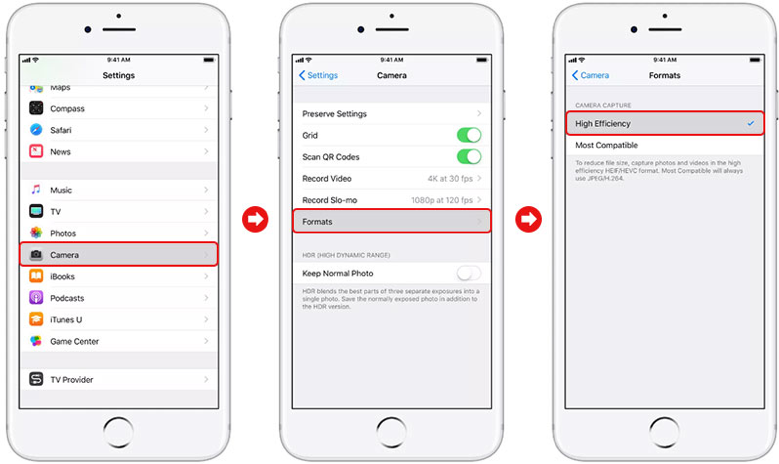 What to do if the HEIC image is corrupt or inaccessible?
Sometimes, during HEIC image transfer, your file may get corrupt. In another scenario, when your HEIC photos are not opening in Google Photos, Dropbox, or Email, show an error, or are greyed out, it again indicates corruption. Use a robust HEIC photo repair tool– Stellar Repair for Photo to fix the corrupt image file.
The software is capable of fixing any kind of corruption in the header, file structure, or data of the image. Be it RAW or JPEG, you can repair all with this photo repair software. Free trials are available that let you repair the corrupt image file and see its preview.
Conclusion
Google Photos, Dropbox, and Gmail can easily open an HEIC image on your Android device. Another good way to convert HEIC to Samsung JPG is by using a third-party free or paid HEIC converter tool. In addition to this, adjust the iPhone settings to avoid the hassle of converting HEIC to JPG and making your photos compatible with all devices.