Trust is an important factor in financial services. Trust can be achieved by providing extraordinary services and preventing unwanted frauds. When merchants are widely accepting cryptocurrencies as payment, a trustworthy and affordable payment gateway can help merchants save some extra bucks.
How can merchants save some extra bucks?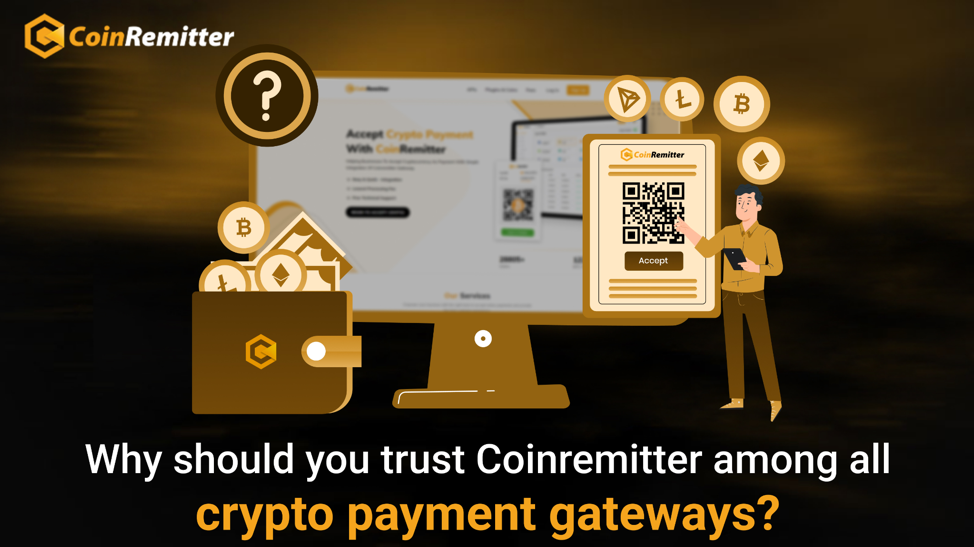 There are several ways of saving some extra bucks on crypto payments. But Coinemitter's exceptionally low withdrawal fees can help merchants a lot. Coinremitter charges the lowest withdrawal fees from merchants which helps customers save some extra bucks from their earnings.
Also, merchants can avoid paying high gas fees while accepting payments in ERC20. Merchants on Coinremitter pay significantly lower gas fees than other crypto payment gateways. It is said that merchants using Coinremitter pay 70% fewer gas fees than other cryptocurrency payment gateways.
Take a look at Coinremitter
Merchants have appreciated the concept of doing transactions in cryptocurrencies. Coinremitter is a money-saving payment gateway that can process flawless crypto payments. It provides reliable crypto payment services. It also supports multiple cryptocurrencies that don't let customers go away from merchants.
What's special about Coinremitter?
There are several things special about Coinremitter. Though there are many crypto payment gateways available in the crypto-world. But Coinremitter deserves to be everyone's first choice with its interesting features and exciting offerings. It also comes with the support of automatic withdrawal, which allows merchants to withdraw a limited amount automatically.
Coinremitter also provides free plugins in WordPress, Magento, Laravel, Opencart and Prestashop and crypto rest APIs. Integrating Coinremitter is fast and easy. For integrating Coinremitter in rest APIs, you must be a good developer or you should hire a good developer.
What are Coinremitter's offerings?
Coinremitter offers some unique features along with fast and safe transactions that are usually absent in other crypto payment gateways. Also, withdrawal fees are comparatively less than other crypto payment gateways. Means Coinremitter is the most affordable crypto payment gateway among all available options?
Coinremitter also offers coin listing services. Therefore, any user or merchant can enlist their coins on Coinremitter with the help of Coinremitter. Not everyone provides these services. So it can be helpful for ICO and ITO and it can also increase the confidence of a specific community.
What's more interesting?
Coinremitter's free plan! Yes, you heard it right. Free plan! Coinremitter gives limited services for free. Its free plan contains services like limited hours of free email, chat and call support, limited API access and allows limited addresses/wallet. All these things are enough to prove how affordable Coinremitter is.
Is there any paid plan?
Yes, there's a paid plan for interested merchants. All the merchants accepting crypto payments regularly must take interest in the paid plan. They can get 24×7 free email, Instant chat support, high-limit API access and allows unlimited addresses/per wallet. You can check out the pricing of Coinremitter's paid plan.
Why is Coinremitter the most trustworthy payment gateway?
Numbers don't lie! It is said that Coinremitter has more than 33,000 active members as of now. Achieving this milestone isn't easy for everyone. This figure clearly shows the trust level of Merchants in Coinremitter. It has done it exceptionally well with its fantastic services. And we can say that one can easily rely on Coinremitter for receiving cryptocurrency payments for multiple purposes.
Coinremitter supports various cryptocurrencies like  BTC, ETH, LTC, BCH, DOGE, TCN, USDTERC20 and BNB as of now. Coinremitter is also going to integrate TRX. Also, Coinremitter has several media publishings like Cointelegraph, Dash and Blockchair, which adds something more to its reliability.
What is the risk factor?
Almost zero. There is a reason behind the zero risk factor. Coinremitter has a dedicated team that works for security. It offers the auto withdrawal feature. It is an anonymous system that doesn't let any other parties know about ongoing transactions. Also, Coinremitter prevents fraudsters from capturing your investments. So, merchants can rely on Coinremitter for safe transactions.
Conclusion
When it comes to accepting crypto payments, no other crypto payment gateway is better than Coinremitter. It is safe, fast and anonymous which helps it win merchants' trust and fast transactions on it help them save their time. This proves that Coinremitter is the best solution for accepting crypto payments online. So, one can easily trust Coinremitter over other crypto payments for accepting crypto payments online.