When you store all your important data on your Android device, it becomes important to keep it safe from curious onlookers and cybercriminals. To do this, you can keep you device protected with best antimalware software and using other crucial measures.
Now that, if you have lost or misplaced your device recently and wonder how to get it back. Here is a quick guide. In this guide, we have discussed all the steps that you need to follow to locate and get your Android device back instantly.
How to locate lost Android device?
To help you monitor your device location and track it when it is lost, you will find a built-in feature called Find My Device. While this feature come enabled by default, if not, you can enable it by heading to Settings > Security & Location > Find My Device. Now that you have this feature enabled on your device, you can rest assure that you will find your device when it is lost or misplaced.
Assuming that, you have Find My Device feature enabled on your device, follow below mentioned steps to locate a lost Android phone.
Login to your Gmail account in browser on your PC.
Here, it will ask you to sign in again for security reasons. Just click on Sign in button.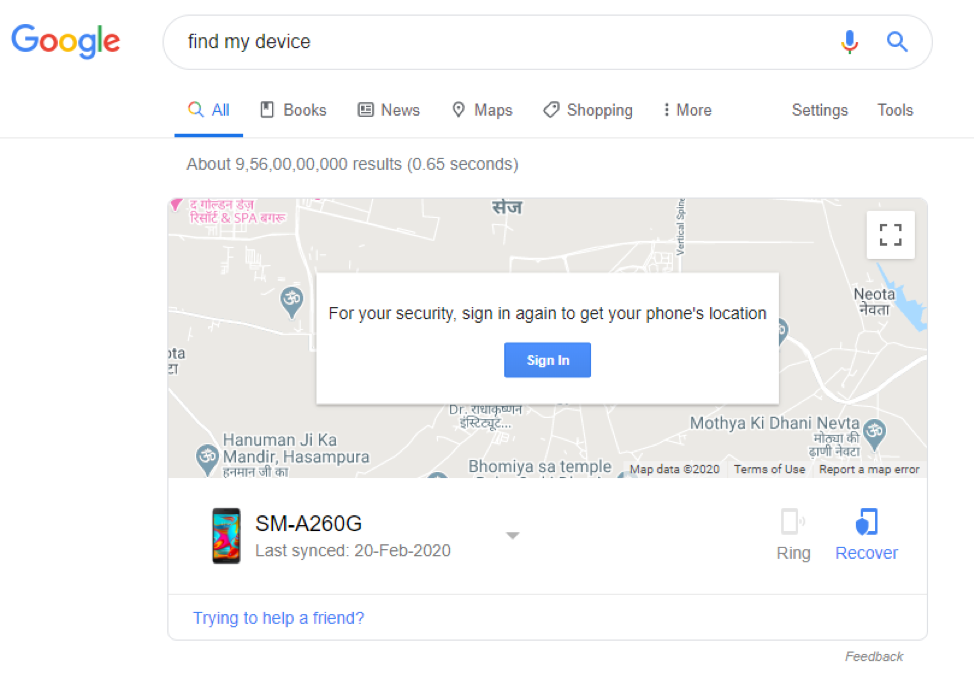 Now it will take you to the next screen with information to last tracked location of your device on Google Maps. You can check this location to find your lost Android device.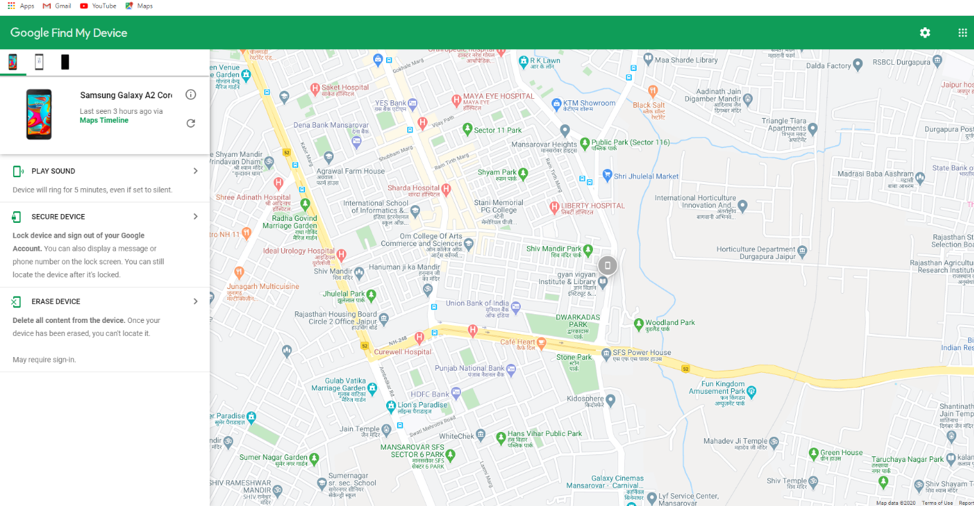 Additionally, it displays you multiple other options to select from, including:
Play Sound
Once you click on this option, your lost device will ring for 5 minutes, even if it is set to silent. It is useful feature to find device if it is lost behind the sofa or you have forgotten it in the kitchen. You must also know How To Locate A Lost Cell phone That Is Turned Off which is going to help you
Secure Device
Once you enable this option, you can lock your lost device and sign out of your Google Account so that no one can misuse your account credentials. Here, you can also use this feature to display a message or phone number on the lock screen so that the person who has your device could contact you to return the device. This feature allows you to locate the device even if it is locked.
Erase Device
Using this feature, you can erase all content from your lost device. It is useful feature to avoid unauthorized access to your content by anybody else. Remember, once you erase device content, you can't locate it.
For more information on how to locate lost cell phone, you can visit Android Help Page. Here, you will find all necessary information about how to track and get back you lost Android device. Important topics it covers is:
Find, lock, or erase a lost device
Set Screen lock
Manage your phone's location settings
Put emergency information on your lock screen
Helps you when you can't sign into your Google Account
You can also check the instructions to find your lost device from video guide below: