With the most sophisticated employee timesheets management solution, the Zuper's Android time tracking app allows businesses to track team members' time and productivity in real-time – no matter where they are working. The Zuper field service management app for Android users helps companies save money, is user-friendly, syncs to desktop and smart devices, and has offline productivity tracking. Managing your field service teams just got easier.
Zuper's Android time tracking app is a simple, fully integrated solution for your field service teams to help you increase productivity by providing you with the information you need to make smart decisions.
Accurate Timesheets to Improve Productivity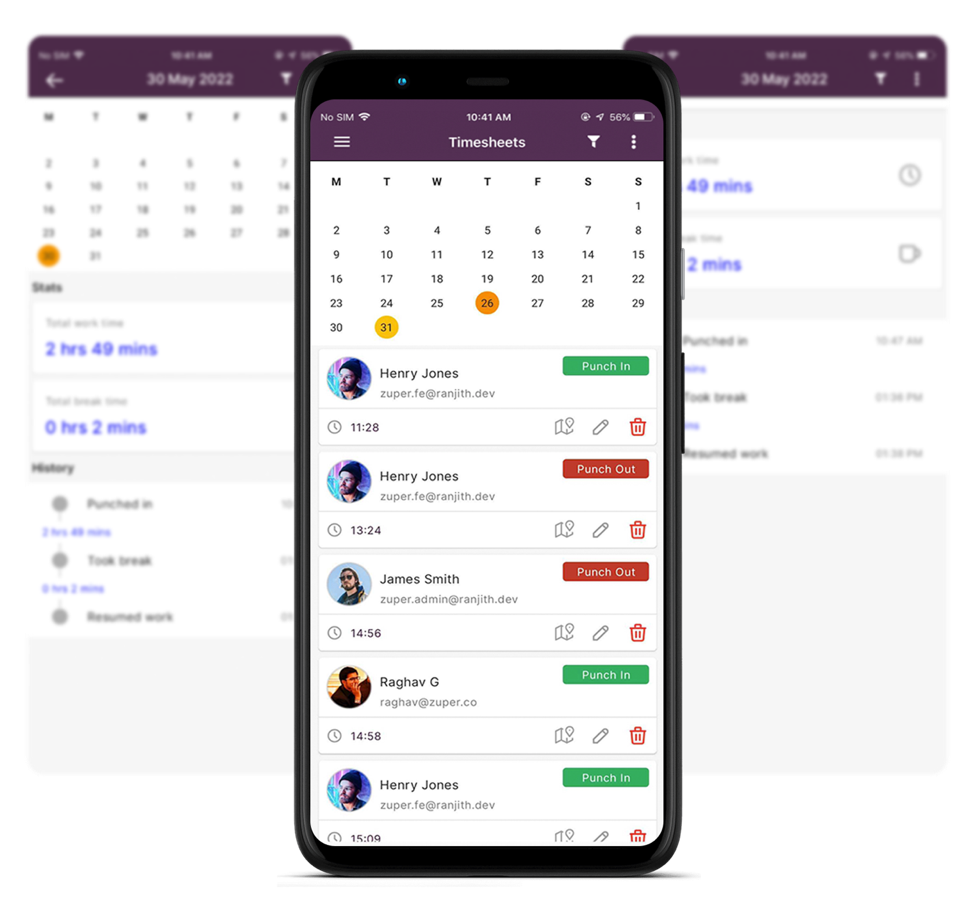 The Zuper field service management app features an intuitive dashboard that allows you to see exactly how each employee spends their time so that you can schedule work orders more effectively. The dashboard includes a map view where you can view all of your employees' locations and a list view that shows their entire day at a glance. You can also filter by an employee or task type to easily access the information you need most. This helps ensure that each shift is correctly recorded and generates accurate reports which can be used for payroll purposes.
All-In-One Mobile Timesheet Management
The Zuper mobile app helps field service technicians track their timesheets accurately and efficiently. It automatically creates timesheets at the end of each shift and sends them directly to your dashboard. You can customize your employee's shifts, add new tasks, and assign multiple tasks to each employee effortlessly with our all-in-one mobile timesheet management solution.
All the data from our mobile app is synchronized with your Zuper account, so you always have access to all your employee data anytime and anywhere. You can even set up geofencing solutions to increase productivity by automatically stopping or starting work orders when an employee enters or leaves an area where they are assigned to work on a given day.
Smarter Time Tracking for Android Phone Users
Time tracking has never been easier. Zuper's Android time-tracking app allows field service professionals to track time from their Android phones and tablets. Our easy-to-use mobile app provides field service teams the tools they need to increase productivity while on the go.
Schedule Work Orders
Zuper allows you to create work orders for each client or job site using the schedule tab in the app's dashboard. You can include as many details as needed in each work order, including notes, equipment required, and more. Once you've finalized your schedule, you can send it out to team members via email or text message so they can follow along with their assignments throughout the day.
Assign Tasks
In addition to managing work orders within Zuper, you can assign tasks directly from the dashboard by dragging them into one of your team members' calendars. This makes it easier for managers to delegate responsibilities among their staff members without trying to reach out to each of them.
Collaborate
Their mobile time tracking software allows field service teams to collaborate with each other and their clients. This allows for real-time status updates and communication between everyone involved in a project, which helps increase productivity and efficiency.
Geofencing Solutions for Increased Productivity
Zuper's geofencing solution uses GPS technology to help ensure that employees aren't clock punching when they should be working. By creating geofences around your business locations and client sites, you can set up alerts so that whenever your employees enter or leave one of these areas, you'll receive a notification via text message or email alerting you of this activity.
Time-Off Management
Field service professionals often need to take time off work for various reasons, such as medical appointments, family obligations, or personal trips. Zuper makes it easy for users to submit their requests for time off through our web portal or mobile app. Once their supervisor approves, they will receive an email notification with relevant details about the approved leave.
Zuper's Android Time Tracking App Solution
When timesheets are inaccurate, work performance suffers. Zuper helps businesses operate more efficiently by ensuring that logged hours and work orders are as accurate as possible. Zuper is a productivity tool for employees, managers, and anyone else in the company who has to track time. With Zuper, you can log time on an Android device wherever you are and access your data from anywhere—all without needing to use any paper forms or spreadsheets. The Zuper mobile time tracking app for Android is a powerful employee time management tool that streamlines time tracking, scheduling, and more.