The headphone market is a competitive space to be in. Over the last decade or so, a number of brands have entered this market space in a bid to overcome the giants in the field.
Bohm Audio belongs to this new breed of companies.
And in this Bohm B76 Review, we will see what this new breed of companies has to offers with its flagship Active Noise Cancelling Bluetooth Headphones.
All Bohm Audio products have three things in common: Superior-crisp sound quality, sleek design and unmatched comfort.
Keeping in lines with their product philosophy, the Bohm B76 is no different.
The Bohm B76 is in a class of its own. It's a budget Active Noise Cancelling Wireless headphones with that can easily compete with more expensive headphones.
Much of the success behind the Bohm B76 comes from its predecessor, the Bohm 66's success. In comparison to the Bohm 66, the 76 is a more technically advanced model.
So without wasting more time, shall we get down to the nitty and gritty part of this review?
Let's go!
First Impressions & Design
At first glance, the Bohm B76 proves to be an impressive set of headphones. It looks good and feels good, too.
The color combination is smart. It is available in two colors: 'Silver Accents' & 'Brown Cold'. Additionally, it has a nice brushed aluminum finish too.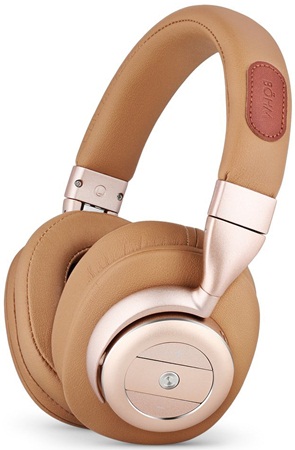 Its design gives it a premium look and the designer might have taken cues from luxury headphone like B&O Play or Bowers and Wilkins PX.
The headphones are sturdily built. Aluminum has been the primary material that's been used to make its frame. Thus, these wireless bluetooth headphones aren't just sturdy but they are light as well.
Bohm Audio ensures that the products they design are comfortable and the Bohm B76 is precisely that. The earpads are super comfortable and seamlessly cover one's entire ear. Their faux leather and memory coverings attempt to block out external noise, as much as is possible.
It has built-in audio controls which makes its usage extremely convenient. It's precisely this design alteration that facilitates hands-free usage. Furthermore, the headphones are foldable and thus, extremely portable.
All of its design facets make it an impressive piece. Its premium design attracts high-end consumers. While, at the same time, its practical design and portability facet makes it a popular choice amongst athletes.
What's in the Box
Whenever and wherever you purchase the product from always be vary to ensure that the box contains all that it's supposed to contain. The Bohm B76 box includes:
Pair of Bohm B76 Headphones
Charging Cable
5mm AUX Cable
Carrying Case
User Manual
Performance
Headphones are judged on the basis of their performance. If a headphone is designed well and cannot back its design with adequate performance, it's a failure of a product.
Thankfully, the Bohm B76 is no such failure.
The headphones are installed with 40mm drivers. On account of these 40mm drivers, listeners can expect an extended frequency range out of these headphones. The output is sharp, detailed & clear, which gives the listener a satisfying experience.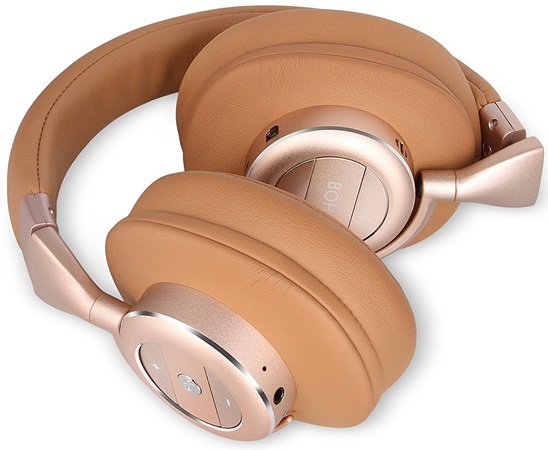 The headphones are equipped with Active Noise Cancellation technology, which although may not be its strong point, its activation reduces outside ambient noise though takes its hit on audio quality.
According to the box, the ANC feature blocks noise that's upto 20dB loud. Sadly, when you use it, you find out that that's not the case. This is one aspect of the product that needs serious improvement.
On account of its technical audio specifications, it delivers dynamic, high-quality bass. Whether you love R&B or dub step, you will find yourself to be satisfied with its bass output.
From a sound performance point of view, the headphones boast of an impressive sound-range and high-quality bass.
Coming now to its sound controls.
It has buttons to control its sound settings which are conveniently placed on the outer portion of the right and left earpads. The most important button on the left earpad is the ANC button. The buttons on the right earpad allow you to control the volume, change tracks and answer one's calls.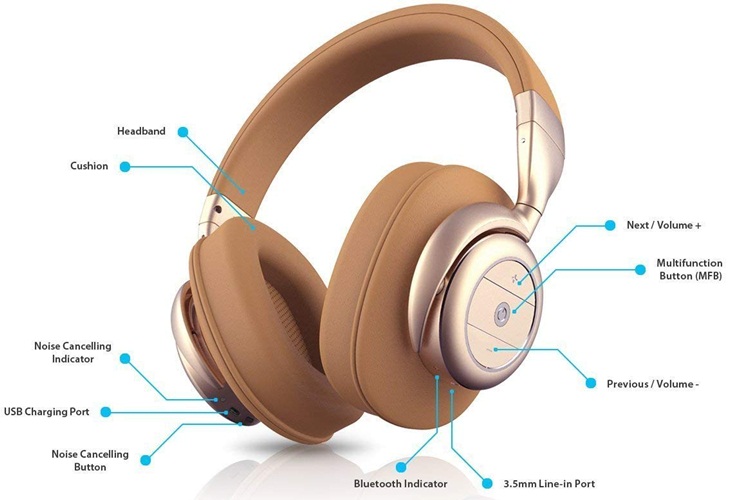 The biggest plus point of these in-build sound control settings is that they add a degree of convenience to the product. It allows for hands-free usage and thus, athletes tend to be attracted towards this product.
If one's talking about improvement, another common complaint with the product is received with reference to its microphone. The microphone is unable to transmit clear and loud sound causing some small communication problems.
Product Features
Ultimately, products are defined by their features and so, it would be unfair to leave the features bit out of the review. Given below are the main features and some important technical specifications of the Bohm B76:
Equipped with advanced 4.0V Bluetooth that has a range of 10m
Built-in volume controls
Cushioned foam earpads, sweat-free listening for upto 16 hours at a stretch
Effective Active Noise Cancelling, upto 8 hours
Foldable design
2-hour lighting fast charge
Conclusion
Honestly, the Bohm B76 is a great product. It really is. Great sound quality, great product design and great comfort; it fulfills the Bohm Audio promise.
From a price-point, point of view, there's no other pair of headphones that's comparable to this one. In fact, the Bohm B76 is a model that can be compared to other highly-priced headphones.
If you are looking for a pair of quality headphones around the $100 price-range, the Bohm B76 is the perfect product for you.