Despite COVID-19 cases on the rise in the United States and large holiday celebrations being discouraged, people will inevitably come together for the holidays this year to some degree, either in small groups or socially distanced events.
If you are making the decision to host a small group or plan on traveling to visit a family member, a new product called Airzai Care is the perfect natural solution when it comes to keeping a small gathering safe and clean.
Designed by the tech startup Airzai, Airzai Care is a natural disinfectant spray effective against harmful pathogens. Made from a powerful blend of essential oils, purified water and a trade secret compound to protect and preserve the oils, Airzai uses their patent-pending manufacturing techniques to activate the ingredients that protect against germs and bacteria.
The smell of a home plays a big role in the ambiance of an area – Airzai Care offers a quick, natural way to ease stress and make a significant difference in the atmosphere of any space while working against any germs or bacteria in the air at the same time.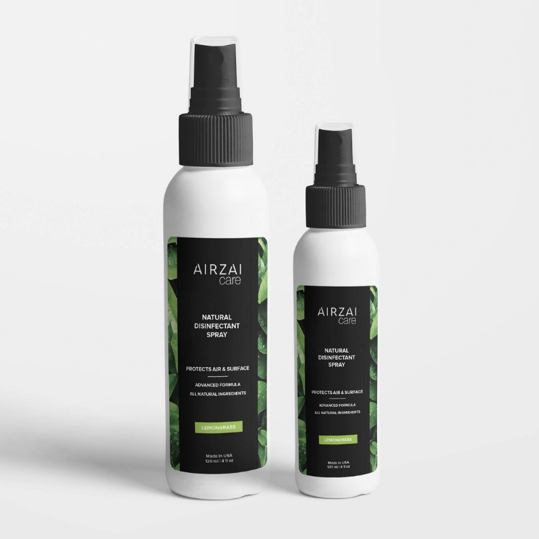 Airzai Care comes in a non-aerosol container and offers natural aromatic scent options, including the all-new Rosemary and Lemongrass. When cold weather forces everyone indoors, spraying Airzai Care throughout a living space provides an added sense of safety for all in attendance. Not to mention, its portable, travel-friendly size is useful during long car rides or when staying in hotels throughout the holidays.
In addition to serving as the perfect product to implement into a daily cleaning routine or ahead of a small gathering, Airzai Care can double as a unique gift or stocking stuffer for loved ones during a time when health and sanitization are of the highest priority.
While the typical approach to prepping for the holidays includes decorating with scent diffusers like candles and essential oils, this year will add plenty of cleaning products to the mix in order to celebrate safely. By combining home fragrances with natural disinfecting agents, Airzai Care creates a unique solution to protect yourself from germs and improve the mood of your home simultaneously.
Airzai Care is available directly from the Airzai website, starting at an affordable price-point of $9.99. To purchase, visit www.airzai.com.