Buying the best water pitcher could be an overwhelming process if you are not aware of what is available on the market. However, for the informed folks, it is a breeze. Pitchers help you in getting clear, safe and filtered water whenever and wherever you want. It is great for people who like extended stays in RVs and like to camp. Also, they could be used at home too.
Today, we will bring you the definitive list of the 10 best water pitchers available in the market. All the pitchers mentioned below are BPA free and are the safest possible alternatives for you.
Best Water Pitcher 2023 – Detailed Review!
Let's take a look at 10 of the best water pitcher you can buy.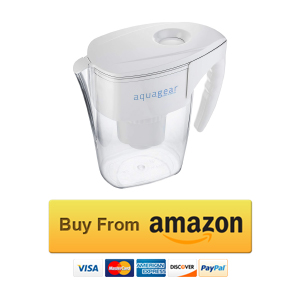 One of the most expensive pitchers on the market, the Aquagear Water Filter Pitcher is one of the most popular options available on the market today. The pitcher can hold 2 quarts of liquid and is 100% recyclable. The filter life is 150 gallons, which can provide uninterrupted water filtration for about 6 months with normal use.
They even have a subscription service that sends you a new filter every 6 months for a 20% discount. The water filter is made of activated coconut carbon and ion exchange materials. It is certified by EPA/ANSI and meets or exceeds NSF Standards 42 and 53 for contaminant reduction. It is great for removing lead and fluoride from water.

Advantages:
Removes heavy metals from water
EPA/ANSI certified
Lifetime guarantee
Disadvantages:
Filter starts slowing down as it gets older
Expensive unit + expensive replacement filters
Does not protect from bacteria
Can be used only with municipal water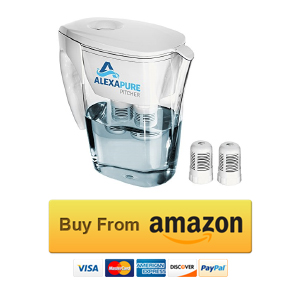 The BPA free food grade plastic used in the construction of the Alexapure Water Filter Pitcher makes it safe to use. The Made in USA product can remove 99.99% of all major water contaminants like pesticides, lead, arsenic, chlorine, VOCs, trihalomethanes, and Chromium-6 amongst others. It can also reduce fluoride by up to 90%. The pitcher can be used with municipally treated water. It holds 8 cups of water at a time and comes with an attractive and classy design. The filter should be replaced every 2 months (or every 80 gallons). However, if the water quality is better, they can even last up to 250 gallons. The activated carbon filters could be expensive.
Advantages:
Good design, easy to fill and pour
45-day no questions asked guarantee
Tight Lid
Quick filtering
Disadvantages:
Works only with municipal water
Does not remove bacteria
Expensive filters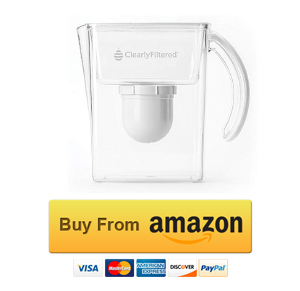 The Clearly Filtered Clean Water Filter Pitcher went through a major change last year and has brought a brand-new water filter for users. The earlier model used Seychelle filters, but now they have moved on to their own filtration technology Affinity which uses the best in class carbon and some proprietary components for making water safe to drink. It is not certified by the NSF but has been tested to be in compliance with NSF Standards 42, 53 and 401 by an independent laboratory.
It removes 98% of fluoride, 99.6% of arsenic and 99.5% of heavy metals like lead. It can also remove 99.9% of chlorine along with chromium-6 and VOCs. An interesting thing about the pitcher is that it removes some microorganisms like giardia, cryptosporidium and E. coli can be removed up to 99.9%. The pitcher is made of BPA free medical grade Tritan plastic and holds 2 quarts o water.
Advantages:
Proprietary filtration technology
Removes heavy metals and VOCs
Removes microorganisms including E. coli
Made of medical grade Tritan plastic
Filter lasts through 100 gallons or 3 to 6 months
Disadvantages:
Some leakage problems may exist
Not certified by the NSF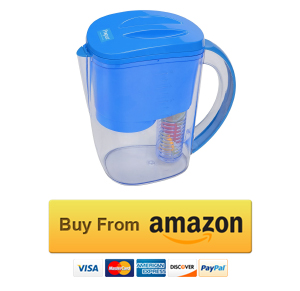 The unique filter of the Propur Water Filter Pitcher makes it a standout product in our list. The filter is the smaller version of the company's gravity water filters called ProOne G2.0 M. It is made of silver infused white ceramic which has ProSorb granular activated carbon-based media. The interesting thing about the filter is that it can be washed and reused till 600 gallons or six months of use. The pitcher works with municipal water and water from ponds, lakes and wells and even rainwater. It is great for campers and can even be a handy emergency option.
According to independent lab tests, the filter can reduce fluoride by up to 96%. It can also remove pesticides, VOCs, heavy metals like lead, pharmaceuticals, chloramines and even bacteria from the water. However, it does not remove beneficial minerals from the water. The pitcher can hold 3.5 liters of water at a time and 1.5 liters of filtered water. It is also slower than other filters.
Advantages:
Silver infused white ceramic filter with activated carbon
Can be used with almost any kind of water
Removes heavy metals as well as bacteria
Disadvantages:
Slow filtration
Hard to pour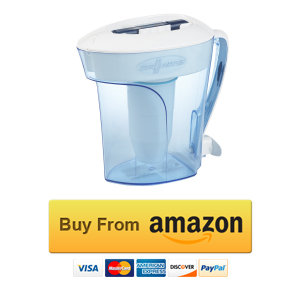 If you are looking for a reasonably priced water filter unit, opt for the ZeroWater 10-Cup Pitcher. The filter of this product is NSF certified under standards 42 and 53 for removing contaminants like mercury, lead, chromium-6, hydrogen sulfide, and chromium.
The filter can also remove pesticides, arsenic, fluoride, VOCs, and pharmaceuticals from the water. It can only be used with municipal water and does not remove microorganisms. The filter can remove 99.6% of detectable dissolved solids from water, thanks to its 5-stage filtration system and activated carbon, oxidation-reduction alloy with ion exchange. It also comes with a dispenser and a TDS meter to help you decide when the filter needs to be changed. The filters can last up to 6 months.
Advantages:
Activated carbon filtration with ion-exchange
NSF standards 42 and 53 certified
5-stage filtration process
Reduces all major heavy metals and contaminants
Comes with a handy dispenser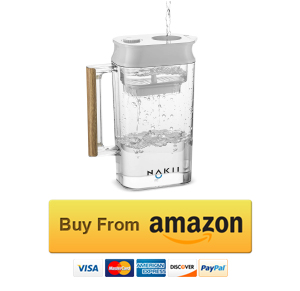 One of the newer products in the market, the Nakii Water Filter Pitcher comes with a modern, sleek design that can easily fit on the door of any refrigerator. However, it can only hold 7 and ½ cups of water at a time.
The filter is made of activated carbon and can last 150 gallons. It can reduce 97% of suspended solids, mercury, and chlorine from the water and 50% of lead. The filter is ineffective against fluoride. The filter should only be used with municipally treated water.
Advantages:
Modern design
Activated carbon filter
Fits into refrigerator doors easily
Removes 97% of chlorine and mercury
Disadvantages:
Can only be used with municipal water
Holds only 7 ½ cups of water
Not good against lead
Doesn't remove fluoride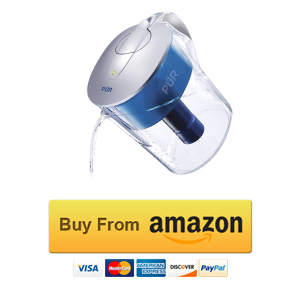 If you are looking for a pitcher with a larger capacity, then you should buy the PUR Classic 11-Cup Water Filter Pitcher. The product is NSF/ANSI certified under standards 42 and 53 which means that it can effectively reduce heavy metals from water, including zinc, chlorine, and VOCs.
It can also remove 99% of lead from water. It is not effective in removing fluoride from water and works only with municipally treated water. It is also not effective against biological components but can hold 11 cups of water, which is enough for a long day or two if you are camping outside. The pitcher comes with an LED light that tells you when to replace the filter. Each filter can last for about 40 gallons or 1 to 2 months, depending on the quality of water.
Advantages:
Large pitcher can hold 11 cups of water at once
Remove zinc, chlorine, VOCs, and lead
NSF/ANSI certified under standard 42 and 53
Comes with an LED light to signal filter replacement
Disadvantages:
Doesn't remove lead completely
Doesn't remove fluoride or microorganisms
Works only with municipal water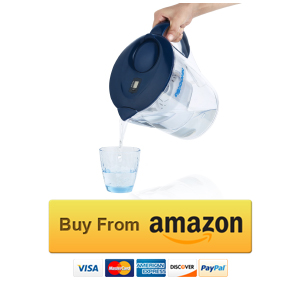 These days, people are growing more conscious about drinking alkaline water. For those who want to drink pH-balanced water, the pH Restore Alkaline Water Filter Pitcher is a perfect choice.
The filter pitcher holds half a gallon of water at a time and can last up to 96 gallons. While removing common contaminants like chlorine, chloramine and some level of fluoride, the filter also adds beneficial minerals to the water, making it alkaline.
Advantages:
Removes heavy metals
Adds minerals to make water alkaline
Holds half a gallon of water
Disadvantages:
The benefits of alkaline water are disputed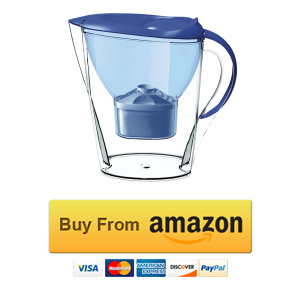 If you are a fan of alkaline water, then there is another option for you to choose from. The Alkaline Water Pitcher comes with a 7-stage filtration process that can remove some metals from water, remove chlorine and odors and also alkalizes it. It also adds minerals to the water, raising its pH to the range of 7.5 to 9.5.
The filter isn't effective against lead, chromium-6 or fluoride but works well to remove chlorine. The water eventually tastes and smells better thanks to the pitcher. It has a slim and modern design, which makes it perfect for a refrigerator. Not only this, it can filter about 2.5 liters of water in just 3 minutes. The filter cartridge needs to be replaced every 2 months or every 40 gallons.
Advantages:
Removes chlorine
Balances pH level of water
Makes water alkaline
Slim design is perfect for refrigerator
Users don't have to remove lids to add water
Filter is inexpensive
Filters 2.5 liters of water in 3 minutes
Disadvantages:
Isn't effective against lead and fluoride
Benefits of alkaline water disputed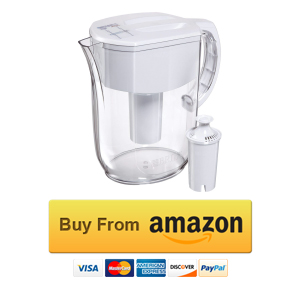 Brita is one of the most well-known water filter pitcher companies on the market. If you are looking for a basic water filter, choose the Brita Everyday Water Filter Pitcher. Don't expect sophisticated water filtration from this product as it is not designed to do heavy-duty tasks.
However, it can definitely make water taste better. It is certified by NSF/ANSI 42 and 53 to remove the smell and taste of chlorine from water. It also removes copper, mercury and cadmium. It doesn't remove chromium-6, lead, fluoride or other biological contaminants. Each filter lasts about 2 months or 40 gallons.
Advantages:
Great everyday use option
Makes water taste and smell good
Remove mercury, chlorine, copper, and cadmium
Disadvantages:
Doesn't remove lead, fluoride and other heavy metals
How to select the best water pitcher?
Finding a good water pitcher is simple- just decide what kind of usage you are looking forward to. This can be done in two days. Some people are looking for a regular everyday filter that can help their water taste better. They like to infuse fruits in the better tasting water for the summer. Some other people could be looking for an outdoor companion that can treat almost any kind of water. These people usually take the pitcher along during camping or road trips.
The second method is to check the quality of water in the area where you live. Water in some regions is heavily contaminated with fluoride because of which the users may need a pitcher that removes fluoride while someone else could go with a pitcher that removes chlorine and lead more effectively. Finally, the price of the pitcher will play an important role in your selection. Choose what fits your budget.
Conclusion
Whether you are going out for a road trip or a weekend for camping or simply staying back home to drink safer and healthier water, a water pitcher is an absolute must for you. These days, there are a variety of water pitchers available for the users- each of which offers unique functionality. While heavy-duty water filters are quite expensive, most mid-range filter pitchers, provide decent heavy metal removal at a reasonable price. We hope that you found the right filter for your needs in the list above.