This Influence Grid review will tell you everything you need to know about one of the leading tools for TikTok influencer tracking on the web.
So, why do you need a TikTok influencer?
Whether you love it or hate it, TikTok is more than just a social media trend.
The unique application, defined by its eye-catching video clips and trends, is one of the fastest-growing platforms in the world. During October 2020, TikTok also exceeded all other social media competitors (Instagram, Facebook, and even YouTube), in number of installs.
Though still most popular among younger generations, TikTok is gradually consuming more of the marketplace, drawing in people from all walks of life, including celebrities and market leaders. For brands keen to make an impact online, TikTok is now something you can't afford to miss.
Influencers On TikTok: Why They're So Important
Before we jump into our Influence Grid review, it's worth discussing why you need to partner with influencers on TikTok in the first place.
Like any social media marketing platform, TikTok delivers the best results when you can attract the highest number of followers. The more you connect with people through your videos and #hashtag challenges, the more likely you are to end up with committed fans who help advocate for your business.
While there are various ways to stand out on TikTok, influencer marketing is one of the best.
TikTok primarily appeals to younger customers searching for authentic, realistic connections with the brands they love. Influencers help you to gain followers by giving your brand the seal of approval. When an influencer says your company is credible, people believe them. The same can't be said for traditional advertising.
Another benefit? Working with influencers teaches you how to leverage TikTok as a social platform correctly. Many modern companies are struggling to come to terms with TikTok and how its various challenges, dance crazes, and hashtag campaigns really work.
Fortunately, influencers understand the platform like no-one else. These professionals can help you to get ahead of the trends, and start making an impact on your target audience. Your influencer could even assist you in creating the next big TikTok challenge.
How To Connect With Influencers On TikTok: Influence Grid
The biggest challenge of working with TikTok influencers is finding the right people.
Just like any influencer marketing strategy, TikTok influencer marketing works best when you choose the right people to work with by asking the right questions. The ideal influencer on TikTok is going to be someone who knows your audience, and already has high engagement levels.
Finding an influencer manually would require hours of searching through trending hashtags and videos to potentially come across someone relevant. Fortunately, Influence Grid makes things much easier.
Influence Grid is a tool designed to help agencies and brands find the right influencers to work with. You can search for the ultimate contact by location, account follower size, number of lives per video, and so on. This highly specific approach means you can track down the influencers most likely to have the biggest impact on your company long-term.
Influence Grid Review: How It Works
Influence Grid is a social media tool that does exactly what you might expect – it helps you to work more effectively with TikTok influencers.
The search engine function means you can quickly search for the influencers suitable for your needs according to valuable filters like location, niche, or even number of followers. If you already have an idea of who you want to work with in mind, you can also search for their username directly.
Once you find the influencers you want to work with, you can use your unlimited searches to build a bigger list or tap into profiles to learn more about the professional in question. In-depth analytics ensure that you know exactly what kind of engagement you can expect with each influencer.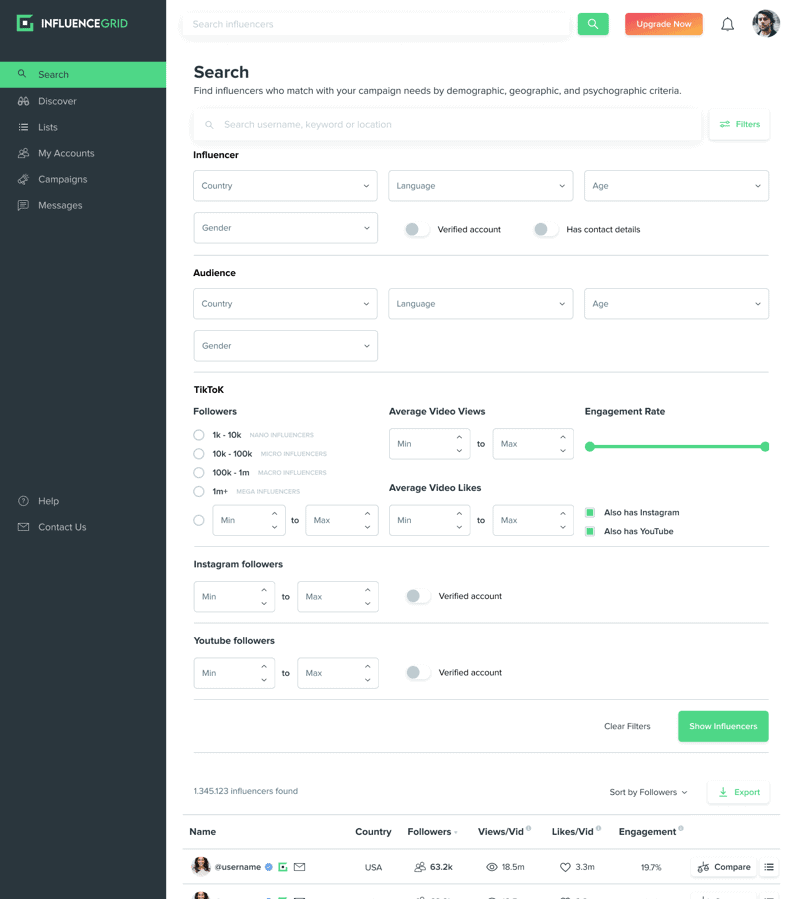 When you're ready to connect, Influence Grid makes it quick and easy to find ways to contact your Influencer through their social channels, or the built-in email finder function.
The great thing about Influence Grid is that it's not just ideal for finding influencers – you can use it if you want to become an influencer, too. The money calculator function, for instance, is great if you want to learn how much you could potentially earn if you decided to pursue a career as an influencer.
Influence Grid Features
Influence Grid was designed to help companies capitalize on the power of TikTok as a social media marketing tool. The simple-to-use interface allows users to begin searching for influencers in seconds. The key features include:
The TikTok Search Engine
The TikTok search engine helps users to find influencers to work with in TikTok. You can access advanced filters, and username searching options, or just track down influencers according to their niche. When you find a professional you're keen to work with, you can click into their account to check out their profile. Profile information covers everything from your influencer's location to their number of followers.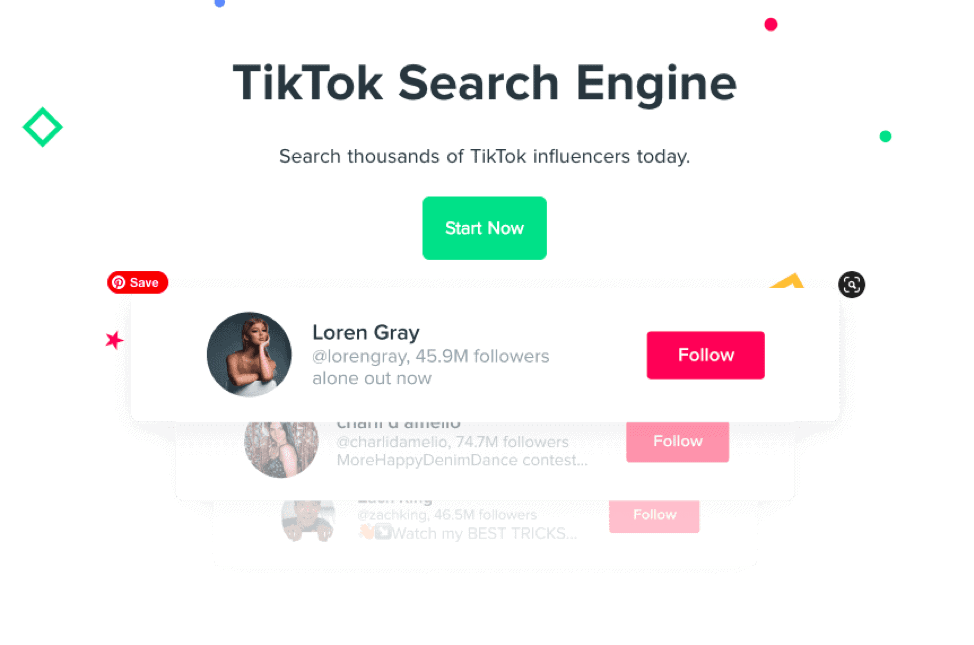 Users can conduct unlimited searchers with the Search Engine, and filter by location, likes per video, followers, and more. Detailed analytics on each profile also provide an insight into which influencer will give you the best results. You can build lists of people you want to contact and find their social contact details so you can reach out.
The TikTok Money Calculator
Ever have trouble figuring out how much you can expect to pay for an influencer? The Influence Grid system also comes with its own TikTok calculator. This helpful feature gives you an insight into how much you can potentially expect to pay for a leading influencer.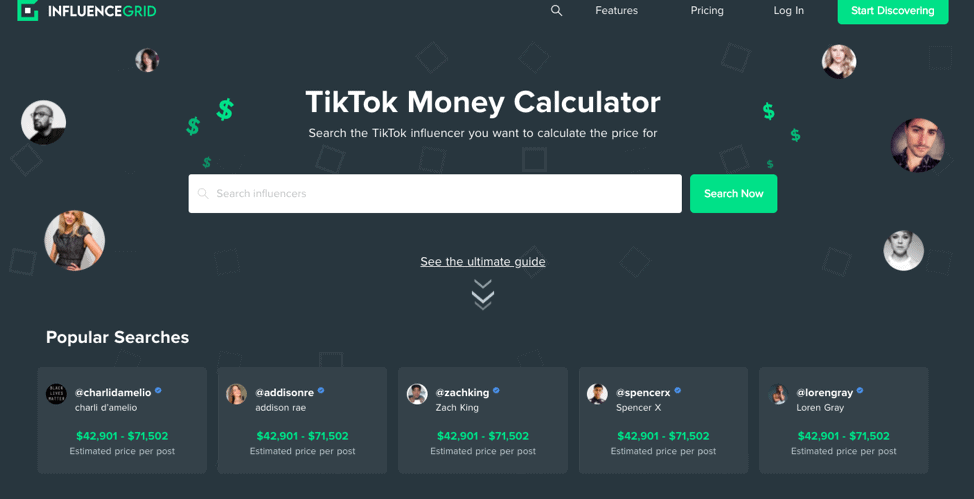 If you're planning on becoming an influencer yourself, you can also get an insight into the amount you might be able to earn. The calculator predicts the potential cost of working with an influencer by looking at things like your chosen niche, follower count, and the kind of content you produce. Your income may also be influenced by things like engagement rate and country.
Aside from helping you calculate what you might spend, or earn, the Influence Grid Tik Tok Money calculator also comes with access to useful tips on how to monetize your account.
TikTok Analytics
The TikTok Analytics page is one of the most exciting features of Influence Grid. This solution makes it easier to get in-depth insights into any TikTok profile, so you can make better decisions on who to work with. More importantly, you can track the performance of various campaigns.
Valuable metrics like posts per day, engagement rate, and follower count ensures that you're not going to waste your time working with influencers who won't give you a solid return on your investment. It's a great way to ensure that you're taking valuable steps for your brand's growth.

Influence Grid Review: Pricing
One thing we really appreciate about Influence Grid, is how flexible the pricing is.
You can choose whether you want to be billed monthly or pay for your subscription annually with a 20% discount. Every package comes with unlimited searches and you can get access to a host of filters, full influencer reports, and even exportation for your influencer lists.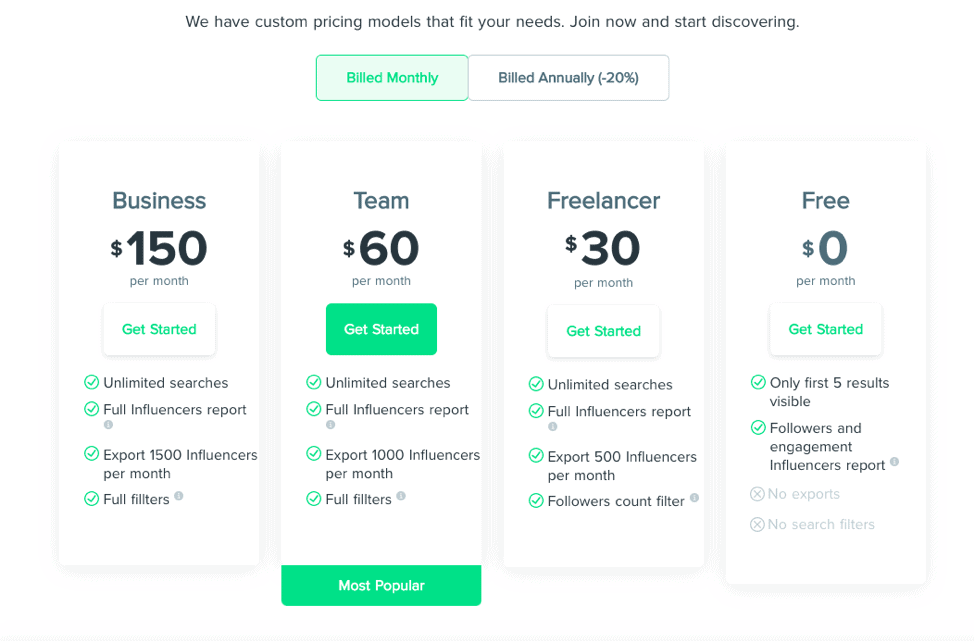 There's a free package which gives you access to the first five results of any search and a follower/engagement report to get you started. Once you've discovered the benefits of Influence Grid for yourself, you can upgrade with packages like:
Freelancer: $30 per month
Team: $60 per month
Business: $150 per month
Get Started Today
Influencer Marketing is crucial on platforms like TikTok, where your followers are looking for word of mouth recommendations and evidence of your credibility. Working with an influencer gives you an opportunity to build a credible image for yourself with your target audience.
Of course, to fully leverage the benefits of influencer marketing, you need to know how to find the right influencers first. Influence Grid will help you to track down the information you need and make informed decisions about your future collaboration. With a free trial to get you started, there's no excuse for not checking it out.