That would be horrible to imagine a text chat without emojis?
Right?
Emojis add life to a text conversation. Emojis are always fun to work with.
But! Their usage is not just limited to text. You can add them to your videos, make funny and creative edits.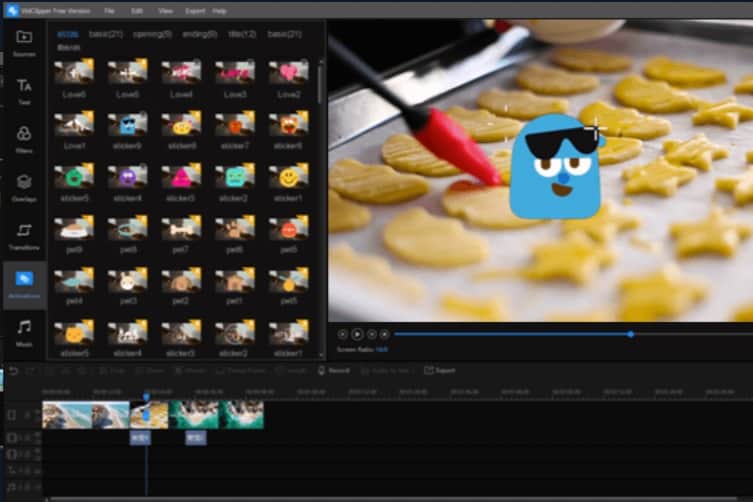 But not all video makers would support the feature. One such video editor that helps you create a video with emojis is Vidclipper.
VidClipper video editor: Download for free
It is a free video maker that helps you make efficient and high-quality videos easily and comfortably. It offers 60+ filters, 100+ text styles, 70+ overlays effects, 300+ transitions, and 200+ animations, and 60+ songs using which you can create unique and excellent videos. In addition to this, there are some additional benefits of using VidClipper.
It has a simple user interface. You can edit the video in three simple steps. You have to import the video, edit, and export the video. Even if you are not a professional editor, Vidclipper is easy for you to work with.
It helps you edit some regular videos, which you share on social media platforms like Instagram, TikTok, and YouTube.
In recent days, Tiktok has become the most popular video-sharing app with over 1 billion users, of which 200 million users are Americans, and the rest of the users are from other 150 countries.
If you are a heart-core TikTok user, VidClipper helps you stand-out among the users by creating excellent and unique videos to post on it.
Make a TikTok video using VidClipper:
VidClipper helps you to make a TikTok video easily. The recording features of VidClipper include flip functionality, speed, transition, and stunning beauty filters.
To spice up your video, you can also add a variety of visual effects to it. You can further include music, songs, or audio clips in the background. You can add narrative or witty texts with the messages which you want to convey through the video.
And that is it!
Your video is complete. You can now publish it and have fun seeing the reactions and comments on the video.
In addition to this, you can also use VidClipper for many other purposes.
When can you use it?
You can use it for multiple purposes, to edit a variety of videos comfortably. It serves all your video needs.
Edit vlogs:
You can use VidClipper to add filters, transitions, special effects to the video and publish your wonderful life.
Make instructional videos:
VidClipper helps you to make use of effects like slow-motion, freeze-frame close-ups. They allow you to highlight the main content in the video. It makes your video clear and understandable to your audience.
Create promotional videos:
You can create extra-ordinary promotional videos to market your business. You can combine various effects like hue, and transitions available and make a promotional video that leaves a long-lasting impression on your audience and improves your product reach.
Create gameplay videos:
VidClipper's video editing function makes it easy to edit and integrate background commentary into the gaming videos and help you to create funny and engaging gaming videos.
Create marketing videos:
100+ animations, transitions, overlay effects, massive filters, and soundtrack libraries are available in VidClipper. They would not only save your time and efforts but also help you to create blockbuster advertisement clips.
Post-production edits:
If working with professional editors like Adobe premiere pro, Final cur Pro is not your cup of tea. You can still mix and edit compilations like a pro using VidClipper.
It is backed up by a team of professionals with nearly a decade of experience in the field of audio and video processing. They help you create high-quality professional videos by providing variety of up-to-date options.
Tech specifications:
To work with VidClipper without any issues, consider checking the below-mentioned specifications.
OS specifications – It supports windows 7/8/10.
You can edit videos of aspect ratios 9:16 (vertical phone screen), 16:9 (standard screen ratio), 4:3 (traditional TV screen), and 3:4 , 1:1 (Instagram).
It supports almost all the available video, audio, and image formats of various resolutions.
Conclusion:
If you are a beginner with no editing experience, VidClipper helps you to create pro-like edits easily. If you are eager to edit videos, create a free account on VidClipper and enjoy making creative videos.