Introduction
If you're on a quest for a flawless, natural look that's worthy of red-carpet moments, these wigs are about to become your new best friend.
But wait- what sets Luvme Hair's HD lace wigs apart from the rest?
Well, the lace is so fine and delicate that it seamlessly blends with your skin, creating an illusion of hair growing right from your scalp. So, no more worries about awkward wig lines or telltale signs – just pure, undetectable magic! Each strand is carefully hand-tied to that exquisite HD lace, ensuring a luxurious, realistic density that mimics the look and feel of natural hair. Not to mention, they're actually made from real human hair. Plus, maintenance is a breeze! With proper care, these wigs are durable, ensuring a long-lasting investment in your beauty arsenal. So, whether you're a seasoned wig enthusiast or a first-time user, Luvme Hair's HD lace wigs are about to revolutionize your hair routine.
Styling Your Luvme Hair HD Lace Wig
The HD lace wig is super versatile and gives you the freedom to style your hair in various ways without compromising its natural appearance. In fact, here are some styling options to help you get started:
Straight: You can wear your wig in its natural state or use a flat iron to make it sleek and smooth. This will ensure a polished and professional look.
Curly: To enhance its volume, you can also curl your wig with rollers or curling iron.
Wavy: Creating waves is also a great idea for everyday wear. Luvme Hair offers a variety of loose wave wig.
Colored: You can choose from various shades of blonde, brown, black, or even ombre colors. Plus, you can always dye your wig to match your style.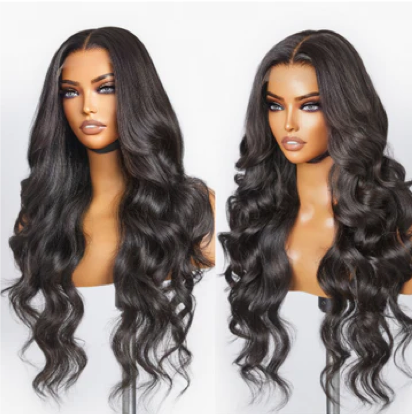 And if you're new to the world of wigs, follow these steps for a simple, effortless styling experience:
Prepare your natural hair by braiding it into cornrows or wrapping it into a low bun. But make sure your hair is flat and smooth under the wig cap.
Put on the wig cap over your natural hair and secure it with pins or clips. Ensure that the cap covers all of your hair and fits snugly on your head.
Put on the HD lace wig over the cap and adjust it according to your head shape and size. Use the adjustable strap at the back to tighten or loosen the fit of the wig.
Cut the excess lace around the hairline with scissors or a razor. However, be careful not to cut too close to the hairline or damage the lace.
Style your HD lace wig according to your preference and mood. You can use a comb, a brush, a flat iron, a curling iron, or rollers to create different looks. Also, freely use styling products such as gels, mousses, or sprays to enhance the look and hold of the wig.
Tools and Products for Styling Your HD Lace Wig
You must use the right tools and products to style your HD lace wig effectively. Using the wrong tools and products can damage or ruin your wig, affecting its overall look and lifespan. Don't worry, though, because we've made a list of anything and everything you might need to style your wig:
A wig cap: A wig cap is a thin, stretchy fabric covering your natural hair under the wig. It helps keep your hair flat and smooth, preventing any bumps or lumps on the wig. It also protects your natural hair from friction and sweat, preventing any damage or breakage.
A pair of scissors or a razor: A pair of scissors or a razor is used to cut the excess lace around the hairline of the wig. It helps create a natural and seamless transition between the wig and your skin and prevents any irritation or discomfort from the lace.
Adhesives: A wig-friendly adhesive will help you secure your wig in place. However, glueless wigs are also an option, in which case you can simply use bobby pins where needed.
A comb or a brush: A comb or a brush is used to detangle and smooth out the hair of the wig. It helps prevent any tangling or shedding of the hair, which can affect its quality and appearance.
A flat iron or a curling iron: A flat iron or curling iron is used to straighten or curl the hair of the wig. It helps create different looks, from sleek and smooth to bouncy and voluminous. It also adds some shine and luster to the hair.
Rollers: Rollers are used to create curls or waves in the hair of the wig. They help create different looks, from loose waves to tight curls. They also add some bounce and volume to the hair.
Styling products: Styling products such as gels, mousses, or sprays enhance the wig's look and hold. They can help create different effects, from glossy and smooth to matte and textured. Plus, they also protect the hair from humidity and frizz.
Care and Maintenance of Your Luvme Hair HD Lace Wig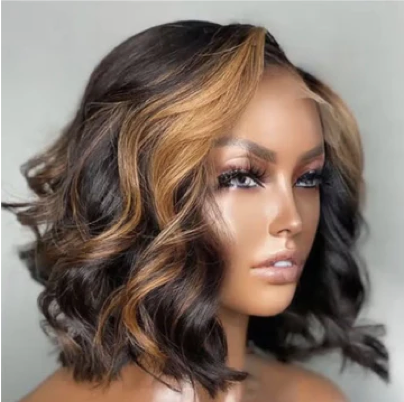 Here are some tips on how to care for your HD lace wig:
Depending on how often you wear it and how much product you use on it, you should wash your wig every 2 to 4 weeks. Rinse thoroughly and apply conditioner to moisturize the hair.
After washing your wig, gently squeeze out the excess water and blot it with a towel. Do not wring or twist the hair, as this can damage it. Then, place your wig on a wig stand or a mannequin head and let it air dry naturally.
Do not comb the hair when it is wet to avoid breakage or shedding.
Store your wig on a wig stand when not in use.
Don't overdo heat and styling products.
Why Proper Styling and Care Are Crucial for Your HD Lace Wig
Proper styling and care are crucial for your HD lace wig because they can affect its overall look and feel. By styling and caring for your HD lace wig properly, you can enjoy the following benefits:
You can achieve a flawless and natural look that is undetectable and comfortable.
You can enjoy the breathability and flexibility of the high-definition lace that makes the wig feel like your own hair.
You can create different looks with ease.
You can prolong the life of your HD lace wig and save money in the long run.
Conclusion
Luvme Hair's HD Lace Wig is one of the most advanced and realistic wigs on the market. It has a high-definition lace that is invisible and breathable. However, to get the most out of your HD lace wig, you must know how to properly style and care for it. You also need to use the right tools and products. Try it for yourself here.