All popular software comes with software updater module through which you can automatically update software. This is where these pose a lot of problems, and they take up a lot of background precious space. Because of this, the speed of your computer reduces, and even the overall performance of your computer is affected.
Also, you might have to check when the software needs an update manually. Let's face it, in this day and age, when everyone is busy with their work, who has the time to go through each software manually and check if it needs to be updated or not.
So, here's a fix. You can download an automatic Windows software updater which updates the software automatically whenever an update is released or needed. Since there are hundreds of software in the market, we have picked up some of the best software updater using which you will efficiently be able to upgrade your software.  
#1 Systweak Software Updater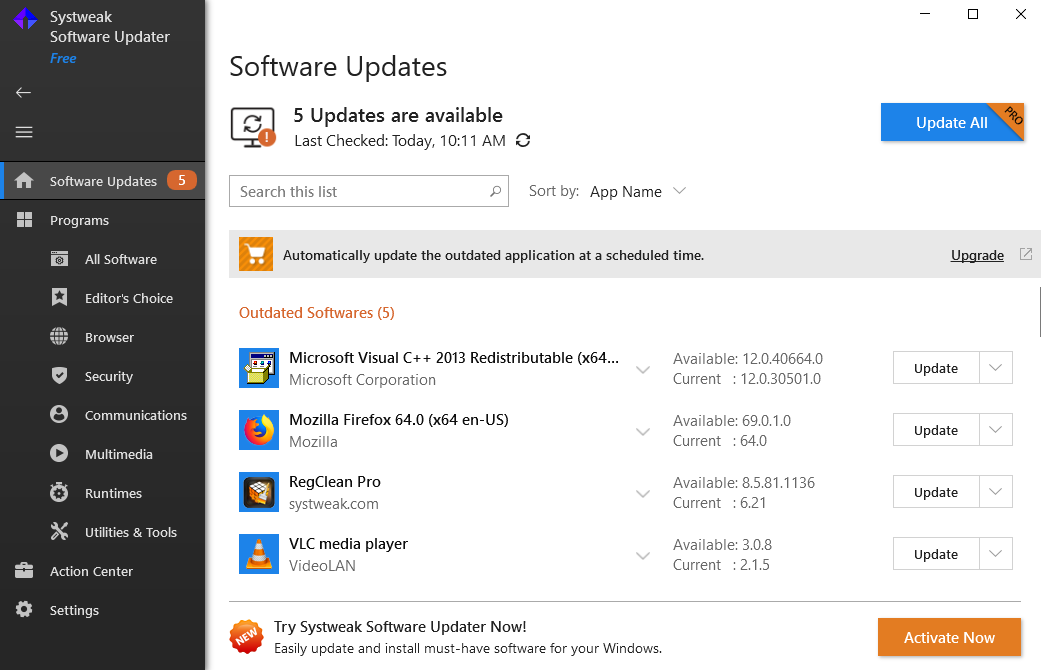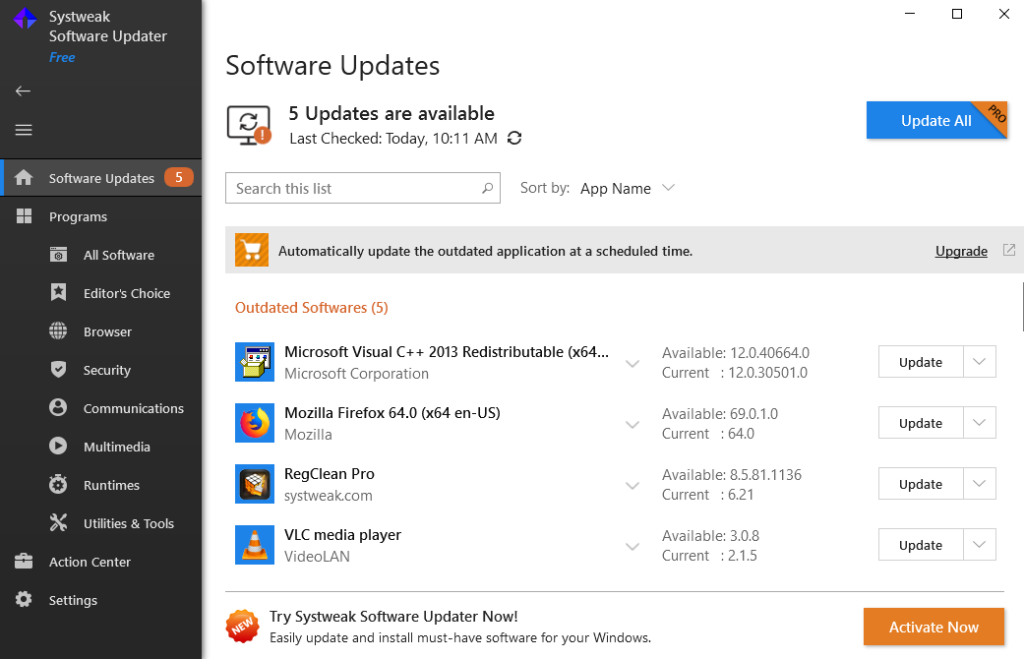 Systweak Software Updater truly deserves the number spot. It is a spectacular Windows software updater which bifurcates software based on its use. This makes it easy for you to find the software that you wish to update.
Although, you can schedule your scan as per your desires, yet the software updater gives you total control of every app which is essential for your operating system and it even prompts you timely to update those apps as well. Not just that, it gives you a list of apps which can be beneficial for your computer. It is totally up to you whether or not you wish to install them or not.
#2 IObit Software Updater 2
If you wish to upgrade your software, do it with IObit Software Updater 2. Coming in at number 2, IObit software updater 2 is a software updater which has a 180% larger software database. When you include your software in the "Auto-Update list", you won't have to worry about scheduling update again and again.
Not sure which software to have on your PC? Not sure if the software you are downloading is trustworthy or not for your PC. IObit Software Updater does this task too and prompts and classifies programs based on their function.
And, if you are worried that the update and installation will or suck a lot out of your PC's resources, be rest assured, this software updater will make the downloading and installation fast and easy. The algorithm makes the downloading process almost 10% faster. 
#3 Patch My PC
How about getting software that can distinguish between updated software and outdated software. At the very outset Patch My PC can help you with that.
As the name suggests Patch My PC provides green patches to software that are updated and red to those that need updating. To be more precise this Windows software updater finds updates for more than 300+ application.
Again, you can schedule your scan as per your desires. With the help of this software updater, uninstall multiple programs all at once and even enable and disable startup programs. Patch My PC is a software updater which is highly customizable and doesn't take much on your system's resources. 
#4 Avira Software Updater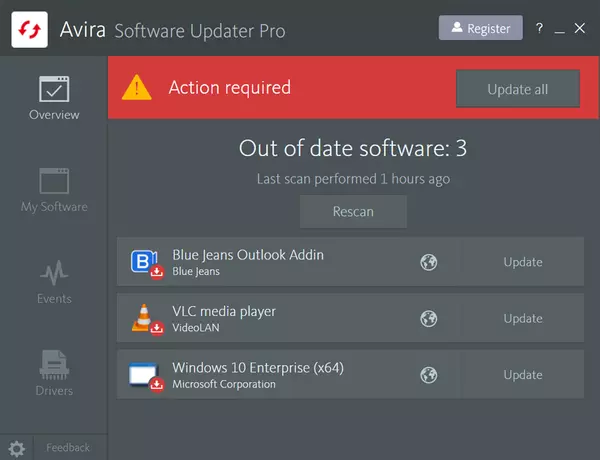 Along with software, Avira Software Updater can also update drivers which is great, since an outdated driver can prove to be detrimental for your PC. Plus, it also helps you get rid of intrusive reminders coming from many software.
Another great thing about this app is that it performs an update in such a way that no software flaw will be able to put your PC in danger and prevents you against zero-day exploits. The user interface of this Windows software updater is elegant, and it has a simple and easy to use interface.
Last but not least, Avira Software Updater has very prompt chat support which will always help you in the case you are stuck.
Knowing the fact, that an outdated software can be dangerous, a software updater is a must-have for your PC. So, these were some of the best software updaters which come with tons of features.