An Overview of Ethereum
Ethereum is precisely an open-source software platform that uses the power of blockchain technology. It is a distributed blockchain that supports Smart Contract functionality at its core. Ethereum now employs the Proof-of-Work agreement practice and is moving toward the Proof-of-Stake consensus methodology.
The majority of developers and businesses use this blockchain nowadays due to the attention that its architecture has received on a worldwide scale. It makes Smart Contracts programmable and, in the end, acts as the foundation for a wide range of decentralized applications (dApps), particularly in the DeFi domain. Users can also calculate ETH to BTC with the help of the predictions given below.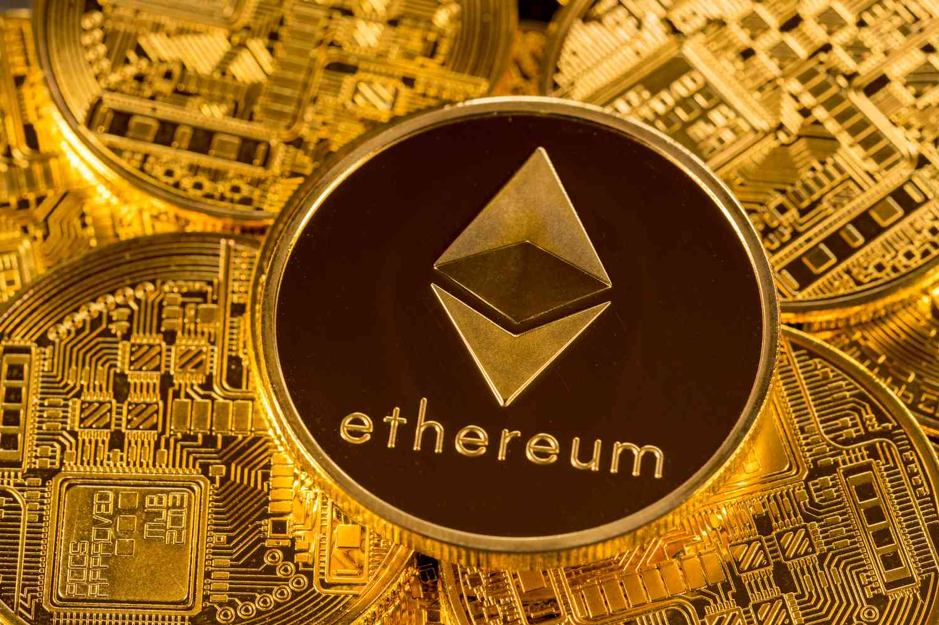 One of the first to see the complete potential of blockchain afar its application cases in allowing a peer-to-peer payment system was Ethereum's creators.
About ETH (Ether)
With ETH, users are essentially being their own bank. Here, users have complete control over their wallet's money without the need for outside assistance. In addition to being completely digitalized, ETH serves as the currency for all Ethereum apps since it is the Ethereum Blockchain's natural token. Hence, gas (transaction) fees for using the Ethereum network are paid using ETH. When thinking about staking, ETH might soon take on even greater significance. Users may contribute to securing Ethereum and receive rewards by staking their ETH.
What else? On Ethereum, users can use ETH as security to generate a variety of crypto tokens. On ETH and other tokens that are backed by ETH, users can also lend, borrow, and earn interest. One should keep in mind that ETH may have a variety of use cases in the future due to its growing programmability.
Since hitting its ATH in November of last year, ETH has had major bear runs, among which one was triggered by the recent macroeconomic unrest. At the time of publication, the price of Ethereum was $1,551.7, an almost 63% [YTD] decline. ETH demonstrated growth in the $1,500 region while keeping its market dominance at 19%.
The $1,060 support area has been preserved by the purchasers, which might now serve as a trustworthy rebounding ground and provide a threshold for resuming buying pressure. Investor expectations are still high, despite the largest altcoin's less-than-stellar performance this year.
Price History of Ethereum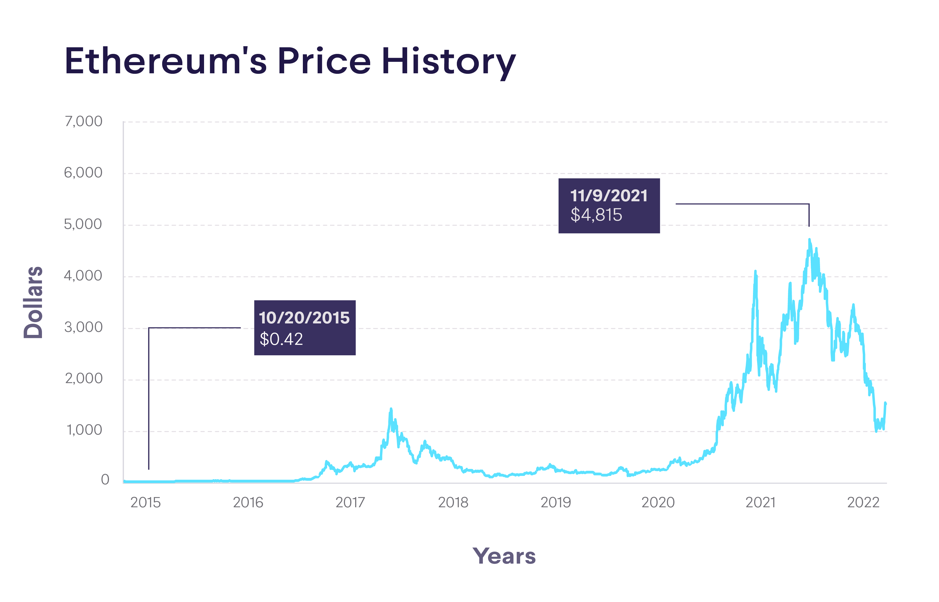 The majority of the first few months after the Ethereum blockchain's launch in July 2015 witnessed trading of less than $2. In 2017, as the price of Bitcoin soared, cryptocurrencies first entered the mainstream, and Ethereum's price began to gather substantial speed.
After the initial Bitcoin outlooks contracts were introduced in December 2017, ETH prices first reached $100 in May 2017 and proceeded to rise quickly, breaking the $1,000 mark in January 2018. The final peak for Ethereum prices was approximately USD 1,300 in 2018, January. Unfortunately, as the crypto market bubble burst, Ethereum fell to less than USD 100 by 2018, December.
During the COVID-19 epidemic in late 2020, cryptocurrency trading once again gained popularity, and the cost of Ethereum skyrocketed to a fresh all-time great. Prior rising rates of interest in 2022 caused a sell-off in cryptocurrencies and other risky assets, Ethereum reached a top of $4,865 in November 2021.
The 2022 sell-off destabilized the cryptocurrency market. Tether (USDT) and other significant stablecoins momentarily lost pegs to the U.S. $ all through the year, and Luna and its related stablecoin TerraUSD (UST) entirely crashed in May 2022.
Investors sold their crypto assets out of concern that the failures of a few other exchanges and lenders, like the cryptocurrency exchange FTX, might spread additional industry contagion. Investor sentiment was poor as of 2023. But in 2023, Ethereum is once more on the rise thanks to a successful network update and a more optimistic economic outlook.
Price Prediction of Ethereum 2023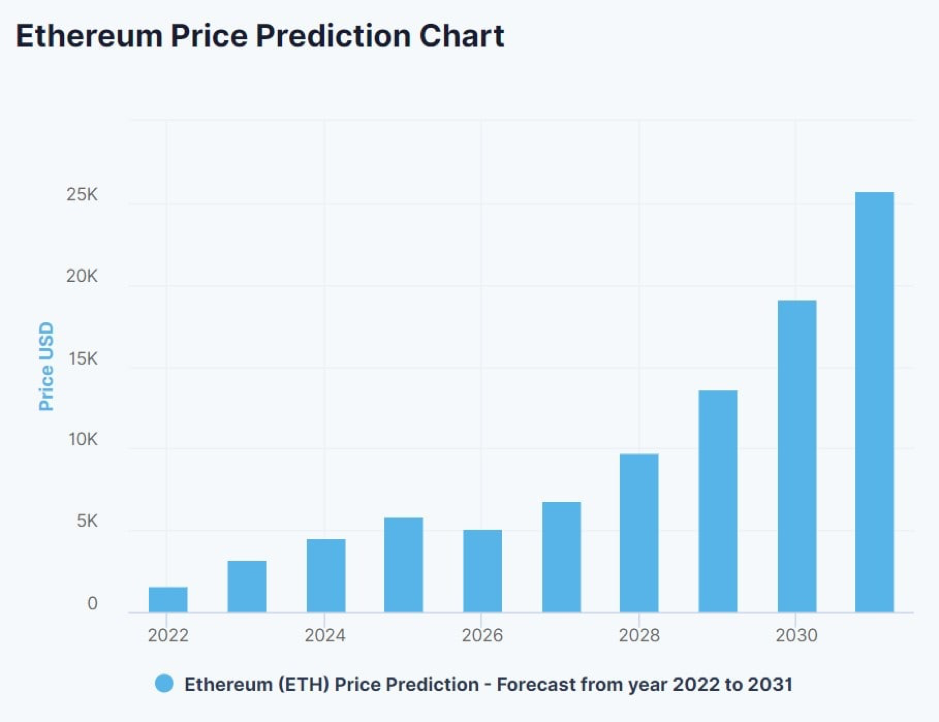 The higher high could specify uptrend, but that could also turn to be a "fake out," as per the analysts. When a price transfers outside of its zone of resistance or support but then rapidly returns, this is known as a fake-out. Investors are frequently tricked into trading against the price's actual movement, giving "smart money" dealers access to mature entry and liquidity opportunities.
The recent rise in the Ethereum price may lead to regular investors buying at a premium, giving whales additional liquidity to short and trade more tokens. For the remainder of the year, Ethereum is more likely to fluctuate between USD1,100 – USD2,000 instead. In light of this, the projection for the price of Ethereum predicts a regular price of USD1,550 by 2023 end.
Price Prediction of Ethereum 2024
The crypto bull industry is anticipated to start in 2024. This is because April 2024 has been set aside for the Bitcoin halving.
The mining incentives on the Bitcoin network are cut in half at this time. The cost for miners to generate a Bitcoin increases as a result, generally igniting a bull industry in cryptocurrencies.
Nonetheless, all cryptocurrencies, involve risks, and also there are a number of circumstances in which the halving may not result in a fresh bull market.
Price Prediction of Ethereum 2025
In 2025, Ethereum is projected to set new all-time highs, predicting the crypto bull industry will materialize. Bull markets usually last 1 ½ years, so if one starts in Q2 2024, its top is probably going to be in Q4 2025.
Each bull market for established cryptos often yields slower growth from its prior ATH. This is due to increasing an asset's liquidity level is necessary to increase its price as it ages. In summary, the most volatile cryptocurrencies are typically newer and have lower market prices.
Price Prediction of Ethereum 2030
It is difficult to predict where Ethereum will be in 2030 given the volatile state of the cryptocurrency market. There is a chance that Ethereum will experience widespread adoption, with organizations, governments, and people using it for anything from payment to decentralized social media.
On the other side, a worldwide campaign or smart contract danger against cryptocurrencies with the goal of launching central bank digital cash might severely impede Ethereum's development. Undoubtedly, Ethereum will experience difficulties in the future, but despite this, it offers a lot of value and is among the promising cryptocurrencies.
In light of this, it is predicted that Ethereum will reach its second bull run's top around 2030. It's crucial to remember that cryptocurrency is a novel technology. Numerous hazards, both known and unknowable, might be bad for the price of ETH. As a result, the projection for the price of Ethereum predicts an average price of USD 9,800 by 2030 end.
The Summary
Owing to its strong fundamentals and potential, many market experts and analysts who have followed Ethereum's development from the beginning firmly believe that it is here to stay.
Ethereum's sustained growth and continuous updates have propelled many to believe that 2023 and the following years will be favorable for Ethereum due to growing faith in blockchain solutions and technology, which will undoubtedly propel Ethereum to the moon.