The iGaming industry has seen a great number of changes throughout its history. Ever since offline gambling started to attract people to play for money, placing bets or playing the odds has become the unavoidable part of gambling. Over the years, land-based casinos led the game to a completely new ground where adrenaline rush and thrill successfully intrigued masses. And then, at some moment, technology joined the party. Take a look at how technology helped iGaming industry to grow and why online casinos took over the gaming ship.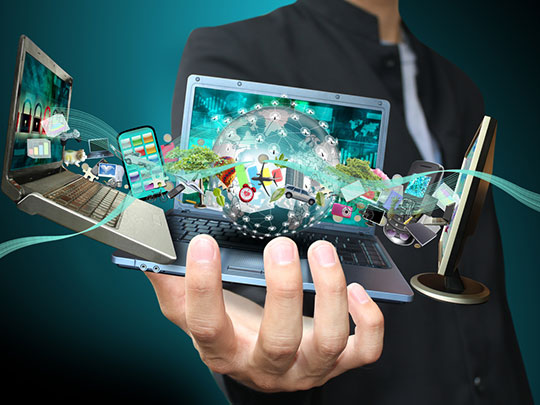 The Growth of Technology
Let's face it, in terms of business it is obvious that IT has been running the show for decades. Who would have imagined that cell phones, laptops, smartphones, iPhones, iPads, and other gadgets will hit the world like a storm? Not to mention software, programs, games, apps and social networks which have all contributed to the new universe of life called the online.
The concept that brings these smaller tech pieces into a homogeneous structure is the Internet. The world's largest web of computers allowed us to exchange knowledge and reach information in a way never seen before. Certain industries such as iGaming were particularly influenced by the rising power of the Web.
Top Technology Improvements in iGaming
Online casinos, game suppliers, affiliate programs, lead generation companies, and finally, the players, took part in transferring the world of gaming from the offline space to its online counterpart. Having in mind that online gambling is a highly competitive and very valuable market, it's no wonder that we get to witness so many innovations and top-notch game-related tech projects. Most important moments in the use of technology in iGaming include the following:
Mobile casinos and website applications – Remember the days during the 90's when you could hear people predicting how mobile phones will be just another tech failure? As we all now, mobiles entered into our lives and nowadays it's hard to imagine anyone's daily routine without a cell phone. 
The same thing goes for online gambling. Playing online slots on the go or heading over to a mobile casino while waiting for a bus or going out on Saturday night is not an unusual sight to see. Most casinos have fully optimized mobile versions and the number of gaming apps is constantly growing. In addition, it is believed that the mobile gambling industry will take 40% of the total gaming market by 2018.
Virtual reality and artificial intelligence – It is not like you'll see the Terminator and the RoboCop sitting in your favourite club having a drink, but virtual reality and artificial intelligence are already here, and they change the way we live.
Just recently NetEnt and Mr. Green launched a new 3-D virtual casino based on a blue screen technology. This game-changing project allows players to enter a virtual casino lobby which leads them to a multi-table environment with live dealers.
As for AI, examples of AlphaGo defeating Fan Hui, the world's best GO player in 2015 and Libratus beating the best poker players on Earth in 2017 are proof enough that AI is already a part of iGaming.
Growing number of cryptocurrencies – Bitcoin. Cryptocurrency. Digital cash. You've probably heard about these terms. Decentralized digital money powered by the blockchain technology is a popular payment method in online casinos.
The main advantages of cryptos are transparency, clarity, and security. Also, no chargebacks, outstandingly low fees, and fast transaction are why gamers and Web users, in general, sympathize the usage of cryptocurrencies.
What Tomorrow Brings
Information technologies and the evolution of science are shaping our existence and it's not easy to predict where they might lead us in the future. Are we going to play games in online casinos in a fully customized VR surrounding? Or will we be able to have avatars which could live a parallel life on our behalf in another, online dimension? These are the questions we'll have to wait the answers to. Until then, online casinos and state-of-the-art online games will make sure we get an ultimate gaming experience.